Move over Beverly Hills, Belfast city is the new celebrity hotspot. Here are the ten best bars in Belfast that celebrities have been to, ranked.
Ah, the rich and famous, what an envious life they lead. Private planes, luxurious vacations, designer clothes, and can shop in the expensive aisle in Dunnes Stores. Their lives keep us mere mortals entertained and give us hope that we too could be like them someday.
If you want to dine like a celebrity or even bump into one, you don't have to go to Hollywood… well not Holywood in California, anyway. Belfast has been and still is a very popular hang-out spot for some very well-known celebrities around the world.
From Taylor Swift to Zach Braff, the toast of Tinseltown have enjoyed a visit to Belfast. We know what your next question is going to be: where did they visit? Read below to find out the ten bars in Belfast that celebrities have been to.
10. The Duke of York – working in the Line of Duty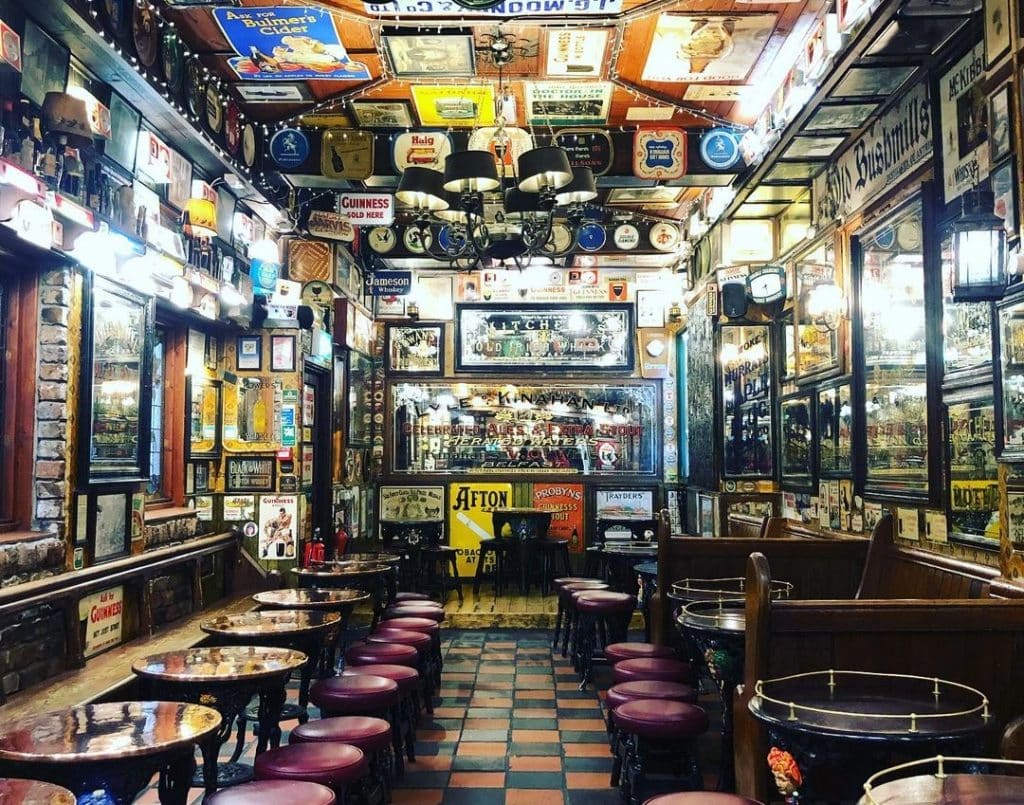 The Duke of York, located in the Cathedral Quarter, is a very popular bar in Belfast city. It is so popular that it has even appeared in the hit BBC crime drama Line of Duty.
Now the bar has paid tribute to two of the lead characters in the show, DI Steven Arnott who is played by Martin Compston, and DI Kate Fleming who is played by Kate McClure.
The two actors were given a reserved spot at the bar with their names engraved on gold plates. Can't say the Duke Of York doesn't look after their customers.
Address: 7-11 Commercial Ct, Belfast BT1 2NB
9. The Tipsy Bird – calling all Swifty fans
The Tipsy Bird is a trendy bar in Belfast city with a reputation for being a good cocktail bar and it recently had a very famous guest stop by, which would be a real boost for the bar following the pandemic closure.
The one and only Taylor Swift dropped into the popular spot and even stayed to take pictures with all the staff. Could we love her even more?
Address: 90-100 Ann St, Belfast BT1 3HH
8. Kelly's Cellars – more celebrities here than on the rep carpet
This bar may as well be called Kelly's celebrity Cellars with the clientele it attracts. Hollywood star Robert Pattinson and one of England's hottest artists Florence Welch of Florence and the Machine are some of the classy people to have visited the bar.
Elsewhere, some of the cast of the hugely successful show Game of Thrones, including Emilia Clarke and Kit Harrington, have enjoyed a pint in the famous Belfast bar. Excuse us while we book a seat in Kelly's Cellars.
Address: 30-32 Bank St, Belfast BT1 1HL
7. The Spaniard – 50 shades of approval
Very close to the Duke of York is a small quaint bar called The Spaniard. One of its famous fans is a worldwide movie star and Belfast native Jamie Dornan.
When asked about a place was to go for a good pint of Guinness, Dornan sang The Spaniard's praises. This wouldn't be a bad place to make your local watering hole or have a cocktail in celebration.
Address: 3 Skipper St, Belfast BT1 2DZ
6. Hell Cat Maggies – one of the best bars in Belfast that celebrities have been to
Many celebrities have frequented this Belfast bar with great cocktails, cool music, and the perfect glass of wine.
Stars such as Callum Best, Zoe Salmon, and Zach Braff from the hit US TV show Scrubs have been spotted enjoying some downtime here.
Address: 2 Donegall Square W, Belfast BT1 6JA
5. Ollie's Belfast – a place to mingle with the celebs
If you're looking for a dance, a shift, and a glimpse of a celebrity, Ollie's is where it's at.
Many celebrities have graced this famous nightclub located underneath The Merchant Hotel. Frank Lampard, his wife Christine Bleakley, and Rory McIlroy to name but a few.
Address: 35 – 39 Waring St, Belfast BT1 2DY
4. Dirty Duck Alehouse – great quack to be had here
The celebrities were out in force in Hollywood, except it was Holywood, just outside Belfast. The Dirty Duck Alehouse, which has stunning views of Belfast Lough has served many famous faces.
Liam Neeson, Maisie Williams, and, most recently, Wayne and Coleen Rooney have all visited the Alehouse, and this is certainly one to visit yourself.
Address: 2-4 Kinnegar Rd, Holywood BT18 9JN
3. Belfast Empire Music Hall – at your service, your royal highness
Not only have Prince William and his wife Kate Middleton, Duchess of Cambridge, visited this well-known Belfast establishment, but they have also pulled pints here at this excellent live music venue.
At least if the day job doesn't work out for the Duke and Duchess, we're sure the Belfast Empire Music Hall would give them a job.
Address: 42 Botanic Ave, Belfast BT7 1JQ
2. The Cloth Ear – another favourite of Mr Grey's
The Cloth Ear is a bar found in Belfast's oldest quarter describing itself as putting a "pleasing twist on the quintessential Irish pub."
It's no wonder it is another favourite of Belfast man Jamie Dornan, who said it serves a "brilliant pint of Guinness". If it's good enough for one of Hollywood's biggest stars, it's good enough for us.
Address: The Merchant Hotel, 16 Skipper St, Belfast BT1 2DZ
1. The Harp Bar – you may spot your brown-eyed girl here
With music on offer nearly every night of the week, the Harp Bar is a place full of life and promises a great late night out.
Those that were lucky enough to witness worldwide superstar and local Belfast man, Van Morrisson when he sang here a few years ago definitely had an unforgettable night. Golf sensation and another local man, Rory Mcilroy has also been spotted here.
Address: 35 Hill St, Belfast BT1 2NB
So, there you have it, ten bars in Belfast that celebrities have been to. It would be rude not to pay them a visit; you never know who you might bump into on your celebrity spotting.
Other notable mentions
Mourne's Seafood Bar: Actors Bill Murray and Tim Robbins have been spotted here.
Deane's on Howard Street: Actress Selma Blair and Sir Cliff Richard have dined here.
Benedict's Bar: Chris Higgins, who plays for Belfast Giant's ice hockey team, appeared in this bar.
FAQs about bars in Belfast that celebrities have been to
What hotels do celebrities stay in Belfast?
The Europa Hotel would be one of the most popular in Belfast and Northern Ireland. Elsewhere, celebrities such as Kevin Hart have stayed in the Culloden. Stuff like this is great for the hotel industry.
Are there any famous people from Belfast, Northern Ireland?
Yes! There are many famous people from Belfast, Northern Ireland, including Kenneth Branagh, Mary McAleese, Carl Frampton, Eamonn Holmes, to name but a few.
Have other famous people visited Northern Ireland?
Yes, reportedly over the years the likes of Justin Bieber, Idris Elba, Brad Pitt, and Selena Gomez have all visited. It was no doubt an unforgettable experience for them.
Get featured on Ireland Before You Die
Do you want to get your Irish business more online exposure? Especially to those interested in travelling the best places in Ireland? Then why not get a dedicated feature on Ireland Before You Die. Find out more 
here.