When trying to decide the exact towns that have the best pubs in Ireland, there is no shortage of options as virtually every town in Ireland has a strong pub culture.
While pretty much every town in Ireland can boast their fair share of pubs, there are some towns, in particular, that stand out amongst the crowd.
This is thanks to the great nightlife that the pubs in their particular towns can offer to locals and people visiting.
In this article, we will list what we believe to be the top ten towns that have the best pubs in Ireland.
10. Kinsale, Co. Cork – great local nightlife
While many people tend to associate Kinsale with its colourful shop fronts and great local seafood, its nightlife is certainly not something to be overlooked!
There are many great pubs dotted along its charming streets. If you are looking to dance the night away, then look no further than Folkhouse Bar and Bacchus Nightclub.
9. Lismore, Co. Waterford – rich in trad culture
Lismore is a town that is rich in history and heritage, and its nightlife certainly reflects this as many of its pubs offer great traditional Irish music and dancing on the regular.
It is a great town to not only enjoy Irish culture, but also a great pint at the same time.
8. Carrick-on-Shannon, Co. Leitrim – a mecca for stags and hens
Carrick-on-Shannon is often regarded as the cultural capital of hen and stag parties in Ireland, thanks to its unique charm.
There are many different pubs to enjoy for those of all tastes, such as Dunne's Bar for sports enthusiasts, Cryan's Bar for trad music, and Murtagh's Bar for just an overall great night out.
7. Lahinch, Co. Clare – Ireland's answer to a surfer's paradise
Often known as Ireland's answer to a surfer's paradise, Lahinch often draws a huge crowd of beach and sea lovers, which helps to ensure that there is never a dull moment on the town's social scene.
As Lahinch has quite a young population, it should come as no surprise that the town has quite an active nightlife with Flanagans, O'Looney's, and The Nineteenth Bar being favourites with locals.
6. Howth, Co. Dublin – great pubs by the seaside
Howth is a small seaside town in Dublin that is only a short drive from Dublin City Centre and is a popular tourist destination.
Those who visit this popular seaside town will be treated to an array of great traditional Irish pubs and late-night bars to enjoy, such as The Abbey Tavern or Bloody Stream, which offers an extremely creamy pint of Guinness.
5. Sligo, Co. Sligo – rich in both local culture and nightlife
Sligo town is the heart and soul of County Sligo and is very rich in both local culture and nightlife as it is regarded as a top destination for those searching for some of the best Irish nightlife in the country.
As Sligo is quite a small town it is perfect for those wishing to visit many pubs and explore what the town has to offer on foot with Garavogue Bar and Swagman Bar, in particular, being worth visiting.
4. Carlingford, Co. Louth – home to many gems
Carlingford is a vibrant town that is popular thanks to its many outdoor adventure centres and heritage sites, but it is also an excellent choice of place to visit for those looking for a good night out.
Some of the best pubs and bars in Carlingford to visit on any weekend trip to Carlingford are P.J. O'Hare's, Taaffe's Castle Bar, and Lilly Finnegan's.
3. Bundoran, Co. Donegal – brilliant pubs in beautiful surroundings
Similar to the aforementioned Lahinch, Bundoran draws in a huge surfer crowd as it is home to some of the most beautiful beaches in Ireland.
This place draws in a crowd especially in the Summer, turning this small town into a buzzing social scene. The Kicking Donkey and George's Bar stand out in particular as the best pubs to visit in the town.
2. Dingle, Co. Kerry – a charming old-style fishing village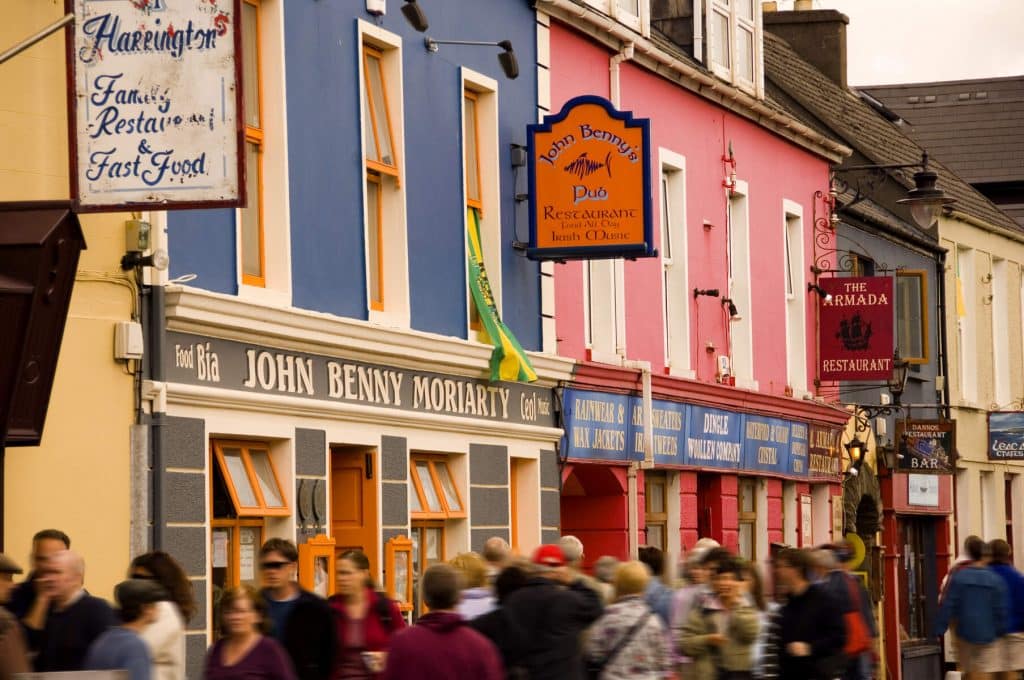 With many winding streets and a seemingly endless number of pubs on offer, the charming little fishing village of Dingle has proven to be extremely popular with tourists.
There are many great pubs in Dingle to enjoy, with Dick Mack's Pub, John Benny's, and Foxy John's being particularly worth a visit thanks to being such unique venues.
1. Kilkenny, Co. Kilkenny – home to the ultimate pub crawl
In first place on our list of the top ten towns that have the best pubs in Ireland is Kilkenny, which is without a doubt the town with the best nightlife in Ireland.
With endless pub-lined cobbled streets to explore, this medieval town is the ultimate location for those wishing to go on a pub crawl.
That concludes our article on what we believe to be the top ten towns that have the best pubs in Ireland. Have you been to any of them yet?
Other notable mentions
Maghera: Maghera in Northern Ireland has some great pubs and bars to enjoy a drink in. Although quaint, some of the pubs there make up some of the most understated in Northern Ireland.
Ballina: This is a charming country town in County Mayo on the west coast of Ireland. It is a picturesque town with some great pubs grouped together so you can enjoy a pint in this small town.
Castlewellan: Along with its beautiful forest park, Castlewellan is a lovely town to stop off in for a pint and a bite to eat. A town with a focus on the Irish language, it is a picturesque place that you won't regret stopping for a pint in.
Waterville: Waterville is a small village in County Kerry. It has some cracking pubs that embody exactly what an Irish pub is.
FAQs about towns in Ireland that have the best pubs
What county in Ireland has the most pubs?
The Pubs Outlook Report found that County Mayo has the most pubs! With one pub per every 323 people.
What is Ireland's oldest pub?
Ireland's oldest pub is Sean's Bar which sits on the banks of the River Shannon in Athlone. It was established in 900 A.D.
What is the most famous pub in Ireland?
The most famous pub in Ireland is probably The Temple Bar in Dublin. Not only is it the most famous in Ireland, but it is famous all over the world.
Get featured on Ireland Before You Die
Do you want to get your Irish business more online exposure? Especially to those interested in travelling the best places in Ireland? Then why not get a dedicated feature on Ireland Before You Die. Find out more 
here.