Ireland's most southwesterly point, a trip to Mizen Head Peninsula will make you feel like you've reached the end of the earth. Here is everything you need to know about this incredible part of Ireland.
Mizen Head is one of the best things to do in Cork. Situated in the south-west of Ireland in the Carberry District of County Cork, Mizen Head Peninsula is a place of incredible natural beauty that has to be seen to be believed.
If you're making the journey along Ireland's iconic Wild Atlantic Way, you will undoubtedly start or end your trip somewhere near the Mizen Head Peninsula, as it is home to Ireland's most southwesterly point, Mizen Head.
Renowned for the beauty of its rugged landscape and fascinating history, this is a spot not to be missed on any trip to Ireland.
So, if you're planning to visit the Mizen Head Peninsula, here is everything you need to know, including when to visit, what to see, and things to know.
When to visit – expect extremes of weather
Whatever the weather conditions are in the rest of West Cork, you can expect a much more extreme version in the Mizen Head Peninsula.
Due to the narrow shape of this peninsula and its exposed position on the south-west coast of Ireland, it is known to experience extremes of all kinds of weather from wind to rain, sun to storms.
So, we recommend heading to the Mizen Head Peninsula during the summer months when the sun is out in Ireland because you can expect beautiful sunshine in this region.
Between the months of April and October is the best time to visit this region thanks to warmer weather and longer days.
What to see – beautiful sights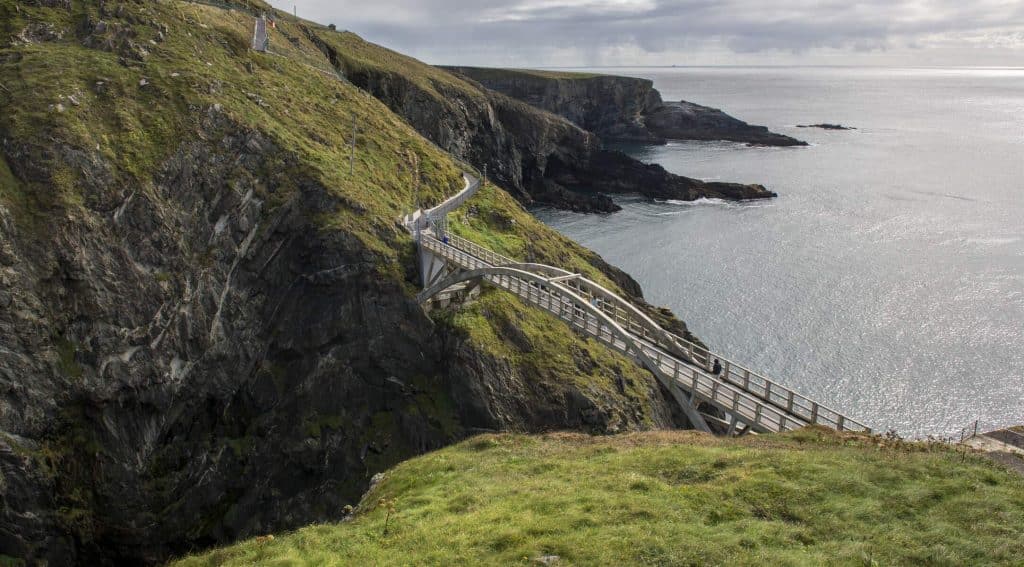 A drive around the entire peninsula will take you 64 miles (103 km), and much of the road hugs the dramatic coastline, so you're sure to get plenty of amazing views along the way.
The Mizen Head Signal Station, Ireland's most southwesterly point at the tip of the peninsula, is a must-see. Stretching dramatically out over the wild Atlantic Ocean below, you will be left speechless by the rugged sea cliffs and crashing waves.
Here the incredible Mizen Head Signal Station, which was built to warn ships at sea of the treacherous rocks below, has withstood the forces of nature for over 100 years.
Today, visitors can explore the award-winning maritime museum that has been built near the signal station.
Other sights to see on the Mizen Head Peninsula are the quaint harbour village of Goleen and Crookhaven Harbour, as well as taking in the breathtaking views from Brow Head and walking along the beautiful sandy Barleycove Beach.
Directions – how to get here
From the beautiful town of Skibbereen, take the N71 west through Ballydehob. From here, continue straight on, and you will see the signs for the Mizen Head Drive.
Follow the route R592 through Schull and Goleen, and continue until you see the sign for Mizen Head Drive.
Things to know – you may need to be relatively fit to visit the signal station
If you want to see the iconic Mizen Head Signal Station, please bear in mind that you may need a pretty good level of physical fitness.
To get to the station, you need to make a 15-minute walk along a gravel path before descending 99 steps cross the arched bridge that leads to the station.
However, if you are able, we would highly recommend doing the walk as the views are out of this world.
Where to eat – delicious food
O'Sullivan's Bar in Crookhaven is a great place to stop for a bite to eat. This friendly traditional Irish pub, which overlooks Crookhaven Harbour, serves a wide range of seafood, chowder, and sandwiches, as well as tea and scones.
The Crookhaven Inn is another excellent option for somewhere to eat along the Mizen Head Peninsula. This modern family-run bar offers an extensive menu, including locally sourced seafood prepared with an international twist.
For something quick and easy, you can also grab a bite to eat or something to drink from the Mizen Café located beside the visitors centre.
Where to stay – excellent accommodation
The Barleycove Beach Hotel is a small seasonal hotel located near Barleycove Beach. The hotel includes a restaurant, bar, deck, function room, and eight bedrooms overlooking the Atlantic Ocean, and prices start at €89 per night for bed and breakfast.
Address: Cannawee, Barleycove, Co. Cork, Ireland
Schull Harbour Hotel is another great option for somewhere to rest your head. This luxury boutique hotel is perfectly located for exploring the Mizen Peninsula and the nearby Sheep's Head and Beara peninsulas.
Schull Harbour Hotel also has a leisure centre, which includes a swimming pool, sauna, steam room and a state of the art gymnasium, as well as the delicious Chapters Restaurant and O'Briens Bar located on-site.
Prices start at €95 per night for bed and breakfast.
Address: Main St, East End, Schull, Co. Cork, P81 DY88, Ireland