Skibbereen is a town in County Cork, Ireland. The name "Skibbereen" means "little boat harbour". Skibbereen is a viberant beautiful village, full of character.
The village, with its many brightly coloured houses, is a scenic site in itself. Firstly, the buildings themselves are stunning. You could happily pass an afternoon wandering around the streets and the harbour.
It's a very Insta worthy place. You'll be spoiled for choice if you're after some new stunning photos for your Insta or Vsco. If you want to branch out a bit, Skibbereen also has a host of beautiful and scenic experiences to choose from.
5. Drombeg Stone Circle
If you are interested in history, you can't come to Skibbereen without seeing the Drombeg Stone Circle in West Cork. It has been dated to between 153 BC and 127AD.
It's also known locally as the Druid's Altar. Not only is it impressive for its historical value but it's placed in a breath-taking setting of the rolling Irish countryside with a view of the sea in the distance.
The largest stone is aligned with the setting sun of the midwinter solstice on 21 December. The midwinter solstice was a hugely important time in the ancient calendar, marking the day with the shortest period of daylight and the longest night of the year.
Address: Glandore, Cork
4. Lough Hyne
Lough Hyne is a marine lake in West Cork, Ireland, about 5 km southwest of Skibbereen. It was designated as Ireland's first Marine Nature Reserve in 1981.
The lake is a deep blue and clear and clean. At first glance it almost doesn't appear real it's so perfect. The lake is unique in that it's a salt water late.
If you want to experience the full beauty of the lake you can rent a kayak and take in the scenery at your leisure. There's plenty of parking spaces to pull in and enjoy the views if you're only passing but don't want to miss out.
Address: Skibbereen, Ireland
3. Heir Island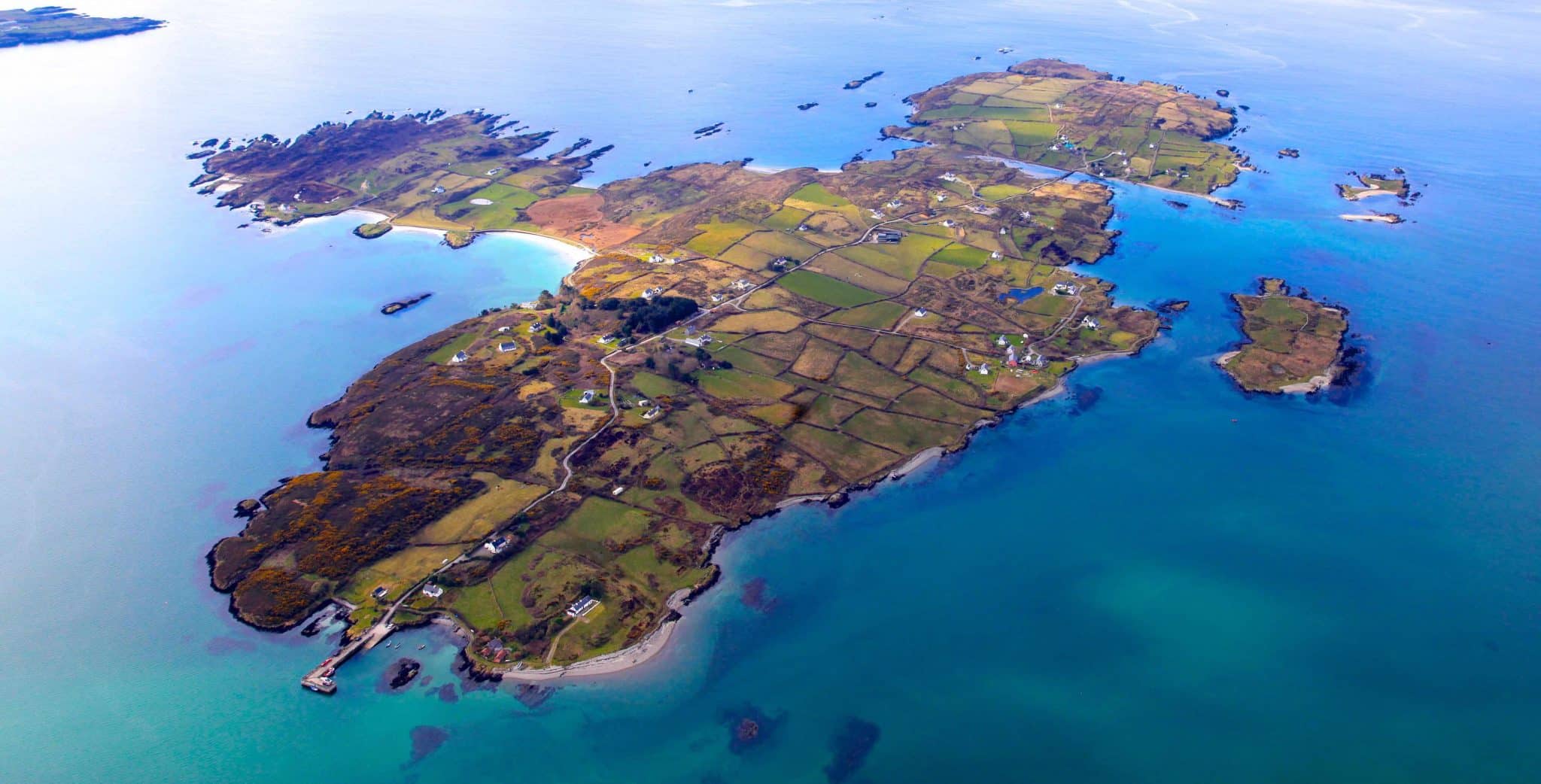 Heir Island, according to its official website, is described as an "unspoilt, tranquil and magical haven with abundant wildlife, natural rugged beauty and panoramic views".
This is an amazing place to go if you want to get away from it all and gain a new appreciation for what nature has to offer and the unspoilt beauty of Ireland.
Heir Island is also home to many artists, who are drawn to the island because of its breath-taking scenery and serene atmosphere. It's also home to many unusual birds as well as over two hundred varieties of wildflowers. You'll be happy to hear that Heir Island is only a four-minute ferry ride from the mainland.
Address: Skibbereen, Ireland
2. Cork Whale Watch
Really, what is more scenic than standing windswept out in the middle of the wild ocean, hoping to see some majestic whales? Cork Whale Watch with Colin Barnes provides year-round whale watching trips depart out of Reen Pier, near Union Hall, West Cork, subject to weather conditions and demand.
The trips are a minimum of 4 hours duration, often longer. Make sure to bring your camera! The winter schedule runs from 01 November to 31 March inclusive. One trip per day: 10.30am to 2.30 pm.
Although Colin has an unrivalled spotting record of 96%, as with any wildlife watching, whales and dolphins can be unpredictable. However, grey seals are seen on every trip on the inshore islands, as well as a range of seabirds and fantastic coastal scenery, so there is always something great to see regardless.
Colin often produces fishing rods if things are quiet and give clients an opportunity to catch their own supper. Booking is advised.
Address: Reen Pier, West Cork
1. Sherkin Island
If you come to Skibbereen you have to check out Sherkin Island. It's the ancestral home of the O'Driscoll clan and the perfect place for a lovely day out.
Sherkin has three beautiful sandy beaches, which make great swimming areas and you may even see seals, otters, dolphins or the porpoises, which gave the island its name. Sherkin is a quiet place of unspoilt beauty, home to about 100 people.
Another great site at the island is an automated lighthouse, maintained by locals, that is situated at Barrack Point and dates back to 1835. It's an absolutely beautiful place and well worth the visit to soak in the scenery.
It's also really easy to get to with regular ferries from the small fishing port of Baltimore and the trip is only around 10 minutes.
Address: Sherkin Island, Cork.