Keem Beach is one of County Mayo's best-loved attractions and one of Ireland's most stunningly beautiful beaches. So, if you haven't yet been, here is all you need to know for planning a trip to this wonderful location.
If you are keen to travel around Ireland and discover the various picture-postcard views on offer throughout the island, then a trip to Keem Beach, which is one of the best beaches in Ireland, cannot be overlooked.
If you are any sort of beach lover, you will have heard many people rave about this hot spot, given that it has been dubbed one of the best beaches in Ireland and one of the most beautiful on the continent.
So, what are you waiting for? Read on to find out all you need to know about visiting Keem Beach.
Overview – why Keem Beach?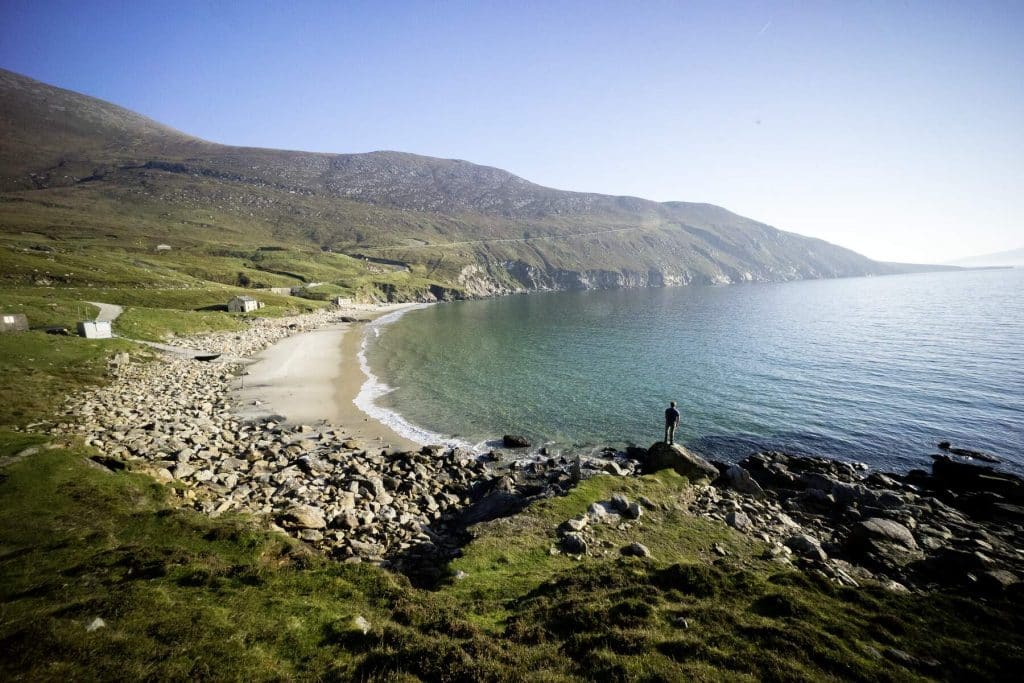 Believe it or not, Keem Beach on a sunny day (yes, they exist during the warmer months) will trick you into believing you are in the Caribbean.
Those who have seen photos of this incredible bay and the amazing scenery around, especially when photographed from above, will struggle to believe this is an Irish beach, but it's true.
Keem Beach, a Blue Flag Beach, is located in Keem Bay, close to the small village of Dooagh on Achill Island.
There are many things to see and do on the island, and getting there has never been easier. We will get to that a little further on. For now, let us tell you why Keem Beach is such a dream destination.
What to do – to keep you entertained
Visit Keem Beach: No trip to Achill Island in County Mayo is complete without feasting your eyes on this stunning horseshoe-shaped beach, surrounded by majestic high cliffs, providing shelter to the bay.
This Blue Flag Beach is a safe, clean, and serviced beach. Lifeguards are on duty in the high season and there is disability access. Dogs are allowed on leads and there is plenty of free parking in the area.
It is also good to know that if you keep your eyes open, you may even spot some dolphins or a basking shark in the distance.
Try out some watersports: Keem Beach is a popular spot for surfing, abseiling, kayaking, and snorkelling. So, why not give watersports a go while you are there?
There is no better place to be in Ireland on a sunny day than out on the water. With plenty of surf schools around, you can opt to have a professional by your side to help you pick up some skills throughout the day.
Go swimming: Despite what you might have been told, not all Irish waters are cold. In the peak summer months, you may experience comfortable mild temperatures. Thus, making it ideal for a relaxing swim or some snorkelling.
This beach has been awarded for its excellent water quality, and as lifeguards are on hand between June and August, you are in safe hands.
However, always air on the side of caution when swimming on any beach in Ireland. We advise you don't go far out if you are not a skilled swimmer.
Things to do nearby – plenty to see in the area
Discover the Deserted Village: Not far from Keem Beach, you can take a step back in time by visiting the Deserted Village, which is quite the historical experience.
Surrounded by the remains of an old Irish village, you are quickly transported back to a time when life in Ireland was tough, especially for islanders.
Slievemore's deserted stone village became empty when almost all of the residents emigrated after the peak of the Great Famine. Today, a visit here is crucial for understanding the hardships of those times, which impacted the Irish nation greatly.
Complete the Keem Bay Loop Trail: This 4.8 km (3.5 miles) hike is a fantastic activity for a bright, dry, and sunny day near Keem Beach. It will take you around two to two and a half hours to complete, although you should allow for MANY photo stops.
Keem Beach is beautiful from below. Still, from above, it is truly remarkable, giving you a real sense of the lush surroundings, dramatic cliffs, the alluring turquoise waters, and the shape of the bay, which makes it unique.
This moderately challenging hike will take you up a steep section at the beginning. However, it will reward you with insatiable views for the remainder of the walk.
Rent a bike: Achill Island is a fantastic spot for cycling. So, if you take a day to explore fully by bicycle, you will not regret it.
The roads on the island are not for the faint-hearted. They can be very narrow in sections, so believe us when we say that cycling takes the stress away.
There are a couple of pubs around the island, which ooze traditional character. So, why not stop off for a pint during your day of discovery?
How to get there – directions to Keem Beach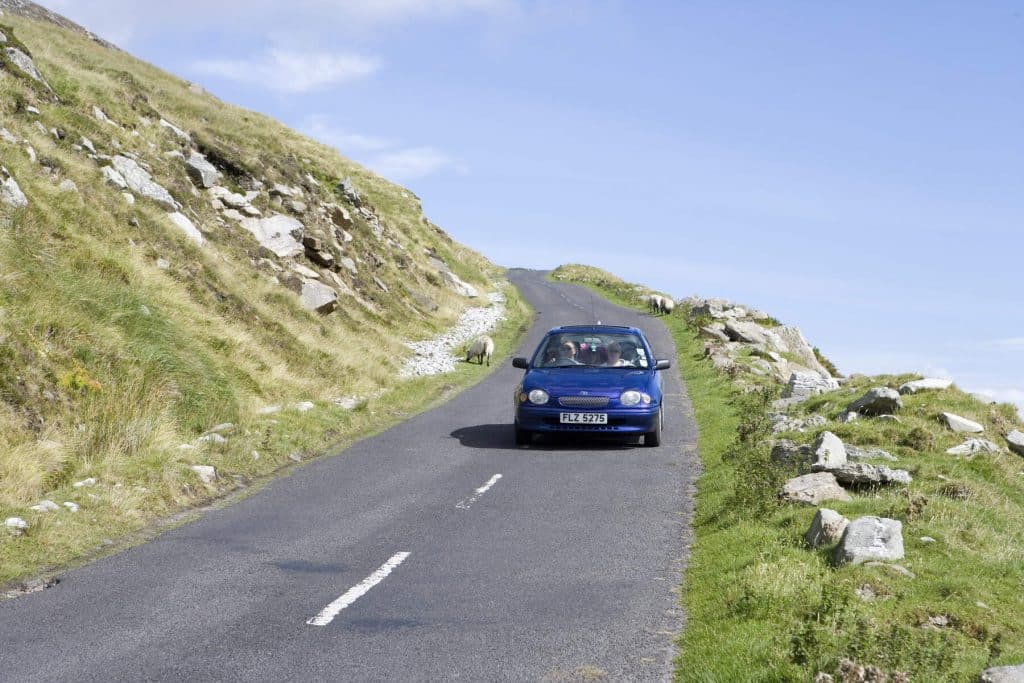 Keem Beach is one of the best things to do on Achill Island, but despite what the name may suggest, you will not need a ferry to get here.
Achill is Ireland's largest island, and plenty of people call this fabulous location home. So, the fact that you can get there via the Michael Davitt Bridge means there is no excuse not to visit.
The bridge can be crossed by walking, cycling, or by car, so the choice is yours. However, if you are driving, be prepared for narrow roads, especially if you are driving a larger vehicle – just take it slow.
The beach itself can be found at the head of the valley, directly between Benmore to the west and Croaghaun Sea Cliffs to the east. Warning: the drive down to the beach is not for the faint-hearted.
To avoid traffic, especially during the peak season, try to arrive as early as you can. You will be happy not to meet oncoming traffic on your way down the steep cliffside road.
Where to park – car parking options
There is free parking close to Keem Beach on various levels as you drive down the steep road. So, be on the lookout for a spot on your way down, just in case it is full at the lower end.
It is best to arrive early or late in the evening to get a parking spot. Otherwise, try to park a bit further away and either walk or cycle the last section.
Useful Info – Local tips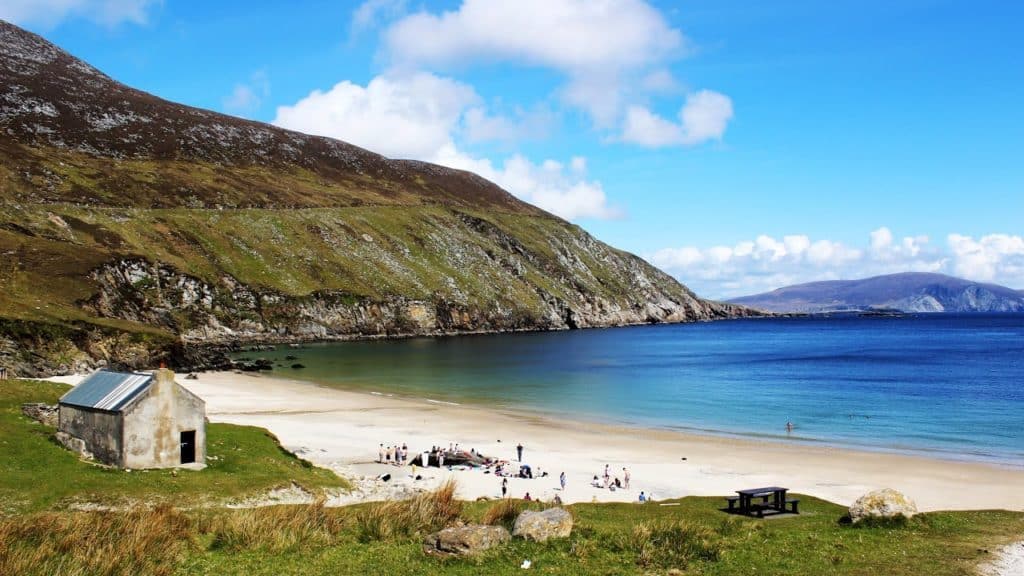 In the 1950s, basking sharks were hunted here for their liver oil. These days, they can be spotted in the area.
The best views are from the cliffs, and the sunset here (being on the West coast) is beyond incredible.
The beach is dog-friendly, but dogs must be kept on a leash.
Some of the highest sea cliffs in Ireland can be found on Achill Island, near Keem Beach.
Achill Cliff House Hotel is a great place to stay nearby.
Atlantic Drive: For an epic view of this sandy beach and horseshoe bay, we recommend driving this picturesque clifftop road.
Notable mentions – some other great ideas
There are a host of activities and sights to see around Achill Island, including:
Cycling the Great Western Greenway: A long 42 km (26.1 miles) cycle path from Westport to Achill, which is one of the most scenic cycle routes in County Mayo.
Camp on the beach: Wild camping on the beach is tolerated if you abide by the rules and leave nothing behind.
Visit Lynott's Pub: Experience a real trad music session and a great pint of Guinness at this thatched pub.
Climb the Croaghaun Sea Cliffs: Take great caution here, but be rewarded with marvellous panoramic vistas.
Dooagh Bay: Another beautiful white sand beach on Achill Island.
FAQs about Keem Beach
Where is Keem Beach?
It is on Achill Island, below Croaghaun Mountain.
Can you swim at Keem Bay?
Yes, it is very safe and clean.
Can you camp on Keem Beach?
Yes, but leave no trace afterwards.
Well, now you know the ins and outs of what makes Keem Beach so special. Why not get planning a trip to Achill? You won't regret it.