From cliff-top views and white sandy beaches to the top local pubs and places to stay, here are the best things to do on Achill Island.
Achill is an island jutting off the coast of County Mayo, on the west coast of the Emerald Isle.
As the largest of the Irish isles, Achill Island sees many visitors each year. They flock to its serene shores of emerald green and crystal blue in search of stunning sights.
Attached to the mainland by a bridge, accessing this little pocket of paradise is more than manageable. And, with so many highlights, places to see, and things to do on Achill Island, it comes as no surprise why so many travellers are adding it to their bucket list these days.
Wonder no more what to do on Achill Island, this list has all the answers.
Ireland Before You Die's tips for visiting Achill Island
Research the island's attractions, such as Keem Bay and Slievemore Deserted Village, to plan your itinerary.
Be sure to tack appropriate clothing and footwear for the ever-changing weather on Achill Island.
Check ferry schedules and plan your transport to and from the island.
Engage in outdoor activities like hiking, surfing, or cycling to make the most of your visit.
Book your accommodation in advance to secure your preferred options.
10. Achill Experience, Aquarium and Visitor Centre – for a rainy day
On every Irish travel itinerary, there must be a rainy-day backup plan – an activity that's success does not depend on good weather. 
When visiting this western island, the Achill Experience, Aquarium and Visitor Centre is just the ticket. 
Not only is this Mayo's only aquarium, but it offers visitors a chance to explore island life, both past and present, making it an enjoyable and educational experience.
Address: Crumpaun, Keel East, Achill, Co. Mayo, F28 TX49, Ireland
Check out: 5 best aquariums in Ireland.
9. Kildavnet Castle – to learn about the "Pirate Queen"
Another of the top places to see is Kildavnet Castle. Towering over the waters of Achill on its south-eastern shore lies Kildavnet Castle. Or, as some may call it, Grace O'Malley's Castle.
This now-tourist attraction was first built by the Ó Máille clan in the 15th century, before being reigned by Gráinne Ní Mháille, the famous "pirate queen."
Address: Unnamed Rd, Co., Co. Mayo, Ireland
8. Slí Grainne Mhaol – for a stunning coastal walk
For those looking to stretch their legs on Irish soil, one of the best things to do in Achill Island is to walk Slí Grainne Mhaol.
This loop walk is around five kilometres (3.10-miles) in total and an easily accessible trail for most. Park at the Pattens Bar, and you can get going from there – it also makes for a great place to enjoy a pint after a nice walk!
Address: Derreens, Achill Sound, Co. Mayo, Ireland
Read also: Achill Island when to visit what to see and things to know.
7. Keel Sandybanks Caravan & Camping Park – for an overnight stay
Should you be craving an overnight stay on the island, we suggest you embrace the outdoors at Keel Sandybanks.
Bound to be one of the highlights of your trip, this four-star family-camping park is perfect for an overnight stay or summer vacation. Situated on sandy shores, this will be a stay not soon forgotten!
Address: Keel East, Achill Island, Co. Mayo, Ireland
Related: 10 best caravan and camping parks in Mayo.
6. Ted's Pub – for a local pub experience
If you're wondering what to do on Achill Island, we suggest a trip to Ted's Pub. This local watering hole offers authenticity through-and-through, as well as some fantastic local fare and free-flowing creamy pints of Guinness.
It is also a café and venue, depending on the day in question and what is on the entertainment schedule, meaning there's a little something for everyone.
Address: Cashel, Achill, Co. Mayo, Ireland
5. Minaun – for a bird's-eye views
Hop into your car and check out Minaun, one of the best highlights and things to do on Achill Island.
Reaching over 1,500-feet (466-metres), this panoramic bird's-eye viewpoint over Achill Island is bound to make you weak at the knees. Just don't forget the camera!
Address: Keel East, Co. Mayo, Ireland
4. The Deserted Village – for a look into the past
For those of you craving a peek into the past, check out the Deserted Village – undoubtedly one of the highlights on Achill Island.
Sitting at the base of the Slievemore mountain, this abandoned settlement gives an eerie insight into the remote and primitive existence of villagers during the Anglo-Norman period of the 12th-century.
Address: Bal of Dookinelly (Calvy), Co. Mayo, Ireland
3. Keel Beach – for blissful beach walks and one of the best places to see
Keel Beach is one of the most stunning sights on all of the island. With dramatic mountains hugging sandy shores, this beach makes for one of the more cinematic settings you're likely to find on Achill Island.
Stroll the cliff walk which towers above the Atlantic Ocean for the ultimate experience of Keel Beach.
Address: Achill Island, Co. Mayo, Ireland
2. Great Western Greenway – one of the best things to do on Achill Island
Wondering what to do on Achill Island? Check out the Great Western Greenway. The Great Western Greenway is a 42-kilometre (26-mile) trail that begins in Westport and ends on Achill Island, County Mayo.
Through remote towns and past breathtaking backdrops, this cycle track is one of the most enchanting in all of Ireland.
Province: Connaught
1. Keem Bay – for sandy stretches and utter serenity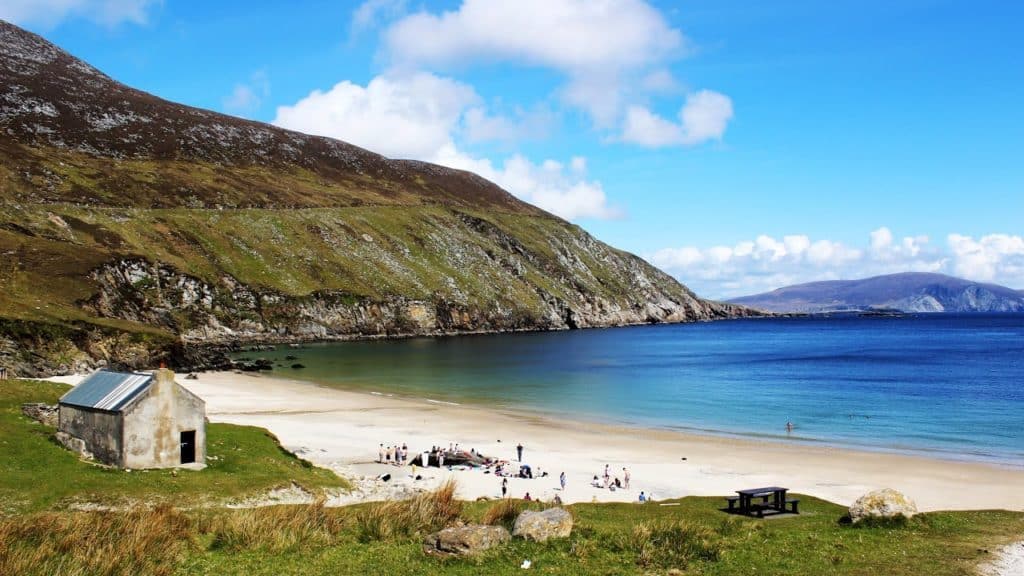 Keem Bay is a Blue Flag beach on Achill Island and one of its highlights, without a doubt. It is truly one of the top places to see.
With sparkling blue waters and dreamy surroundings, this is the perfect place to seek serenity on a sunny day in Mayo.
Grab a picnic and a good book and find yourself a little patch of paradise on this Achill Island beach.
Address: Keel West, Keem, Co. Mayo, Ireland
Your questions answered about things to do on Achill Island
What does Achill mean in Irish?
It has been suggested that the name may mean 'look-out, prospect'; the idea sometimes advanced that it may be related to the Latin word aquila, 'an eagle' seems groundless.
Can you swim on Achill Island?
Yes! You can swim at certain Achill beaches where the water is safe to enter. The island has several Blue Flag beaches, but note that lifeguards are only on duty during the summer.
Is it worth visiting Achill Island?
It's a top spot for canoeing, kayaking, stand-up paddleboarding and kitesurfing. Known for its stunning natural beauty, rugged landscapes, and captivating coastal scenery.