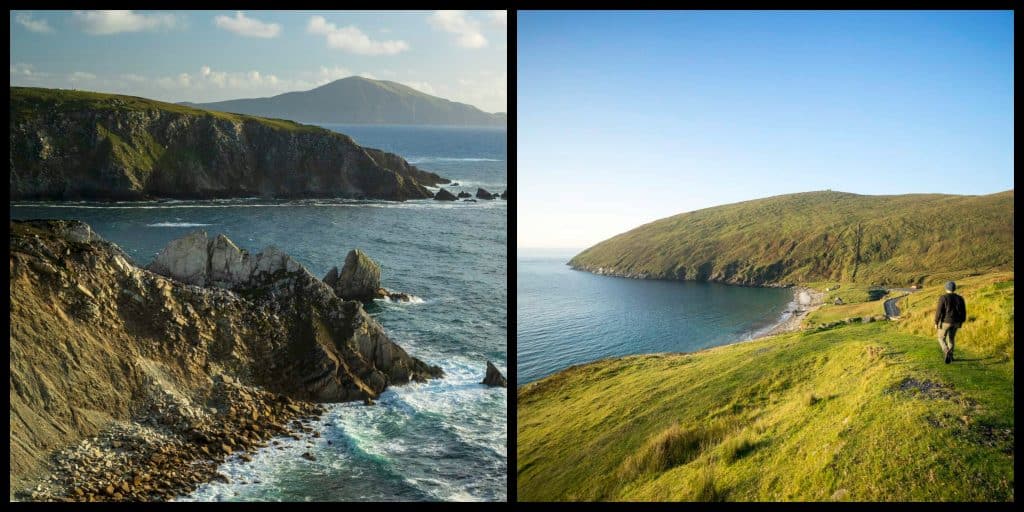 Situated off the coast of County Mayo is the wild and wonderful Achill Island. Connected to the mainland by a bridge, this breathtaking place is not to be missed when exploring the Emerald Isle.
Home to hundreds of sheep, incredible beaches, and tonnes of adventure, the island of Achill really does have it all!
There are countless magnificent beaches, roaring seas, looming sea cliffs, and extraordinary people. So, it is easy to understand why thousands of people are drawn to the island every year.
When to visit – for weather and more
Although a beautiful place to visit no matter the season, there are substantially fewer things open during the winter months.
We advise that, if you can, to visit during the summer months to experience the best things to do on Achill Island. Plus, during the summer months, you may even be blessed with lovely summer weather!
What to see – plenty on offer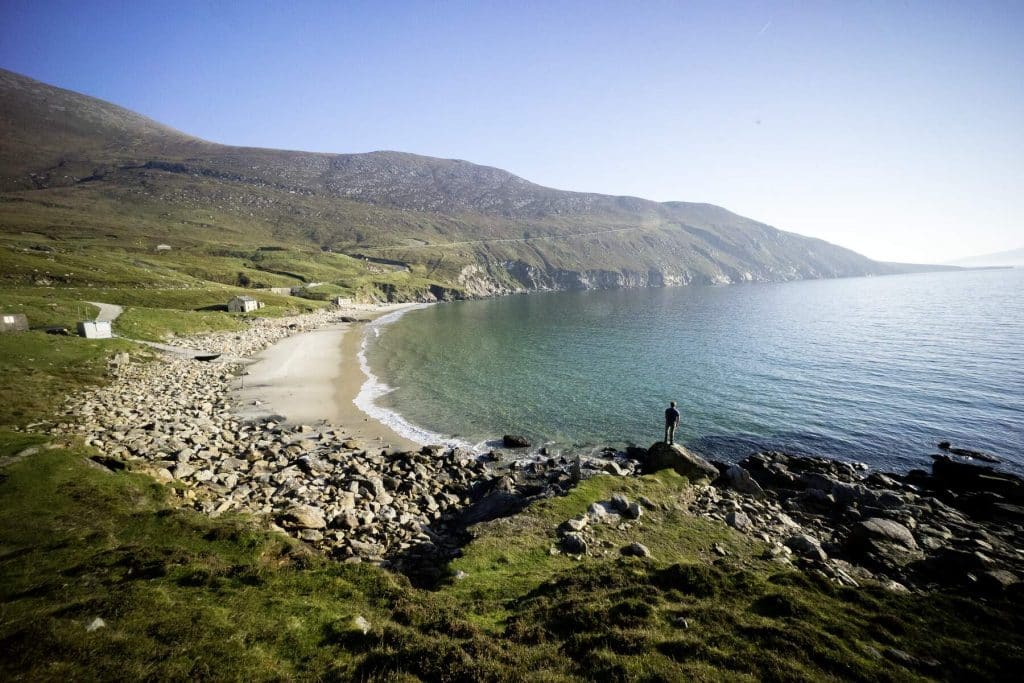 Achill Island is home to immense beauty; however, one of the most beautiful places of all has to be Keem Bay.
This horseshoe-shaped bay is overlooked by rugged sea cliffs and picturesque hills. Become enticed by the crystal-clear waters that are home to so much wildlife, including dolphins and basking sharks. Keem Bay is part of Ireland's Blueway, which showcases some of the most incredible places for snorkelling in Ireland.
Address: Keel West, Keem, Co. Mayo
For a striking reminder of how island life has changed and become less popular, head to the Deserted Village.
It is home to between 80 and 100 stone cottages at the base of Slievemore Mountain. This is the largest and most recently abandoned of villages on Achill Island and is thought to have been abandoned because of the Great Famine.
Address: Bal of Dookinelly (Calvy), Co. Mayo
Head to the Tower of Kildavnet, known locally as Grace O'Malley's Castle.
This was amongst the many strongholds that the infamous pirate queen, Grace O'Malley (Granuaile) held during the 16th-century. She is believed to have dominated the waters during this time.
Although the ruins of this tower are all that remain, it is a beautiful place to watch the world go by.
Address: Unnamed Rd, Co., Co. Mayo
For adventure enthusiasts, be sure to head to the 4 km (2.5 miles) long Keel Beach.
This long golden sandy beach is the most popular of all the beaches on Achill due to the watersports on offer here. The waves here are perfect for learning how to surf; however, kitesurfing and windsurfing are also quite popular.
Address: Achill Island, Co. Mayo
Achill Island is home to the third-highest sea cliffs in Europe, Croaghaun Sea Cliffs.
Standing at an impressive 688 m (2257 ft) tall, these sea cliffs are not to be missed when exploring Achill. The best way of seeing these cliffs is by hiking around Croaghan Mountain. It isn't the easiest of hikes; however, the views are so worth it!
Things to know – what to be aware of
There is no public transport on the island, so if you don't drive, we suggest bringing your bike so that you can easily explore all the island has to offer. Buses can be taken to Achill Sound from Westport.
Achill Island is best explored over several days as there is so much to see and do here. We suggest heading here for a minimum of three days so that you can experience the magic of island life.
Where to stay – excellent accommodation
For a place to stay with a view, head to Pure Magic for views overlooking a thrill-seekers haven, Keel Lake.
The relaxed and friendly atmosphere, coupled with the themed bedrooms make for an enjoyable stay. There is even a restaurant on site which has the best pizza on the island!
Address: Slievemore Rd, Bal of Dookinelly (Calvy), Achill Island, Co. Mayo
Places to eat – delicious food
Head to the most westerly pub in Europe, Gielty's, which prides itself on combining their love of great food and drink with traditional Irish music.
This family-run pub welcomes all with their roaring peat fires and incredible panoramic views over Clew Bay. All their ingredients are locally sourced, and they even catch the fresh fish themselves!
Address: Main Street, Dooagh, Achill Island, Co. Mayo
If you are looking for a sweet treat and a warm cup of coffee after going for a dip in the sea, then head to the Beehive Craft and Coffee Shop.
Their homemade soups, sandwiches, and cakes can be enjoyed on the patio which overlooks Keel Beach. There is also a small craft shop on site, which showcases some of the local businesses.
Address: R319 Keel Achill Island, Co. Mayo, F28 TN27
Insiders tips – advice from a local
If you are heading to Achill Island during June through September be sure to head to the Achill Country Market.
This market is open every Friday from 11 am to 1 pm in Ted Lavelle's Pub. Here, the locals have the opportunity to sell everything from homemade cakes to farm-fresh eggs and beautifully hand-crafted gifts.
Address: Cashel, Achill, Co. Mayo