Grace O'Malley was not only Ireland's famous pirate queen but a famous swashbuckling pirate known across the world with a fascinating tale.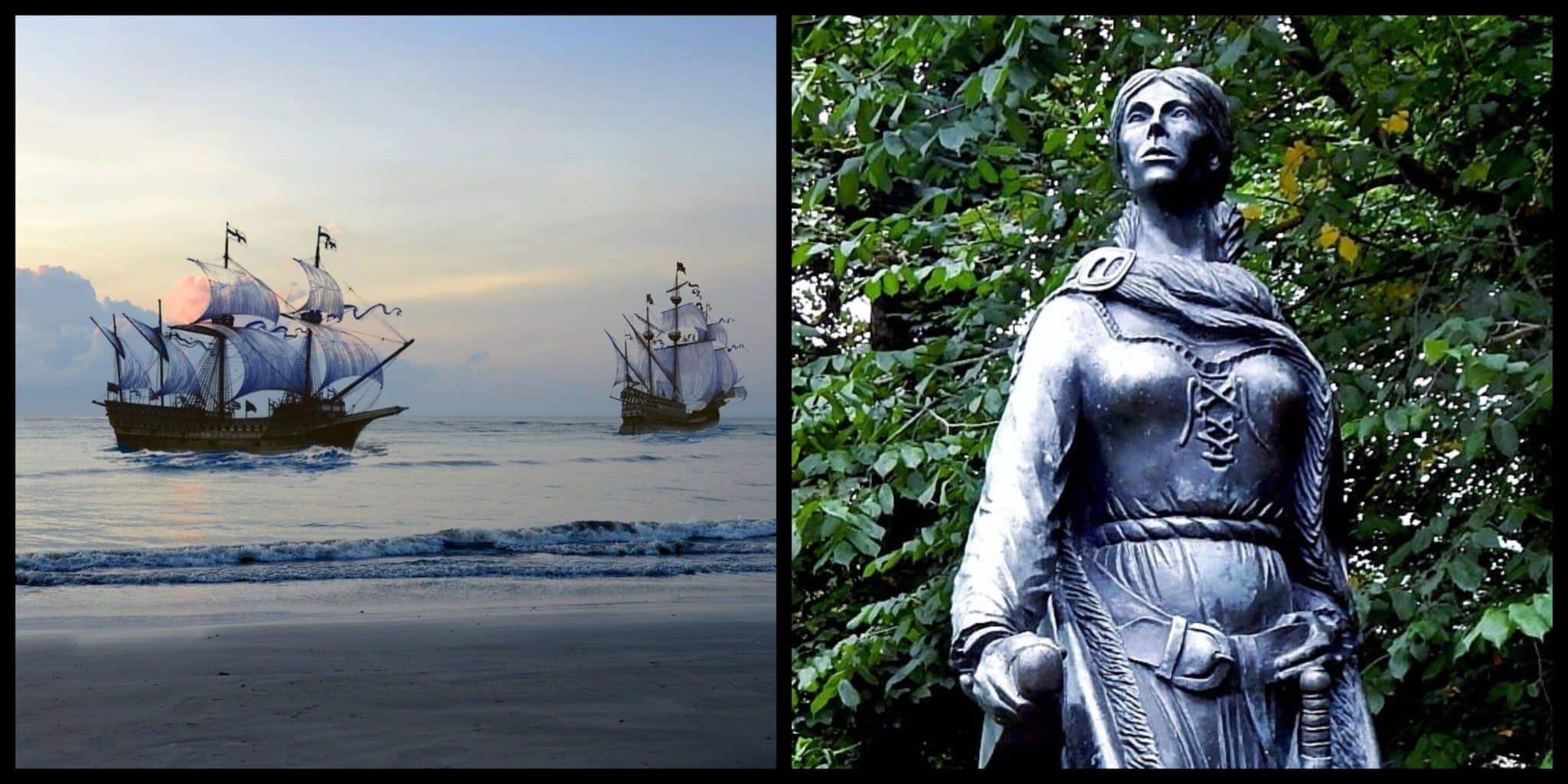 The true historical story of Grace O'Malley is a powerful and exciting one. She became a pirate queen and feminist hero in a time when women were treated as second-class citizens.
She was a woman who defied tradition and gender norms who took to the sea and used her aggressive nature to her advantage.
In this article, we will explore the history behind Ireland's most famous pirate queen, Grace O'Malley.
Who was Grace O'Malley?
Grace O'Malley was born around 1530 near Westport in the west of Ireland. Grace was the only daughter of Eoghan Dubhdara O'Malley and Margaret O'Malley.
The O'Malley family were famous for being a noble, seafaring family and her father was the chieftain of his clan.
As a young girl, Grace dreamed of joining her father on the sea and longed for adventure.
While her parents at first disapproved of this in what was a very traditional male-dominated world at the time, they eventually relented after Grace went so far as shaving off her hair to disguise herself as a boy.
Her father accepted her as part of the crew, and she earned the name Grainne Mhaol, in Irish, maol means 'bald'. Her seafaring career had officially begun.
How did Grace O'Malley rise to prominence?
Grace O'Malley quickly ascended through the ranks on the ship.
After her husband was killed fighting ashore, Grace, who was 23 at the time, took over his castle and his fighting ships. She then returned to Mayo with many followers.
She would later marry again but this time for political gain when in 1566 she married Richard Iron Dick of the Burke or Lower MacWilliam family, who, similar to her first husband, was a land fighter too.
This marriage proved very advantageous for Grace as she gained control of Rockfleet Castle near Newport.
She divorced Richard Iron Dick after just one year. However, English papers still recorded them as being married, remarkably she was able to keep the castle and still remain an ally of him!
At the height of her power Grace had full control over several castles, including Rockfleet in Clew Bay, Doona on Blacksod, Kildavnet on Achill Island, and the jewel of them all was the O'Malley Castle itself on Clare Island.
Clare Island was where Grainne spent her summers.
It was her stronghold, not only was it a place she loved, but it was also perfect from a strategic point of view as it was located at the centre of her sea kingdom.
How powerful was Grace O'Malley?
It is no understatement to say that Grace O'Malley was one of the most powerful and famous Irish women in the 16th-century.
Not only did she thrive in a patriarchal society and come to command fleets of men and own many castles, she was also the veteran of many hard-fought and bitter battles, particularly against the English.
In 1580, after 15 years of battles and ongoing negotiations, Iron Dick Burke, Grace's husband, was granted a knighthood by the English governor of Connacht, Sir Nicholas Malby.
When these two men died, the new governor, Sir Richard Bingham, and his men began persecuting Grace and her followers.
Grace, however, was so successful at battling them she inevitably drew the attention of Queen Elizabeth I and sailed up the Thames itself as she wished an audience with the queen to come to an agreement as the English had captured two of Grace's sons as leverage.
Grace met with the English queen and defied convention by refusing to bow as she saw herself as a queen too.
Grace never spoke English in her life, so the two conversed in Latin.
They came to an agreement which saw the release of both of Grace's sons on the condition that she end her reign of piracy against England.
The legacy of Grace O'Malley
After a life full of pirating adventures, wars against the English, and even meeting with the queen as equals, Grace once again defied tradition, the tradition of pirates to die young and horribly.
Grace instead lived out her days to old age and died in 1603 at Rockfleet Castle, she was buried in the Cistercian Abbey on her beloved Clare Island.
After her death, she went on to become an Irish folk hero and a feminist one too. She is still revered and talked about to this day hundreds of years later, which shows the kind of impact that she made.
That concludes our article exploring the history behind Ireland's famous pirate queen, Grace O'Malley. What did you think of Grace O'Malley and her many adventures?