As one of Ireland's most scenic counties, there is plenty to discover across County Mayo. Today, we're counting down the best and most scenic cycle routes in Mayo.
From stunning islands to rugged cliffs, rural roads to coastal paths, there is an abundance of cycling routes with breathtaking views around the beautiful County Mayo.
One of the best ways to soak up the scenery is by bike, and thankfully there are plenty of stunning cycling routes around Mayo to choose from.
So, if you fancy discovering this beautiful county from a new perspective, read on. We count down the five best and most scenic cycle routes in Mayo that everyone needs to experience.
5. Aasleagh Falls Loop – pass beautiful towns on these scenic cycle paths
Starting at Westport House, in the attractive town of Westport, the Aasleagh Falls Loop is one of the most popular loop routes in County Mayo. Coming in at 84.5 km (52.5 miles), this is a relatively tricky cycle worthy of adventure seekers.
However, the beautiful scenery and many great picnic spots along the way make it more than worth it, making this one of the best and most scenic cycle routes in Mayo.
Making your way southwest, you will cycle along the southern bank of the Carrowbeg River before passing Westport Harbour. You will join the Great Western Greenway and continue south along the coastal road.
Continuing south along the coast road, you will pass through the stunning seaside town of Murrisk, making your way towards Louisburgh.
At the junction just after Killeen Cemetery, you will take the road on the left and continue east, passing through Feenone and Althore. At Cregganbaun, you will continue south before passing the incredible and harrowing Doolough Valley Famine Memorial.
From here, you will continue south along the road, in the shadow of Ben Gorm and Ben Creggan, following the route along the shores of Doo Lough. Make your way east towards Aasleagh Falls, a small but beautiful waterfall.
After this, you will pass across the Sheeffry Pass and continue north back towards Westport House.
Starting point: Westport, Co. Mayo, Ireland
4. Newport Loop – an out and back route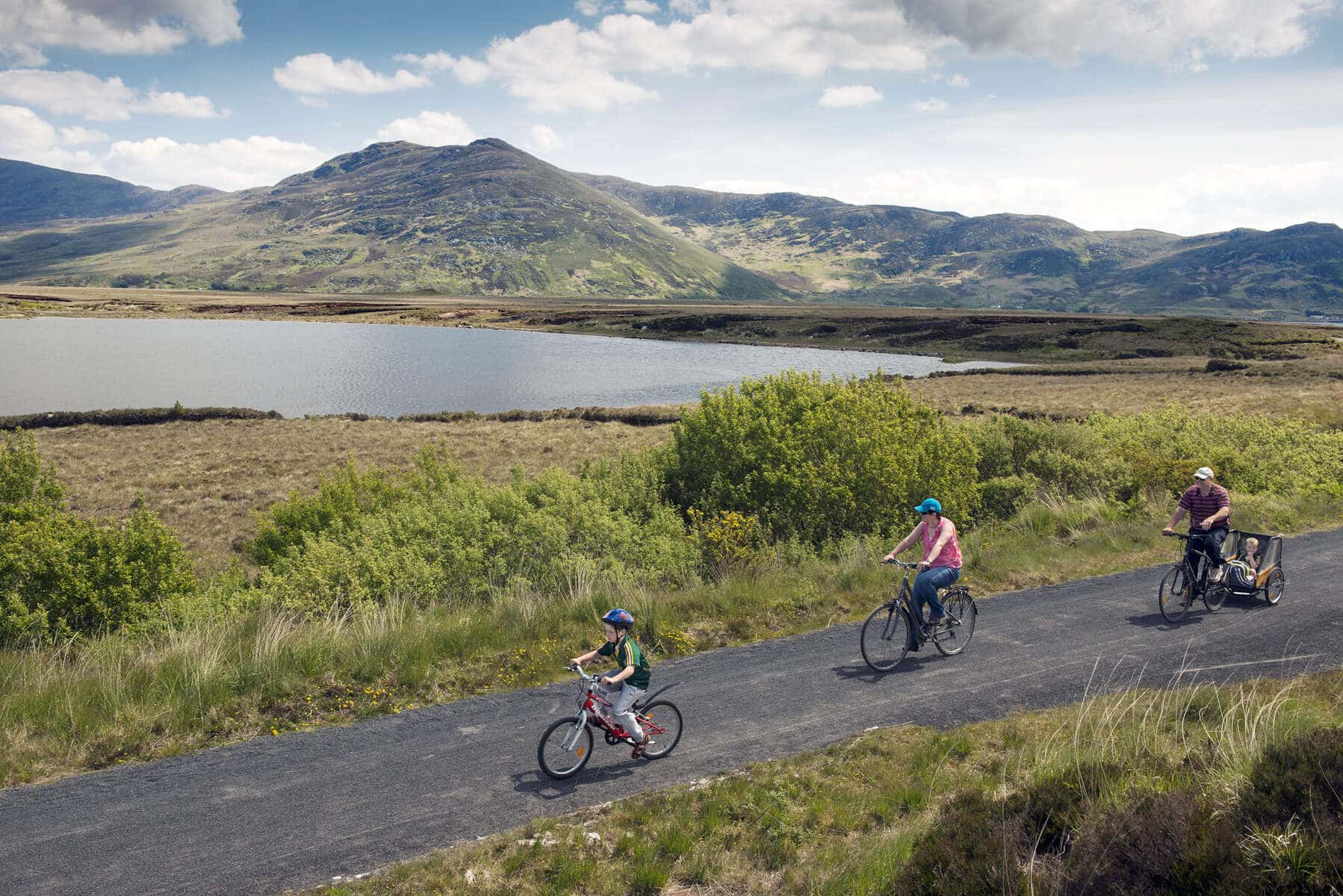 Starting from Westport Harbour, the Newport Loop is an excellent 32.19 km (20 miles) bike ride that travels north along the Great Western Greenway, offering stunning views.
This bustling town greenway is the perfect destination for a cycle on a sunny day. Following the route maps, this cycle should take around two hours to complete and is of moderate difficulty. So, a good level of fitness is recommended before taking off.
The route is traffic-free, meaning it is perfect for families, and it primarily follows the famous Westport to Achill Railway Line.
Starting point: The Quay, Cloonmonad, Westport, Co. Mayo, Ireland
3. Achill Island Loop – one of the best and most scenic cycle routes in Mayo
Achill Cycle Hub offers three fantastic waymarked routes that are perfect for bicycles. Taking various paths along the Atlantic Coast route, you can enjoy some of the most stunning scenery County Mayo offers.
Cycling enthusiasts can opt for the 44 km (27.34 miles) route that starts in Keel and loops around the southern corner of Achill Island.
If you're visiting for the day and don't have your bike with you, you can hire from Achill Sound bicycles, which is set along this route.
If you don't fancy quite such a long cycle but still want to enjoy the fabulous views of this stunning island from a bike, you can check out an alternative route.
For example, you could take on the 22 km (13.7 miles) cycling trail, which loops around the island's northeast corner. Or, if you want a short and leisurely cycle, try the 12 km (7.5 miles) route, which loops around the island's centre.
For those who want to make the most of the cycle routes on offer, you can book into the fantastic three-star Achill Island Hotel and take on all three cycle routes over a few days.
If you're travelling by your bike, there are various bicycle storage facilities so you can ensure your bike is safe.
Starting point: Keel, Co. Mayo, Ireland
2. Clew Bay Bike Trail – for a long and scenic cycle
The Clew Bay Bike trail is combined cycling and ferry route that takes keen cyclists along one of the most stunning Irish West coast stretches that possesses magnificent views.
You will pass some of Mayo's most scenic seaside towns and the iconic Croagh Patrick Mountain, overlooking Clew Bay.
Incorporating two ferry journeys, one from Roonagh Pier to Clare Island and the other from Clare Island to Cloughmore, is undoubtedly one of the most unique cycle routes.
With an overall distance of 105 km (65 miles), this route is not for the faint-hearted. However, there are various starting points along the way to choose from, so you don't have to take on the entire thing.
Starting point: Aghany, Co. Mayo, Ireland
1. The Great Western Greenway – the best of the best
Topping our list of best and most scenic cycle routes in Mayo is the iconic Great Western Greenway, one of the most scenic spots in Ireland.
This beautiful 44 km (27.34 miles) cycle route stretches from Westport to Achill Island, taking in some of the most scenic towns of County Mayo along the way. This is an easy to moderate route, and this is the perfect cycle trail to enjoy with the whole family.
Plus, there are plenty of cafes and restaurants in neighbouring towns and the route offer bicycle spaces for you to park your bike and pop in for a bite to eat.
This beautiful and well-maintained route is an absolute must for cycling enthusiasts and those looking to experience spectacular views of the Irish scenery from a new perspective.
Other notable mentions
Ceide Fields/Downpatrick Head: This 64 km (40 miles) cycle route takes in some of the most stunning scenery along County Mayo's cliffs. You can hire from Killala Bike Hire to take on this incredible route.
Ballina Greenway: This 14 km (8.7 miles) scenic route takes you past some of the most historic monasteries in County Mayo. A relatively easy cycle, you can hire bikes from Ballina Bike Hire.
Castlebar Network: Taking in parts of Castlebar Road, Town, and River, the Castlebar Network is undoubtedly one of the best and most scenic cycle routes in Mayo.
FAQs about the best and most scenic cycle routes in Mayo
Can you walk the Westport Greenway?
Yes, the Great Western Greenway is a walking and cycling route.
How long is the greenway in Mayo?
The Great Western Greenway is 44 km (27.34 miles) long.
Where does the greenway start in Mayo?
The most popular starting point of the Great Western Greenway is the town of Westport.