Whether you're in the mood for modern Italian cuisine or a traditional Irish breakfast, there is something for everyone in this seaside town. Find something to satisfy your hunger with the ten best Dún Laoghaire restaurants.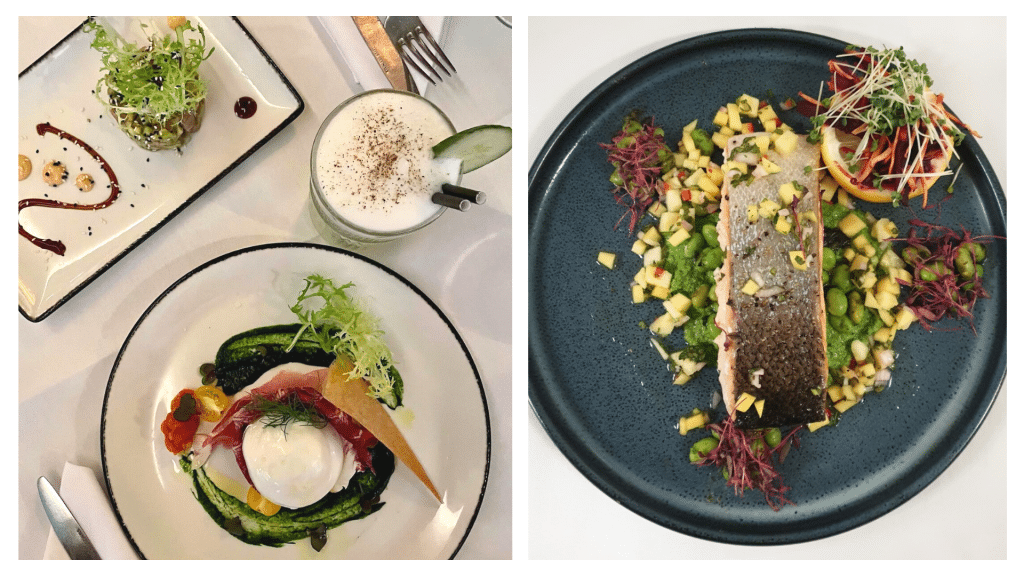 Dún Laoghaire is a seaside town in suburban Dublin, just south of Ireland's capital city. You'll find lots to see and do here, like the National Maritime Museum of Ireland and the James Joyce Tower and Museum.
Furthermore, Dún Laoghaire is home to some excellent bars and restaurants. These eateries are so accessible from Dublin that it would be rude not to venture out of the city.
Ireland Before You Die's top tips for Dún Laoghaire restaurants:
Dún Laoghaire offers a diverse culinary landscape featuring traditional Irish dishes, international cuisines, and fusion food. There's something for everyone!
Always book a table ahead of time, especially in peak season.
If you have any dietary requirements, call ahead and make sure the restaurant can accommodate you.
Check restaurant reviews online before booking your table.
10. McLoughlin's Bar – classic pub fare or award-winning cuisine
McLoughlin's Bar is a proponent of Irish food, drink, and live music. It focuses on unpretentious but tasty pub grub served by friendly local staff.
The upper floor also houses an Indian restaurant if you want something a little fancier than pub grub.
Either way, stick around for a pint after your meal; you won't regret it!
Address: 73 George's Street Upper, Dún Laoghaire, Dublin, A96 X8N8, Ireland
READ MORE: IB4UD's guide to the best bars and pubs in Dún Laoghaire
9. Dún Restaurant – the heart of Dún Laoghaire's Royal Marine Hotel
Dún Restaurant is the onsite restaurant in Dún Laoghaire's Royal Marine Hotel. Head chef Karl Smith painstakingly creates a menu of Irish cuisine with European influence using only the freshest Irish ingredients.
With elegant and traditional décor and unparalleled views over Dublin Bay, dining at Dún makes for an evening of style and sophistication.
Address: Marine Rd, Dún Laoghaire, Dublin, A96 K063, Ireland
8. The Purty Kitchen – Dún Laoghaire's oldest surviving premises
This gastropub dates back to 1728, and its brick fireplace and wooden interiors create a cosiness that belies its large dining room.
They specialise in seafood. As such, the fish pie, the seafood chowder, the prawns, and the mussels are all excellent. They also push the boat out when it comes to wine and cocktails – the variety of each topped only by their beer selection.
Address: 3-5, 3-5 Old Dunleary Rd, Dún Laoghaire, Dublin, A96 X7W1, Ireland
7. Oliveto at Haddington House – impeccable service in a laid-back setting
Another hotel-based restaurant, Oliveto caters to residents and visitors at the Haddington House Hotel.
The expert sommeliers recommend excellent wines to complement your order, as well as perfect pre-dinner and post-dinner drinks.
The kitchen freshly prepares antipasti, pasta, meats, fish, and pizza. The restaurant gives a fancy first impression, but eating here is a laid-back and casual experience.
Address: 9-12 Haddington Terrace, Dún Laoghaire, Dublin, A96 F2R9, Ireland
6. Zero Zero Pizza – some of the best pizza in the area
Zero Zero Pizza started life in a gazebo in Dublin's Docklands, where it built a reputation for some of the finest pizzas in the city.
It has gone from strength to strength since relocating to a brick-and-mortar premises in Dún Laoghaire.
This relaxed dining experience is open for dinner from Wednesday to Sunday. On top of the pizza, we highly recommend the garlic bread, although you really cannot go wrong regardless of your order.
Address: 21 Patrick St, Dún Laoghaire, Dublin, A96 HK51, Ireland
5. Hartley's Restaurant – perfect for a summer's evening on the pier
Hartley's serves a fantastic selection of traditional Irish and European favourites right on Dún Laoghaire Harbour. This location lends itself to a lovely summer's evening on the terrace pairing excellent food with an extensive drinks list.
Weekly deals, including Tap Tuesdays (20% off draught beers) and Wine Wednesdays (20% off the wine list), make Hartley's as kind to your wallet as it is to your tastebuds.
Address: 1 Harbour Road, Dún Laoghaire, Dublin, Ireland
4. Toscana Restaurant – for excellent food, wine, and sea views
Toscana focuses on Italian food, or more specifically, the cuisine of the Tuscany region, and is certainly one of the best Dún Laoghaire restaurants you need to try.
It is one of the best Italian restaurants in the greater Dublin area, never mind just Dún Laoghaire, and is easily accessed from anywhere in Dublin due to its proximity to the Dún Laoghaire Dart Station.
The kitchen staff prepare authentic Italian dishes with fresh produce grown in their own garden. As such, they update the menu according to the season. Pair your meal with excellent Italian wine and enjoy the view of the Irish Sea.
Address: 5 Windsor Terrace, Dún Laoghaire, Dublin, A96 TW50, Ireland
3. Rasam Restaurant – a Michelin-star restaurant
Rasam is a truly excellent, if upmarket, Indian restaurant well worthy of its Michelin star. Dishes burst with the flavours of freshly mixed, roasted, and ground herbs and spices.
Furthermore, attentive and knowledgeable staff provide customers with excellent recommendations.
The kitchen staff take their reputation and heritage seriously, encouraging them to make consistently exquisite and fresh meals.
Address: 18-19 Glasthule Rd, Glasthule, Dublin, A96 H2N1, Ireland
2. Delhi Rasoi Indian Restaurant – fantastic Indian cuisine with an emphasis on freshness
If you fancy a slightly cheaper alternative to Rasam, Delhi Rasoi serves fantastic Indian cuisine with an emphasis on freshness.
Dishes are certainly on the spicy side, but their expert kitchen staff tailor your order to suit your preferences. The relaxed atmosphere and friendly, welcoming staff make for an incredible evening dining experience.
Address: 7 Cumberland St, Dún Laoghaire, Dublin, A96 T972, Ireland
1. Casper & Giumbini's – a family restaurant with delicious food
Casper & Giumbini's derives its name from the grandmother and great-grandmother of its owners, who credit their forebearers with instilling in them an appreciation of food and mealtimes.
This appreciation shines through in Casper & Giumbini's fantastic selection of meats and seafood. Dishes are served alongside craft beers, fine wines, and signature cocktails.
Casper and Giumbini's prides itself in its excellent service, which makes it rightly regarded as one of the best Dún Laoghaire restaurants.
Address: Unit 8 The Pavilion, Marine Rd, Dún Laoghaire, Dublin, A96 P272, Ireland
Other notable mentions
Bits and Pizzas: One of Dún Laoghaire's oldest pizzerias, Bits and Pizzas was established in 1987. What sets the dining experience apart here is that they make everything – including dressings and desserts – on the premises.
Bistro Le Monde: As the name suggests, Bistro Le Monde serves cuisine from all over the globe. You can get almost anything here, from Swiss fondue to Chinese noodles. A bespoke children's menu makes it one of the Dún Laoghaire restaurants for kids.
Cavistons Food Emporium: This small and intimate restaurant serves up some of the freshest seafood in Dún Laoghaire. Pop into their retail shop next door to cook your own.
Gourmet Cafe: The perfect spot for brunch in Dún Laoghaire, Gourmet Cafe has a great range of hot drinks, smoothies, brunch options, and, of course, a traditional Irish breakfast.
Your questions answered about Dún Laoghaire restaurants
If you still have questions, we have you covered! In this section, we've compiled some of our readers' most frequently asked questions and popular questions that have been asked online about this topic.
What is the oldest restaurant in Dublin, Ireland?
Dating back to 1198, The Brazen Head is the oldest restaurant in Dublin and the fifth oldest restaurant in the world.
What is the restaurant capital of Ireland?
Cork is regarded as the restaurant capital of Ireland, thanks, in no small part, to the wonderful produce available to its restauranteurs.
What is the actual oldest pub in Ireland?
Established in 900 AD, Seán's Bar in Athlone, County Westmeath, is Ireland's – indeed, Europe's – oldest pub. You can read more about it here.