Seafood chowder is one of the freshest dishes to try in Ireland, so don't miss these epic spots, which serve the best of the best.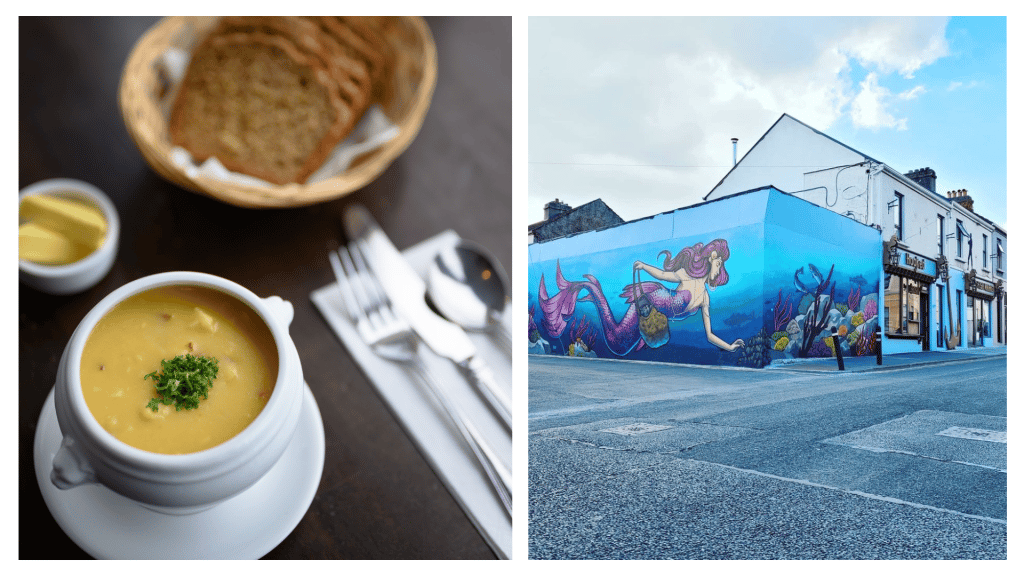 Seafood chowder is one of the freshest, most delicious, and most comforting meals you can eat in Ireland, but you need to know where to go to enjoy the best culinary experience.
With that in mind, here are the ten best places to get seafood chowder in Ireland.
10. The Rusty Mackerel, Donegal – enjoy chowder in a cosy setting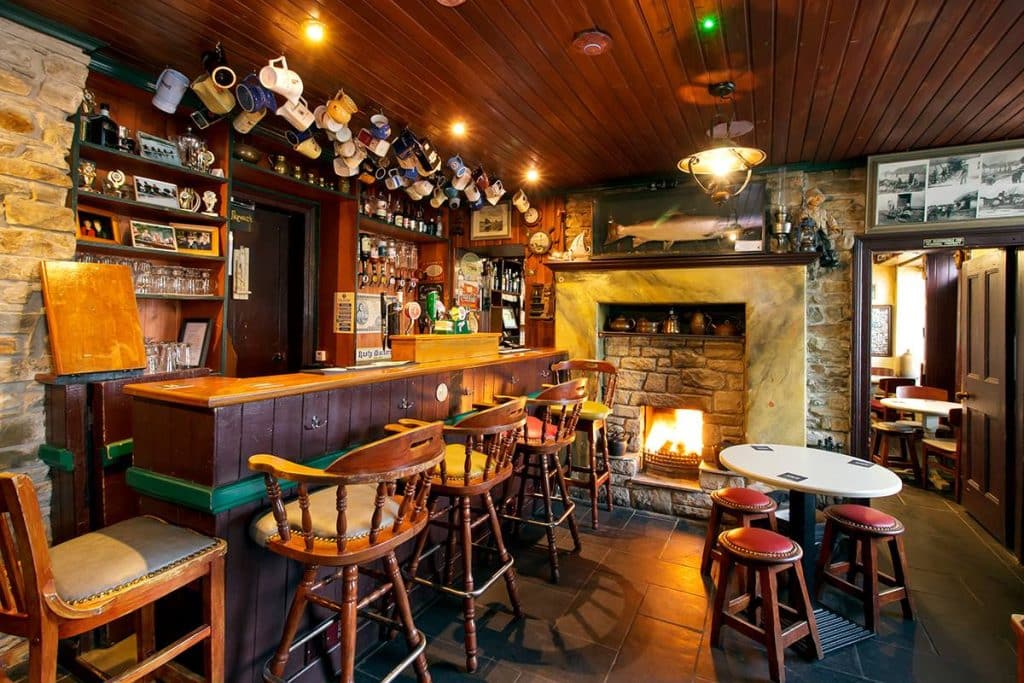 This authentic Irish pub serves a deliciously creamy chowder alongside traditional Irish music and roaring fires.
So, grab a bowl of goodness here and then head down to the gorgeous Slieve League Cliffs.
Address: Teelin Rd, Lergadaghtan, Carrick, Co. Donegal, F94 VP99, Ireland
9. The Winding Stair, Dublin – seafood chowder with a view
Located along the River Liffey in Dublin, this popular Irish restaurant is one of the best places to get seafood chowder in Ireland.
You can expect your meal to be rich in flavour, filled with chunks of fresh fish, and served with a smile.
Address: 40 Ormond Quay Lower, North City, Dublin 1, D01 R9Y5, Ireland
8. Iasc Seafood Bar & Takeaway, Waterford – a must-try chowder
If you want to taste one of the best seafood chowders in the country, then Iasc Seafood Bar is an absolute must.
Located in Dungarvan, this local favourite is a one-stop shop for the freshest fish in the region, and they serve generous portions, so be sure to arrive hungry.
Address: 78 O'Connell St, Dungarvan, Co. Waterford, X35 H028, Ireland
7. Hooked, Galway – a famous Irish seafood joint
Hooked is one of the best places for all kinds of seafood, but you need to get your hands on a bowl of seafood chowder, one of the most popular choices.
This is the place to revisit time and time again, with plenty of delicious menu choices, but start with the chowder – you won't regret it!
Address: 65 Henry St, Galway, H91 DP78, Ireland
6. Linnane's Lobster Bar, Clare – an eatery that will blow you away
This extraordinary seafood eatery is one of the best places to get seafood chowder in Ireland, which, paired with a local Irish stout, is just divine.
You can sit back and enjoy your delicious meal with a sea view; what more could you ask for when visiting County Clare?
Address: Cartron, New Quay, Co. Clare, Ireland
5. Quinlan's Seafood Bar, Kerry – a place not to be missed
This famous seafood bar in Killarney, County Kerry, is where to get a significant portion of seafood chowder.
It is well presented and comes with a fresh slice of Irish soda bread and butter, the authentic Irish way.
Address: 77 High Street, Killarney, Co. Kerry, V93 R2X3, Ireland
4. The Quays, Dublin – in the heart of Temple Bar
The Quays is an excellent eatery in the heart of Temple Bar, which has a track record of rave reviews from customers throughout the years. It is renowned for its delicious and authentic cuisine.
Here you will find one of the best bowls of seafood chowder in the city and indeed the country, so if you fancy a great culinary experience, be sure to stop by for a bite to eat.
Address: 10-12 Temple Bar, Dublin 2, D02 EW63, Ireland
3. Moran's Oyster Cottage, Galway – chowder in a 250-year-old cottage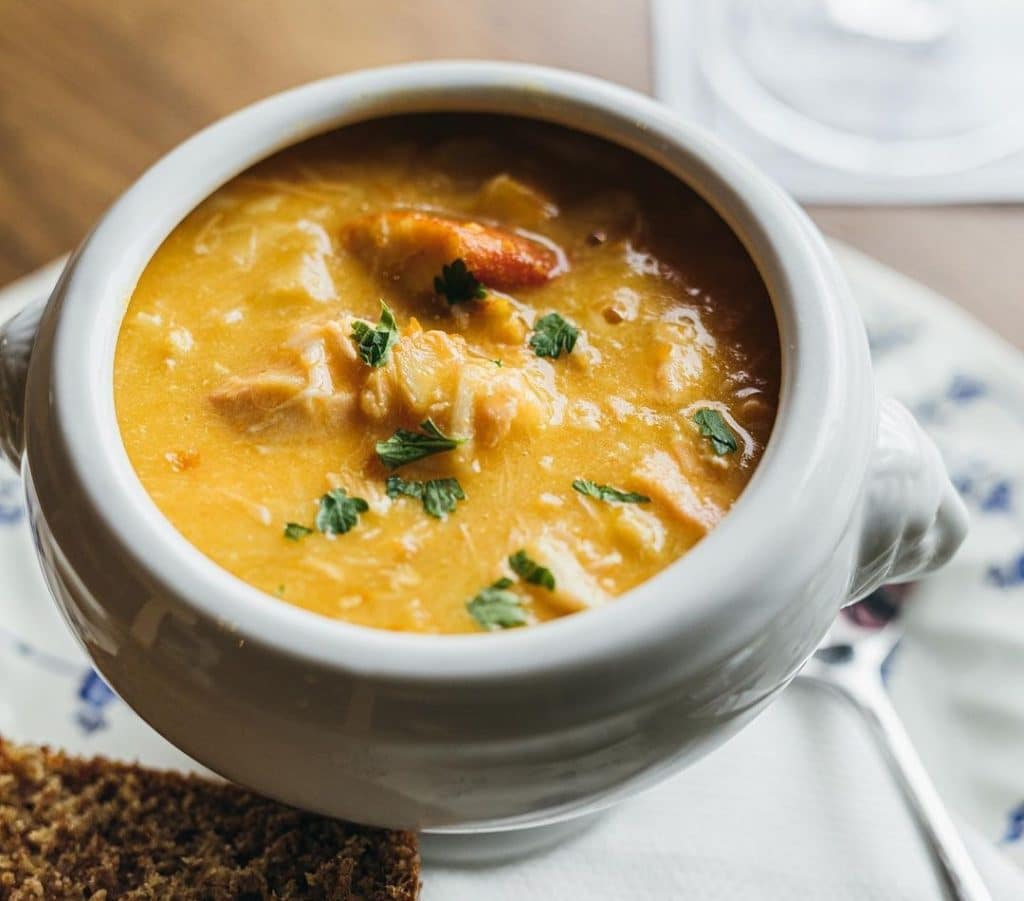 This epic seafood spot features a fantastic bowl of steaming hot seafood chowder. Moreover, its setting within a traditional thatched house is the icing on the cake.
For a fantastic culinary experience, a delicious pint of Guinness and, of course, a delicious seafood chowder, then you need to head down to Moran's in Kilcolgan.
Address: The Weir House, Roymore, Kilcolgan, Co. Galway, Ireland
2. Oscars Seafood Bistro, Galway – an incredible spot for chowder
If you are searching for one of the best places to get seafood chowder in Ireland, you must head to Oscars Seafood Bistro in Galway, a popular place for locals and visitors.
Be prepared to have one of the country's creamiest and freshest seafood chowders, but we also encourage you to try their mussels and oysters, which are game changers.
Address: Clan House, 22 Dominick St Upper, Galway, H91 VX03, Ireland
1. FishyFishy, Cork – a Kinsale favourite
Located in Kinsale, one of the top seafood towns in the country, FishyFishy is where you can be sure to get some of the freshest seafood chowder in Ireland.
Serving up their daily catch as fresh as it comes, this is one place you cannot miss for melt-in-your-mouth Irish seafood chowder.
Address: Crowleys Quay, Kinsale Co, Co. IE, Ireland
So, these are ten of the best places to get the best seafood chowder in Ireland, but there are many more delicious eateries to look out for.