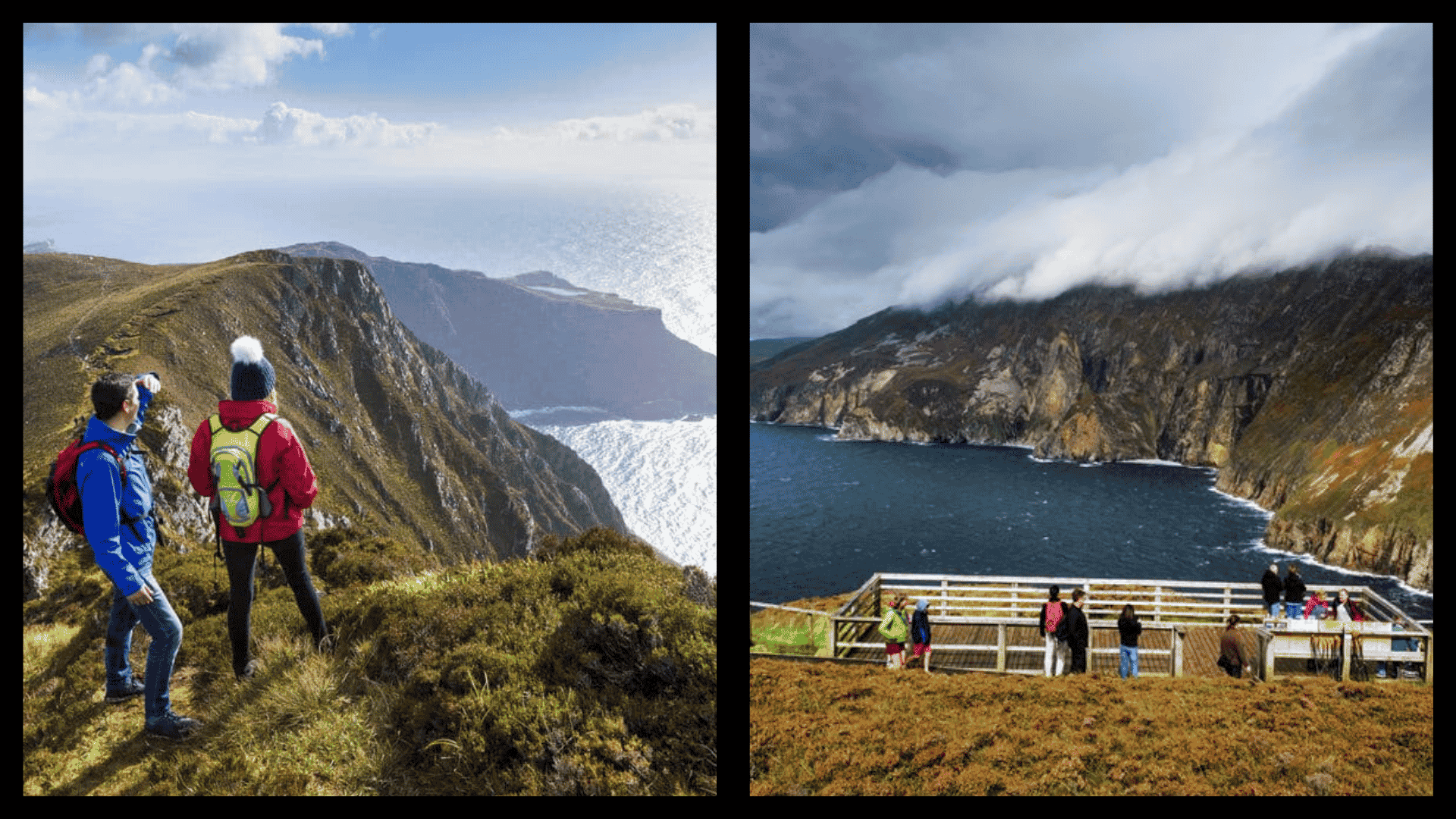 The Slieve League Cliffs, known locally as the Sliabh Liag Cliffs, are one of Ireland's best-kept secrets.
At their highest point, they stand at an impressive 601m (1,972 ft) tall. These cliffs are among the highest sea cliffs in Europe. At this height, they are three times the height of the world-famous Cliffs of Moher.
The Slieve League Cliffs are situated on the southwest coast of the rugged and beautiful County Donegal.
Overlooking the wild Atlantic Ocean, these dramatic and wild towering cliffs are a must-visit when exploring the Emerald Isle. Sliabh Liag has been a place of sacred Christian pilgrimage for over 1,000 years.
There are remains of an early Christian monastic site here which include remnants of early beehive huts and the remains of a chapel. However, today it is a haven for hikers and hill walkers.
The IB4UD fact file on the Slieve League Cliffs:
The Slieve League Cliffs are, in fact, almost three times taller than the Cliffs of Moher, which stand at 702 ft (214 m).
The are the second highest sea cliffs in Ireland, after Croaghaun in County Mayo.
The cliffs are formed by sedimentary rocks made up of shale and sandstone layers.
The name derives from the Irish 'Sliabh Liag', which means 'Mountain of Stone Pillars'.
The viewpoint of Bunglass can be reached by car along a narrow road. For tips on renting a car, check out our handy guide.
When to visit – windy wild Atlantic Ocean
As the awe-inspiring cliffs are nestled on the shores of the often wild Atlantic Ocean, the area is prone to extremely harsh and cold winds, especially during the winter months. However, it is not uncommon for these winds to be present during the summer.
The probability of the visibility being poor is higher during the winter, which isn't the best for seeing the spectacular views. As such, if you have the opportunity to visit during the summer months, we recommend this.
Otherwise, we recommend checking the weather in advance of your visit, so you aren't left disappointed!
As the cliffs attract over 220,000 visitors per year to this beautiful attraction along the Wild Atlantic Way, there can often be issues with finding parking, especially during the summer months.
We recommend heading here in the morning before the busy afternoon rush. The late afternoon and evening are generally quieter, which is particularly enjoyable if you want to watch the sunset!
RELATED READ: The IB4UD guide to the best hikes and walks in Donegal.
What to see – panoramic views
The dazzling panoramic views across Donegal Bay are not to be missed, especially when you see the magnificent Slieve League Cliffs rising up out of the sea below. On a clear day, you can get an incredible view of Ben Bulben all the way in County Sligo.
There is a designated viewing platform, Bunglass Viewing Platform, which offers some of the most spectacular views while also being the most accessible! You can drive up to this platform, which is perfect for those with small children.
Address: Slieve League Ave, Cappagh, Teelin, Co. Donegal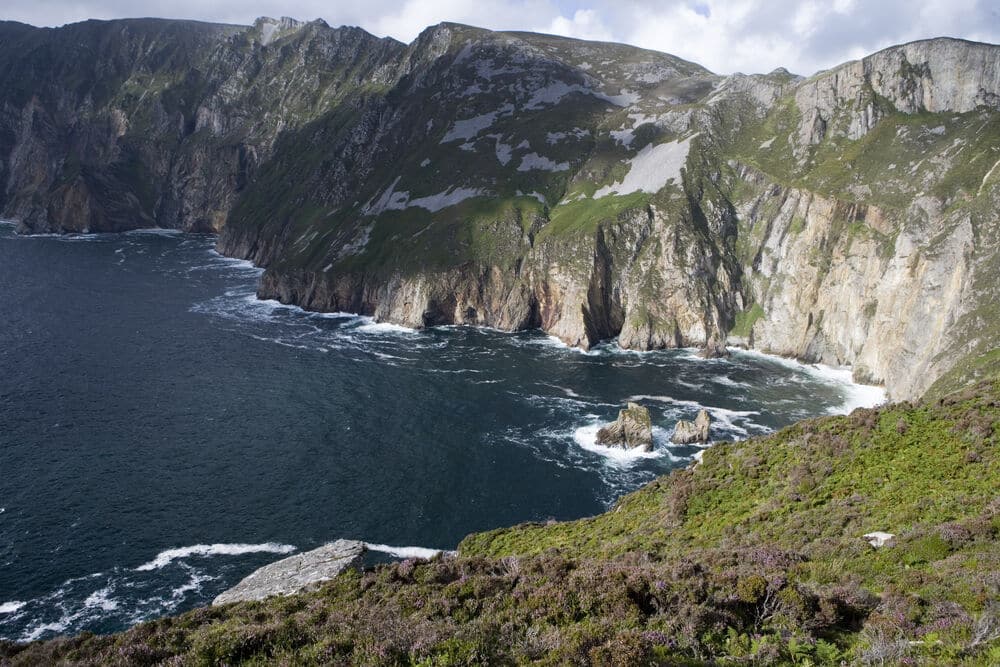 The west coast of Ireland is dotted with ÉIRE markers which were utilised during World War II. They were used as navigational aid for American bomber pilots and to warn wartime airmen that they were flying over a neutral country.
One such ÉIRE marker has recently been restored to its former glory. It is located next to the viewing point car park. Also nestled along the Slieve League Cliffs is an old signal tower dating back to the Napoleonic wars.
Carrigan Head Signal Station was used by the occupiers at the time, the British, to keep an eye out for a possible invasion by the French. This tower has remained well preserved and offers a unique vantage point of the cliffs.
The Slieve League Cliffs are a haven for wildlife due to their unique and colourful plant life. These attract thousands of birds to the sheer ledges. Sometimes if you are lucky, in the sea below, you can see seals, dolphins, and basking sharks!
Things to know – top tips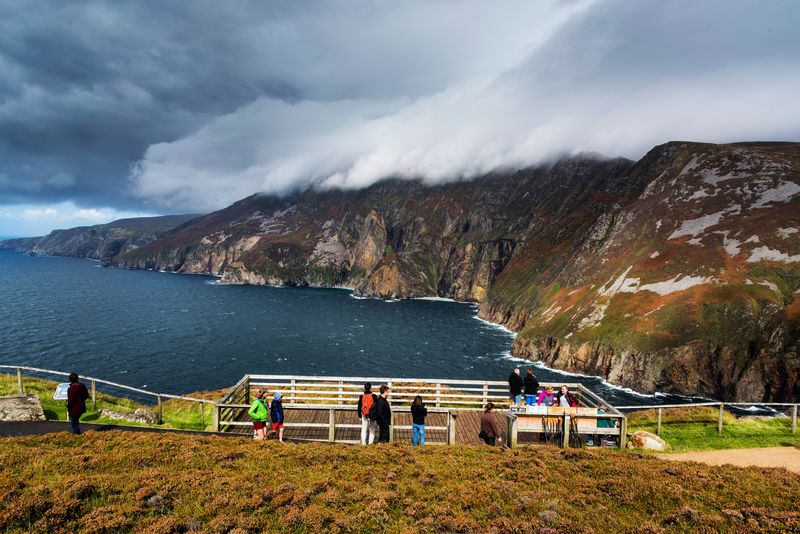 There are a variety of hikes in the area, although some should only be attempted by experienced hikers. These walks are bound to treat you to incredible views that are only utilised by a few.
If you aren't an experienced hiker, we suggest embarking on the Pilgrims Path, which is about 3 km (1.9 mi) in length and takes approximately 2.5 hours to complete.
Be aware that this is a rough path that is both narrow and steep and crosses a variety of terrain from rock underfoot to bog, so dress appropriately!
For those who are experienced hikers, you can continue your hike from Pilgrims Path onto a section called One Man's Pass.
Be aware that this section of the walk is not for the faint-hearted as it is narrow with a 400 m (1312 ft) long knife-like craggy edge. The land drops dramatically on both sides of this uneven edge, so be extremely cautious!
READ MORE: The Ireland Before You Die map of the Wild Atlantic Way.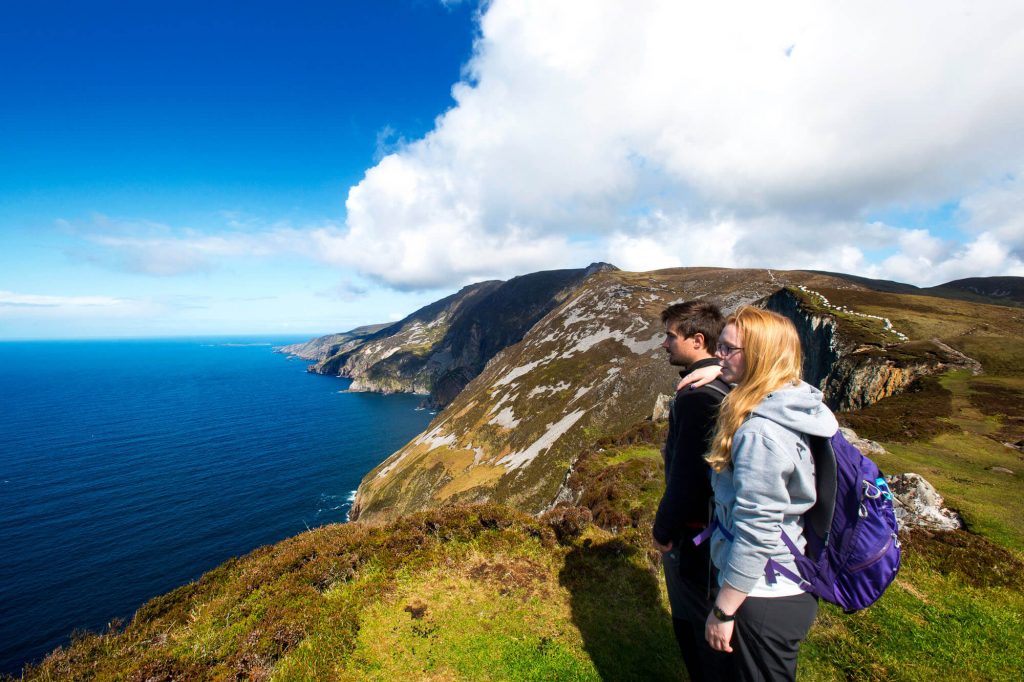 Slieve League Cliffs Centre in Teelin is there for all the help you require. The family-run centre contains information full of local history and culture.
Young visitors will be excited by the interactive aspects. Others will be in awe of the stories that surround this magnificent place with stunning views.
There is a café on-site, and a craft gallery, the perfect place to stop off after your hike making this one of the best things to do in Donegal for those looking for a full-day experience.
This is one Donegal attraction you absolutely cannot miss, so get it on your Irish bucket list now!
Address: Bunglas Road, Lergadaghtan, Teelin, Co. Donegal, F94 W8KC
For a completely unique way to experience the Slieve League Cliffs, embark on a boat trip in the waters below with Sliabh Liag Boat Tours.
The trips last 90 minutes, and they even offer the opportunity to swim in the crystal clear waters of the coves, which is truly magical! Planning a trip to Ireland? Be sure to visit here.
READ NEXT: Our guide to the best hidden gems in County Donegal.
Other notable mentions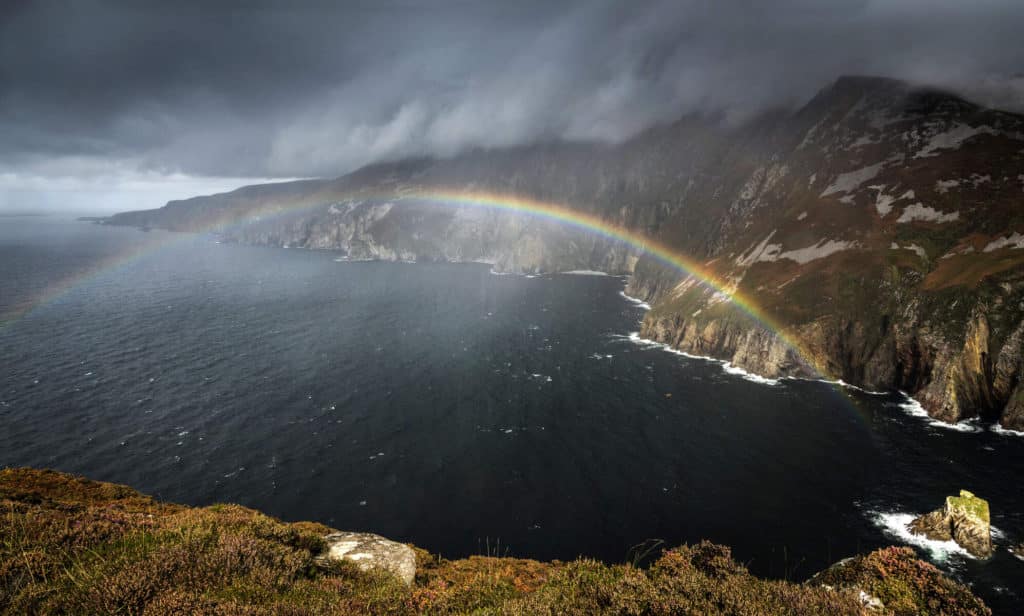 Where to stay: There are many great places to stay in Donegal when visiting Slieve League. You could stay at Harvey's Point, a luxurious, four-star hotel located on the shores of Lough Eske Castle just 15 minutes from Donegal Town.
Weather warnings: Be sure to check the weather forecast before your trip to Slieve League as it can be very steep and dangerous.
Your questions answered about the Slieve League Cliffs
In this section we answer our readers' most frequently asked questions and those that are asked most often in online searches.
How long does it take to walk up Slieve League?
For the average hiker, it takes approximately 90 minutes to reach the top viewpoint of the Slieve League Cliffs.
Is Slieve League higher than the Cliffs of Moher?
Yes! This lesser-known gem is actually twice as high as the Cliffs of Moher.
How do I get to the Slieve League Cliffs?
You can get there in a number of ways. You can drive yourself, take a coach from a tour company, or take a boat ride from Killybegs to enjoy the coastal views.