A beautiful coastal suburb located just south of Dublin City, Dun Laoghaire is a must-visit for anyone dreaming of a seaside escape.
Dun Laoghaire, a port town in south County Dublin, is a great spot to visit for many reasons. Not only does it provide a perfect base for exploring surrounding areas. Rather, there is also a lot to see and do within the town itself.
So, are you planning a trip to this beautiful and historical region of Ireland? If so, then a stopover in the quaint town of Dun Laoghaire has to be on the cards.
Before you go, here are some of the best things to see and do, as well as places to stay in Dun Laoghaire.
Overview – a history of this County Dublin coastal town
The town of Dun Laoghaire holds a lot of historical significance, having once been known as Kingstown, followed by Dunleary. It has now become a residential area and one of the area's best seaside resorts.
The popular town is one of the biggest in the country. Here, it is not uncommon to see ships docked at Dun Laoghaire Harbour. You will also often see locals taking in the view from walking along the east or west pier, a popular activity all year round.
The town is well connected by public transport, with a DART station and Dublin Bus operating a frequent service to the town. It has a range of places to eat and drink and is close to some of Ireland's greatest attractions, making it a no-brainer for a scenic trip.
If you didn't know already, Dun Laoghaire is one of Ireland's most mispronounced place names, and it is correctly pronounced as DUN-LEER-Y. This a town full of exciting things to see and do, which is why it is a popular day trip from Dublin.
What to see and do – plenty of things to enjoy on your coastal day trip
There will be no time to be bored if you are visiting Dun Laoghaire. Here are some of the best things to see and do in the area.
Check out Dublin Bay Cruises: Dublin Bay Cruises take you to the town of Howth, which lies to the north of Dublin, jutting out from the mainland in the form of a peninsula. This is a great thing to do on a sunny day, and you will get a beautiful perspective of the coastline of Dublin Bay from the waterside.
Walk the East Pier: This is something that has to be done to get a real, local experience. With a Teddys Ice Cream cone or Scrumdiddlys Ice Cream cup in hand, you will fit in.
Go swimming at the Forty Foot: Just south of Dun Laoghaire, you will find a beautiful haven for swimmers near Sandycove Beach. This is an ideal way to refresh yourself on a summer's day. Known as the Forty Foot, this spot has long been a sea swimmers' haven no matter what time of the year.
Take a hike to Killiney Hill: Not far away, you will find the town of Killiney. Here, you can embark on a relatively easy hike, which provides stunning vistas over Dublin Bay.
More fantastic activities – something for everyone
Check out the local market: Stroll around the People's Park and enjoy the local food markets on Sundays from 11 am to 4 pm.
Go sea kayaking: This is a great activity if you are up for a fun adventure and consider yourself fit and active. You can rent kayaks locally and take to the waters with a guide to enjoy what the coast has to offer. Alternatively, you could head out from Dun Laoghaire Harbour to go paddle boarding.
Dalkey Castle & Heritage Centre: With plenty of events and guided tours, a visit to Dalkey Castle, which dates back to 1390, has to be considered if history is your thing.
Martello Tower: Marvel at one of Ireland's Martello Towers, one of around 50 towers built by the British. This one is a great historical sight to witness.
When to visit –the best time to go there
Summer is the perfect time to visit, especially if you want to experience Ireland's best days of sunshine, which are ideal for swimming, kayaking, boat trips, and hiking.
This is a great time to see the town come alive, with markets, events, and people enjoying ice creams or fish and chips by the pier and promenade.
Do you want to beat the crowds but still get nice weather? If so, you can opt to travel in April or May. This is just before the summer season kicks off but when the beautiful spring weather is looming.
If travelling in summer, always book your tours, accommodation, and car hire in advance. Things like these book up very fast in Ireland.
How to get there? – the best transport options
Car: Dun Laoghaire is easily reachable by car, being just 22.6 km (14 miles) from Dublin Airport and 13.2 km (8.2 miles) from Dublin City. The route from the airport will pass by the M50 toll, which costs €3.20 for a car.
Bus: You can take a variety of buses from Dublin City Centre to Dun Laoghaire, including the following numbers: 7, 7n, 46a, 46n,59, 63, 75, and 111.
Train: The DART runs along the Dublin coast and serves the coastal towns, including Dun Laoghaire. It runs every 15 minutes in peak season and takes just 25 minutes from Dublin Connolly Station.
Where to stay – accommodation options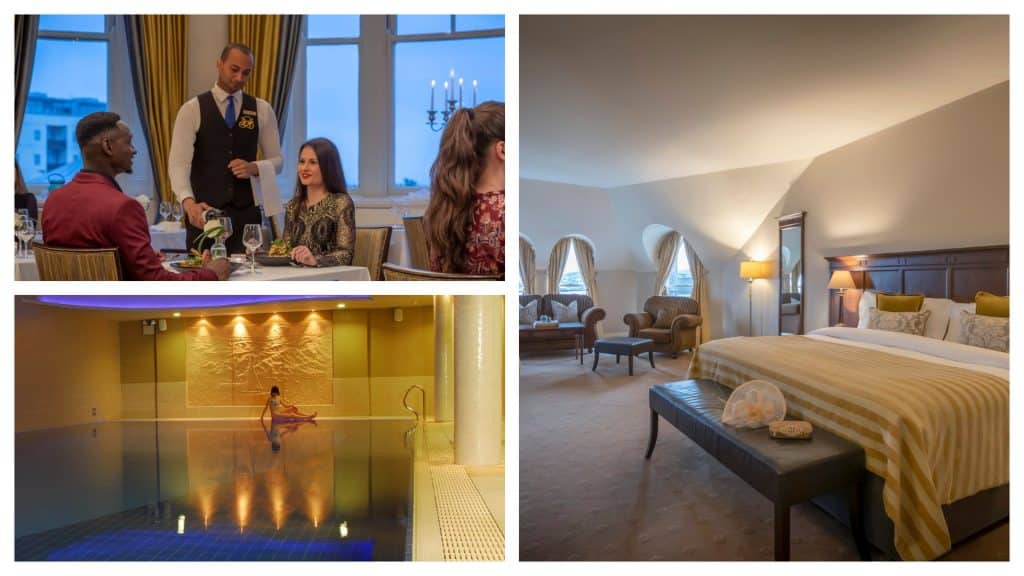 Being easily reachable from Dublin city, there are many accommodation options available for your visit. However, if you want to stay in the town itself, there are a few options to choose from, each to suit your budget and style.
Budget: Connaught House B&B
Address: Crofton Rd, Dún Laoghaire, Dublin
Midrange: Haddington House
Address: 9-12, Haddington Terrace, Dún Laoghaire, Dublin, A96 F2R9
Luxury: Royal Marine Hotel
Address: Marine Rd, Dún Laoghaire, Dublin, A96 K063
Things to know – some extra tips and tricks
The People's Park Farmers' Market is a fantastic place to discover local produce and handmade crafts. Why not grab a quick snack from one of the fantastic food trucks? This can be a great place to get authentic, one-of-a-kind souvenirs.
Dun Laoghaire is home to The Forty Foot by J.D Wetherspoon. This is a budget-friendly restaurant and bar, which offers fantastic meal deals, drink specials, and fabulous seafront views.
Feel like ice cream during your East Pier walk? If so, don't worry. There is usually a Teddys Ice Cream van at the end of the walk. Here, you can grab a '99' (an Irish whipped ice cream cone) to snack on during your walk back.
It can be worth your while to buy a Leap Visitor Card to save yourself money. One day (24 hours) costs €8.00, three days (72 hours) costs €16.00, and seven days (168 hours) costs €32.00.
Notable mentions
The James Joyce Museum: Located inside the Martello Tower, the James Joyce Museum now sits in the spot where the famous writer lived once upon a time.
Catch a performance: Watch a show at the Pavillion Theatre, which has live performances, plays, music, and arthouse cinema.
National Maritime Museum of Ireland: Open every day from 11 am to 5 pm, the National Maritime Museum of Ireland is a must. Prices are €6 for adults, €3 for kids, and €12 for a family.
FAQs about Dun Laoghaire
What is there to do in Dun Laoghaire when it rains?
Attend a show at the Pavillion Theatre or cosy up with a pint at one of the traditional pubs in town. We recommend Dunphys or The Merry Ploughboy.
Is Dun Laoghaire good for kids?
Yes! With plenty of outdoor activities, museums, parks, and ice cream shops, kids will love Dun Laoghaire.
How long is Dun Laoghaire pier walk?
2.7 km (1.7 miles) return.
Now you know what makes this coastal town a hot spot for visitors and locals. So, you can look forward to paying a visit and enjoying all the local experiences that are available.