As the traditional music capital of Ireland, the seaside village of Doolin has a multitude of beautiful sights to be discovered. Here is everything you need to know about Doolin.
Situated on the west coast of Ireland in the Burren region of County Clare, Doolin is one of the most stunning towns along the Wild Atlantic Way.
As it is the home of traditional Irish music, you can be sure that there is mighty craic to be had at the regular sessions.
Doolin has become a must-see tourist spot in recent years thanks to the spread of traditional Irish music across the globe.
Music, combined with the rugged landscape, breathtaking views, and the warm Doolin welcome, continues to attract hundreds of thousands of visitors annually.
Doolin is also the perfect place to base yourself if you are in West Clare as there are countless things to see and do that are just a short distance away.
When to visit – depends on what you want to do when you visit
The people of Doolin welcome visitors to the area with open arms, no matter the time of year.
As the summer season is undoubtedly the busiest for the area, the village of Doolin is full of excitement and events.
During the off-peak season, you can still expect the same Doolin charm and welcome that one would receive during the summer months.
What to see – unmissable sights
Enjoy mesmerising views of the Atlantic Ocean by embarking on a beautiful cliff walk.
You will be treated to magnificent views of the infamous Cliffs of Moher that tower over the wild sea swells below. These are an absolute wonder to behold, and they will leave you awe-struck at their sheer beauty and size.
Address: Lislorkan North, Liscannor, Co. Clare, V95 KN9T
Discover the world beneath the earth's surface with a caving adventure in the Doolin Caves.
Explore the underground passageways, which are believed to have formed around 350 million years ago.
Home to the largest free-hanging stalactite in the Northern Hemisphere, this is an experience not to be missed when exploring Doolin.
Address: Craggycorradan East, Doolin, Co. Clare
Become part of a fairytale at Donnagore Castle.
This picturesque castle is like something out of a Disney film due to its incredible location and fantastic architecture.
Although you cannot go inside, the sight of this castle will take your breath away.
Address: Ballycullaun, Co. Clare
As Doolin is in the heart of the beautiful Burren area, it is believed that humans have inhabited the area for thousands of years.
There is evidence of some of the earliest forms of human habitation in the shape of court tombs.
The Teergonean court tomb is one such example, and it is a stunning example of a Neolithic burial chamber.
Address: Ballycahan, Co. Clare
The land in Doolin and the surrounding Burren area is extraordinarily barren and unique because of the limestone pavement. This limestone pavement is host to various beautiful and colourful wildflowers that you can't find anywhere else in Ireland.
Things to know – what to know before you go
Doolin is home to an incredible chocolate shop, the Doolin Chocolate Shop, where you can expect a wide variety of intriguing flavours.
This shop is the sister shop of Wilde Irish Chocolates, the chocolate factory based in East Clare.
Trust us; you will be unable to contain your excitement as you smell the incredibly rich chocolate!
Address: Doolin Chocolate Shop
If you are looking to see the magnificent Cliffs of Moher from a different perspective, then Doolin is the perfect place to do it.
With boat tours operating from this coastal village, you will be blown away by the sheer enormity of the cliffs.
As Doolin is a coastal village, the weather can be extremely unpredictable. The westerly winds that blow off the Atlantic Ocean can be extremely wild, wet, and windy. It is best to be prepared for all types of weather by packing a suitable rain jacket.
If you are spending the whole day in Doolin, which we suggest you do, be sure to watch the sunset from the Cliffs of Moher. This is a breathtaking experience not to be missed when in Doolin.
Directions – how to get there
Doolin is conveniently located less than an hour's drive from Shannon Airport. This coastal village is also serviced by the national bus service and has frequent bus services from Ennis to the area.
Where to eat – delicious food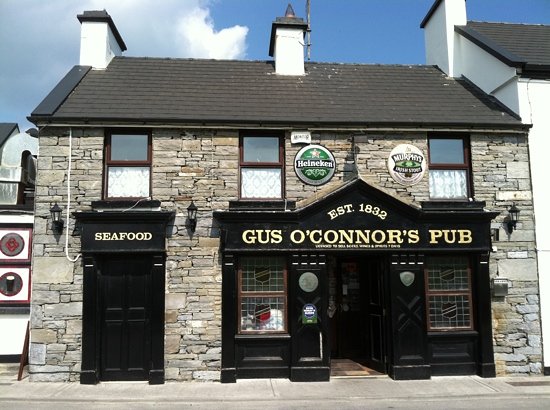 For the ultimate Doolin experience, head to Gus O'Connor's Pub. This traditional Irish tavern has served the town of Doolin for almost two hundred years.
Enjoy the traditional Irish food that will line your stomach for the creamy pints.
Gus' is also home to nightly traditional Irish music sessions, which are an absolute must for anyone visiting the capital of traditional Irish music.
Address: Fisher St, Ballyvara, Doolin, Co. Clare, V95 FY67
Where to stay – fantastic accommodation
For unparalleled views and experiences, spend the night at Sea View House Doolin.
This boutique bed and breakfast has incredible views over the Atlantic Ocean. There are even luxury lodges on-site that are perfect for those seeking a self-catering holiday.
Address: Fisher St, Ballyvara, Doolin, Co. Clare, V95 CC6V
What's nearby – what else to see
Doolin is one of the best ways at accessing the Aran Islands, and more specifically Inis Oírr.
This thirty-minute ferry ride gives you spectacular views of the West Clare countryside. Inis Oírr is a rural paradise that has some of the most incredible pieces of coastline.