The Emerald Isle attracts many tourists annually thanks to its beauty and the activities that it offers. If you are planning a trip you will be spoiled for choice with no shortage of great places to go on holiday in Ireland during the summer.
From the lively bustling city of Dublin to the untamed wilds of the naturally beautiful Connemara and from the dizzying heights of the Cliffs of Moher to the ancient wonders of Newgrange, there are many different and diverse places across the Irish landscape which are worthy of consideration when deciding what places to go on holiday in Ireland.
In this article, we make it our goal to help you choose the perfect destination as we list what we believe to be the five most amazing places to go on holiday in Ireland during the summer.
5. Belfast – rich with history
Belfast in County Antrim makes for a perfect city to explore and discover as it is steeped in history. From being the birthplace of the infamous Titanic to being the scene of many incidents during the Irish Troubles, the city of Belfast has a story to tell.
For those who wish to learn this story, there are many walking tours, museums and galleries to pick from.
There are also natural wonders to be explored such as the world-famous Giant's Causeway and for fans of Game of Thrones; why not do the tour and experience some of the famous filming locations from the hit tv show?
4. Connemara – showcasing Ireland's natural beauty
Connemara in County Galway is a place which showcases the very best that Ireland has to offer when it comes to natural beauty. Here, you will find a wide and varied landscape with bogs and lakes to the South and mesmerizing mountain vistas to the North and West.
Besides taking in the natural beauty through hiking and by the comfort of a fireside in a traditional Irish pub, there are also a number of activities that families, couples and individuals can all enjoy such as golf, fishing, cycling, water-based activities and pony riding.
Connemara also has a number of festivals, fairs and events which take place throughout the year such as the Connemara Pony Festival and the Clifden Arts Festival to enjoy.
3. Westport – one of the best places to go on holiday in Ireland during the summer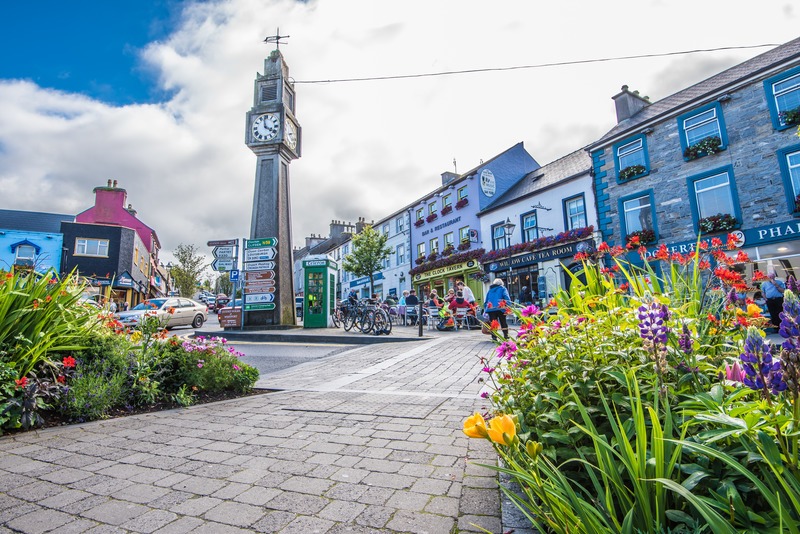 Westport in County Mayo is commonly hailed as one of Ireland's most family-friendly towns as it is full of activities that will keep kids entertained throughout any holiday there.
From the Pirate Adventure Park at Westport House where kids can enjoy pedal boating, a pirate's swinging ship, log rides, bouncy castles and more to the Great Western Greenway, where they can cycle to Achill in the presence of some breathtakingly beautiful surroundings, they will not go bored.
2. Killarney – the perfect base to explore County Kerry
Killarney in County Kerry is one of the most popular places to go on holiday in Ireland and for good reason as it not only contains lots of things to do and see in its own right but it also makes a great base for those who wish to explore everything else that the Kingdom of Kerry has to offer.
Killarney town is surrounded by a jaw-droppingly beautiful landscape which contains activities that both kids and adults will enjoy. And, it is the start and endpoint of the looped Ring of Kerry scenic drive – an absolute must on any traveller's bucket list.
Besides having a great selection of restaurants and traditional Irish pubs to enjoy in the town, one of the best natural attractions it offers is the famous Killarney National Park which contains stunning scenery with forestry and clear lakes as well as its very own herd of native red deer.
1. Dublin City Centre – explore Ireland's capital
Dublin is the capital of Ireland and as such, it is a place that everyone should experience at least once when visiting Ireland. It's said the Irish are the friendliest people in the world and Dublin certainly lives up to that as it has been hailed as the friendliest city in Europe twice.
There are so many things to do in Dublin city from enjoying a pint in the famous Temple Bar to marveling at the exotic animals in Dublin Zoo and exploring locations where history comes alive such as Kilmainham Gaol and the GPO.
Dublin City Centre makes for the perfect location to stay in for your summer holiday as everything is on your doorstep.
Now that our list of the 5 most amazing places to go on holiday in Ireland during the summer is complete, which one will you choose for your next Irish holiday when the conditions allow for it?