Thinking of visiting Ireland's second city? Acquaint yourself with the trend of its inhabitants with these five things locals love to do in Belfast.
Belfast is the Emerald Isle's second largest city after Dublin, and with its many inhabitants, tumultuous history and infectious culture, it is certainly one of the places to see on your trip to Ireland.
Like any town or city, the people living there formulate their own norms, trends and dialect, and we at Ireland Before You Die want to point you towards some of the things that locals love to do in Belfast.
5. Always talk about moving somewhere else! – looking for the heat
Despite all there is to love about the city, one thing that locals love to do in Belfast is talk endlessly about moving somewhere else, perhaps somewhere with a bit of heat now and again. And who can blame them with the weather we have?
Perhaps the most popular destination is Australia, where the sun abounds, with over 100,000 Irish people taking a plane Down Under in the last decade alone. However, just as popular as the demand to move away, is the many people who talk about going but never end up leaving!
So, don't be worried if you hear the odd person now and again stating their desire to move away from Belfast. It's not a criticism of their homeland, rather a desire to see what else is out there and no doubt they will be back.
4. Climb Cave Hill – for the beautiful scenery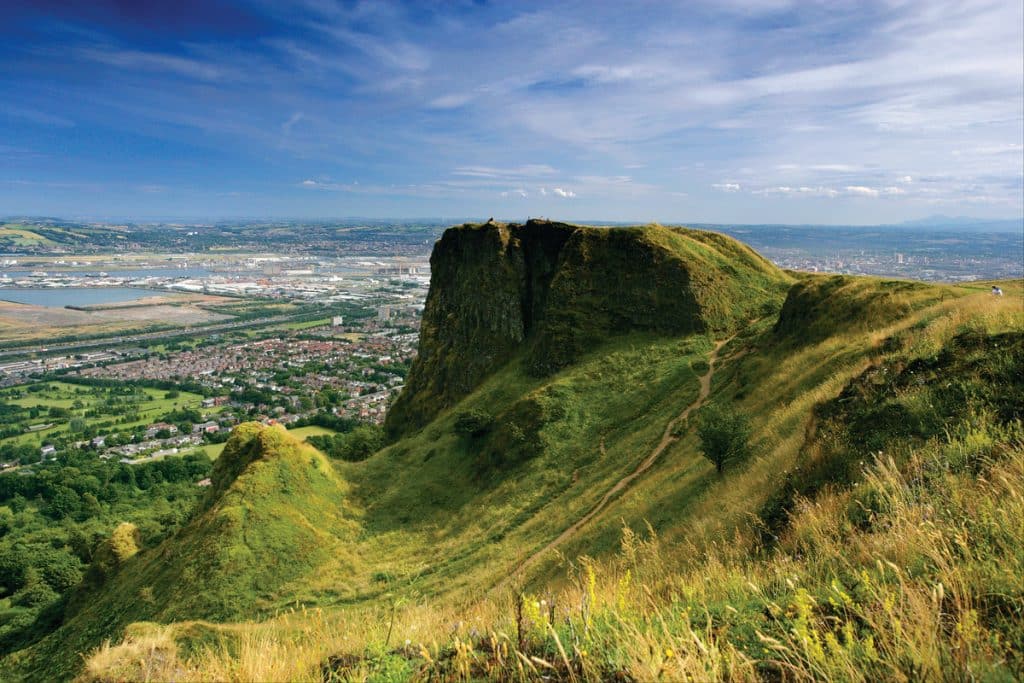 Belfast City is overlooked by the Divis Mountain and Cave Hill, and one of the things the locals love to do is wander the winding mountain roads and scale the heights for a panoramic view of the city.
Locals take to the mountain on a daily basis regardless of what the sky shows. People can be seen wrapped up in the wet and windy days or donning shorts and t-shirts to bask in the sun and enjoy their walk.
Before you visit, keep an eye out for social media, as the locals in Belfast will often post their photos of the city from Cave Hill and, if you like a picturesque view, they will whet your appetite for your upcoming trip.
3. Saying "Like" – the local dialect of Belfast
For many tourists, one of the challenges when coming to Belfast is understanding the accent and picking up the local dialect, and this is probably a theme common to all of Ireland's cities.
When you do come to Belfast, be prepared to hear the word "Like" used on a regular basis, and know that it usually is not utilised in its original meaning!
"Like" is a term used to compare two things, but in Belfast it often acts as a starter, or sometimes an ending, for a sentence and precedes a remark that has absolutely no resemblance of a comparison.
For example, you might hear someone say: "Like, is he serious?" or "Do you know what I mean, like?". As you can see, the "like" has absolutely no meaning to the sentence, but that's what makes it unique and local to Belfast.
2. Going for a coffee – the new trend of things locals love to do in Belfast
Undoubtedly one of the things that the locals love to do in Belfast is going for a coffee with your friends in one of the many trendy cafes across the entire city.
The Lisburn Road in South Belfast is a popular destination with places such as Cafe Mauds and District, while Hatch is a favourite in West Belfast. Botanic Avenue near Queen's University is a hot spot, while East Belfast hosts a 24-hour Starbucks and Tim Hortons.
And, above all, is the city centre with a cafe on every street corner. Establishment, Cafe Parisien, and Maggie Mays are favourites, while there is a myriad of big companies such as Costa and Cafe Nero.
Locals indulge in the cool atmosphere that characterises Belfast's cafes and it is the perfect setting to socialise with friends in a calm and relaxed environment. We advise you try it out on your next visit!
1. Go for a drink – like all of Ireland
Like the rest of Ireland, one of the top things to do in Belfast is to have a good drink, and the city has the bars and pubs to satisfy the demand. A glint of sunshine is reason enough to go for a drink, but the locals are not put off by the adverse weather, and you will find the bars packed every Friday, Saturday and Sunday night.
The Cathedral Quarter is a particular hotspot on evenings and weekends, with numerous bars and pubs, such as the Dirty Onion, the Spaniard and the popular Harp Bar. It is Belfast's answer to Dublin's Temple Bar area.
Since Belfast is one of the best European Christmas destinations, it is no surprise that locals love to head for a drink at the Continental Christmas market every year!
Belfast is an Irish city embedded with many of the cultural characteristics of the country. From drinks to views, and from coffee to the dialect, you will be well equipped to mingle with the locals if you take our five points onboard.