As the Irish people have had such an influence on the world, it should come as no surprise then that some of the most popular last names for every county of Ireland may sound familiar no matter where you travel.
Irish surnames can be found all across the globe thanks to the many Irish people who have emigrated and subsequently influenced their new surroundings throughout history, with the most popular last names for every county of Ireland finding a new home across the seven continents.
There are certain Irish last names that are instantly recognizable as being of Irish origin and many you might be surprised to discover are actually of Irish origin too.
In this article, we will list what we believe to be the most popular last names for every county of Ireland.
The most popular surnames for every county of Ireland: 1-16
1. Antrim – Smith
The Smith surname is synonymous with families of both English and Irish origin.
2. Armagh – Campbell
The name Campbell is derived from the Gaelic terms "cam" and "beul" which mean "crooked mouth" or "wry mouthed.
3. Carlow – Mullins
Mullins comes from the Irish Ó Maoláin which translates as "bald".
4. Cavan – Brady
This surname is derived from the Gaelic surname of Ó Brádaigh or Mac Brádaigh and means "Spirited and Broad".
5. Clare – MacMahon
MacMahon is one of the best-known names in Ireland and is said to have originated from the Irish word for a bear.
6. Cork – O'Connor
You couldn't have a list of the most popular last names for every county in Ireland without that of the Rebel County. O'Connor has many variants such as Connor, Conner and Connors and comes from the Irish O'Conchobhair which means "lover of hounds".
7. Derry – Bradley
Bradley is a surname with English origins that is said to be derived from a place name meaning "broad wood" or "broad meadow" in Old English.
8. Donegal – Gallagher
Gallagher has been a popular name in Donegal since ancient times when the Gallagher family ruled the Tir Chonaill county.
9. Down – Thompson
Thompson is of Celtic origin and is popular not only in Ireland but also in England, Scotland and Wales.
10. Dublin – Byrne
This surname is said to come from the descendants of Bran who was once the King of Leinster.
11. Fermanagh – Maguire
The surname Maguire comes from the Gaelic term Mac Uidhir which means "son of the dun or dark coloured one".
12. Galway – Kelly
Kelly comes from the Gaelic O'Ceallaigh which means "bright headed" or "troublesome".
13. Kerry – O'Sullivan
O'Sullivan also is known as Sullivan and comes from an ancient Irish Gaelic clan.
14. Kildare – O'Toole
The O'Tooles were one of the most powerful families in Leinster and the translation of the name means "descendant of the mighty people".
15. Kilkenny – Brennan
One of Ireland's most common surnames, Brennan is an anglicised form of 3 different Irish surnames which are Ó Braonáin, Mac Branáin and Ó Branáin.
16. Laois – Dunne
Dunne is an Irish surname and is derived from the Irish Ó Duinn and Ó Doinn, meaning "dark" or "brown."
The most popular surnames for every county of Ireland: 17-32
17. Leitrim – Reynolds
In Gaelic, the surname is Mac Raghnaill which comes from the Old Norse name Rognvald.
18. Limerick – Ryan
Ryan is one of the ten most common surnames in use in Ireland today.
19. Longford – O'Reilly
O'Reilly and its variant Riley come from the Irish term O Raghallaigh which when broken down the term ragh means "race" and ceallach means "sociable".
20. Louth – Matthews
Matthews is an occasional variant of the Gaelic name MacMahon and is an old name as the Matthews family crest came into existence many centuries ago.
21. Mayo – Walsh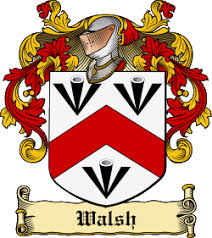 Walsh means "Briton" or "foreigner" and refers to soldiers who came to Ireland during and after the Norman invasion of Ireland.
22. Meath – O'Farrell
The surname O'Farrell comes from the Gaelic 'O'Fearghail' which means 'man of valour'.
23. Monaghan – Connolly
Connolly is the anglicised form of the old Gaelic 'O'Conghaile' which means "as fierce as hound/wolf".
24. Offaly – Hennessy
This surname is associated with the famous brandy and is most commonly found in Kilbegan in County Offaly.
25. Roscommon – McDermott
McDermott comes from the Gaelic Mac Diarmada which means "son of Diarmuid".
26. Sligo – McGinn
McGinn appears in Gaelic as O Finn which is derived from the "Fionn" and translates as "fair".
27. Tipperary – Purcell
Purcell is of Norman descent and the surname is widespread across both in Ireland and England.
28. Tyrone – O'Neill
One of the most popular surnames for every county in Ireland is the surname O'Neill which comes from one of Ireland's oldest families.
29. Waterford – Power
The surname Power comes from the French word "povre" which means "pauper" or "poor".
30. Westmeath – Lynch
The surname Lynch in Gaelic is O'Loinsigh which means "seaman" or "mariner".
31. Wexford – Murphy
Not only is Murphy the most popular name in Wexford but it is the most popular name in Ireland.
32. Wicklow – Cullen
The surname Cullen is of Gaelic origin and is thought to have come from the 8th-century Gaelic name of O'Cuileannain.
So, there you have it; our definitive list of the most popular last names for every county of Ireland. Did yours make the list?