Wicklow is known for breathtaking scenery and beautiful landscapes. Wicklow walks are some of the best in the country, and here are our top five.
With nature in full bloom sitting on the doorstep of Dublin, it is no wonder why Wicklow – only 30 minutes south of the capital – attracts such hefty numbers of visitors.
From nature lovers to adrenaline junkies, from seasoned adventures to Sunday strollers, there are walks and hikes to suit just about everyone.
Dotted with rolling hills, dense woodland, steeped in history and sprinkled with native flora and fauna, Wicklow is an enchanting place to get lost in – be it for a day or week.
Tours go daily from nearby Dublin City, and the commuter DART (Dublin Area Rapid Transit) gets you from city to scenery in only an hour. But, with endless avenues to explore, the real way to do a day in Wicklow is by car.
Once in Wicklow, throw on your favourite hiking boots and set off on an adventure. Looking some of the best walks in Wicklow? Check out our top five hikes now to suit every sort of explorer.
5. Blessington Greenway – one of the most enchanting Wicklow walks
Less than an hour from the city (by car), Blessington is the perfect stomping ground for your four-legged critters, kids and all. This specific walking track is graded "easy", meaning it will be the perfect place for the clan to run free.
Only 5.5 kilometres in length, this round trip shouldn't take longer than 90 minutes to complete, leaving lots of time for further exploration of the surroundings or lunch in stunning, stately Russborough House.
Situated along the Poulaphouca Reservoir, this enchanting walk winds its way along trail paths and forest floors, providing a much-needed escape from the hustle and bustle of the nearby city.
For added oomph, keep your eyes peeled for native wild deer that hang close to the trail!
4. Bray Head Cliff Walk – one of the best Wicklow walks and Wicklow hikes
Situated along the stunning rugged coastline of Bray, this cliff walk is considered an "easy/moderate" grade walk, suitable for families with older children. The path leads along the cliffs towards Greystones (or can be walked in reverse).
For added ease, the DART services both start and endpoints of this walk, making it an ideal weekend day trip via public transport. Begin in either direction, leaving time for a wander around these quaint Wicklow towns on either side.
The 7.7-kilometre trail offers up panoramic views of Bray, the Wicklow Mountains, and the sparkling Irish Sea.
And remember, the Bray Head Cliff Walk is designated by red arrows, so keep on the specified path.
3. Avoca Red Kite Loop – offers stunning scenery and gorgeous surroundings
The Avoca Red Kite Loop is located in Avoca, no more than a 15-minute drive from the Bray DART station. This 2.5 kilometre "moderate" grade walk is perfect for those with a little pep in their step looking to shake off the cobwebs and break a sweat.
Set on a circular loop, this hilly hike takes no more than an hour and is perfect for those with dogs who are keen to do a little adventuring themselves!
The forest trail itself offers stunning scenery and gorgeous natural surroundings, so remember to take some water as well as a camera to capture beauty as it unfolds.
2. Sugar Loaf Way – the views from the top are incredible
The Sugar Loaf is one of the quintessential sights in Wicklow. Seen far across Dublin Bay, its pointed summit is a postcard image favoured by many hikers, locals, and tourists.
Listed as a "strenuous" grade walk, this Wicklow hike is better suited for those who've been around the block (or the mountain) a few times. The linear trail, which is 4.3 kilometres, takes just over an hour starting from the Kilmacanogue 1916 Commemorative Garden.
Winding around country roads and quiet laneways, the hike eventually opens onto a trail where walkers climb to 200 metres. The trek provides untouched glimpses of native wildlife, dazzling vistas, and panoramic shots of Djouce, Bray Head, Carrigoona, and Maulin.
Keep an eye out for the yellow arrow on black background – this is the assigned waymarking for this hike.
1. Spinc and the Wicklow Way, Glendalough – home to incredible views!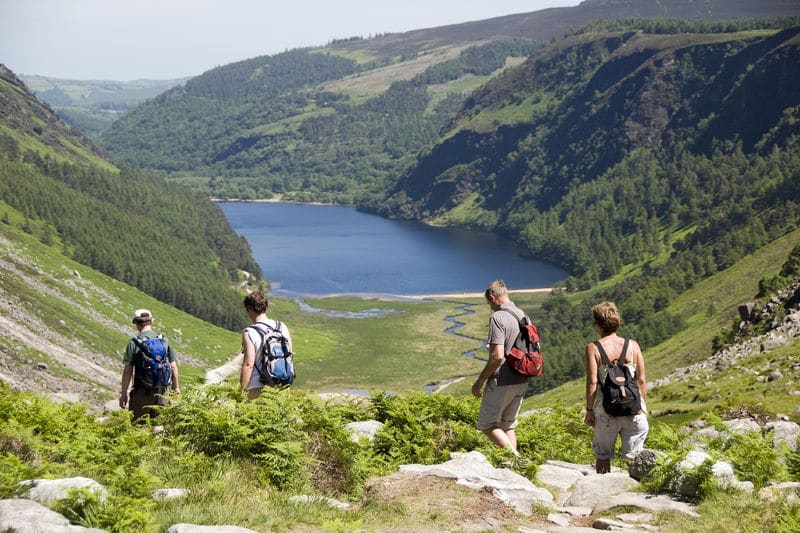 This ultimate hike in Wicklow is not for the faint of heart. Listed as a "very difficult" path, hikers can expect to get their money's worth.
The Spinc & Wicklow Way walk in Glendalough is a circular path spanning 11 kilometres (roughly allow 4 hours for this) and includes stunning sights such as a billowing waterfall (Poulanass Waterfall), lake views, forest paths, and mountain peaks.
This path has steep steps at various intervals leading to a boardwalk, so ensure the correct footwear is in place and always start out early in the day so as not to get stuck out in the dark.
Best hikes around Ireland
The 10 highest mountains in Ireland
Top 10 best cliff walks in Ireland, RANKED
Top 10 scenic walks in Northern Ireland you need to experience
Top 5 mountains to climb in Ireland
The 10 best things to do in south-east Ireland, ranked
The ultimate 10 best walks in and around Belfast
5 incredible hikes and walks in scenic County Down
Top 5 best Mourne Mountain walks, ranked
Popular hiking guides