County Wicklow is proudly part of Ireland's Ancient East, and there are so many things to keep you occupied. Here are the ten best things to do and places to visit in County Wicklow, Ireland.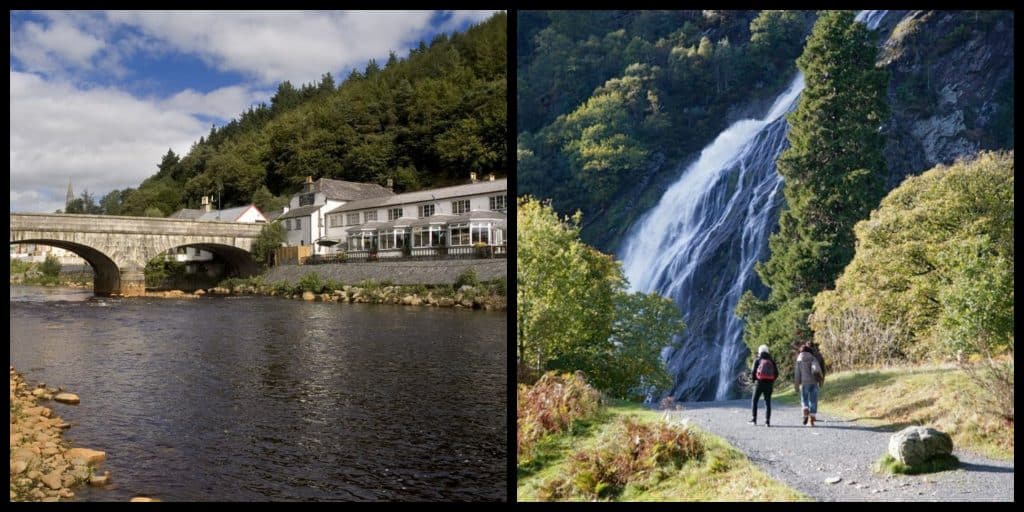 County Wicklow is full of natural beauty, with its ideal position along the coast and among the mountains. It is also home to Ireland's largest national park, the Wicklow Mountains National Park.
There are many unique reasons to visit Wicklow and many things that you will only ever find in this part of Ireland. Not to mention it's only an hour outside of Dublin City Centre, making it easily accessible from Dublin Airport.
From scenic lakes to mountain trails, bike rentals to panoramic views, Wicklow Town to Bray Head, this is a great destination for nature lovers.
You might be asking what to do in Wicklow? Well, we're here to bring you the ten best things to do and places to visit in County Wicklow, Ireland.
Tips and advice – useful info for your visiting Wicklow
Booking.com – the best site for booking hotels in Ireland
Book accommodation in advance: If you plan to stay in the county, book well in advance, as it is one of Ireland's most popular areas.
Best ways to travel: Hiring a car is one of the easiest ways to explore Wicklow with a limited amount of time. Public transport to rural areas is not as regular as in other countries, so travelling by car will give you much more freedom when planning your own journey and day trips. Still, you can book guided tours that will take you to all the best things to see and do, according to your preference.
Hiring a car: Companies such as Avis, Europcar, Hertz, and Enterprise Rent-a-Car offer a range of car rental options to suit your requirements. Cars can be picked up and dropped off at locations around the country, including at airports.
Travel insurance: Wicklow is a relatively safe county. However, it is important to make sure you have appropriate travel insurance to cover unforeseen circumstances. If you're hiring a car, it's also important to make sure that you're insured to drive in Ireland.
Popular tour companies: If you want to save some time planning, then booking a guided tour is a great option. Popular tour companies include CIE Tours, Shamrocker Adventures, Vagabond Tours, and Paddywagon Tours.
Prepare for Irish weather: Pack for the unpredictable weather in Ireland by bringing layers and waterproof clothing.
Pack appropriately: Wicklow is a great place to go hiking, so if you intend to explore the Wicklow mountains, bring sturdy shoes and hiking gear!
Prepare for no signal: Phone signal in Wicklow can be poor, so make sure to download a map or offline GPS app to navigate winding roads.
10. Avoca Weaving Mill – Ireland's oldest weaving mill
Not only is Avoca Ireland's oldest woolen mill, but it also reigns as one of the world's oldest manufacturing companies. Located in the quaint village of Avoca, this is a must-visit.
This place dates back to 1723 and, to this day, is a popular place for visitors and locals alike to shop for crafts and knitwear, as well as to indulge in the Avoca cafe delicacies.
Address: The Mill at Avoca Village, Kilmagig Lower, Avoca, Co. Wicklow
Located in the beautiful Vale of Avoca, the stunning Woodenbridge Hotel and Lodge is a great place to rest your head. Hotel rooms are spacious and elegant, with ensuite bathrooms and all the amenities you could need. Onsite, guests can enjoy a delicious meal from the Smokehouse Restaurant or Goldmines Bistro.
9. Lunch at The Happy Pear – nutritious and delicious food from this excellent cafe
Wondering what to do in Wicklow? Join the queue because this place is a haven for all things healthy, sustainable, and tasty. Still, we can assure you this lovely Irish vegan cafe is definitely worth the wait, with its wide selection of delicious, healthy foods.
Owners David and Stephen Flynn wanted to start a food revolution in their home town, the beautiful coastal town of Greystones, over ten years ago, and that they have done! This place is just awesome and the perfect destination to visit on a busy day!
The nearby Greystones Beach is a mix of pebble beach and sandy beach. It is the perfect place to take your lunch from this excellent cafe and watch the waves roll in. This is the perfect place to fuel up before exploring Wicklow Mountains National Park, which is considered one of the best spots for wild camping in Ireland.
Address: Church Rd, Rathdown Lower, Greystones, Co. Wicklow
The Glenview Hotel & Leisure Club is a fabulous four-star hotel located in the beautiful Glen of the Downs. Beautiful, spacious guest rooms offer breathtaking mountain views. Award-winning food is served at the onsite Woodlands Restaurant, and guests can relax in the luxurious Haven treatment rooms located in the Leisure Club.
8. The Wicklow Way – one of the top places to visit in Wicklow
The 131 km (81 miles) long-distance Wicklow Way trail runs from County Wicklow all the way to County Carlow. It offers beautiful panoramic views, wild camping, and campsite options, as well as an abundance of the famous Wicklow Heather.
Thus, when the Irish weather is on your side, this is the perfect spot for an active break.
It is one of Ireland's most popular trails, passing through the Wicklow Mountains National Park. It can be done in five to seven days, but many people choose to take on sections at a time.
Read: our guide to the best hikes for beginners in Wicklow
Address (Starting Point): Marlay Park House, Grange Rd, Rathfarnham, Dublin 16, Ireland
Located close to the Wicklow-Dublin border, the Clayton Hotel in Leopardstown is a fantastic family-friendly hotel close to the starting point of the Wicklow Way. The four-star hotel features luxurious rooms, various dining options, and a fantastic fitness suite.
7. Bray to Greystones cliff walk – a coastal path walk to remember
Once you've finished exploring the stunning Wicklow Mountains Natural Park, there is plenty more stunning scenery to discover.
Put on your walking boots and set off on this beautiful coastal walk along the cliffs, from the picturesque village of Greystones to Bray Head.
The trail hugs the coast the whole way from Bray to Greystones, delivering stunning views. It is definitely a must-do when visiting Wicklow, perfect for a family fun adventure.
You can opt to walk back, but the DART is a huge convenience, making the Bray to Greystones Cliff Walk one of the most accessible day trips in the area.
If you're looking for another great walk, the Bray Head Coastal Walk is a must, too!
READ: our guide to the Bray to Greystones cliff walk
Address: Bray-Greystones Cliff walk, Rathdown Lower, Greystones, Co. Wicklow, Ireland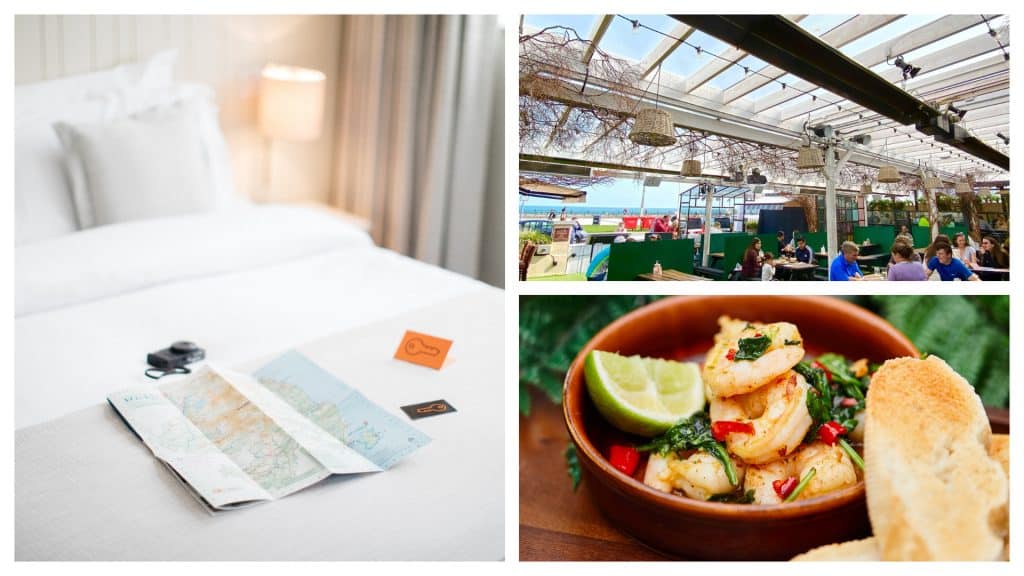 The waterfront Martello Hotel in Bray is a stylish hotel with 25 modern, spacious rooms, a popular restaurant, bar, and bistro, and a fantastic central location.
6. Drive Sally Gap – see the stunning Wicklow Heather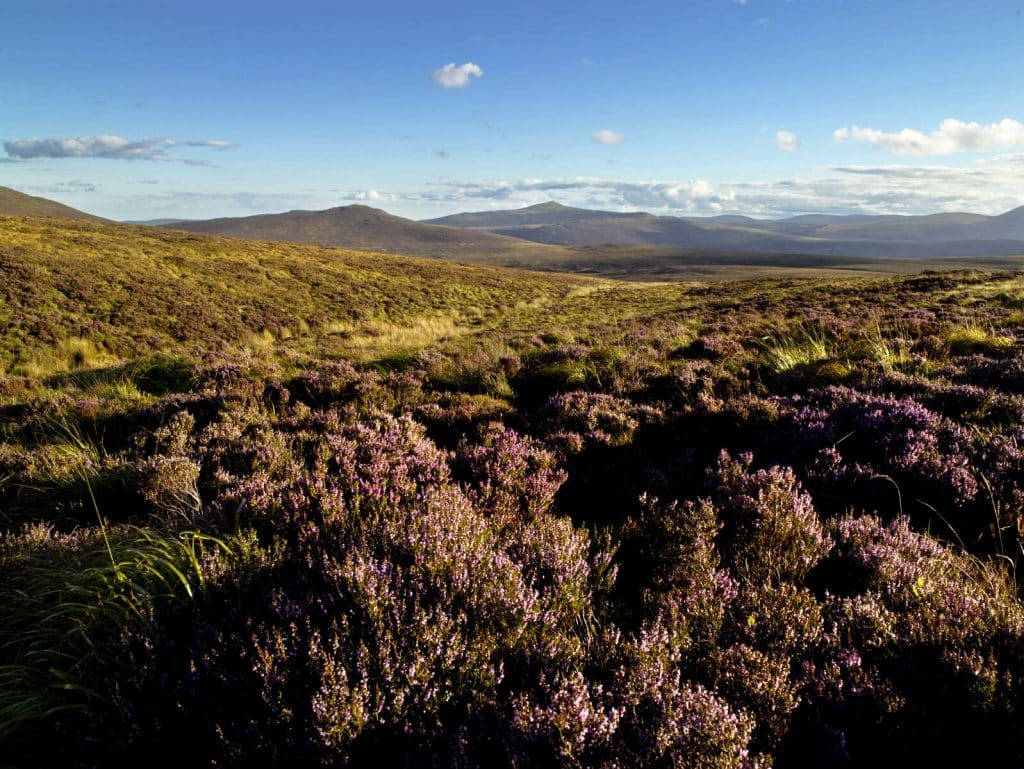 The enviable views along this road make you feel like you're on a different planet, with its windy roads among blanket bog intertwined between tall mountains.
This high mountain pass in the Wicklow Mountains National Park is one of two that cross from east to west and dates back to 1798 during the Irish Rebellion.
READ: Ireland Before You Die's Guide to Sally Gap
Address: Old Military Rd, Powerscourt Mountain, Co. Wicklow, Ireland
Where to stay near Sally Gap: Lus Mor
This fantastic Bed and Breakfast offers something for all kinds of travellers. Ideally located at the heart of the Wicklow Mountains, this is the perfect countryside escape for those who want to enjoy some peace and tranquillity or those who want to explore the great outdoors. Rooms are comfortable and fresh, and guests can avail of the full Irish breakfast served each morning.
5. Powerscourt House and Gardens – Ireland's beautiful garden
Having been named in the top three most beautiful gardens in the world by National Geographic, it's no wonder that Powerscourt Estate, House, and Gardens is so popular nationwide.
Stretching over 47 acres, Powerscourt Gardens features an Italian garden, Japanese gardens, and a walled garden, as well as a large house dating back to the 13th-century. It is also home to the Powerscourt Waterfall, the tallest waterfall in Ireland.
The Powerscourt Estate is the perfect day out for the entire family and features one of Wicklow's best golf courses. And, if you want a real treat, book a stay at the Powerscourt Hotel.
Address: Powerscourt Demesne, Enniskerry, Co. Wicklow, Ireland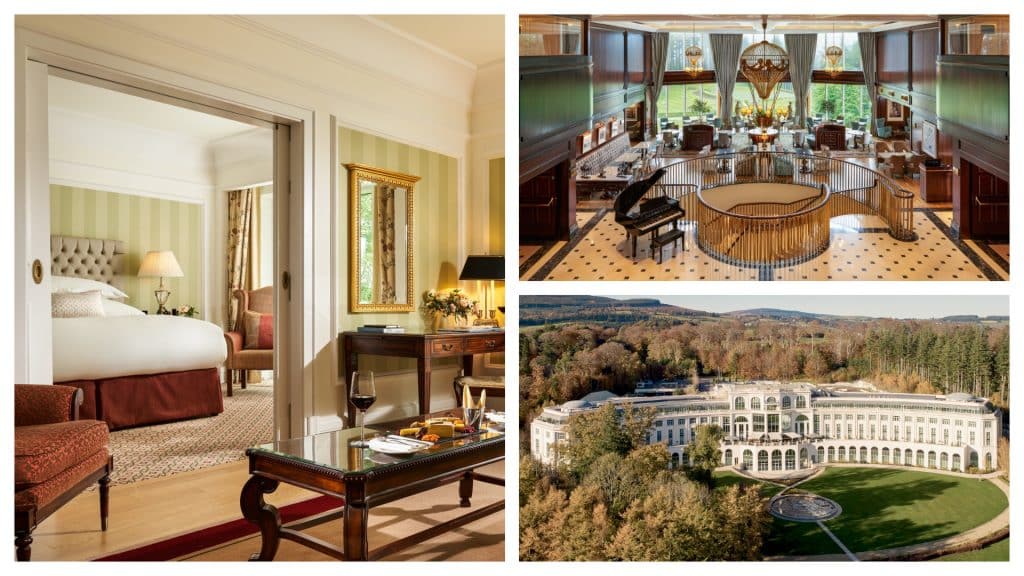 No trip to Wicklow is complete without a luxurious stay at the beautiful Powerscourt Hotel. Located on the breathtaking Powerscourt Estate, this stunning five-star hotel is renowned for its traditional and comfortable rooms and suites, with all the amenities you could need, its phenomenal onsite Sika Restaurant, and its brilliant onsite spa.
4. Powerscourt Waterfall – Ireland's tallest waterfall
This waterfall, standing 397 ft (121 m high), is a popular tourist attraction for many visitors in Wicklow. This is undoubtedly one of the best places to visit in Wicklow.
Located in Collection Powerscourt Estate, this is the perfect family day out. There are walking trails and picnic areas, so you can make the most of your afternoon here.
READ MORE: IB4UD's guide to Powerscourt Waterfall
Address: Deerpark, Powerscourt Estate, Co. Wicklow, A98 WOD0, Ireland
An alternative place to stay near Powerscourt: The Enniskerry Inn
If you aren't feeling like splashing the cash on a stay at the Powerscourt Hotel, then a stay at the fantastic Enniskerry Inn is for you. This charming B&B boasts comfortable ensuite rooms and amazing food, drinks, and entertainment in the downstairs restaurant.
3. Victor's Way – weird and wonderful
This unique sculpture park in West Wicklow is a beautiful spot to reflect, walk, meditate, or take a forest bath. Unusual, but certainly one of the best places to visit in Wicklow.
Numerous sculptures, which were imported from India, depict the path to enlightenment, and each tells a story of their own. A mindful, peaceful day out.
Address: Mullinaveige, Co. Wicklow
Wicklow Way Lodge is a fantastic place to stay in Oldbridge, near Lough Dan. Guests can relax in spacious homely ensuite rooms, sleeping between two and four guests and make use of the shared living and dining area, complete with TV and comfortable seating area, a fully fitted kitchen, and a shower room and toilet.
2. Glendalough, Wicklow Mountains National Park – natural beauty
Another of the top places to visit in Wicklow is in the Wicklow Mountain's National Park.
Glendalough is a beautiful valley with numerous walking trails that take you all around the area, past two great lakes, the famous Wicklow Heather, and a 6th-century monastery close to the Upper Lake.
It is one of the most explored places, not only in the county but in the entire country and is one of the best camping spots in Wicklow. From the banks of the lough, you can enjoy a breathtaking 360-degree view of the surrounding area in the Wicklow Mountains National Park.
MORE INFO: our guide to Glendalough Walk (everything you need to know)
Address: Lugduff, Co. Wicklow, Ireland
Where to stay near Glendalough: Tudor Lodge B&B
Nestled in the heart of the Wicklow Mountains, the fantastic Tudor Lodge B&B is one of the most popular places to stay in the county. So, we advise booking in advance to ensure you don't miss out. Each room has an ensuite bathroom, flat-screen TV, and tea and coffee-making facilities. The beautifully landscaped gardens provide the perfect place to relax on a sunny day.
1. Climb the great Sugarloaf – one of the top things to do in Wicklow
This 1,644 ft (501 m) high 'volcano-like' mountain is a fantastic spot to get 360-degree views of the surrounding area.
The walk up Sugarloaf is short and can be steep in sections, but from the summit, you will see as far as Howth in North Dublin and deep into the Wicklow Mountains National Park, while Dublin Bay glistens below you. It's worth the climb!
READ MORE: more amazing hikes in Wicklow
Address: Glencap Commons South, Co. Wicklow, Ireland
This fantastic pub, restaurant, and luxury guesthouse can be found in the heart of Delgany Village. The Horse and Hound has been a popular choice ever since 1970, when it first opened. Guests can retreat to elegant ensuite rooms, enjoy a fantastic meal at the Bellevue Restaurant, and sip on a creamy pint of the black stuff in the H&H Lounge.
No need to ask what to do in Wicklow. You can see why County Wicklow is rightly known as the garden of Ireland. With so much nature to explore and so many sights to visit, this county has visitors returning year after year.
The best thing is, if it's only a short visit to Ireland, all of these areas in our top ten best things to do and places to visit in Wicklow are only a stone's throw from our capital city, Dublin. You've no excuse now!
Other notable things to do in Wicklow
Aside from our top ten things to do in Wicklow, there are many amazing things to discover. Spend an afternoon exploring Wicklow Town, pay a visit to Russborough House, take a tour of Wicklow Gaol with experienced actor guides, or spend a day at Mount Usher Gardens.
We also recommend checking out the areas popular amenities and visiting the stunning Wicklow Head Lighthouse. This is definitely one of the most incredible places to visit in Wicklow.
If you're by the coast, head to Brittas Bay, Bray Head, or Silver Strand. Some other must-see spots are Kilmacurragh Botanic Gardens, Kilruddery House and Gardens, and the Greenan Farm Museum.
Staying safe and out of trouble
Wicklow is a relatively safe county. Still, it is always important to look after the safety of yourself and others.
Avoid going to quiet places at night alone.
Abide by speed limits and be aware that they are kilometres per hour in the Republic of Ireland.
Remember to drive on the left.
Be a responsible road user: don't drink and drive, and don't use your phone while driving.
Make sure to check the parking restrictions before you park.
Make sure you have all of your relevant insurance documents.
Make sure you have all the appropriate gear and equipment if you're planning to take to the trails and explore the great outdoors. We recommend a good, sturdy pair of hiking boots, a fully charged phone, a first aid kit, and layers to allow for weather changes.
Your questions answered about things to do in Wicklow
If you still have questions about visiting County Wicklow, we have you covered! In this section, we've compiled some of our readers' most frequently asked questions and popular questions that have been asked online about this area.
Is Wicklow town worth visiting?
Yes! There are plenty of fun things to do in Wicklow town, including art galleries, craft shops, cafes and restaurants, Wicklow Gaol, and Wicklow Bowl & Kidzone. With plenty of family-friendly activities and places to visit in Wicklow, it is a great place for a family holiday.
What to do in Wicklow when it's raining?
There is a range of activities to do in Wicklow when it's raining that are sure to be great fun. Some of our favourites are Russborough House, a tour of Wicklow Town Gaol, Wicklow Bowl, or the Harbour Bar in Bray.
What is there to do in Glendalough for a day?
If you're spending a single day in Glendalough, there are a lot of fun things you can do. From scenic hikes to fatbike tours and other bike rental options, visiting the historic 6th-century monastery, and more.
Useful articles to help you plan your trip…
Top 5 best hidden gems in County Wicklow
Top 5 best beaches in Wicklow, ranked
Wicklow walks: 5 stunning walks & hikes you need to experience