The Croagh Patrick hike is Ireland's ultimate pilgrim trail. Read on to find out all you need to know about this iconic mountain path.
Croagh Patrick is a 2,507-foot (764-metre) mountain located in County Mayo and is one of the most difficult hikes in Ireland. Not far from Westport's charming township, the Croagh Patrick walk is a significant stop on the tourist trail.
However, its cultural importance dates back thousands of years to when Christian pilgrims would endure the Croagh Patrick hike barefoot as an act of penance.
For those of you keen to take on Ireland's most religiously-significant mountain trail, this is all you need to know.
Basic overview – all you need to know
Route: Croagh Patrick Pilgrim Path
Distance: 7 km (4.34 mi)
Start / End Point: Murrisk, County Mayo
Parking: Murrisk, County Mayo
Difficulty: Strenuous
Duration: 3-4 hours
Overview – the essential info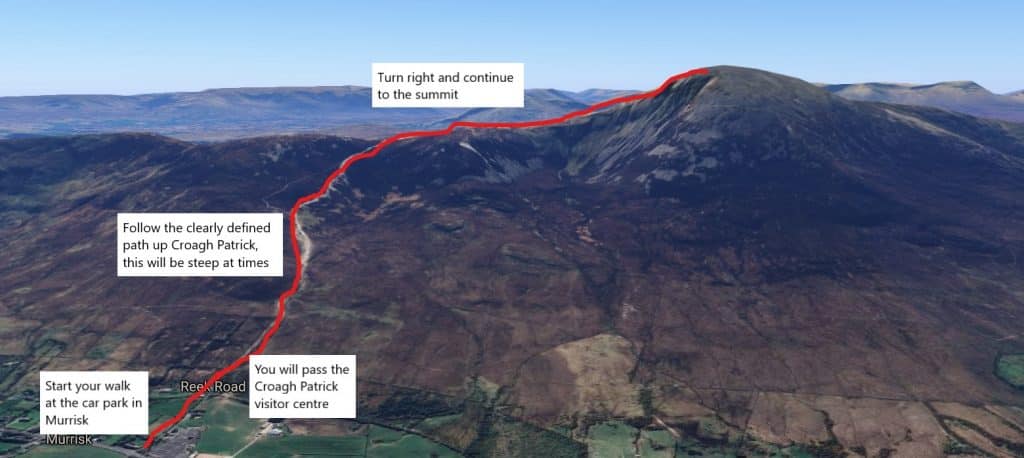 Nicknamed "the Reek", Croagh Patrick is famously climbed each year on Reek Sunday: an annual day of pilgrimage in Ireland, which takes place on the last Sunday of July.
The mountain is named after Ireland's patron saint, Saint Patrick, who is said to have fasted and prayed atop the mountain summit for 40 days in the 5th-century. There is a small chapel at its peak and masses are held each year in his honour.
In ancient times, and still today (to a much lesser degree), pilgrims endure the 7 km (4.34 mi) Croagh Patrick walk barefoot, as an act of retribution.
When to visit – a bright, dry day is the best way to go
Summertime sees the highest number of visitors to the area, with Reek Sunday attracting the greatest amount of hikers, hill-walkers and, of course, pilgrims.
Those looking for a more peaceful experience should aim to undertake the Croagh Patrick hike on a bright, dry day in late spring, early summer, or autumn.
Directions – how to get there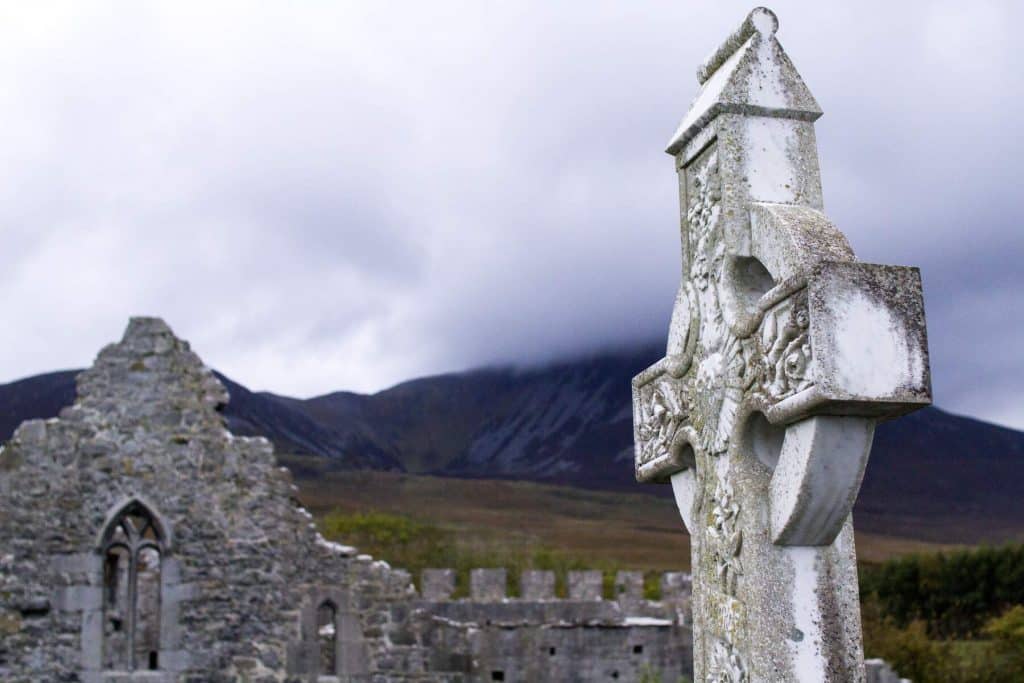 Head to the village of Murrisk in County Mayo. This sleepy village sits at the base of the mountain and offers a small car park (with paid parking).
From here you will begin your "out and back" journey to the summit of Croagh Patrick before returning to the village along the same trail. The Croagh Patrick hike takes around three to four hours to complete.
Things to know – insider knowledge
While this trail is popular with all ages, it is worth noting that it is a challenging trail that requires a basic level of physical fitness.
Loose stones on the final ascent make for challenging terrain, so sturdy, durable walking shoes or hiking boots are essential. Walking and hiking sticks are also recommended for those who would like an added element of support.
How long is the experience – from beginning to finish
The Croagh Patrick walk will take approximately three to four hours round-trip. This usually translates to a two-hour ascent, and ninety-minute descent.
Although it is not advised to walk the route today barefoot, many pilgrims still do; this leads to a much longer route duration and a significantly greater chance of casualty.
The majority of accidents happen when coming back down the mountain due to the loose rocky landscape, so remember to take your time as you descent.
What to bring – the essentials
Once you begin the Croagh Patrick hike, there are no amenities, so make sure to bring water, snacks, sunscreen, and any other necessities with you.
From the top, you will be rewarded with breathtaking views over Clew Bay and the surrounding areas, so don't forget to bring your camera.
What's nearby – while you're there
Westport is only 8 km (5 mi) from the Croagh Patrick walk, and it makes for a great base when exploring the area. A hive of local culture, Westport is ripe with bars, restaurants, and artisanal shops dotting the town.
Where to eat – for a post-hike feed
Just a seven-minute drive from the town of Murrisk is Cronin's Sheebeen – a waterside pub, which serves piping hot plates of pub grub and creamy pints of Guinness.
If you're looking for something a little lusher, head to the Michelin-starred restaurant, An Port Mór.
Where to stay – for a good night's rest
Those keen to keep in-line with an outdoor experience should try glamping (essentially, fancy camping) at Doon Angus Farm.
Alternatively, the three-star The Wyatt Hotel in Westport town is a local favourite. The four-star Knockranny House Hotel & Spa is ideal for those who would like to sleep in the lap of luxury.