Soon as summer hits we flock to the beach to go swimming, but being safe is of the utmost importance so follow these top tips for swimming safely in Ireland and you'll have a grand time!
As the weather finally starts to become more favourable and the forecast offers hope as temperatures climb, it's nearly time to don that bathing suit once again.
Although Irish weather can be temperamental to say the least, it can be bloody glorious, and as summer starts to blossom, the country comes alive.
While we can't wait to take that first ceremonious swim, it is important to make sure you stay safe.
Sadly, every year lives are lost in Irish oceans and waterways due to various circumstances. The best way you can keep well is by following these tips for swimming safely in Ireland this summer.
7. Location – choose the right area to swim
Ireland has a huge number of opportunities for swimming year-round. As an island country, it is surrounded by water meaning there are endless numbers of sandy beaches and hidden coves, velvety stretches with towering dunes and quirky pebble beaches, rock pools, lakes, and waterways.
Simply put: you won't have to venture far to find an opportunity for a splash this summer. Saying that, it is important to only swim in safe, verified locations.
Never swim in canal or river locks, and always be observant of warning signs. Seven beaches have been marked on Ireland's Environmental Protection Agency's blacklist for water pollution.
These include Sandymount Strand, Merrion Strand, Loughshinny, Portrane, Rush South in Dublin, Ballyloughane, and Clifden in Galway. Bathers are advised to avoid these beaches.
6. Know your limits – don't risk your safety
No matter how confident a swimmer you are, all water users are advised to stay within their depth of swimming capability.
Water is an unpredictable body, and you are more likely to be in control if you are within your standing depth, a very important tip for swimming safely in Ireland during summer.
5. Keep a close eye – for any dangers and hazards
Children should be monitored at all times when playing in and around water. Even if a child is wearing a flotation device (such as a life jacket or armbands), they should never be left unsupervised.
Remember, rip currents – a narrow channel current that swiftly pulls out to sea – start from the shoreline making children and inexperienced swimmers vulnerable.
4. Lifeguards – make sure you're safe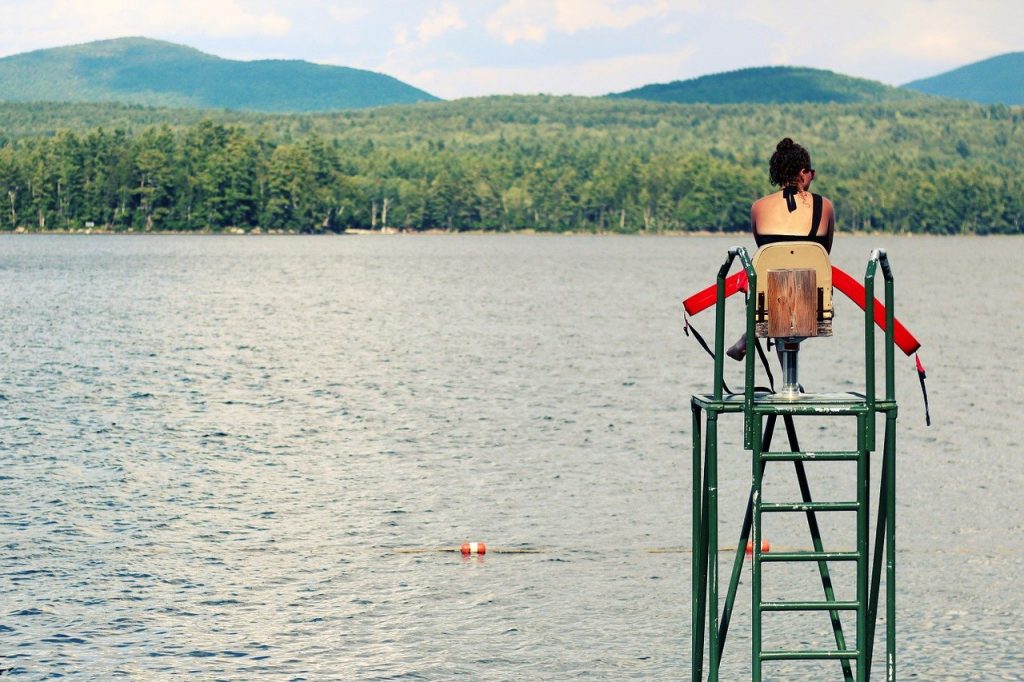 Lifeguards exist on many beaches across the Emerald Isle during the summer months.
A full list of lifeguard-patrolled beaches can be found here, www.iws.ie. It is highly advisable to only swim in places patrolled by official lifeguards and to stay within their view during your time spent in the water.
3. Life jackets – better safe than sorry
Most people only consider life jackets on boats and other water vessels, but the truth is that all inexperienced swimmers and children should wear them when in, and near, water.
Ensure the life jacket is fitted correctly with a crotch strap, as poorly-fitted flotation devices can prove inefficient in a time of need, a top tip for swimming safely in Ireland during summer.
2. Do not drink alcohol – it endangers your safety
While we understand it is a common sight to see people drinking alcohol on, or near, waterways during summer months, you mustn't swim while under the influence.
Even one drink can be the difference between life and death in the water. Alcohol is involved with 1/3 drowning incidents in Ireland. The simple rule is this: never, ever drink around water.
1. If you see someone in danger – don't panic!
If you see someone in danger in the water, immediately raise the alert. Shout and point so trained lifeguards can quickly spot the person and don't take your eye off them.
When a person is pulled out to sea, they can be pulled quickly. You mustn't take your eye off their location until help has reached them.
Shout to them and encourage them to swim back – your voice may help orientate them in the direction of the shore.
Whatever you do, do not enter the water. Rip currents are extremely dangerous, even to the most experienced swimmer.
If there is a flotation device or a ring buoy, throw it to them as fast as possible. If not, but the person can be reached by using a long device (e.g. a tree branch or piece of clothing), try pulling them in.
Call 112 for the coast guard and remain watching the person's location until help arrives.