Ireland gets a pretty bad rap when it comes to its weather. Indeed it isn't the balmiest place in comparison to nearby European destinations. It can be temperamental—even at the best of times—but all that aside, it does have its glory days.
From spring to autumn, Ireland can be blessed with some of the most sizzling days that even globe-trotting sun worshippers would call a scorcher. And when those days do come, boy are they well received!
When the weather warms up and lighter clothes emerge from hibernation, beach days become coveted. For all of you who are less experienced with an Irish summer, here are the ten things that happen on every beach day in Ireland.
10. Soft serves are expected
Soft-serve ice creams (colloquially known as 99s) are expected on a beach day in Ireland. They're usually procured from an old-school ice cream truck which pulls up sand-side and offers cooling treats and drinks to beachgoers.
No beach day in Ireland would be complete without a soft serve; just as the Bulmers advertisement says, "Funny how we wait all year for it to get hot just so as we can cool down again."
9. Public transport is a nightmare
Another unavoidable element of the Irish beach experience is the nightmare that is public transport.
Whether you are a local in the locale of a beach or are using public transport to get to the waves, getting in and around suburbs that are within walking distance of the sand on a sunny day will be a nightmare. It's better to accept it now and save yourself the frustration!
8. Garden furniture emerges
Garden furniture that seldom saw the light of day is likely to be produced en masse on a beach day in Ireland.
Arrive early to claim the best spot of sand!
7. Traffic and parking are chaotic
If you happen to live in close proximity to the beach, you'll be in for a tough time when the sun comes out.
Small suburban roads that lie close to Irish beaches are sure to become overrun with cars, so forget street parking. All we hope is that you residents have private parking spaces!
For those travelling to the beach, we highly recommend public transport to relieve congestion, although this, as aforementioned, poses its own frustrations.
6. Cans are everywhere
When the sun comes out, the beach is the only place to be, and no trip to the ocean would be complete without a big bag of cans (a.k.a. beers!).
Those who are feeling fancy may bring a cooler, but the classic way to go is a simple beer in a shopping bag.
5. The beach is packed
Seeing as beach weather is rare on the island of Ireland, one thing you can be certain of is that it will be covered with bodies.
Arrive early to snag the best stretch of sand. If you're going with a larger group, we advise finding a place in the dunes or away from the shore, which will ensure you won't have to move if the tide comes in.
4. A lot of farmer's tans appear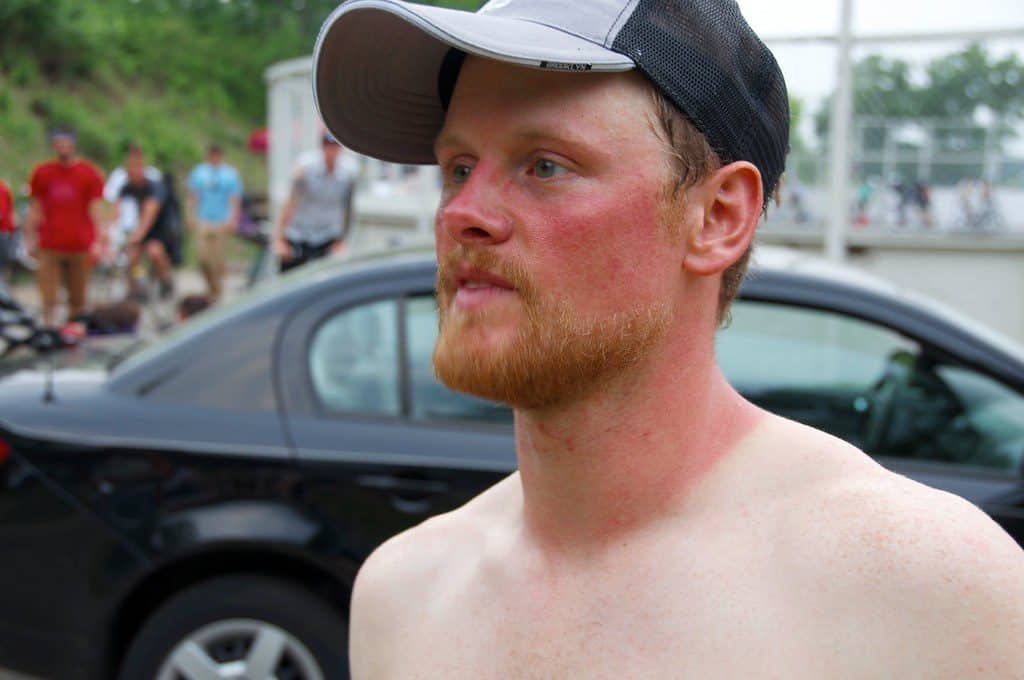 The Irish seem to have a mental block when it comes to the art of tanning. Forget bronzed bodies and a healthy glow. Here on the Emerald Isle, you're more than likely going to see a lot of pasty folk with "farmer's tans."
A farmer's tan occurs when someone gets a tan or burnt while wearing a top. Once the top is removed, the tan lines show definite (and amusing) markings of where the garment was once worn.
3. It may just rain
No matter how dreamy the weather may seem, it is always important to know that Irish weather is terribly unpredictable.
Our best advice is to jump on golden opportunities when you have them! Never say "we'll go to the beach tomorrow!" as otherwise, you may never get a chance. Time is of the essence on the Emerald Isle.
2. You'll probably burn
Don't be fooled by the balmy temperatures: the sun over Ireland can be pretty fierce. Regardless of the temperature, it is advisable to wear sunblock!
One thing you're sure to see at the beach in Ireland is heaps of burnt bodies. And if you don't proceed with caution, you'll probably fall into that category too.
1. High temperatures can be deceiving
A sad reality we seem to face on a beach day in Ireland is that even though temperatures may scrape past 20 degrees Celsius, or sometimes 25, often a chilly breeze makes it just that bit too cool to be sitting out in a bathing suit.
Nevertheless, the Irish are tenacious folk, so expect to see tonnes of bikinis and board shorts. All we suggest is to bring a jumper to don once the sun starts to set. That's just how beach days go here in Ireland.