Here we round up five beautiful cathedrals in Ireland that you need to see in your lifetime.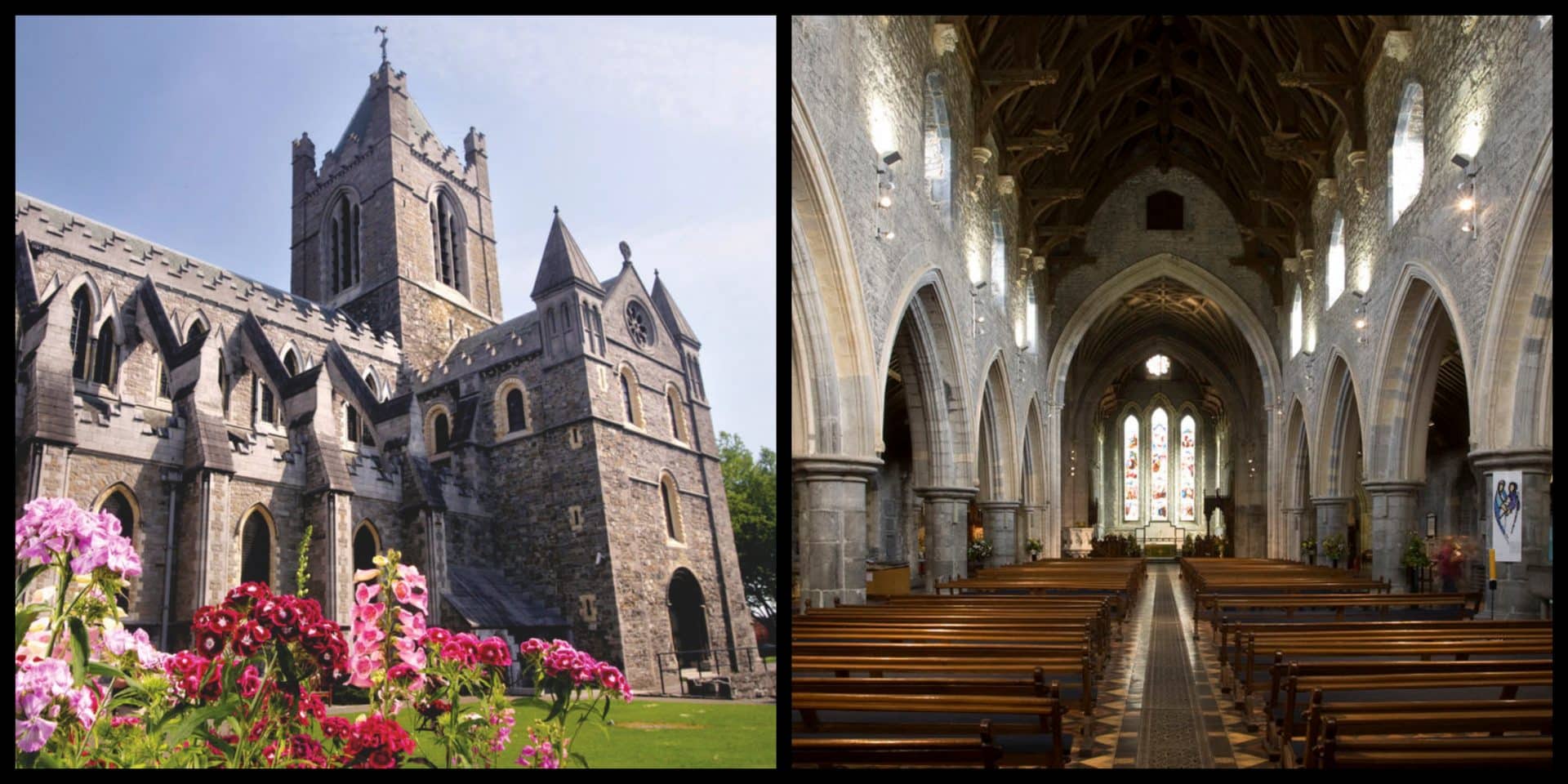 Ireland is well known as the island of saints and scholars, and this sentiment rings true as you travel across this small island. It is pretty much impossible to turn a single corner without discovering another church, holy well, or ancient monastery.
Without a doubt, the cathedrals found across this island stand as magnificent feats of architecture and important sites of Irish religious history, culture, and faith.
These holy sites have witnessed many wars, famines, schisms, trials, and tribulations, and are a striking reminder of the vast cultural and ecclesiastic heritage that Ireland is home to.
Here we list off the five most beautiful cathedrals in Ireland you must visit before you die!
5. St. Brigid's Cathedral (Co. Kildare) – one of Ireland's hidden gems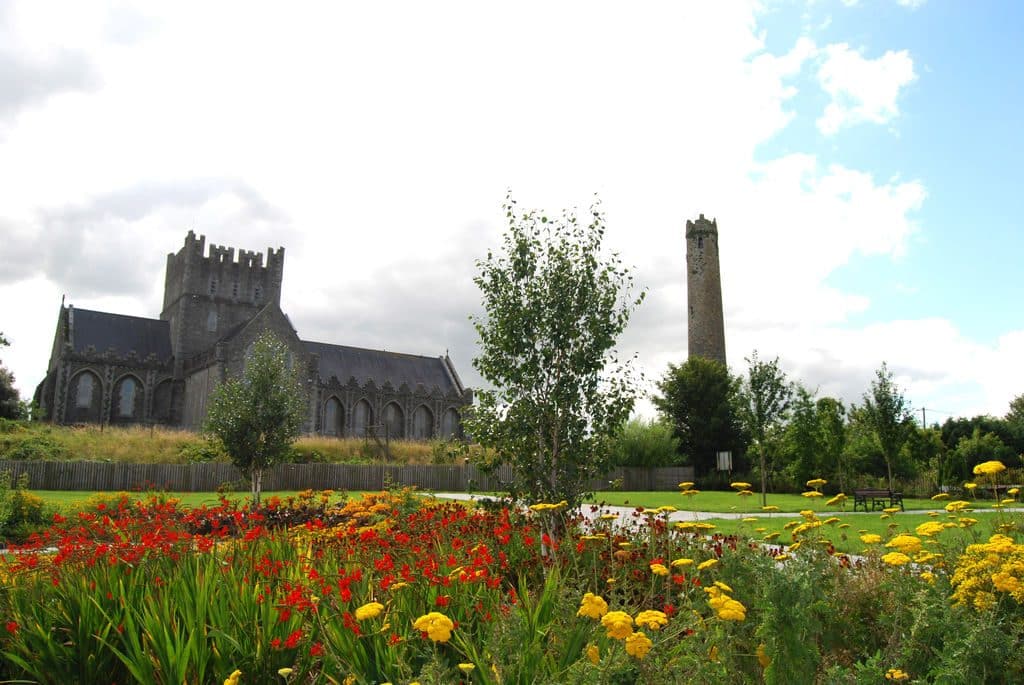 First on our list is the fabulous St. Brigid's Cathedral in County Kildare. This lesser-known 13th-century cathedral is one of the earliest documented places of Christian worship in Ireland. According to tradition, the site is the location where Saint Bridget (one of Ireland's patron saints) founded a monastery in the 5th century.
The cathedral is designed in a striking Gothic-style, and notable features include a spectacular 16th-century vault, intricate early Christian and Norman carvings, and the partial remains of a pre-Norman High Cross. The impressive oak ceiling, carvings, and unique arches are truly a sight to behold!
Also located on-site is a marvelous 12th-century round tower made of beautiful Wicklow granite and local limestone. Standing at 32 meters high, this is one of two medieval round towers in Ireland that are open to the public. Without a doubt, St. Brigid's is one of Ireland's hidden gems and is an absolute must-do on your next road trip!
Address: Market Square, Kildare, Co. Kildare
4. St. Canice's Cathedral (Co. Kilkenny) – a jewel in Kilkenny's crown
Next is the enchanting St. Canice's Cathedral and Round Tower, located in the medieval city of Kilkenny at the heart of Ireland's Hidden Heartlands. Founded in the 6th century, the cathedral is named after Saint Canice and consists of an early Christian settlement, a spectacular 9th-century round tower, and a splendid Anglo-Norman cathedral.
The site has been used as a place of worship for over 800 years! St. Canice's is a popular destination for pilgrims and tourists alike, known for its spiritual, cultural, archaeological, and architectural intrigue.
Stunning features of the cathedral include two stained-glass windows designed by Harry Clarke, and St. Kieran's Chair, an ancient stone seat thought to contain part of the 5th-century bishop's throne. The Round Tower is the oldest standing structure in Kilkenny, standing at 100 feet. This tower is the second of Ireland's two climbable medieval round towers, and the views from the top are truly sublime.
Address: The Close, Coach Road, Co. Kilkenny
3. St. Mary's Cathedral (Co. Limerick) – an exquisite Munster cathedral
Our next cathedral is the exquisite Saint Mary's Cathedral in County Limerick. The cathedral was founded in 1168 A.D. on a hill on King's Island and is the oldest building in Limerick still used daily. The cathedral was built where the palace of the late King of Munster, Donal Mór O'Brien, once stood and contains a total of six chapels.
One of the most famous features in St. Mary's are the carved misericords. These misericords are unique in Ireland and include intricate carvings of a two-legged one-horned goat, a griffin, a sphinx, a wild boar, and a wyvern, to name only a few!
From the main aisle of the cathedral, visitors can view the splendid 12th-century arcaded arches high above them. A clerestory or 'monk's walk' is also still intact and is part of the original structure. In 1691, St. Mary's suffered considerable damage from cannonballs during the Williamite Siege of Limerick, and two of these cannonballs are now on display.
A self-guided tour is available at St. Mary's, so you can take your time exploring this stunning site and marveling in its many breath-taking features.
Address: Bridge St, Limerick, Co. Limerick
2. St. Patrick's Cathedral (Co. Dublin) – a stunning national cathedral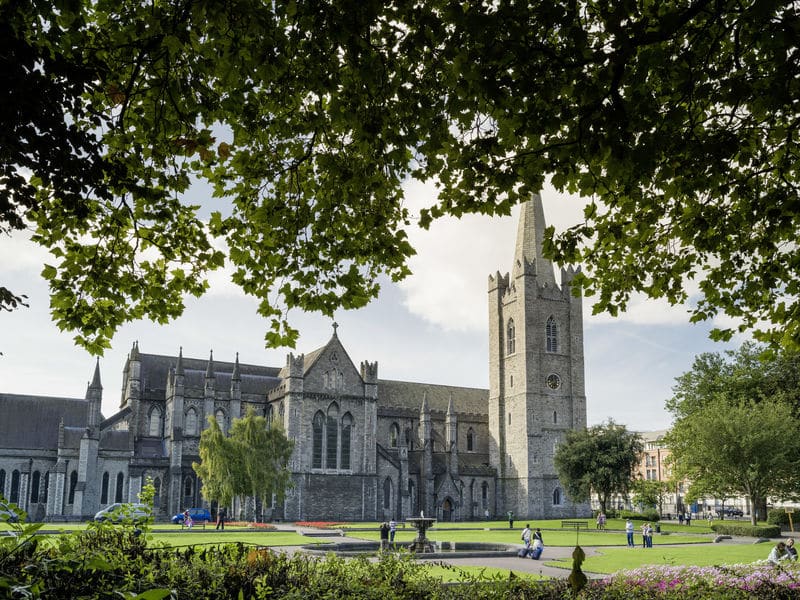 Next on our list of beautiful cathedrals in Ireland is the stunning St. Patrick's Cathedral. Found on Wood Quay in County Dublin's, this 13th-century cathedral was built in honour of Ireland's patron saint, St. Patrick.
It is the National Cathedral of the Church of Ireland and is the largest cathedral in the country. Over 500 people have been buried on the grounds of the cathedral, including Jonathan Swift, the author of Gulliver's Travels, who served as the dean there in the 1700s.
Legend has it that St. Patrick's was the place where the expression "chancing your arm" (meaning to take a risk) originated. Legend tells that in 1492, Gerald Mór FitzGerald, 8th Earl of Kildare, cut a hole in a door there, still to be seen, and thrust his arm through the opening in an effort to call a truce in a dispute with the Butlers of Ormond. (That is certainly one way to make friends!)
St. Patrick's offers a compelling cultural experience to visitors as one of the last medieval buildings in Dublin and is one for the bucket list!
Address: St Patrick's Close, Wood Quay, Dublin 8
1. Christ Church Cathedral (Co. Dublin) – the medieval heart of Dublin
Topping our list of beautiful cathedrals in Ireland is the idyllic Christ Church Cathedral, the oldest working building in Dublin and a place of pilgrimage for almost 1000 years. Founded in 1028, the cathedral was originally a Viking church.
It houses a magnificent 12th-century crypt, the oldest and largest of its kind in Britain and Ireland, and is home to a mummified cat and rat ,who, truth be told, are the cathedrals most popular residents!
The cathedral is well-known for its dazzling floor tiles, and the many fascinating manuscripts and artefacts it is home to. One of its most interesting relics is the heart of St. Laurence O'Toole, who was once the Archbishop of the cathedral.
In March 2012, the heart was tragically stolen in a malicious break-in. Thankfully, after six years of searching, the heart was returned to Christ Church in April 2018 and is now back on permanent public display.
Visitors have the wonderful opportunity to take a guided tour of Christ Church and learn about the rich history of the cathedral. They can also climb up to the Belfry, where they can try their hand at ringing the site's famous bells. This is an absolute must when visiting Dublin!
Address: Christchurch Place, Wood Quay, Dublin 8