10 of the most popular Irish Hangover Foods people reach for the morning after the night before.
Nobody does a night out on the town quite like the Irish. We are known across the globe for our raucous humour and steely tolerance to alcohol.
Irish bars can be found in almost every corner of the world while community and culture on the Emerald Isle are very much focused on gathering in the pub.
But despite an innate social character, pub-based traditions and arguably the best stout on the planet, the people of Ireland suffer just as much as the next party-goer after one too many scoops.
Because of this, finding the best hangover cure has been high on our agenda for many years.
Here are 10 of the most popular Irish Hangover Foods people reach for the morning after the night before.
10. Raw Eggs – for amino acids
Knocking back two raw eggs in true Rocky style after a heavy night out is not for the faint-hearted….or the weak stomached!
The mere thoughts of it would make most people heave, with one sip enough to signal the entire contents of your stomach to appear in one swift projectile motion.
But if you are brave enough, there is evidence to suggest raw eggs can cure a hangover. And now for the science bit!
High levels of amino acids in eggs help to break down acetaldehyde, the poison you have inflicted on your body by drinking too much alcohol.
For even more drama, break the eggs into tomato juice before drinking. Then all you have to do is keep it down!
9. Bananas – for potassium
The last thing most people reach for when they have a hangover is the fruit bowl. But tucking into a banana (according to my nana anyway) might be just what you need.
Drinking too much alcohol can leave the body very low on potassium, causing nausea and sickness.
Bananas are full of potassium and can help reduce sickness and give the body a well-earned boost.
Depending on how bad the hangover is, one banana may not be nearly enough to cure you, but it is one of the more natural sources of goodness your body needs.
8. Chocolate – for a sugar boost
Suffering a hangover can leave you feeling well out of your comfort zone. Apart from the physical symptoms of headache and nausea, it can also take you on a rollercoaster of emotions.
Waves of anxiety, regret and even sadness can be hard to ignore with crippling exhaustion leaving a day under the duvet very tempting.
So while chocolate may not be the best cure for a sick tummy, it can help the low mood. Chocolate releases the 'happy hormone', making it top comfort food.
The sugar will also give you an energy boost while indulging in a high cocoa bar can be a great source of antioxidants to kick-start the dreaded detox.
7. Tayto – for some salt
When it comes to classic Irish Hangover Foods a packet of Tayto is a popular choice.
Renowned as the 'Original Irish Crisp' they are the perfect snack to satisfy the horrible empty feeling that comes after too much drink.
Cheese and Onion flavour is a sure favourite, but Salt and Vinegar is great for replacing all the salt that left your body during dehydration.
For added carbs cram the Taytos between two slices of white bread with lashing of Kerry Gold butter for the ultimate Irish meal.
6. Curry Chips – for much needed carbs
I am pretty sure curry chips are not a national dish in China, but in Ireland, it is a regular order at the Chinese takeaway and the perfect hangover cure.
Perhaps better eaten in the evening, they not only soak up the remnants of any alcohol in your system, but they can also be used as a ceremonial celebration that you made it through the day without liver failure.
The chips provide the essential carbs while the curry sauce gives enough flavour to kick-start your taste buds again.
Not to mention having the deep fried chips soaked in curry sauce makes them a whole lot easier to trick that dreaded gag-reflex.
5. Full Irish – the classic
The Full Irish breakfast is by far the holy grail of Irish Hangover Foods. It has everything you need to face the day and is served in B&B's all over Ireland.
A high protein plate of sausages, bacon, pudding, eggs, mushrooms and tomato should be mopped up with soda bread and washed down with a full pot of tea.
Once the initial sweats pass as your digestive system struggles to deal with what you have just eaten, you will feel much better. A power nap at this stage is advisable, or if you feel able, a brisk walk in the Irish weather will sort you out.
4. Spice Bag – the takeaway favourite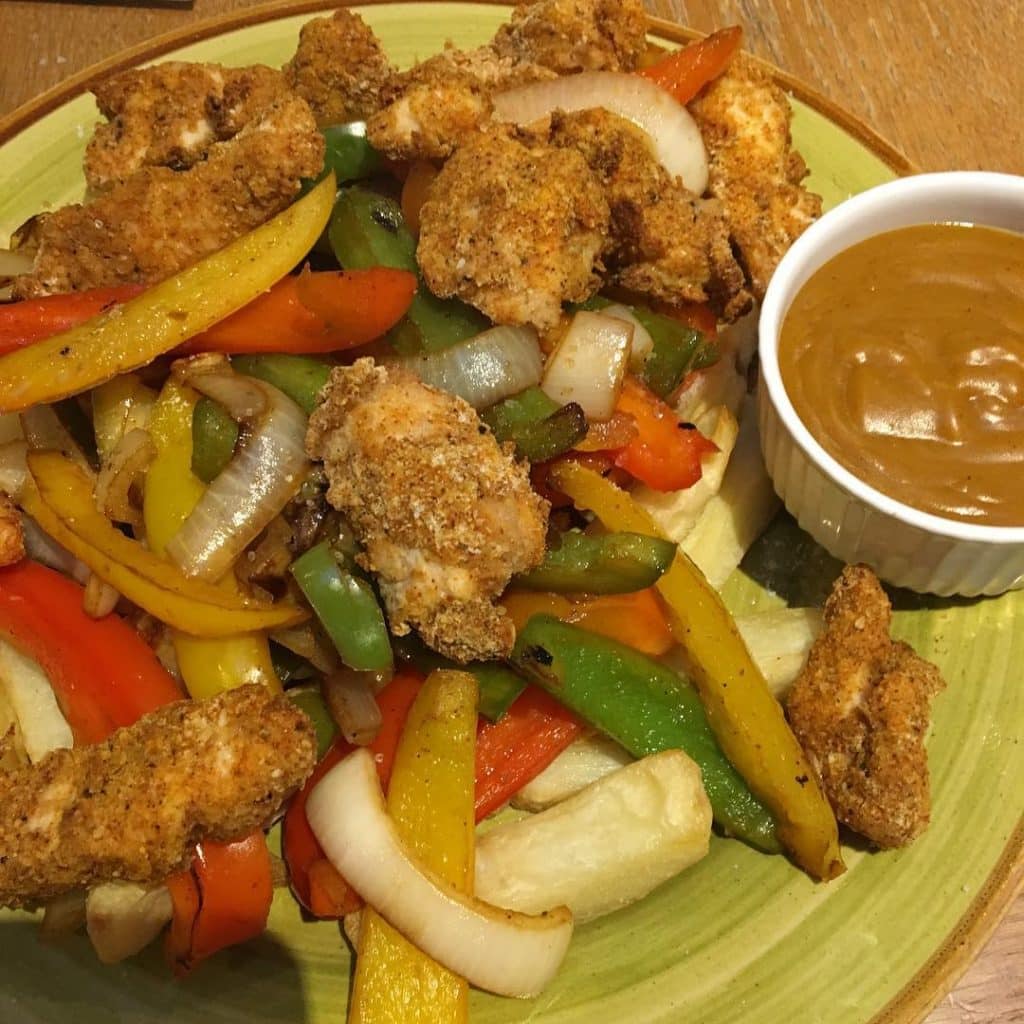 If you are more of a 'stay at home and suffer in silence' type, then the takeaway is probably where you go for your hangover cure.
And if you are Irish, then a Spice Bag from the Chinese is something you will be familiar with.
A delightful concoction of chips, deep-fried chicken balls, crispy chicken, peppers, onions and chilli all shaken up in a perfect mix of spices, a Spice Bag is a serious hangover remedy (one of Ireland's weirdest foods, you need to try).
And to try the original Spice Bag recipe head to The Sunflower Chinese in Templogue where the genius staff first threw it together in 2010.
3. Chicken Fillet Roll – 1,000 calories of greatness
Chicken Fillet Rolls are one of the most popular foods in Ireland on a Sunday morning.
But if you think it is a slightly healthier choice to some of the other hangover cures you would be wrong I'm afraid.
The average chicken fillet roll has more than the recommended daily dose of salt and around 1,000 calories.
Mind you, that's probably exactly what you need after a session. Which is why it is so popular in Ireland and with the deliciously crusty baguette holding crispy chicken smothered in mayonnaise so readily available, it is too tempting not to give it a go.
Some even throw in a bag of Tayto for added flavour!
2. Breakfast Roll – greasy goodness on the go
There is only one thing worse than having a hangover….having to go to work with a hangover!
And that's where our second favourite hangover cure comes in. It has all the greasy goodness of the Full Irish, but you can eat it on the go.
Like the chicken fillet roll, the Breakfast roll is a fresh baguette holding all the ingredients of a full Irish.
Yes, you heard me right. That's sausages, bacon, black and white pudding, tomatoes and mushrooms with the occasional fried egg and/or hash brown and smothered in lashings of creamy butter and brown sauce.
And, if you can keep all that down with a massive hangover, then you deserve to be going to work!
1. Jambon – the nation's favourite
The most popular Irish Hangover Food has to be the Jambon. Found in delis and petrol stations up and down the country, flanked by sausage rolls and greasy pasties, they are easy to find and hit the spot every time.
A perfect combination of flaky pastry, gooey cheese and salty ham pieces is just what the body craves after a rake of pints and will leave you nicely satisfied.
Irish people have been raving about these greasy delights for years with tribute songs and appreciative tweets flooding social media every Monday morning.
So the next time you wake up with a hangover from hell, head straight to your nearest Centra and grab a Jambon for instant relief. You won't regret it and will be planning your session in no time at all.