Anyone from Ireland will be familiar with the Full Irish Breakfast (or if you are from Ulster – the Ulster Fry). There are slight variations in the ingredients of this dish depending on what part of Ireland you go to. We have compiled a list of the best fry-ups from around Ireland.
1. Tony's Bistro, North Main Street, Cork
Tony's Bistro offers one of the finest fry-ups in the very south of Ireland and you will not be disappointed if you pop in for a visit here!
2. Shannon's Corner, Ballyshannon, Co. Donegal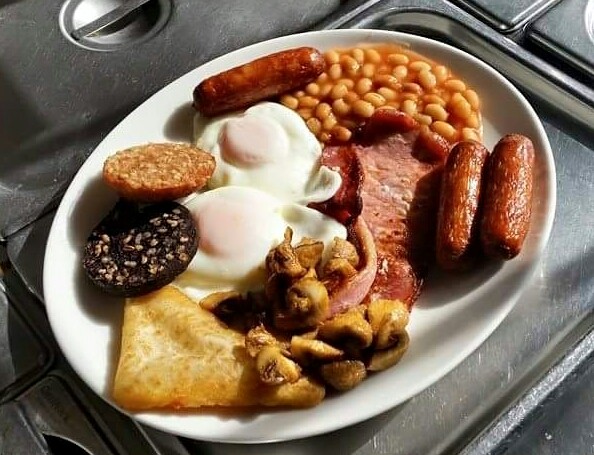 Undoubtedly one of the finest fry-ups we experienced on our travels around Ireland and judging by other reviews online, one of the finest in Donegal!
 3. Finnegans, Galway
A favourite for students in the city of Galway. This place has delicious food at very reasonable prices! The full Irish seems to be the best hangover cure after a night in this amazing city!
4. Maggy Mays, Belfast
Maggie Mays is well known in South Belfast and by everyone who goes to Queen's University. This place has a variety of tasty food and it serves a fantastic Ulster Fry. The prices are also very reasonable.
5. George's Belfast, St George's Market, Belfast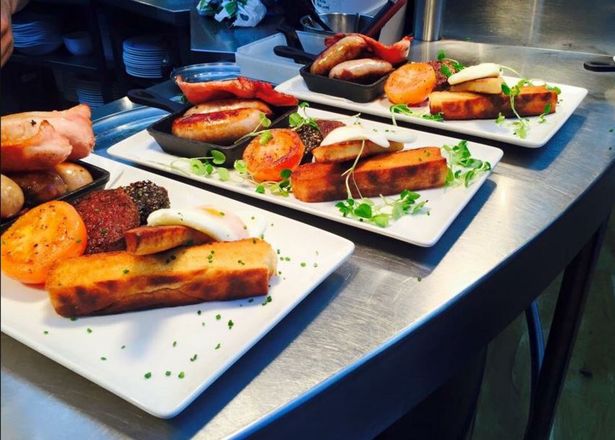 This place is constantly highlighted as the best breakfast in Belfast and rightly so! The amount of effort into making this dish perfection is exemplified my the high standard of presentation.
6. 26 West Bar & Grill, Falls Road, Belfast
This is the perfect place if are a late riser as 26 West serve their amazing Ulster Fry breakfast up until 2pm and also do deliveries. Not to mention all the tasty produce is supplied from McAtamney's butchers. If you pop in Monday-Friday before 10am, you can get a five piece fry for £2.95, what a bargain!
7. Slims Healthy Kitchen, Lisburn Road, Belfast
For those who want to experience an Irish breakfast with less worry about calories, this is the place for you! The meat is beautifully grilled and the eggs are wonderfully poached. 10/10!
8. Matt the Rashers, Kimmage, Dublin
This fry-up is a good quality and is sure to cure any hangover. There is a secret ingredient for those who may have damaged their liver in the previous evening. They quite literally serve liver with their full Irish! A unique ingredient that they say helps you feel much better!
9. Violets Restaurant, Dublin
Sitting on Lower Dorset Street just South of Drumcondra, Violets is well known for its good quality full Irish breakfasts. Given it's right beside Croke Park, it's a firm favourite of those going to the match and looking for some early morning preparation.
10. Brendan's Café in Smithfield, Dublin
Just on Mary's Lane in Smithfield, Brendan's is a gem of a place and specialises in batch bread on the side of its mouth-watering fry. It's open early in the morning and closes early in the afternoon, so get it while you can.
11. Cafe Sofia, Wexford Street, Dublin
This place also does an absolutely gorgeous vegetarian fry – for those who want the delights of the fry with none of the meat. The carnivore version is also pretty great, and the value for money makes it taste even better.
12. The Snug, Bantry, Co. Cork
Just on the quays in Bantry town, this tiny little bar (hence the name) specialises in a full, beautiful fry up. It's a proper traditional Irish pub as well, so the setting couldn't be better.
13. Mes Amis, Abbey Street, Dublin
This little gem on Lower Abbey Street has a seriously relaxed atmosphere to go with its generous full Irish. A proper old school café – complete with a background TV for your entertainment.
14. TJ's Coffee Bar, Parnell Street, Dublin
TJ's is a brilliantly lacking-in-frills greasy spoon on Dublin's northside. They do that style so well though, and their fry is top notch. The couple that own it are great craic as well, so that's always a bonus.
15. Hobart's, Ranelagh, Dublin
This café's motto is "…home of the hangover cure!" which just about sums up their famous all-day breakfasts. Delightfully old school.
16. Primrose Cafe, Derry
The breakfasts here are second to none. Food is delicious, freshly cooked and well presented. Service is really good also.
17. Bright's Restaurant, Belfast
We're just gonna let the picture do the talking for this one…
18. Henry's Bar & Restaurant,  Cashelgarron, Co. Sligo
Henry's Bar & Restaurant is a great place for both food and drink. They serve what is undoubtedly one of the best fry-ups you can get in Country Sligo. Worth a visit if you are in the county!
19. Ross's Bakery & Cafe, Cork
The breakfast at Ross's Bakery and Cafe is a must-have if you are in Cork! This place cooks a fry-up to perfection. As one customer put it, "great food and great staff, best hangover cure around!"
20. Cafe Creme, Newcastle, Co. Down
Cafe Creme is a very popular choice for holiday-makers in the beautiful seaside town of Newcastle as their breakfasts are cooked to perfection. This place is an absolute must if you are in the area!
Page 1 2