When compiling a Bucket List there are few places more exciting than Kerry.
Situated in the province of Munster, Kerry is a coastal county with Ireland's most westerly point on the Dingle peninsula.
Travel inland and discover 'The Kingdom' as one of the most mountainous regions on the Emerald Isle with a number of remote islands dotted along the coastline.
Kerry's landscape resembles a stunning tapestry of a million shades of green dotted with rare Kerry cattle.
But despite much of the county being rural farmland, there is plenty to add to your Kerry Bucket List. The locals are friendly and the food is delicious (not to mention the Guinness!)
Here are just 10 of the many things to discover in Kerry although we have no doubt there are many more.
10. The Nun's Beach, Ballybunion
Most people are aware of the many unspoiled beaches to visit in Kerry but The Nun's Beach in Ballybunion is a bit of a hidden gem.
Surrounded by cliffs and admired by many from afar, it is a spot that needs some determination to reach.
After tentatively taking a path that has certainly seen better days you then have to abseil by rope to get to the beach.
Once down it is well worth the trip and although you might not get the same weather as Leonardo DiCaprio in 'The Beach', you will still feel just as delighted to have found such a precious stretch of sand.
Address: Ballybunion, Co. Kerry, Ireland
9. Skellig Chocolate Factory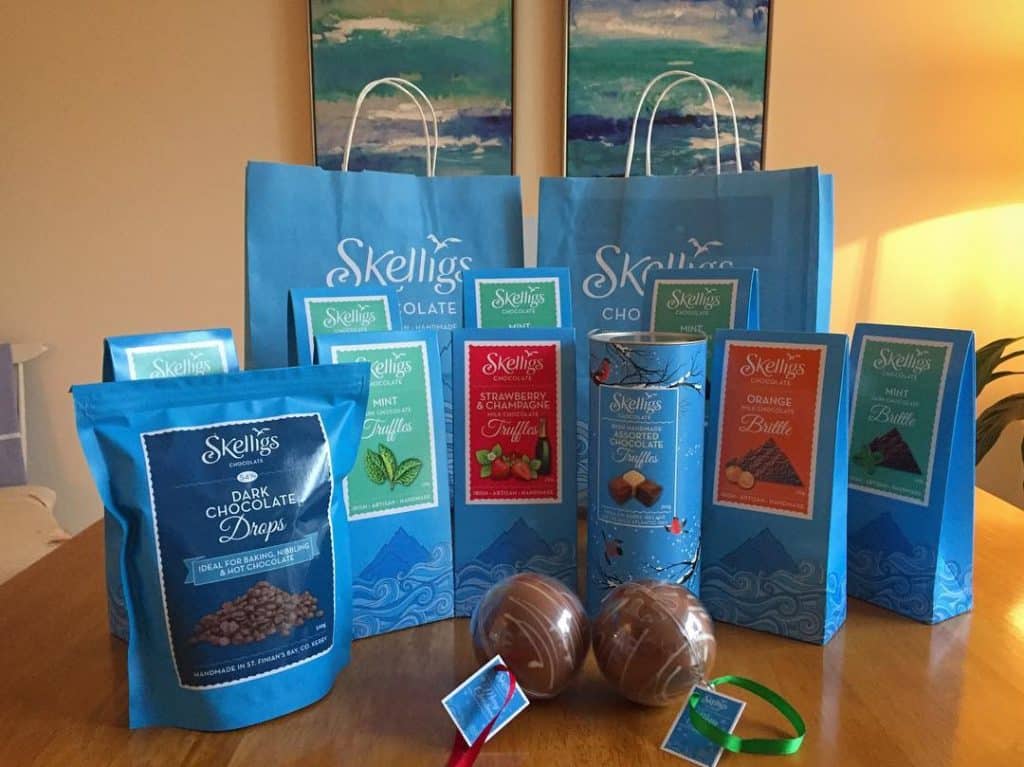 The only thing better than the Wild Atlantic Way is stumbling across a chocolate factory in the middle of your trip. Skellig Chocolate Factory is my idea of heaven.
Open from Easter until September, it not only produces some of the most delicious chocolate on the planet but it also offers free tasting sessions.
Outdoor seating is the perfect place to enjoy a delectable hot chocolate overlooking the Skellig's Rock.
There is even a playground nearby to entertain the children. Pure bliss!
Address: St. Finians Bay, The Glen, Ballinskelligs, Co. Kerry, Ireland
8. Killarney National Park
The first national park in Ireland, this jaw-dropping spot is a place of utter beauty.
With clear lakes serving as mirrors for rugged mountains and natural woodland home to many treasured flora and fauna, Killarney National Park is somewhere really special.
With Killarney as your base, the Park is best explored either on foot or by bike, which can be easily hired in the town.
For added adventure kayaking or canoeing can be enjoyed on the freshwater lakes. Just make sure to apply for a permit well in advance.
Address: Co. Kerry, Ireland
7. The Skellig Islands
For Star Wars fans a trip to the Skellig islands is a Kerry Bucket List must. Used as the location for Star Wars: The Force Awakens and more recently Star Wars: The Last Jedi you can walk in the very same footsteps as Luke Skywalker.
But even if Star Wars is not your thing, Skellig Michael and its close neighbour Little Skellig is a sight to behold and with a colony of Atlantic Puffins nesting there during the warmer months, it is a place of natural beauty.
6.  Puck Fair
If you only go to one festival this summer make it Puck Fair in Killorglin. It is three days of drinking in awesome pubs, dancing in the street and worshipping a mountain goat. What more do you want?
Dating back to Pagan Ireland this is believed to be the oldest fair in the country and is the only place where 'humans act the goat and the goat acts the King!'
5. Kenmare
Kenmare, 'the head of the sea', is Kerry's first Heritage Town and is bursting with things to add to your Kerry Bucket List.
From stunning treks on horseback to eating in some of the finest restaurants in Ireland's southwest, Kenmare is a great holiday town to make memories in.
Visit the Farmer's Market on a Wednesday or take in a round of golf with the Ring of Kerry as the perfect backdrop. Whoever you're travelling with, there is something for everyone in Kenmare.
4. Torc Waterfall
Nestled amidst lush green woodland at the bottom of Torc mountain you will find a majestic waterfall. A manageable walk from The Ring of Kerry route, Torc waterfall is best admired from the top of the nearby steps.
Torc waterfall is a photographer's delight and will calm the busiest of minds. Like many spots in Ireland, it is a place steeped in folklore with legends of 'Wild Boars' (translated from the Gaelic word Torc) and the nearby 'Devils Punchbowl' lake, from which the water cascades.
Address: Cloghereen Upper, Killarney, Co. Kerry, Ireland
3. The Dingle Peninsula
Dingle is a quaint little port town famous for its gorgeous strands and resident dolphin, Fungie.
It is a popular spot in the summer and has much of its original charm including one of the last remaining grocery-bars in Ireland.
Inch beach in Dingle is a beautiful spot to spend sunny days and has appeared in many Hollywood movies including Oscar-winning, Ryan's Daughter. While a Dingle pub-crawl is an excellent way to pass the evenings.
Pubs are plentiful and bursting with Irish charm and traditional music. Just be aware that last orders are rarely called in Kerry leaving a sore head in the morning very likely!
2. Eat Murphy's Ice Cream
A Kerry Bucket List would not be complete without sampling the ice-cream from Rick Stein's "Food Heros" at Murphy's. They claim to make the best ice-cream in the world and to be honest, they could be right!
But what puts Murphy's ice-cream in a league of its own? Well, that would be the Kerry cow. A rare breed of cattle solely used for dairy, producing the creamiest and most delicious milk this side of the Atlantic.
Starting their venture in Dingle in 2000, Murphy's now also has a shop in Killarney as well as Dublin and Galway so go ahead and treat yourself to a truly authentic treat from Kerry.
Address: 37 Main St, Killarney, Co. Kerry, V93 PK73, Ireland
1. Drive the Ring of Kerry
The Ring of Kerry is a ring road around the Iveragh Peninsula with some of the most spectacular views in the world.
It can be driven in around 3 hours but for the ultimate road trip should be enjoyed over as many days as your itinerary allows.
It starts in the wonderful town of Killarney and should be approached clockwise to avoid getting stuck behind tour buses that drive it the opposite way.
The route takes you through Killarney National Park before reaching Moll's Gap, a stunning pass from which you can see Ireland's highest peak of the MacGillycuddy's Reeks.
Stop in the pretty town of Kenmare before picking up the Wild Atlantic Way in Sneem and prepare for stunning sights including Derrynane beach and the Skellig Islands, to name but two. Find yourself back in Killarney with a spring in your step and a new found love for the Kingdom.