The picturesque town of Cobh in County Cork is renowned around the world for its rich history. Here is everything you need to know about Cobh.
Cobh, which was formerly known as Queenstown, is a stunning port town in Cork Harbour. It is one of the hardest to pronounce Irish place names and was named Queenstown following a visit from Queen Victoria in 1845. However, after Ireland gained its independence, the name of this picturesque town was reverted to Cobh.
Situated on a steep hill on Great Island in County Cork, this magnificent town attracts visitors from all over the world. Cobh overlooks Cork Harbour, which is the second-largest natural harbour in the world.
It is most famous for being the departure point for two-and-a-half million Irish people who emigrated to North America during the 19th-and 20th-centuries. One of the ships that stopped at Cobh during this period was the infamous Titanic, which saw its final port of call here before tragically sinking in April 1912.
It is easy to see why Cobh was named one of the 25 most beautiful small towns in Europe by Condé Nast in 2019. Home to colourful houses, beautiful architecture, and stunning views over the harbour, this lovely port town attracts 50,000 visitors every year.
When to visit – don't miss the attractions
As with many quaint Irish towns, the summer is the busiest time for visitors to Cobh.
Cobh becomes a hive of activity during the summer months with attractions operating longer and more regular opening hours.
We suggest heading to Cobh during the summer months as you can enjoy all that Cobh has to offer without worrying about opening hours!
What to see – best bits
No trip to Cobh would be complete without a visit to the Titanic Experience.
Become immersed in the lives of those who embarked on this journey across the Atlantic. You will also see the original pier and some items and artefacts that have been recovered from the wreckage.
Address: 20 Casement Square, Kilgarvan, Cobh, Co. Cork, P24 DW63
Cobh is home to the stunning St. Coleman's Cathedral that overlooks this historic town. This Catholic cathedral is a prime example of neo-Gothic architecture with its stained glass windows and high vaulted ceilings. Keep a listen out for the 49 bell carillon, which rings periodically throughout the day.
Address: 5 Cathedral Pl, Kilgarvan, Cobh, Co. Cork
The postcard-perfect picture of Cobh is the colourful Deck of Cards. These residential houses are located on a slanted uphill street and are overlooked by the beautiful St. Coleman's Cathedral. Be sure to snap a photo of this iconic place from the green park just across the road.
Address: 1-23 West View, Kilgarvan, Cobh, Co. Cork, P24 H598
Just a short 15-minute boat journey from Cobh is one of Ireland's most interesting and intriguing islands, Spike Island.
For a time, this island was turned into one of the largest prisons in the world. You can explore the cells that housed some of Ireland's most dangerous prisoners before wandering through the countless exhibits.
Address: Kennedy Pier, Kilgarvan, Cobh, Co. Cork
Things to know – how long you should spend in Cobh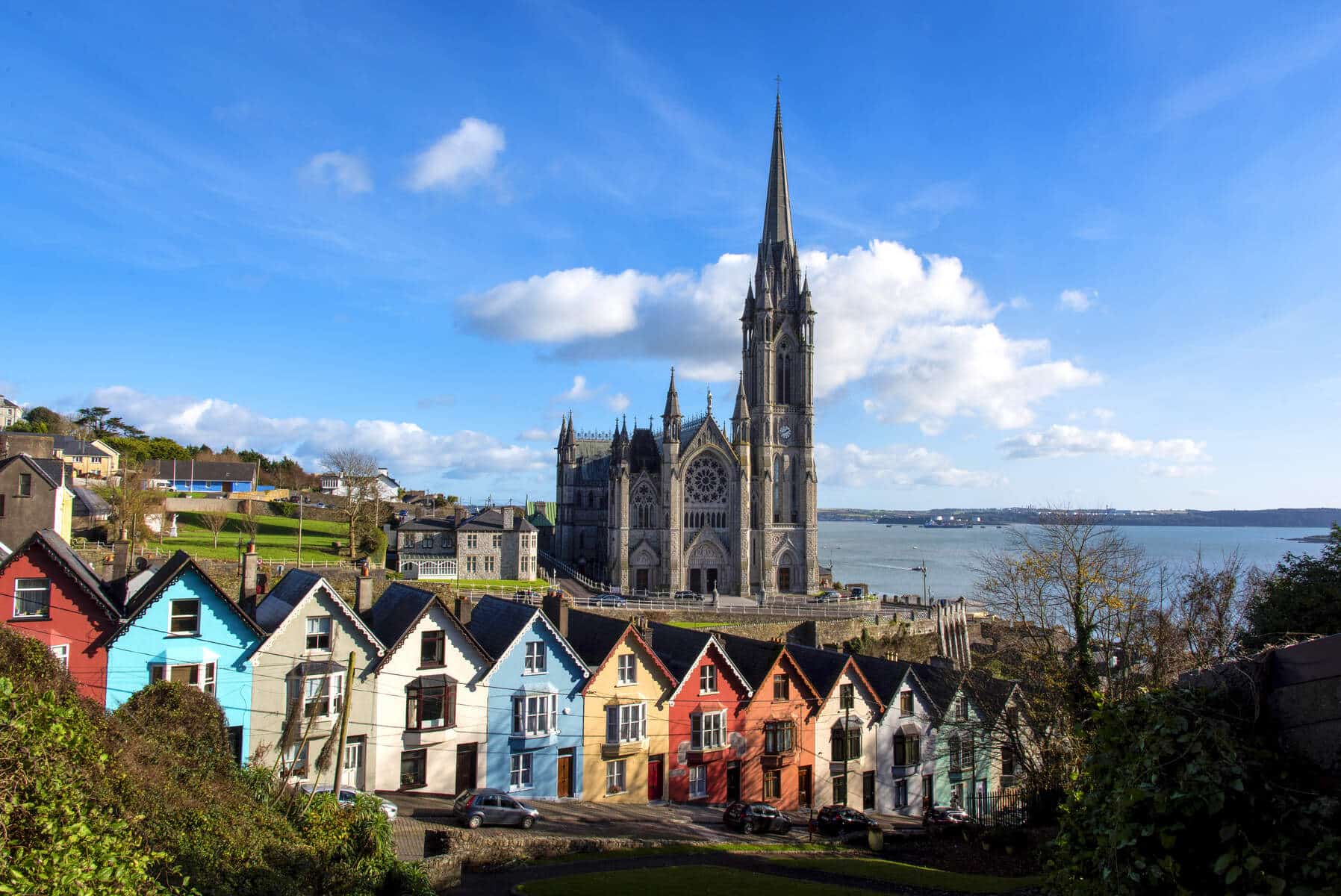 To get the most out of what Cobh has to offer, we suggest spending at least a full day here. However, because Spike Island is such a worthwhile but long experience, if you plan to visit it, we suggest spending the night in Cobh.
As Cobh is a port town, the weather here can be changeable and unpredictable. Be aware that there are days when the town is covered in a thick layer of fog and other days when there are extreme winds.
The sunset is breathtaking in Cobh, so if it is a clear day, we suggest heading down to the water. Watch the ships go by as the sky comes alive with beautiful and vibrant colours.
Where to eat – make the most of Irish seaside cuisine
There are countless options for places to eat in this beautiful town.
For the best brunch around, head to Seasalt. They use fresh, seasonal, and local ingredients to make their incredible dishes. Enjoy a coffee and their mouth-watering Rosscarbery full Irish while watching the world go by.
Address: 17 Casement Square, Kilgarvan, Cobh, Co. Cork, P24 DW44
For food that is a bit more substantial head to the Titanic Bar and Grill. Enjoy their delicious food while admiring the views over Cork Harbour. It is not uncommon for there to be live music here on weekends!
Address: 20 Casement Square, Kilgarvan, Cobh, Co. Cork, P24 Y560
Pints are an essential part of any Corkonian's diet, and Cobh has no shortage when it comes to pubs that know how to pour a good pint!
Some of our favourites pubs would have to be Kelly's Bar and Mansworth's. There is always good craic to be found in these pubs, and there is no shortage of a good pint of Guinness.
Address: 19 Casement Square, Kilgarvan, Cobh, Co. Cork, P24 Y560
Address: 4-16 Midleton St, Kilgarvan, Cobh, Co. Cork, P24 YW83
Transport – getting around
Cobh is serviced by frequent bus and rail services that run from Cork City. The train takes 25 minutes and costs €4.55 for an adult one way. The bus takes 40 minutes and costs €6 for an adult one way.