Steeped in rich history, Spike Island is a must-visit for everyone's Irish bucket list. Here is everything you need to know about Spike Island.
Situated just off the coast of the heritage town of Cobh in County Cork, Spike Island is definitely one of the most interesting and intriguing of all the islands off the coast of Ireland. With over 1,300 years of history, there is nothing quite like a day spent on the historic and notorious Spike Island.
Spanning 104 acres, Spike Island has housed all kinds of people over the last 1,300 years, from monks to rioters, captains and convicts. Originally the island was home to a monastery which was founded by Saint Mochuda. It is believed that a monastic community continued to live on Spike Island up until the 16th century. After this Ireland struggled against British rule for ownership of the island.
Spike Island then became a fortress while under British occupancy. Home to 40 large guns and around 3,000 soldiers the island was used as a base for British boats heading to America to fight in the American War of Independence.
Then in the 18th century, Spike Island was turned into a prison, housing 2,300 prisoners. At the time it was the largest prison in the world. Also imprisoned on the island were 100 children, who were placed here for a variety of crimes.
With such a diverse history it is no wonder that the island has since been transformed into a public museum which is easily accessible via ferry from the mainland. Embark on a voyage of over a thousand years of history as you learn about its rich history and some of the infamous characters who lived here.
When to visit – the best time to see Spike Island
Open 363 days a year the island is the perfect place to visit any time of the year. However, during the winter months, there isn't a regular ferry to here so pre-booking is essential.
During the summer months, there are boats multiple times a day as there is an increase in demand. The better the weather the busier Spike Island gets, but as the island is 104 acres you will not be short on space!
If you are around the area for a couple of days, we suggest keeping an eye on the weather and book on a good day as you will get to enjoy the experience a lot more. Although a lot of the experience is indoors, the grounds and land itself are not to be missed!
What to see – what awaits you on this infamous island
There is so much to see on the infamous Spike Island but be sure to head over to the punishment block. Prisoners who were held here were the most dangerous of prisoners and they were heavily chained. This block is the reason why Spike Island was often described as being "Hell on earth".
For those with an interest in the armoury, the gun park is the place to head! With over three hundred years of warfare encompassed on this island, there are dozens of exhibits. From cannons to aircraft guns, children and enthusiasts alike will be entranced.
Learn about the War of Independence through the eyes of Spike Island as 1,400 prisoners were held here. Research your genealogy and find out if any of your relatives were imprisoned on "Ireland's Alcatraz".
Things to know – important information before visiting
The average person spends about three and a half hours on Spike Island so plan your ferry trips accordingly. The ferry only takes a short 10 minutes but be sure to arrive in adequate time as they will not wait for you if you're late.
It costs €20 per adult and €11 per child to visit Spike Island, this includes both ferry journeys and entrance to the exhibitions. There are also family rates along with special rates for students and senior citizens.
For those of us who aren't easily spooked there are After Dark tours which take you through underground tunnels and cells that are not accessible during the daytime. Learn even more about Spike Island's dark past with the story of mass graves, suicide attempts and murder. There is even a chance you may experience something paranormal!
More info: HERE
Directions – how to get there
The ferry departs from Kennedy Pier in Cobh. You can get the train to Cobh or there are also buses from Cork City to Cobh. If you are driving be sure to leave adequate time to find parking as Cobh gets especially busy during the summer months.
Cork Connect Bus from Cork City to Cobh: HERE
What's Nearby – catch Cobh on your way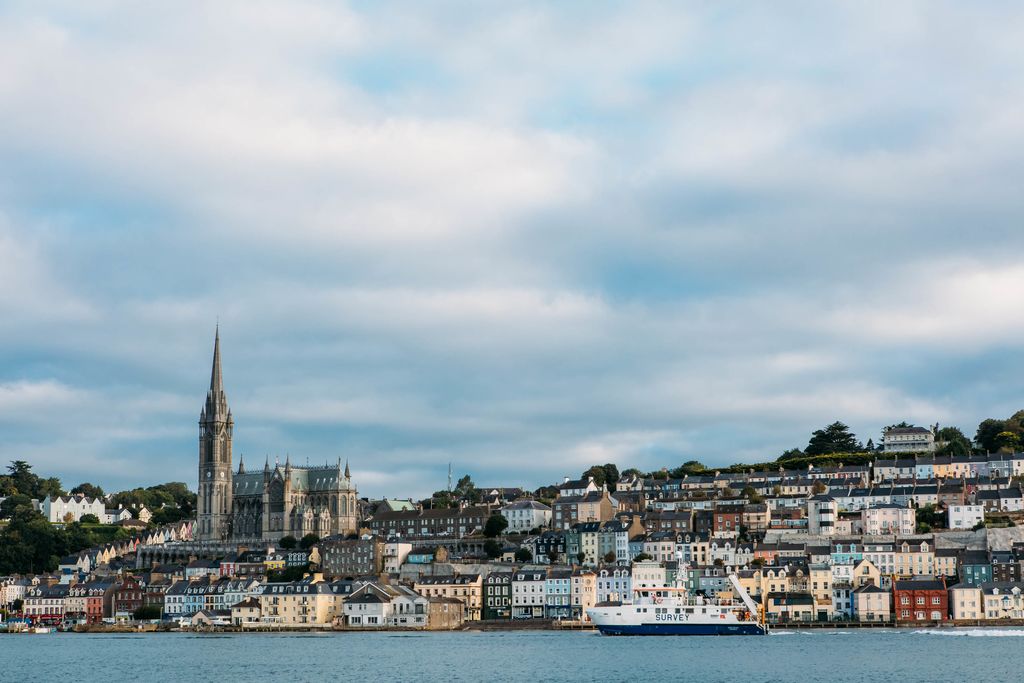 The ferry departs and returns to the heritage town of Cobh. You can check out our 24 hour itinerary for things to do in Cobh here and you can check out the 5 best pubs in Cobh for places to eat and drink here.