The county of Cork is one of the best places to visit in Ireland, as you can enjoy the perfect day trip to the port town of Cobh.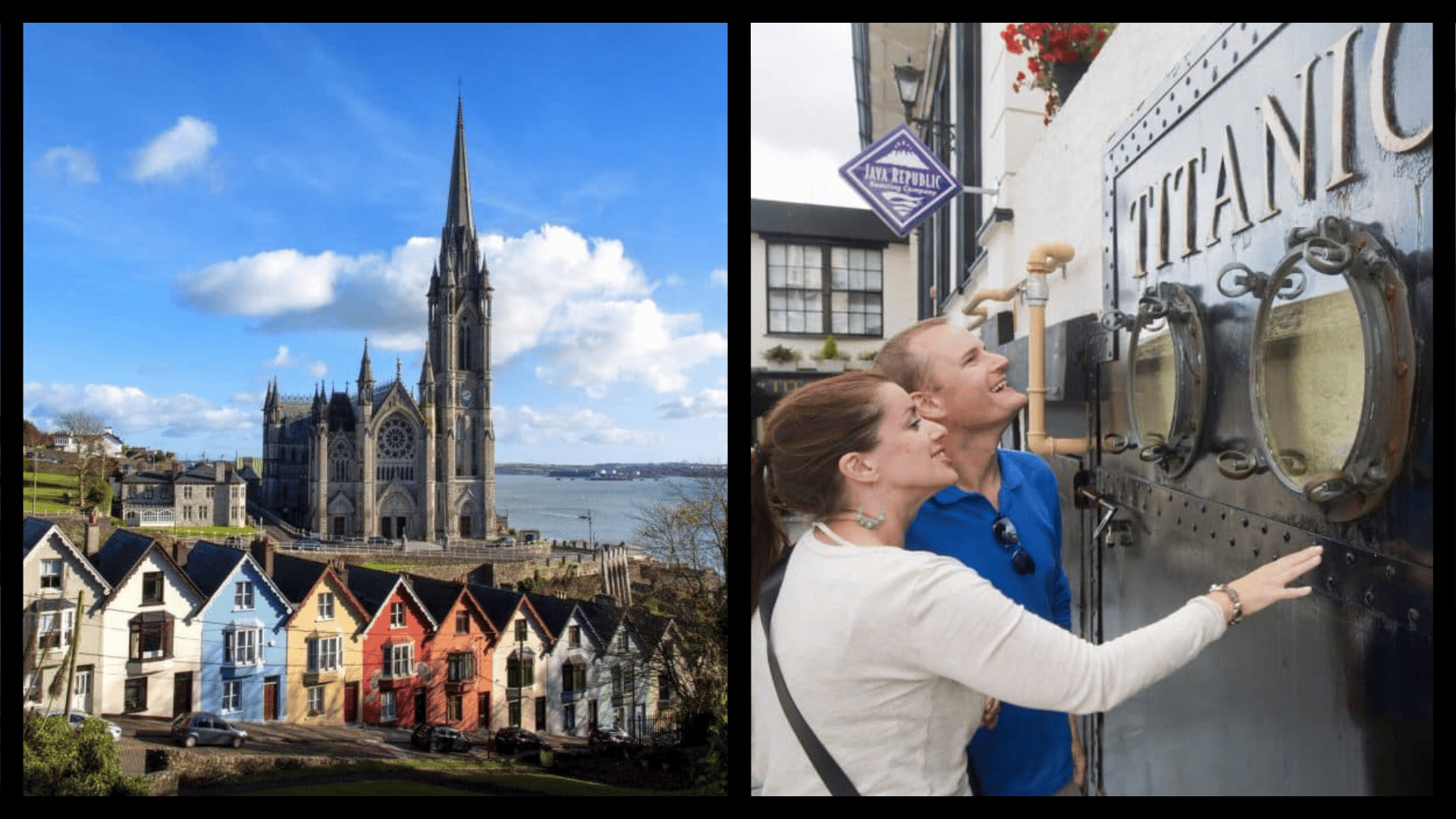 Recognisable for its colourful houses and amazing views, few towns in Ireland have as much to offer as Cobh regarding things to see and do.
This stunning island town in Cork Harbour is steeped in Irish history, surrounded by scenic beauty, and packed to the rafters with many great activities that will ensure you will have many unforgettable experiences.

If you're planning to visit this quaint town, we can guarantee you'll be spoilt for choice when it comes to amazing things to see and do.
So, to help you decide which ones to check out first, we are revealing the top five best things to do in Cobh, Ireland, in 2023.
IB4UD's top five fun facts about Cobh
Cobh, formerly known as Queenstown, played a pivotal role in Irish history as the final port of call for the ill-fated RMS Titanic on its maiden voyage in 1912.
St. Colman's Cathedral, a prominent landmark in Cobh, is a magnificent neo-Gothic cathedral that boasts the tallest tower in Ireland, standing at 49 meters high.
Cobh is an active naval base for the Irish Naval Service. Haulbowline Island, located nearby, houses the naval headquarters and a shipyard. Visitors can catch glimpses of naval vessels docked in the harbour.
Just a short boat ride from Cobh lies Spike Island, once known as "Ireland's Alcatraz." It has been a monastic settlement, a fortress, and a prison.
Cobh has strong ties to transatlantic liners, and the town's deep-water port is a regular stop for cruise ships and cruise liners.
5. Grab a pint at Kelly's – enjoy a relaxing pint
If you find yourself in the beautiful town of Cobh and thirst for a deliciously creamy pint of Guinness, then you won't find any better than those offered at Kelly's Bar.
Kelly's is a friendly and lively little spot ideal for those who wish to kick back and relax with a few well-poured pints.
This is a great traditional Irish pub with regular live music nights and many cosy spots to sit in. If the weather is fine, Kelly's also offers excellent outside seating from which you can admire the brilliant views across Cork Harbour with Spike Island in the distance.
Address: 19 Casement Square, Kilgarvan, Cobh, Co. Cork, P24 Y560, Ireland
READ ALSO: The 5 best pubs in Cobh
4. Visit Cobh Cathedral – an iconic Cork landmark
Cobh Cathedral, or St. Colman's Cathedral, is one of the most iconic landmarks in Cork and has been featured in many photographers' collections over the years.
The cathedral's construction began in 1868, and after many years of building work, it opened to the public to great fanfare. If you have any interest in architecture, then a visit to St. Colman's Cathedral should definitely be on your list of things to do in Cobh.
You will have the opportunity to admire the building from all angles, including the outside and inside of the structure.
Address: 5 Cathedral Pl, Kilgarvan, Cobh, Co. Cork, Ireland
3. Explore Cobh Heritage Centre – an excellent activity for a rainy day
Ireland can be unpredictable when it comes to the weather, to say the least, even in the summer months. So, if you find yourself in Cobh and it starts to rain, don't worry; there are still many great indoor activities that you can do.
One such example of a great indoor activity is a trip to explore what the Cobh Heritage Centre offers. The Cobh Heritage Centre provides an insight into the story of Irish emigration stretching back to the 1600s.
The exhibition there, which can be found in a restored Victorian railway station, is full of exciting stories brimming with historical importance. It offers visitors the chance to immerse themselves in Ireland's fascinating history.
Address: The Queenstown Story @ Cobh Heritage Centre Deepwater Quay, Cobh, Co. Cork, P24 CY67, Ireland
RELATED: 24 Hours in Cobh: An EPIC Day in Cork's Famous Port Town
2. Learn something at the Titanic Experience Cobh – a memorable experience in the town centre
Virtually everyone is familiar with the tragic tale of what happened to the famous ship, RMS Titanic. However, many may not know that the Titanic called at the port of Cobh on its maiden voyage.
Titanic Experience Cobh is split into two parts. Part one is an immersive audio-visual tour that helps to retrace the steps of the 123 passengers aboard the ship in Cobh.
Part two shows visitors exactly what went wrong for the the famous White Star Line Ship. You can learn what caused its demise through the use of computer-generated graphics that recreate the collision and sinking.
With so much to learn, it is no suprise this is one of the area's most popular attractions. For us, the Titanic Visitor Centre is one of the best things to do in Cobh for all ages.
Address: 20 Casement Square, Kilgarvan, Cobh, Co. Cork, P24 DW63, Ireland
RELATED: 5 Great Things to do with Kids in Cobh
1. Take a ferry ride to Spike Island – discover this famous island prison
In first place on our list of top five best things to do in Cobh in 2023 is to take the ferry ride to Spike Island and experience life on Ireland's own Alcatraz.
Spike Island is steeped in history that stretches back over a millennium. It has been home to a sixth-century monastery, a 24-acre fortress, and what was once the biggest convict prison in the world.
Spike Island is perhaps most famous for housing convicts before their penal transportation to Australia. This is how it earned the nickname 'Ireland's Alcatraz'.
A visit to Spike Island is a must when in Cobh and is one experience that you won't soon forget.
Address: Spike Island, Co. Cork, Ireland
That concludes our list of the top five best things to do in Cobh in 2022. Have you been to Cobh before, and if so, have you done any of these things?
Notable mentions
Cobh Harbour: Cobh Harbour is a natural harbour and is one of several harbours that can lay claim to the title of 'second largest natural harbour in the world by navigational area'.
Sirius Arts Centre: This multi-disciplinary arts organisation is located in the beautiful Italianate building, designed by famous designer Anthony Salvin in 1854 to house the Royal Cork Yacht Club, the oldest in the world.
Lusitania Monument and Graveyard: This monument and graveyard pays respects to the victims of the Lusitania sinking during World War I. It resulted in the deaths of 1,198 people.
Your questions answered about the best things to do in Cobh
If you Still have questions about Cobh, you can find the answers to some of our readers' most frequently asked questions about the topic in the section below.
What is there to do in Cobh when it's raining?
If it's raining in Cobh, fear not, as there are many great indoor activities, such as the RMS Titanic Experience.
Is Cobh worth visiting?
Yes, without a doubt, Cobh is worth paying a visit to. Whether you're looking for historical experiences, scenic views and photo opportunities, or friendly pubs to enjoy a pint, you won't be disappointed with what Cobh offers.
Which is better, Kinsale or Cobh?
If you're looking for a pretty town that offers a great culinary experience, then you should go to Kinsale. However, if you're looking for a historic town with stunning views and plenty of things to do, it's our opinion that Cobh would be the best option. Still, either would make the perfect day trip from Cork.