Burrow Beach may be Dublin's best-kept secret, and here is all you need to know to plan your visit to this sandy beach.
Located along the stunning Dublin coastline on the east coast of Ireland, Burrow Beach is ideal for a delightful escape from the city and has spectacular views of Ireland's Eye.
Locals take advantage of this hidden gem in north Dublin all year, but this gorgeous location really comes alive during the hot days of the summer months.
With its picturesque sandy shores and range of onsite activities, Burrow Beach in Sutton is one of Dublin's best beaches and must be on your list of things to do in the area.
In this article, we will explore the essential information such as parking, swimming, facilities, and more, so you can make the most of your trip to Burrow Beach.
Ireland Before You Die's top tips for visiting Burrow Beach Sutton:
Burrow Beach is excellent for swimming, paddle boarding, and kayaking, so if the weather allows and the water is calm, bring your gear and equipment for a day of adventure.
Burrow Beach is a stone's throw from Sutton Golf Club, Baltray Tennis Courts, and Howth Head, so plenty of things keep you busy after a day at the beach.
Check the tides to ensure enough space when visiting the beach since Burrow Beach is known for its expansive shoreline, stretching significantly when there is low tide.
Public toilets are at the beach, in Sutton Village, and around Howth Head.
The beach is backed by incredible sandy dunes, a notable feature of this gorgeous beach, and provides more privacy than other neighbouring beaches, adding to its charm.
Burrow Beach Sutton – one of Dublin's hidden gems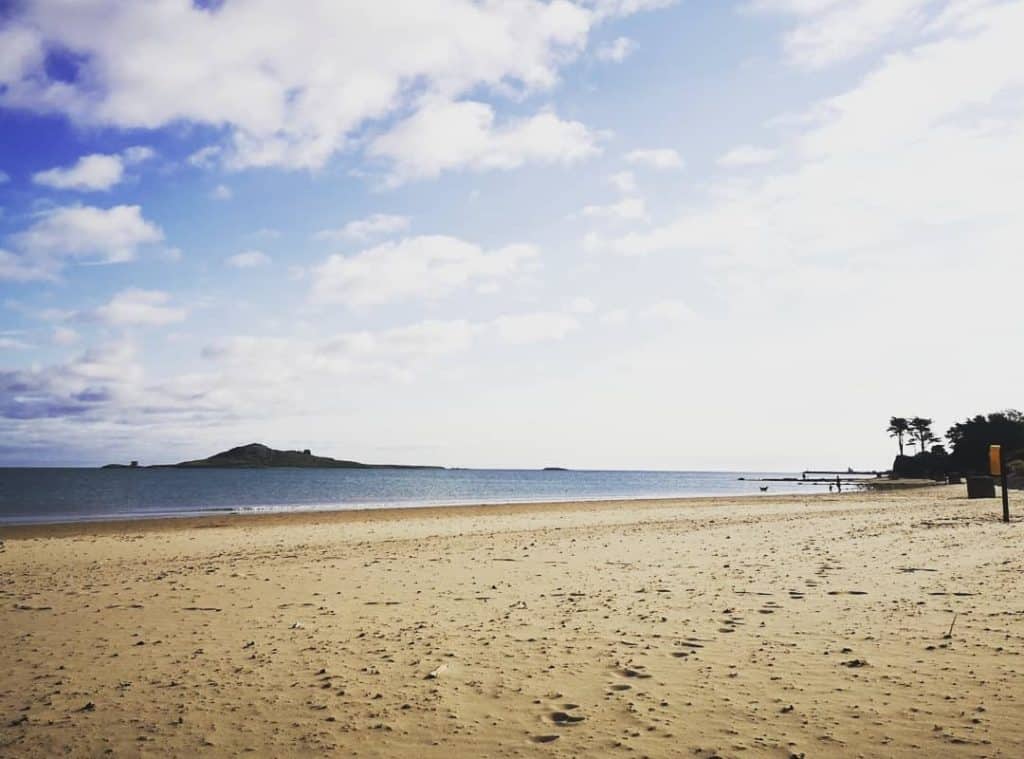 Burrow Beach Sutton is waiting to be discovered, especially since it is one of the lesser-known beaches in north Dublin. So you can expect a local experience, a serene vibe, and an off-the-beaten-path encounter with one of Dublin's best-kept secrets.
The glorious beach, easily accessible from all parts of Dublin, has panoramic views and sandy shores, and is a tranquil spot to enjoy when the sun appears.
Locals love to take advantage of the sunny days by enjoying a relaxing dip, thrilling water sports, or a family day out with kids while not having to venture too far away from the capital.
This charming destination has a lot to offer, and we are here to guide you with the most helpful information regarding parking, swimming, eating out, and, of course, getting there in the first place.
MORE: The Ireland Before You Die guide to the best beaches in Dublin.
Planning your visit – useful info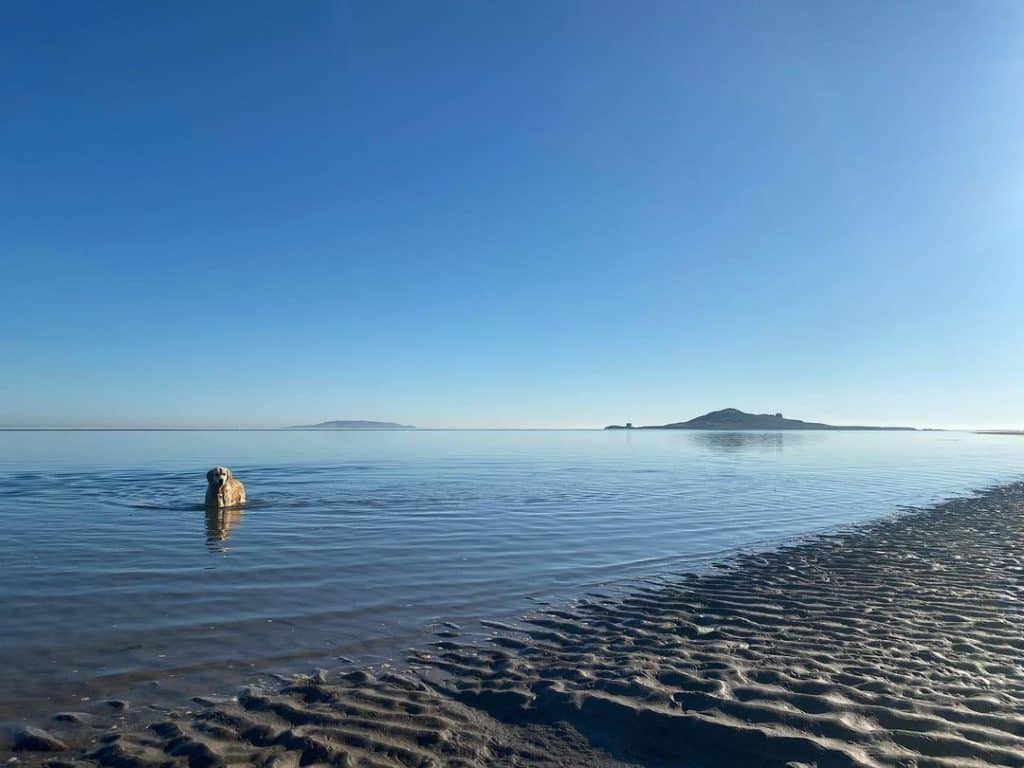 Getting there: Burrow Beach Sutton is serviced by the DART; the local station is Sutton Cross. Trains operate frequently, and this is the most efficient and eco-friendly way to visit. Plenty of buses go to Sutton, too.
Parking: If you prefer to drive, there is parking available near the beach. Beachgoers can pay to park their vehicles at Sutton Cross Station. From there, a short stroll will lead you to the sandy shores of Burrow Beach Sutton.
It's advisable to arrive early during peak times to secure a parking spot, as the beach can become quite busy, especially on sunny days and weekends. Alternatively, there is free but limited and narrow parking on Burrow Road.
Swimming: This beach boasts a lifeguard service, making it safe for families and inexperienced swimmers. Visitors can enjoy the calm waters, guarded during July and August, but safety precautions and warnings should always be taken seriously.
It is essential to pay attention to safety flags and signs, but as a whole, Burrow Beach is regarded as a safe beach for swimming in Dublin.
RELATED READ: The IB4UD guide to the best places for sea swimming in Ireland.
Facilities: This is a great family-friendly beach with soft sand, ideal for frolicking and building sandcastles or playing beach games.
Sam's Coffee House is nearby for all your coffee needs and snacks, while Sutton Village has plenty of eateries just a short stroll away.
The beach features lifeguards during the summer months, parking, easy beach access, and toilets. It is also close to various public transport services.
Notable mentions
Other beaches: Fingal, the region in which Burrow Beach is situated, is home to several neighbouring beaches along the coast like Portmarnock, Donabate, Skerries, and Malahide Beach, which are ideal for kitesurfing, paddle boarding, and surfing.
St Annes Park: This park offers a delightful retreat from urban city life and is an excellent option paired with spending time at the beach. There is a dog park, ample parking, food markets, and beautiful walkways to explore.
Bull Island: Bull Island is close to Burrow Beach Sutton and is an ideal place to explore, providing a view of the city and Dublin Bay, with plenty of space for a long beach walk.
Howth Cliff Walk: The unmissable Howth Cliff Walk is one of the best in the city, offering glorious coastal views, wild nature, and easy access for all levels—a perfect way to spend time before or after a trip to Burrow Beach.
READ: Our guide to the Howth Cliff Walk.
Your questions answered about Burrow Beach Sutton
In this section, we answer some of our readers' most frequently asked questions, as well as those that appear often in online searches on this topic.
Is Burrow Beach safe to swim?
Yes, it is regarded as a safe beach, but it is always advised to be aware of current conditions and safety flags, always following the rules in place.
How long is Burrow Beach?
Burrow Beach stretches approximately 2 km (1.2 mi) along the coastline. It offers ample space for beachgoers to enjoy a leisurely walk, sunbathe, and engage in various recreational activities.
Where is the best beach to swim in North Dublin?
Portmarnock Strand provides an ideal setting for swimming and other water activities with its long stretch of golden sand and clear waters. It also offers amenities such as lifeguards, parking, and nearby facilities, making it convenient and enjoyable.
So, there you have it; by keeping these tips in mind, you can make the most of your visit to Burrow Beach Sutton. Enjoy the stunning beach, embrace the coastal atmosphere, and create unforgettable memories of your time at Dublin's best-kept secret.