As more people embrace the refreshing sport of sea swimming, we rank the best wild sea swimming spots in Ireland.
Wild sea swimming has risen to prominence in the last number of months. Covid-19 has encouraged people to explore what is on their doorstep, and for many of us, this is the ocean. So, these are the best wild sea swimming spots in Ireland.
As an island, Ireland is surrounded by the Atlantic Ocean, the Irish Sea, and the Celtic Sea. Now, during the early morning and throughout the day these waters are a haven for wild sea swimmers.
Whether you are a novice or an experienced sea swimmer, it is always important to check the weather and tides before heading out into the water.
The sea can be extremely unpredictable so exercise extreme caution if you do decide to go for a dip. If you are unsure of swimming conditions, it is always best to swim at a location that has a lifeguard on duty.
It is always advisable that you inform someone of your swimming location.
If you are wearing a swimming cap, wear one that is brightly coloured so that other water users can see you. Similarly, getting a brightly coloured tow float will help boat users spot you from a distance.
10. Belmullet Tidal Pool, Co. Mayo – perfect for children
First up on our list of wild sea swimming spots in Ireland is Belmullet Tidal Pool in County Mayo. This salt water pool is divided into two sections of varying depth making for the perfect way to introduce children to the sea.
A lifeguard is on duty here during the summer months, so you can swim knowing you're under the watchful eye. This is particularly magical at sunset as the sun sets over the horizon.
Address: 25 Shore Rd, Belmullet, Co. Mayo, F26 TY48
9. Salthill, Co. Galway – a popular swimming spot
The infamous Blackrock Diving Tower attracts wild sea swimmers from around the country.
Climb this platform and then jump into the waters below before swimming along the Salthill coastline. This is a great spot if you are looking for a refreshing dip before exploring Galway for the day.
Address: Salthill Rd Lower, Galway
8. Carrick-a-Rede, Co. Antrim – for a different perspective
Experience the wonder of the Carrick-a-Rede Rope Bridge as you swim beneath those crossing high above.
This 1 km (0.6 miles) swim from Larrybane Bay to Carrick-a-Rede Island, although impressive is only for the more experienced swimmers. Currents are commonplace around here so be extremely careful if heading out.
Address: Ballycastle BT54 6LS, United Kingdom
7. Pollock Holes, Co. Clare – for a network of tidal pools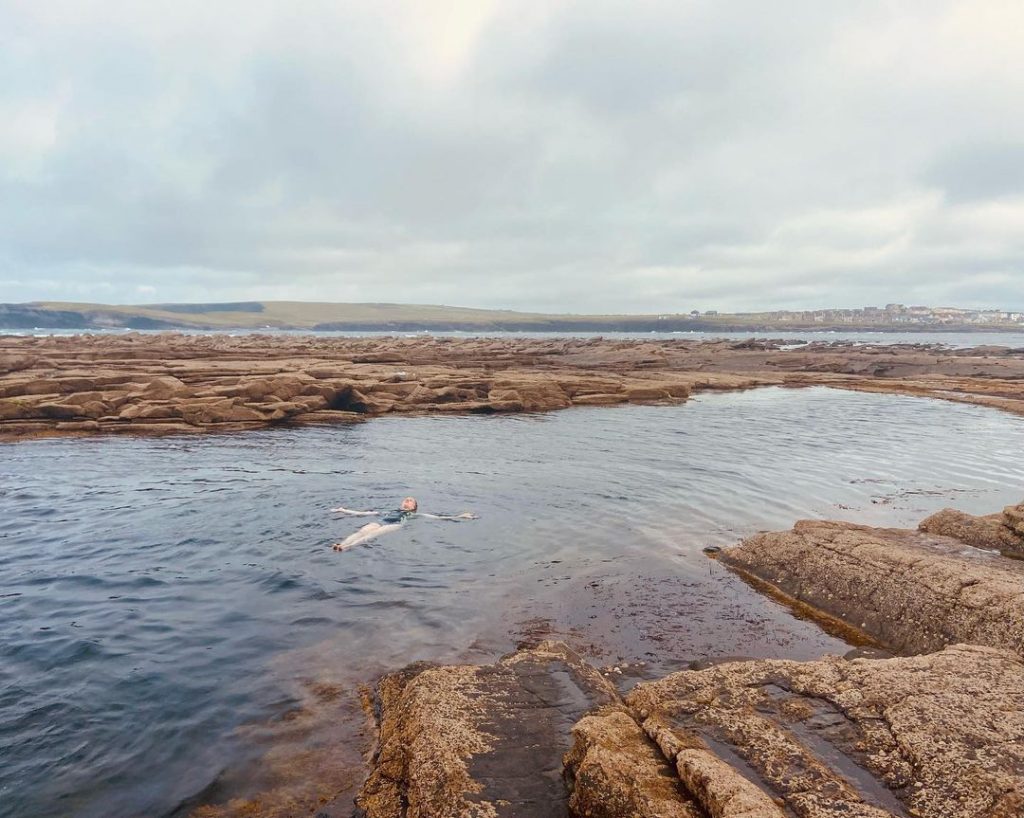 Navigate your way down the flagstones to this impressive collection of tidal pools. These crystal clear waters are home to an abundance of fish and seaweed so it is great for snorkeling.
This is only accessible for swimming within two hours of low tide, so be sure to consult the tide tables!
Address: W End, Kilkee Upper, Co. Clare
6. Stoney Cove, Co. Waterford – for mainland Europe vibes
Situated in the Sunny South East, Stoney Cove will make you feel like you are swimming in the French Riveria.
The seaside town of Dunmore East acts as the backdrop for this magical swimming spot. The waters glisten under the sun and this cove is largely unaffected by bad weather.
Address: Dunmore East, Co. Waterford
5. The Forty Foot, Co. Dublin – Dublin's best wild sea swimming spot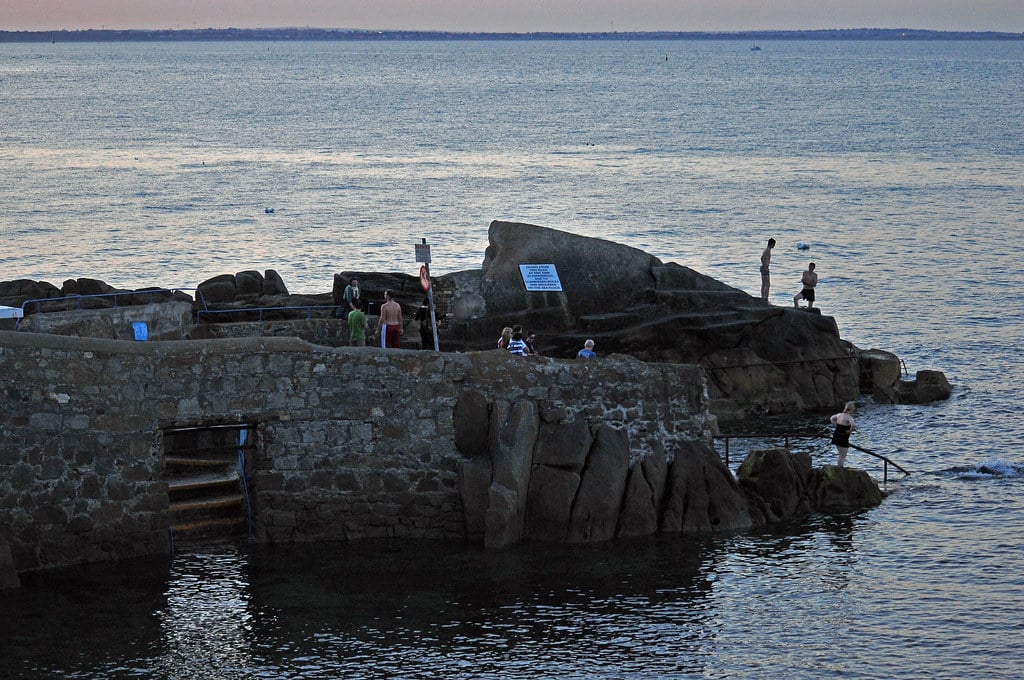 Attracting swimmers in all weather conditions, the Forty Foot is a one of the most well-known wild sea swimming spots in Ireland.
Venture down the steps into the clear waters below and immerse yourself in the refreshing Irish Sea. The water here can be quite rough at times, so please be careful!
Address: Sandycove, Dublin
4. Solomon's Hole, Co. Wexford – a natural salt water pool
With the impressive Hook Head Lighthouse as a backdrop, Solomon's Hole is largely protected from the elements. This spot is ideal at between high and low tide when the sea isn't rough. This salt water pool is full of wildlife, so maybe bring a snorkel with you!
Address: Unnamed Road, Slade, Co. Wexford
3. Snave Pier, Co. Cork – for a wild swimming community
The inviting waters off the village of Ballylickey entices sea swimmers throughout the year.
With gorgeous blue waters that can reach an impressive 18°C (64.4°F) during the summer months, this is a picturesque spot to go for a dip. If you're in luck, you may even happen to be there when the hot tubs are there!
Address: Ballylickey, Bantry, Co. Cork
2. Murlough Beach, Co. Down – swim beneath the Mourne Mountains
This golden sand beach is one of the best places for wild sea swimming in Ireland. This beach has gorgeous golden sand that stretches for miles and crystal clear waters.
Murlough Beach is a Blue Flag beach and is also manned by lifeguards, so it is the perfect place to test your sea swimming skills.
Address: Newcastle BT33 0NQ, United Kingdom
1. Aughrus Bay, Co. Galway – an absolute gem
Topping our list of wild sea swimming spots in Ireland is County Galway's Aughrus Bay.
On the border of Connemara and the Atlantic Ocean, this small secluded swimming spot is a huge hit with the locals.
It is no wonder as it has turquoise blue waters that teem with wildlife like seals, basking sharks, and the odd dolphin. You can enter the water from the beach, or if you're looking to dive right in, why not take a jump off the Aughrus Pier?
Address: Unnamed Road, Co. Galway