The Howth Cliff Walk is one of Dublin's most majestic coastal trails; here is all you need to know to tackle this epic peninsula.
The Howth Peninsula juts out from north Dublin, connected to the mainland via a tombola that is home to the neighbouring town of Sutton.
Howth is a magnificent landmass that boasts endless options for adventurers and day-trippers looking for a scenic way to spend the day, as well as being a great place to watch the sunrise in Dublin.
Whether you're planning for an easy-going trail or a more challenging hike, the options are endless on Howth Cliff Walk. To make your life easier, here's all you need to know before you visit!
Basic overview – all you need to know
Route: Bog of Frogs Loop (purple route)
Distance: 12 km (7.45 miles)
Start / End Point: Howth Railway Station
Parking: Howth pier
Difficulty: Strenuous
Duration: 4 hours
When to visit – considering crowds and weather
The Howth Cliff Walk is open to the public year-round, although summertime – with its higher temperatures – sees more significant numbers of visitors along the cliff paths.
It's one of the best walks in and around Dublin, so it tends to be quite busy at this time of year.
When choosing a day to enjoy the Howth Cliff Walk, make sure you start out in the early afternoon, giving yourself ample time to complete it in daylight.
With often no barriers shielding you from the sheer-drop cliff face, we highly advise you to avoid the trails after dusk.
Please also note that the Howth Cliff Walk should not be walked in high winds or heavy rain as, again, there is little to protect you from the cliff edge. When tackling the trail, always proceed with caution and keep an eye on children.
What to see – beautiful views
There are many natural scenes along the Howth Cliff Walk, such as remote beaches with caves and towering cliffs.
Although one of the most stunning sights you're sure to see along the way is the Baily Lighthouse, built in 1814.
The Baily Lighthouse and Gorse is also a perfect stopping point for a picnic with panoramic views over Dublin city and the sea.
This strip of land jutting out to the sea is also home to two golf courses that you will come across, the Royal Dublin Golf Course and St Anne's.
Directions – how to get there
You can take many routes to get to the Howth Cliff walk, although most visitors get the DART train (Dublin Area Rapid Transit) to Howth station and walk from there.
You can also park at the Howth Summit car park and use that as a starting point along the cliff walk.
Routes – four main looped walks
There are four main looped walks which begin from Howth DART station in Howth village. The Howth Cliff Path Loop (green loop) and the Tramline Loop (blue route) are 6 km (3.7 miles) and 7 km (4.34 miles), respectively.
Both are of moderate difficulty and can be completed in two hours. The Black Linn Loop (red route), which is also of medium difficulty, takes approximately two and a half hours and is 8 km (4.97 kilometres) in distance.
However, if you're looking for a more challenging mission, the Bog of Frogs Loop (purple loop) is the one for you.
This route can take up to four hours if you're stopping to enjoy the scenery or around three hours if you power on. It's an impressive 12 km (7.45 miles) walk and covers Howth and Sutton.
Things to know – useful info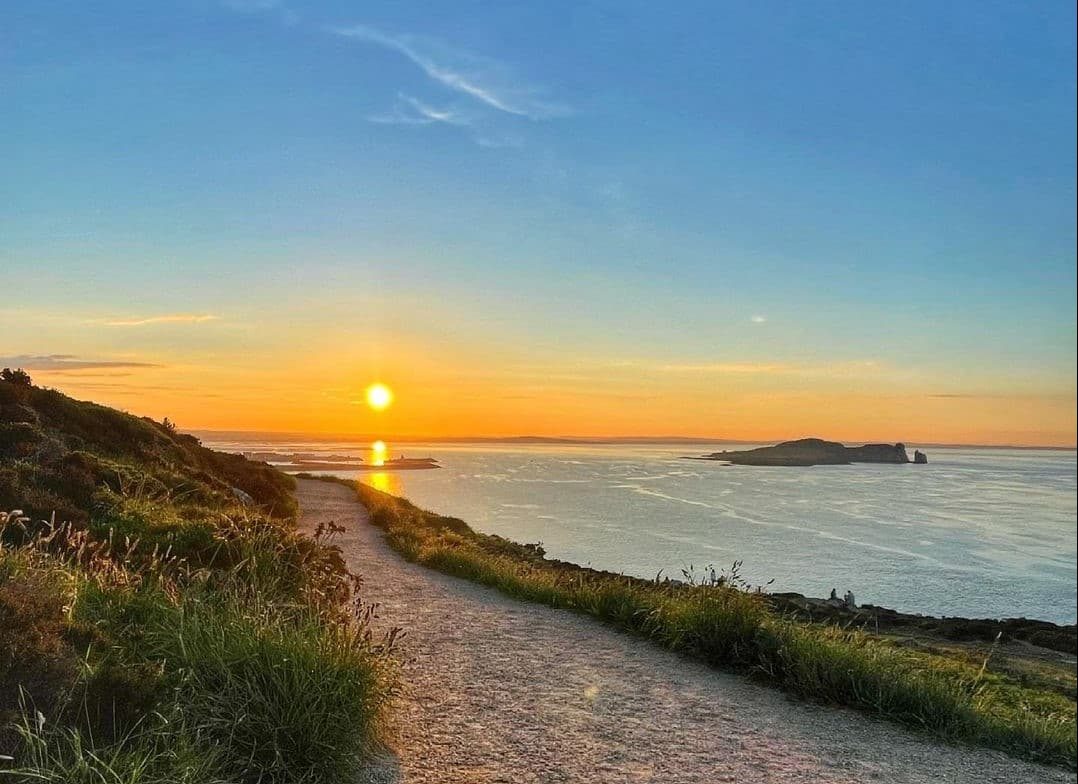 Regardless of what route you choose, tackling the Howth Cliff walk is a moderately challenging feat for most people, with some steep ascents and descents, as well as steps at intervals along the way.
Wear appropriate footwear, and bring a rain jacket in case the weather decides to turn. There are no facilities along the Howth Cliff Walk, so remember to bring water, sunscreen, and any other essentials before you embark on your trail.
Also, whatever route you choose to take will be marked clearly with coloured arrows. For example, if you choose the blue route, it'll be marked with blue arrows. Green arrows for the green route, and so on.
Where to eat – tasty food
Make sure to end your Howth Cliff Walk in the picturesque fishing village of Howth, where you can find some of the best seafood in Ireland.
Most locals wrap up a day on the trails with takeaway fish and chips from Beshoff's, one of the best places for Fish and Chips in Dublin, while watching the weatherworn fishing boats coming and going from the harbour with the day's freshest catch.
The Howth Market is perfect for those looking to peruse a range of local and international cuisines.
If you're craving an indoor experience, The Bloody Stream is a traditional Irish pub with a classic menu and solid pints of the "black stuff" (AKA Guinness).
Where to stay – fantastic accommodation
Should you wish to extend your visit to this charming town, we suggest you check out King Sitric's boutique accommodation for a cosy stay.
The nautical-inspired guesthouse boasts eight homey rooms with sea views. To top it off, it lies above the King Sitric restaurant, which won the Georgina Campbell's Seafood Restaurant of the Year 2020.
Other notable mentions
Balscadden Bay Beach: You will come across this picturesque beach once you reach Balscadden Road.
Aqua Restaurant Howth: The windows in this restaurant provide a beautiful sea view, perfect after your hike.
FAQs about the Howth Cliff Walk
Is the Howth Cliff walk scenic?
Absolutely. No matter which trail you take, this will be a beautiful hike well-worth undertaking.
Is the whole route along the cliffs?
The walk along the dramatic cliffs combines cliff walking, coastal paths, as well as road walking!
What else is there to do in Howth?
Howth is a picturesque village with so much to do. After the hike, why not check out Howth Castle, take a boat tour, or check out one of the many great pubs and restaurants?