If you've ever wondered what exactly the best pubs and bars in Derry are, then read on. Today, we reveal all you need to know about the nightlife that the oak leaf county has to offer.
Besides its historic City Walls and great restaurants with fine selections of artisan food, Derry also has so much to offer when it comes to the nightlife experience you expect from a city.
With pubs known for their craft beers and great traditional Irish music, you can expect culture and craic on any night out in Derry in the most popular spots.
In this article, we will list the top five best pubs and bars in Derry that everyone needs to experience.
Ireland Before You Die's tips for visiting the pubs and bars in Derry
When visiting pubs in Derry, be prepared to experience the lively traditional music sessions that often take place, showcasing the city's rich musical heritage.
Many pubs in Derry also serve delicious traditional Irish cuisine, so be sure to try some classic dishes like Irish stew or colcannon.
Take the opportunity to learn about Derry's complex history by visiting pubs like The Bogside Inn, where you can discover the stories behind iconic murals and the city's role in shaping Northern Ireland's identity.
If you're visiting with a group, consider making a reservation in advance to secure a table or area, especially during peak times or for larger gatherings.
5. Blackbird – home to some of the best craft beer in Ireland
Starting off our list of the top five best pubs and bars in Derry is the Blackbird. This spot can easily boast being home to the best selection of craft beer from all over Ireland. It is also home to some of the tastiest cocktails that the North has to offer.
Whether you are looking to sample some classic cocktails or flavoursome beer, you will certainly find it and much more at the Blackbird at the careful hands of the bar staff.
Address: 24 Foyle St, Derry BT48 6AL
4. Walled City Brewery – an award-winning family craft brewery and eatery
The Walled City Brewery is housed in the former army barracks on Ebrington Square in Derry City. Recently the brewery was voted 'Best pub in the North' at the Pub and Bar Awards.
This family-run craft brewery has an exciting craft brewery bar and restaurant. The ethos of the business is to provide both locals and tourists with an authentic "Taste of the North West".
As well as having ten craft beers on tap, Walled City Brewery is unique as it is the first of its kind in the entire country to have its very own fully operating brewery and adjoining restaurant all within the same building.
Address: 70 Ebrington St, Derry BT47 6FA
Related: Derry bar named UK taproom of the year.
3. Grand Central Bar – a great traditional pub
Located in the heart of Derry city, the Grand Central Bar is a great traditional pub that has been a favourite with locals since 1922. Remarkably, it still maintains much of its original design and interior.
With a cosy atmosphere, friendly staff, and a great selection of pub food and beer on offer, as well as their infamous quiz nights and live traditional music, this pub makes for a great place to spend an afternoon or an evening.
The Grand Central bar seems to strike the perfect balance between being a pub that is steeped in history while still maintaining a modern feel and twist to it. No wonder it has such excellent reviews!
Address: 27 Strand Rd, Derry BT48 7BJ
2. Badgers Bar and Restaurant – the perfect bar to suit all tastes and persuasions
The award-winning Badgers Bar and Restaurant has been serving the locals of Derry for over 30 years, thanks to their wide range of food and drink served by excellent bar staff.
Badgers has the look of a Victorian pub with wood-panelled nooks and and many snugs. It also has an outdoor terrace to relax in. It also has an outdoor terrace to relax in, which is painted with an iconic mural of Derry Girls.
Located between two of Derry's most famous theatres, Badgers can suit all tastes and offers a quiet respite to visitors from the hustle and bustle of city life.
Address: 18 Orchard St, Derry BT48 6EG
Related: Top 10 Derry Girls filming locations you can visit.
1. Peadar O'Donnell's – the best of the pubs and bars in Derry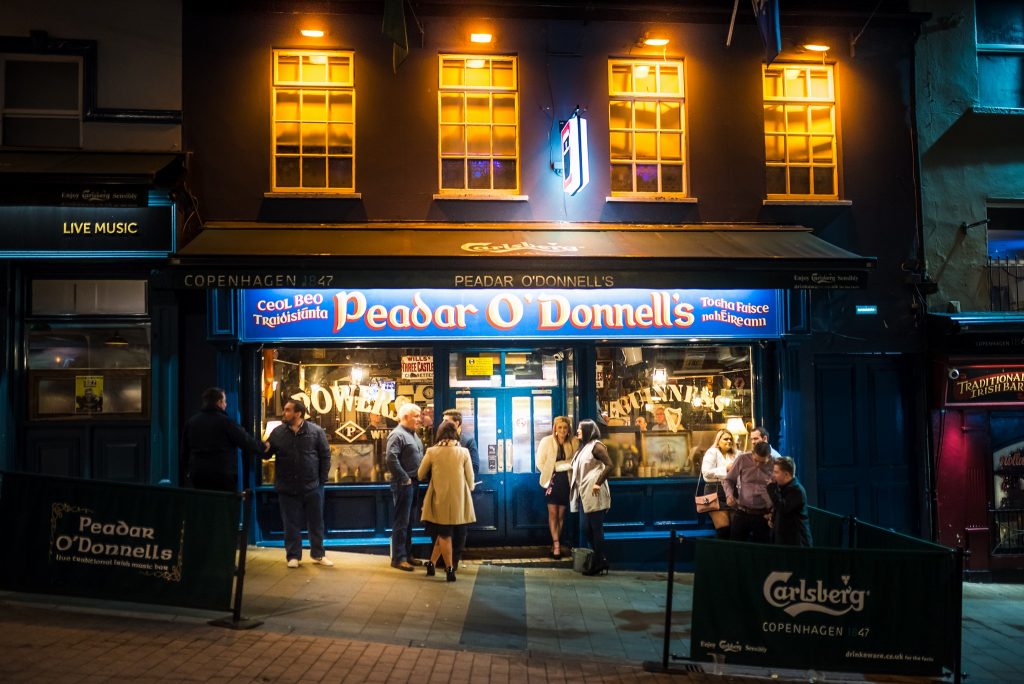 In first place on our list of the top five best pubs and bars in Derry that everyone needs to experience is Peadar O'Donnell's.
Famed for its perfectly pulled pints of Guinness and its hosting of great traditional Irish music, this spot is an absolute must-visit. The bar acts as a great music venue as they host both traditional and contemporary music every night of the week.
Offering great customer service, an amazing atmosphere, and an excellent beer menu, this popular spot is one of the best pubs in County Derry.
Address: 63 Waterloo St, Derry BT48 6HD
That concludes our list of the top five best pubs and bars in Derry that everyone needs to experience. Have you got the chance to experience any of them yet?
Check out: Our guide for the best pubs in Ireland.
Other notable mentions
Bennigan's Bar: Bennigan's Bar, located on John Street, is something of an underrated hidden gem that deserves a visit thanks to their great staff, customer service, and live music.
Sandino's: Sandino's is a bar that is both popular with locals and tourists alike, making it an excellent venue. One that people of all ages can enjoy and enjoys good customer reviews.
Granny Annie's: The best way to describe Granny Annie's would be to say that it is a modern space with contemporary music but one which still retains its traditional charm.
Guildhall Taphouse: The Guildhall Taphouse is a great gastropub situated right next to Guildhall Square with an aesthetic design making it a trendy city-centre spot.
Your questions answered about the best pubs and bars in Derry
Is Derry good for a night out?
With its lively blend of modern, quirky, and traditional pubs, as well as great nightclubs, we would say that yes, without a doubt, Derry is a good place to enjoy a night out.
What is the oldest bar in Derry?
The oldest bar in Derry city is The River Inn, established in and around 1684 and still operating today.
Where are some of the best bars and pubs found in Derry?
These can be found in the city centre, Waterloo Street, Bank Street, Foyle Street, Orchard Street, and Shipquay Street. You'll be sure to find a good watering hole here.
What is the oldest pub in Northern Ireland?
The oldest pub in Northern Ireland and the oldest known building in Belfast is McHugh's Bar in County Antrim, which dates back to 1711.
What is Derry, Ireland, known for?
Derry has the second biggest city in Northern Ireland, and it is also famous for its old (and still intact) one-mile-long City Walls, which surround the city.
Derry city is widely known as being one of the best examples of a walled city in Europe. Recently, the city has become synonymous with Derry Girls.
Get featured on Ireland Before You Die
Do you want to get your Irish business more online exposure? Especially to those interested in travelling the best places in Ireland? Then why not get a dedicated feature on Ireland Before You Die. Find out more 
here.