With coasts on the Irish Sea, the Celtic Sea and the Atlantic Ocean, it is no surprise that there are some beautiful seaside walks in Ireland.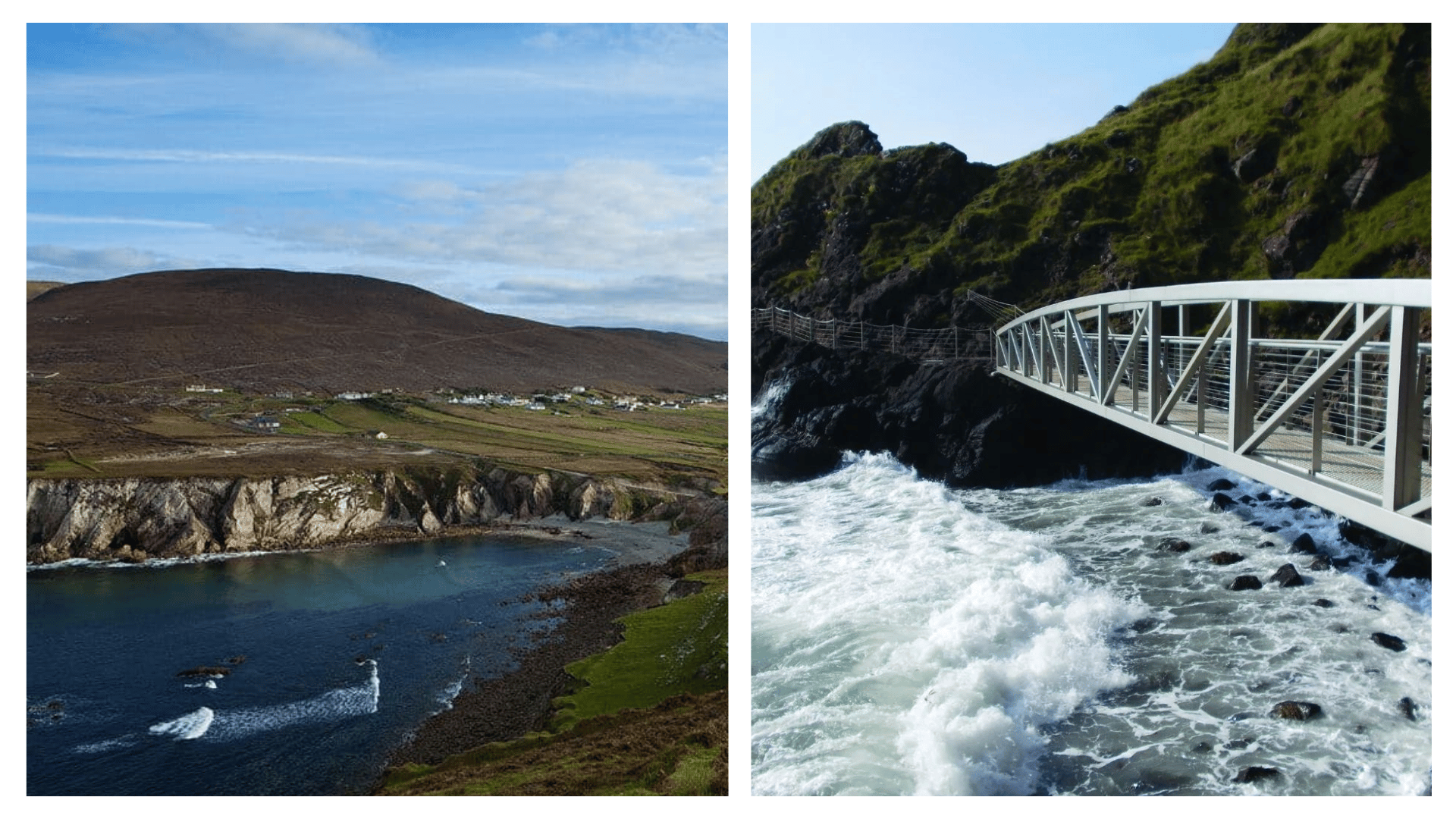 As an island, Ireland has countless beach walks if you'd rather not hike a mountain. Many counties feature fishing villages to explore, with coastal walks featuring long stretches of sand.
Add to that the beaches on the islands off the coast, and you've got plenty of beautiful seaside walks to choose from.
We've compiled a list of the best seaside walks in Ireland with some of the most beautiful views.
10. Rathlin Island – an island off an island
If you're a fan of paths that completely traverse the coast of an island, then you have to check out these island routes. A top tourist destination, this is probably one of the most accessible islands in the north.
Once you've returned to the mainland, you can hike along Benbane Head nearby, so there are plenty of coastal walks around Rathlin.
Address: Ballycastle, County Antrim, Ireland
9. Achill Island – several multi-day walks available
Achill Island is connected to the mainland by a bridge, making it easy to get to, and it has plenty of walks and hikes to offer.
From a sandy beach to a picturesque valley, this island offers some of the best seaside walks in Ireland.
Address: Co. Mayo, Ireland
8. Slieve League – for the best views
Along the coastline of County Donegal, this cliff walk features sights of sand, beach, cliffs and the Atlantic Ocean. Situated along the route of the famous Wild Atlantic Way, this stop is a must-see.
Donegal is famous for its many beaches and mountain walks. There are plenty of sand dunes to trek along the northwest coast. It is also home to Malin Head, the most northerly point in Ireland.
Address: Shanbally, Co. Donegal, Ireland
7. The Gobbins Cliff Path – a cliffside adventure
Why not take a brave walk along these craggy cliffs in County Antrim? A unique seaside walk, be prepared to cross bridges and walk the crafted footpaths along the cliffside.
The amazing views allow for great pictures of the ocean and cliffs. You can also snap some selfies for Instagram on the stylish bridges.
Address: 66 Middle Rd, Ballystrudder, Islandmagee, Larne BT40 3SL
6. Ballyandreen Beach – add this to your bucket list
Some beaches in Ireland are full of sand, but others, such as this stretch of beach, are rocky or pebbly.
Nestled along the shores of County Cork, this route incorporates hills of various inclines and offers sights of the local area. Make sure you add this to your list of seaside walks in Ireland, especially in the summertime.
Address: Unnamed Road, Dooneenmacotter, Co. Cork, Ireland
5. Fanore Beach – a walk through golden sand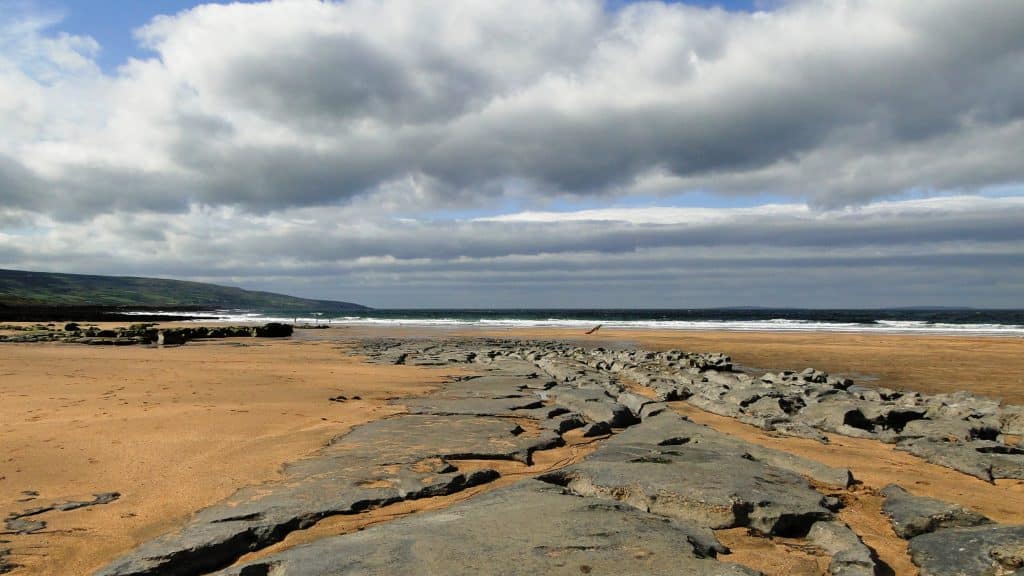 Definitely one of the most picturesque beach walks on the island, this blue flag beach offers clear blue waters lapping up against the sandy stretches.
Take a barefoot walk along the shallows on a hot summer's day and enjoy the fresh sea breeze blowing in your face. The route is not too challenging, making this an ideal place for young families and dog walkers.
Address: Fanore More, Co. Clare, Ireland
4. Howth Head – experience the Irish Sea
This coastal area to the north of Dublin is home to the village of Howth – one of many colourful villages along the Irish coastline. Experience the natural beauty of the Irish Sea while you wander around the village's quaint houses.
South of Dublin, you will find Bray Head for another seaside walk. Easily reached by car from Howth, it's definitely worth checking out if you're in the area.
Address: Howth, Dublin, Ireland
3. Slea Head – walk it or drive it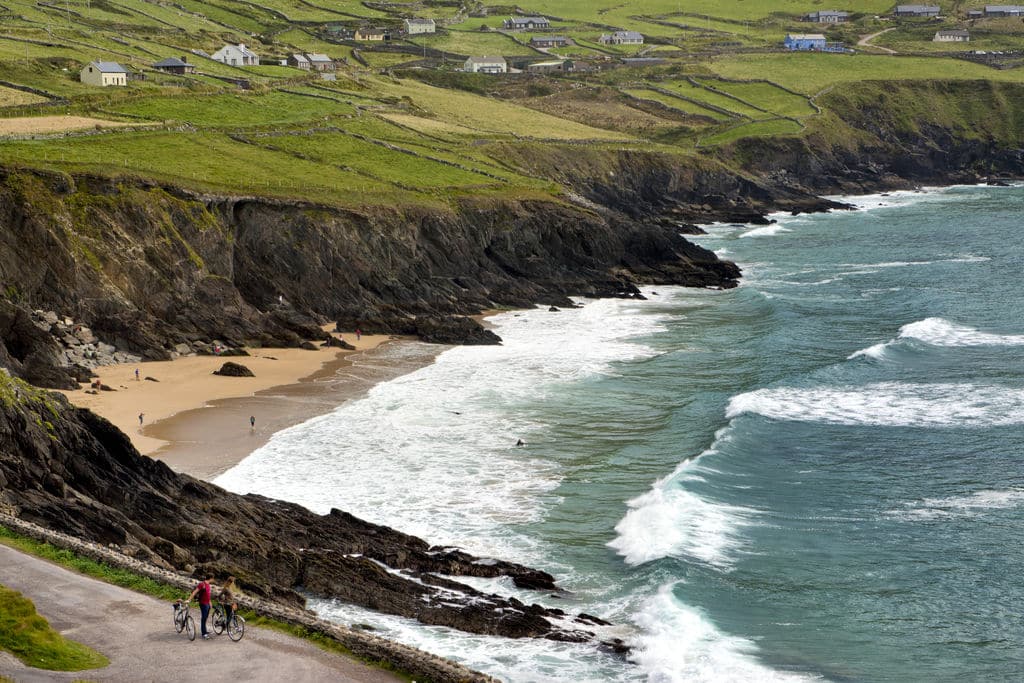 For a seaside walk with a view of the Atlantic Ocean, you can't leave out Slea Head. The entire route is over 16 km (10 miles), making this one of the most challenging walks on our list.
Located in the famous Dingle Peninsula, it is one of the most westerly seaside walks in Ireland and Europe. The spectacular views of the Atlantic rival those of Aughris Head in Sligo.
Address: Slea Head, Ireland
2. Inch Beach – a one-of-a-kind beach walk
Located along one of Ireland's most beautiful sand bars, this beach features sand dunes and views across the waters of the North Atlantic.
This seaside destination is close to many of County Kerry's villages and towns, making it very handy for those staying in the area. Dingle is a short drive away, and some other seaside walks on this list are easily accessible from here.
Address: Ardroe, Kerry, Ireland
1. Ballycotton Village – the perfect stop for the family
This seaside walk is accessible, has impressive views, and is suitable for all experience levels. Considering all these factors, Ballycotton Village is definitely worth checking out.
Take a leisurely stroll along the harbour in this fishing village or along the stunning cliffs surrounding the area: the water is blue, and the sea breeze is fresh.
Address: Ballycotton, County Cork, Ireland
Notable mentions
Brandon Mountain: Another of County Kerry's great walks, there are beautiful views of the seaside from the peak.
Mweelrea Mountain: From atop Mweelrea you can see not only stunning views of the ocean but also the peaks of the nearby Ben Lugmore and Ben Bury.
FAQs about the best seaside walks in Ireland
How long is the Cliffs of Moher coastal walk?
It takes about two hours to walk from the Cliffs of Moher. The roughly 5 km (3.1 miles) linear walk finishes by Hags Head. It's one of the many seaside walks in Ireland, offering some incredible views.
How long does Doolin Cliff Walk take?
Walking along this cliff path takes about three hours and leads you to the dramatic Cliffs of Moher. It offers stunning views of the cliff edges.
How long is the Kilkee Cliff walk?
It will take about three hours at most to hike these coastal cliffs.