Are you a casual walker, an expert hiker, or an adventure-seeking trekker? Not to worry, as we have you covered with the ten best hikes and walks in Donegal, ranked.
County Donegal is the fourth largest in Ireland by area, being populated by joyful people, rugged mountains and a golden coastline.
But, perhaps most stunning of all, it offers an array of walkways to take in the beauty of Tir Chonaill county.
Owing to its location in the northwest pocket of Ireland, the Donegal landscape promises a variety of different strolls, suitable for beginners, experienced trekkers, and those who seek adventure in their journey.
Read on to discover the top ten best hikes and walks in Donegal, ranked.
10. The Bluestack Way – get the walking boots on
Here is one for the experienced trekkers. Get the walking boots on and explore the wonderful wilderness with this beautiful walk through the Bluestack Mountains.
It is a series of low-rounded hills taking you from Donegal Town to Ardara with the stunning Lough Eske en route.
Total length: 65km / 40 miles
Address: Cloghervaddy, Co. Donegal, Ireland
9. Bloody Foreland Walk – a light but rugged coastal walk
The Bloody Foreland walk is one of the best hikes and walks in Donegal. There is no climbing involved, as it is a moderate walk along the Gweedore coastline. The walk lies beneath Bloody Foreland Hill and is a remote stroll perfect for a quiet getaway.
Total length: 1.5km / 0.9 miles
Address: Meenaclady, Co. Donegal, Ireland
8. Ards Forest Park walk – one of the best walks in Donegal
Dunfanaghy is one of Donegal's finest coastal towns, and nearby is the Ards Forest Park walk, which covers 1,000 acres of woodland.
It's one for the history buffs, featuring a holy well and mass rock before you emerge to the coastline with the many walking trails.
You will come across acres upon acres of changing scenery, including sand dunes and salt marshes.
Total length: 5km or 13km / 3 miles or 8 miles
Address: Co. Donegal, Ireland
7. Arranmore Island – for the Wild Atlantic Way
Arranmore Island is the largest island off the coast of Donegal and is home to only 469 people, the majority of whom speak Irish.
If you're looking to experience this dramatic yet stunning part of the Wild Atlantic Way, take the ferry from Burtonport.
Total length: 14km / 8.5 miles
Address: Co. Donegal, Ireland
6. Inishowen Head Loop – for a WWII monument
On a good day, a walk through the Inishowen Head Loop will offer the walker views of Lough Foyle, the north coast of Inishowen and, further afield, the shores of Scotland. The walk kicks off at the WWII lookout tower at Inishowen Head and only gets better.
Indeed, going for hikes is one of the top things Irish people love to do during their spare time.
Total length: 8km / 5 miles
Address: Stroove, Co. Donegal, Ireland
5. Carrickfinn Beach – scenic views of Donegal airport
Carrickfinn Beach is one of the finest strands in all of Tir Chonaill. It is an extensive golden strip that hugs the Atlantic Ocean.
What makes this walk so worthwhile are the beautiful views of the airplanes that touchdown at Donegal airport.
Address: Braade, Carrickfinn, Co. Donegal, Ireland
4. Muckish Mountain Loop – one of Donegal's highest peaks
Muckish is a towering mountain that protects the town of Dunfanaghy below it. It makes the list of the best hikes and walks in Donegal for its trail that incorporates stunning views. It is also the third highest peak in the Derryveagh Mountains range at 666 m (2185 ft).
Total length: 4.3km / 2.5 miles
Address: Gortnaleck, Co. Donegal, Ireland
3. Stroll through Glenveagh National Park – for castle views and lakeside walks
Glenveagh Park possesses 16,000 acres of beauty like you've never seen before. Lying on the precipice of the Derryveagh Mountains, it is broken up into six separate walking trails.
For a relaxed walk along the gravel path, you'll witness the incredible sights of magnificent mountains, the Poisoned Glen and Glenveagh Castle. This is akin to some of the best hikes in Jasper National Park, Canada.
Address: Letterkenny, Co. Donegal, Ireland
2. Slieve League Cliff Walk – for majestic cliff-side views
Climbing three times as high as the iconic Cliffs of Moher, take the Pilgrim Path, which can at times be narrow and steep. If the weather is good, take the Old Man's Track, a narrow path that overlooks the steep cliffs.
Wherever you begin, you will be immediately greeted with incredible views of the soaring cliffs and rugged coastline which hammer below. These dramatic views make Slieve League on of the best places to see in Donegal.
Total length: 3km / 1.8 miles
Address: Shanbally, Co. Donegal, Ireland
1. Climb Mount Errigal – conquering Donegal's tallest peak
It was a tough one to call, but we have crowned Mount Errigal as the king of the best walks in Donegal.
Here we have the tallest peak in Donegal, an iconic mountain that will surely captivate the viewer. It's easy to understand why Errigal Mountain is one of the best hikes and walks in Donegal.
You'll need a full day to complete the 762 m (2,500 ft) hike, but it is truly worth the work, with views of the Donegal coastline and all over the county. Get the hiking boots, be wary of the marsh, and head to Gweedore. You won't be disappointed.
Total length: 4.2 km (2.6 mi)
Address: Money More, Co. Donegal, Ireland
Other notable mentions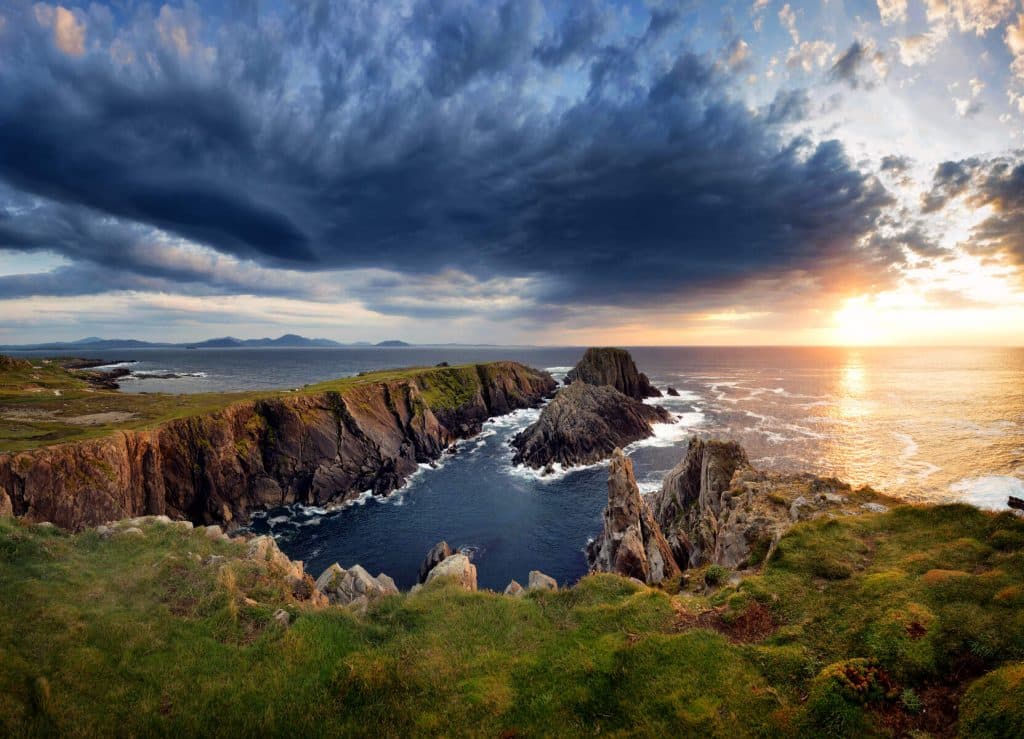 Rossnowlagh beach: Rossnowlagh is a beautiful Blue Flag beach in south Donegal. Take a surfing lesson here on a sunny day with the coastal scenery around you.
Malin Head: Malin Head is the most northerly part of mainland Ireland. Located on the Inishowen peninsula, this walk offers breathtaking views and takes around an hour to complete the loop walk.
Fort Dunree: Fort Dunree is in the Buncrana area of Donegal and takes just 45-minutes to complete. It is a moderate walk.
FAQs about the best hikes and walks in Donegal
What are the best beach walks in Donegal?
For beautiful beach walks, visit Carrickfinn Beach, Rossnowlagh Beach and Magheraclogher Beach for the famous Bunbeg Wreck (Bad Eddie).
Where are the Slieve League Cliffs?
These beautiful cliffs are located in County Donegal in the northwest corner of Ireland.
What makes Donegal unique?
Anyone who has been to Donegal will tell you of its magical, seamless beauty. The thing that makes it so unique is that no matter what corner of the county you visit, there will always be something new to experience.