Delve into Belfast's rich cultural heritage and enjoy a cold one at the same time.
Belfast is, without doubt, one of Europe's most up-and-coming cities when it comes to nightlife. Every year, thousands of joy-seeking locals and tourists explore the city's cobbled streets to grab a pint of Guinness or hit the dancefloor.
But despite this recent rapidly growing scene, there will always be those who prefer their drinking establishments to be a little more authentic.
Look no further than Northern Ireland's capital and this list for the top 10 old and authentic bars in Belfast!
10. Laverys – for pool and a pint
If you're willing to venture a little outside Belfast City Centre, you'll be rewarded with one of the best pubs Belfast has to offer, Lavery's bar. Considered a Belfast institution, this place attracts all age groups.
Explore the ever-growing smoking area(s!), or shoot some pool with friends in this South Belfast gem.
Address: 12-18, Bradbury Pl, Belfast BT7 1RS
9. Duke of York – the vintage-lover's choice
This hub of the Belfast social scene is rammed full of original memorabilia and mirrors, sure to get any vintage-lover excited. That's not to mention the vast selection of Irish whiskeys and traditional Irish music Thursdays to Sundays.
Music legends Snow Patrol first played this gem in 1998!
Address: 7-11 Commercial Ct, Belfast BT1 2NB
8. McHughs – Belfast's oldest building
If you like your pubs old, McHughs breaks the record by being housed in Belfast's oldest building, dating back to 1711.
Complete with cosy open fires and Georgian design, McHughs is also one of the best places to see live bands during the week, within a homely and comfortable atmosphere.
Address: 29-31 Queen's Square, Belfast BT1 3FG
7. The Points – for non-stop traditional Irish music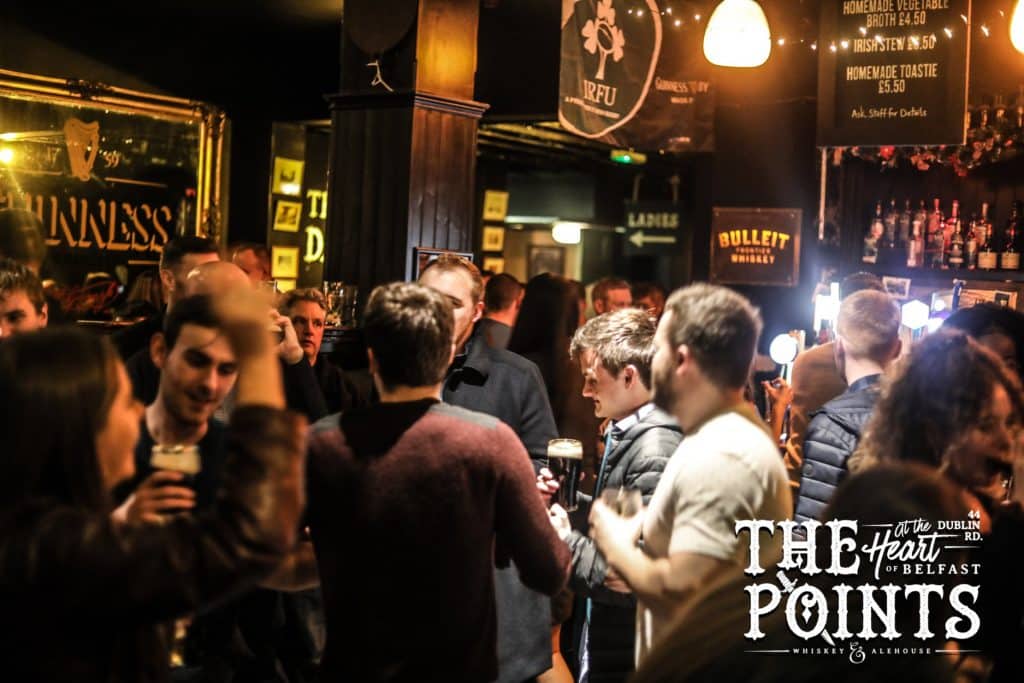 Popular with locals and tourists alike, The Points Whiskey & Alehouse does a great job at replicating the fantastic, traditional culture of Ireland, despite its recent opening date.
Enjoy traditional Irish and folk music every day of the week. Best enjoyed with their superb ale.
Address: 44 Dublin Rd, Belfast BT2 7HN
6. The Dirty Onion – for the perfect blend of trendy and traditional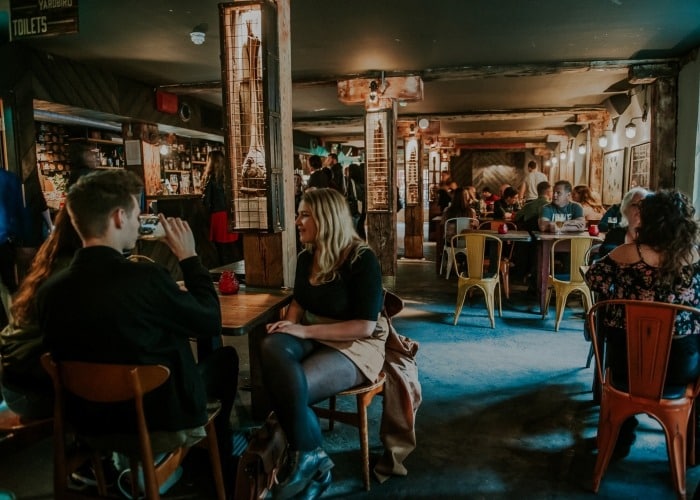 The building in which this trendy bar is located dates back to 1870, once being used as a bonded spirit warehouse. Now it's fulfilled its ultimate destiny as one of the Cathedral Quarter's hotspots.
Management at this spot has made a special effort to restore some of its original features, with the external wooden structure framing the sizable and buzzing beer garden.
Address: 3 Hill St, Belfast BT1 2LA
5. Robinsons – the history buff's dream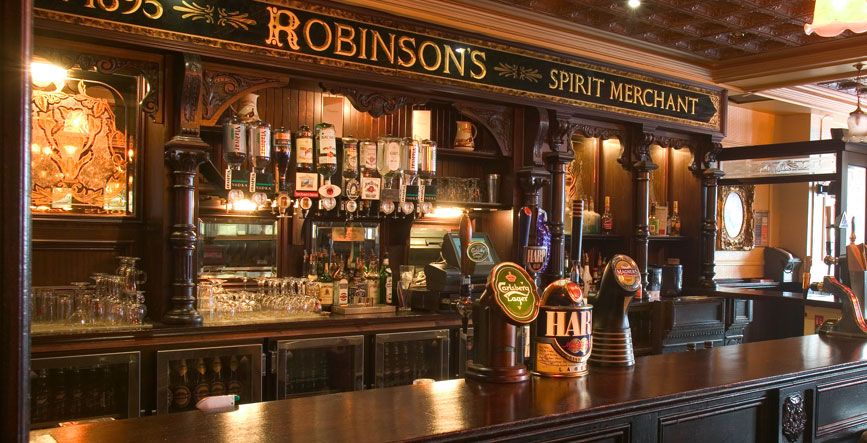 Punters who are fans of the older, more traditional pub often have an insatiable appetite for history, and you'll find plenty of it at this ornate spot.
Featuring a collection of original memorabilia recovered from the ill-fated Titanic, this place is a history buff's dream. The toasty open fire and traditional musicians' sets aren't all that bad either.
Address: 38-40 Great Victoria St, Belfast BT2 7BA
4. The Morning Star – when 'pub grub' doesn't cut it
Enjoy your pint with a side of delicious food? Look no further than The Morning Star bar and restaurant.
Here you can also sample a bit of traditional Belfast, with an original mahogany interior and old terrazzo floor to boot.
Address: 17-19 Pottinger's Entry, Belfast BT1 4DT
3. The John Hewitt – a literary legend
The John Hewitt has long been a hub for lovers of arts and literature. As such, it has naturally evolved to become a great place to see traditional Irish bands and enjoy a cold one.
Got your fill of the more traditional stuff? Never fear, John Hewitt is also known for its Jazz and Ulster-Scots folk musical offerings.
Address: 51 Donegall St, Belfast BT1 2FH
2. The Crown Liquor Saloon – a Victorian masterpiece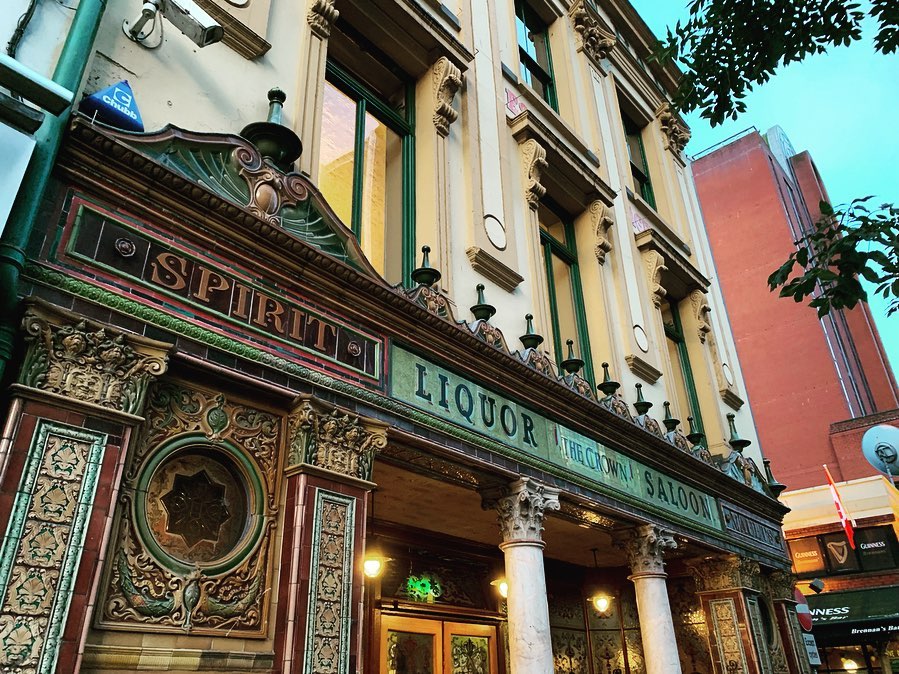 Recently hitting the headlines with a visit from Prince Harry and Duchess Meaghan Markle, The Crown boasts the title of one of the oldest bars in the city.
Dating back to the 1880s, The Crown seems ageless. Previously known as The Liquor Saloon, there's a reason for its well-kept Victorian splendour. The bar is owned by the National Trust and remains a visual treat for all.
Address: 46 Great Victoria St, Belfast BT2 7BA
1. Kelly's Cellars – the ultimate traditional Irish bar experience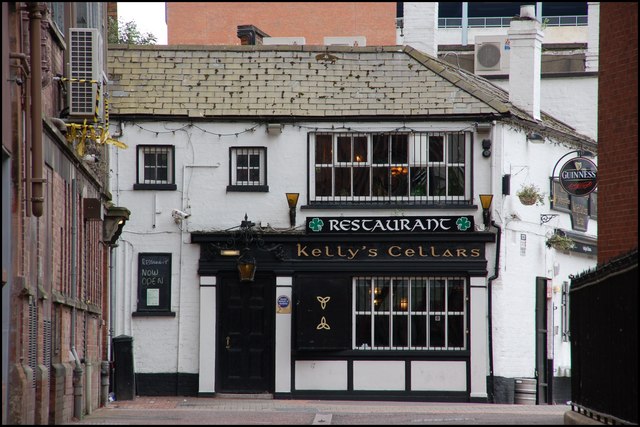 Since 1720, Kelly's Cellar's has offered the people of Belfast the ideal, cosy place to drink a pint and catch up with friends. Four days a week you can be treated to the authentic Irish pub experience, with traditional music ringing through the low-arched bar.
This place is packed with history. The United Irishmen met here to plan the 1798 rebellion. If you believe the legend, it has long been said that one of them, Henry Joy McCracken, even hid behind the bar to escape searches from soldiers.
Either way, Kelly's remains one of the top old and authentic bars in Belfast to this day and is one of the best bars in Belfast that celebrities have been to.
Address: 30-32 Bank St, Belfast BT1 1HL
Get featured on Ireland Before You Die
Do you want to get your Irish business more online exposure? Especially to those interested in travelling the best places in Ireland? Then why not get a dedicated feature on Ireland Before You Die. Find out more 
here.