Belfast is a cool and cosmopolitan city with a dynamic social scene. Having risen like a phoenix from the ashes, the capital of Northern Ireland is now a thriving cultural hub with a vast youth population and nightlife to reflect its inhabitants. It's no surprise that Belfast Bars are thoroughly enjoyed by tourists and locals alike.
Whether it be local Irish pubs which serve the finest pour of Guinness in the city, live-music bars to dance your blues away, all-night-parties or a cool-city dive, Belfast has it all.
Although busy seven nights a week, bars close early up north (similar to the Republic of Ireland), generally by the stroke of midnight. Some "late-night" venues can push 1am-2am, and the very odd club will have a 3 am close-time.
Our tip: Head out early in Belfast if you're after a big night so as not to be left disappointed when the bartender calls last orders.
5. Duke of York
Found nestled down a charming cobblestone alleyway in the heart of Belfast's Cathedral Quarter is the Duke of York. The intimate and cosy Irish pub is quintessential through-and-through: there is exposed brick, secluded secret booths, low ceilings, Guinness imagery aplenty and rich wooden bar furniture filling every nook and cranny.
The place is always packed, specifically on Friday and Saturday nights, when crowds of all ages spill into the watering hole in search of a good session. Local live music often holds the crowd here, and although it may take quite a few minutes to get served on a busy night, the vibe is electric and well worth it.
Where: 7-11 Commercial Ct, Belfast BT1 2NB
4. Bert's Jazz Bar
This may be one of the more relaxed bars to let your hair down at in Belfast City. Set in the five-star Merchant Hotel, not far from the water's edge, this slick art-deco experience will be one worth remembering in Belfast.
Plush, red velvet furniture, wooden accents, low-light and candles all paint the atmosphere while live jazz is the cherry on the cake. There is an extensive offering of wine, beer, spirits and share plates, too, for those feeling a tad bit peckish.
The haunt is inspired by "1930's New York and the Jazz Age" and is the only dedicated-jazz bar in the city, not to mention one of the most popular spots, too.
Where: 16 Skipper St, Belfast BT1 2DZ
3. Harp Bar
For those looking to let loose, Harp Bar is a great shout. It threads lightly between being a laid-back pub and a lively bar, fit for a dance, without conceding to club-vibes.
It has an eclectic crowd that is non-exclusive, and this is the sort of place where you would be likely to see everyone from your auntie to your younger cousin!
The bar itself is located in the heart of the Cathedral Quarter and is deceivingly large. It boasts old-world pub furniture, such as red leather stools and stately armchairs. Live music draws crowds nightly, and a full line-up can be seen on its website.
Where: 35 Hill St, Belfast BT1 2LB
2. The Dirty Onion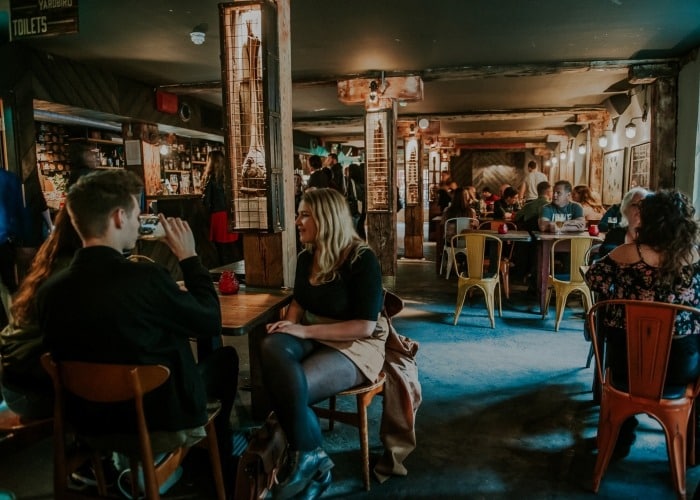 Set in Belfast's leading nightlife centre, Cathedral Quarter is The Dirty Onion – a traditional bar setting with a contemporary twist.
The venue is accessed via an open courtyard. The design itself plays a lot on the juxtaposition of raw materials such as untreated wood versus cold metal finishes. The Dirty Onion draws a trendy crowd of all ages who sip on local, craft IPA brews over share plates of rotisserie chicken from Yardbird, The Dirty Onion's restaurant.
This is one of Belfast's oldest buildings and has been renovated to capture its original charm while reinventing it to become one of the hottest places to see and been seen in the city.
Where: 3 Hill St, Belfast BT1 2LA
1. The National – The Elite of Belfast Bars
The National is one of the top hangouts in all of Belfast and is one of the best pubs and bars the city has to offer. It is multi-faceted beyond belief, and by day is considered one of the trendiest cafes, by night one of the coolest bars and into the early hours, one of the most coveted clubs.
There are four floors of fun to be had and six bars in total including a rooftop affair, a lounge bar, a cocktail haven, a courtyard and a club for all you disco dancers; easily the most comprehensive bar offering in Belfast.
Where: 62 High St, Belfast BT1 2BE