The cost of living in Ireland is on the rise. Its inflating to such gargantuan proportions that today the cost of living in Dublin – Ireland's capital city – is more expensive than London! Many seeking a livelihood at a fair price or for individuals with the luxury of working from home have recently begun relocating to larger properties outside of the capital, more specifically, into Derry Mansions such as these.
As the housing crisis continues to wreak havoc nationwide, government incentives are being put in place to establish more low-income solutions for those who can't keep up with the ever-growing property market.
For those of you currently up in arms with your landlord about the cost of rent; if you're a newly engaged couple considering where best to settle down; or, if you're an overseas visitor who has fallen in love with the Emerald Isle and wondering where to base yourself, this article is for you!
Here we look at five mansions in Derry (the cheapest city in Ireland), which cost less than the average two-bed terraced-home in Dublin (the most expensive city for property in Ireland), which is around €303,000.
5. The Country Home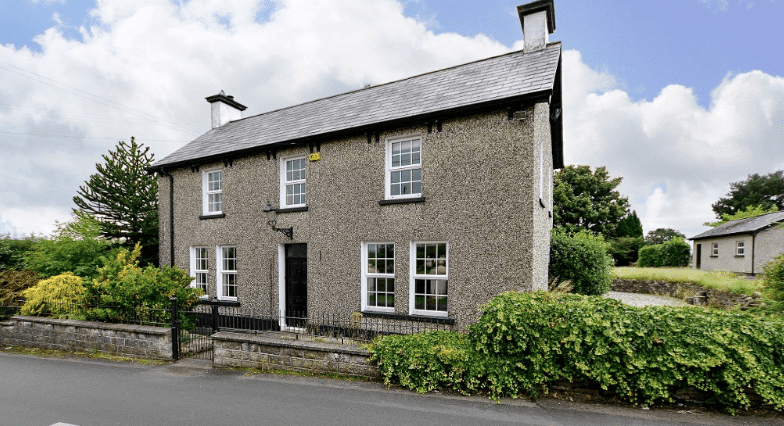 Ever wanted to give up city living and head out to the country? Maybe this is your chance! This charming country home in Derry is accepting offers around £225,000 (€250,189).
With four bedrooms, two bathrooms and three reception rooms you'll have tonnes of space for a growing family, get-togethers with friends or when relatives come to stay.
The property is sitting on the outskirts of the quaint village of Eglinton and is a short 15 minutes drive to the city, offering its prospective owners city-life and country-dwelling in equal measure.
An open fire, wood floors, Belfast-sinks, stained glass windows and tonnes of natural light are just a few reasons to love this property, and with an enclosed rear garden and lots of space for activities, it's safe to say this is a pretty hot offer.
Check Out The Property
4. The Country Manor
This stunning country manor is a four-bed detached property with three bathrooms and three reception rooms.
Set on approximately 0.75 acres at 90 Cullyrammer Road, it is less than 45 minutes to the city and boasts stunning scenery. A well-maintained garden ensures safety and security while allowing total freedom for the little (and big) ones to run free.
The atmosphere of this property is social, so living and dining spaces are roomy and open plan with heaps of natural light. Double glazed windows, a two-car garage and separate studio/games room, are fantastic additions to an already killer offer on the market.
This house is accepting offers in the region of £234,950, which translates to about €261,181.
3. The Modern Build
This impressive Derry property is ideal for new buyers looking for a forever home. The new development is bursting with modern amenities, while ensuring all the comforts of home living are met.
This six bedroom, four bathroom house has two reception rooms, sweeping enclosed gardens, a two-car garage, double glazed windows, solar panels and panoramic views of the rural surroundings.
It is a short 15-minute drive to Derry but maintains an exquisite country-side feel, with modernity at the forefront of design.
This property is accepting offers around £300,000 (but it's worth a haggle!)
2. The Charming Estate
This property sits on 1.25 acres and is accessed via a long driveway leading up to the house. Less than 10 minutes drive from the city, this property has an old-world charm with modern amenities across the board.
The home is fitted with a new kitchen, complete with a freestanding breakfast island and floods of natural light. There are four bedrooms, two bathrooms and four reception rooms. The garden is a focal point of this property, complete with a log store, fish pond, a greenhouse, dog kennels and rolling lawns – perfect for the whole family.
This Derry home is accepting offers around £270,000 (€300,213).
Check Out The Property
1. The Contemporary Castle – King of the Derry Mansions
This new build is what you would call a "contemporary castle". It is modern and functional in design, with the warmth of home comforts in abundance. It has great integrity in its architecture, heaps of light and unspoilt views.
The property sits on the shoreline, but seconds from the sand, and offers its future owners uninterrupted views of Lough Foyle, Donegal and Magilligan Beach.
With three beds, three baths and tonnes of hosting opportunities this house is soon to be snatched up at only £280,000 (€311,261), just a tad over a two-bed terraced in Dublin!