The Emerald Isle is well known for its lush green countryside and beautiful landscapes. Naturally, there are many beautiful public gardens in Ireland to enjoy, explore, and get lost in.
Whether it's the north, south, west or east, we are spoiled for choice when it comes to beautiful public gardens in Ireland to visit. There is a wide variety of gardens to visit in Ireland, such as tidy city gardens, formal gardens, wild gardens, walled gardens, sub-tropical gardens, and even Japanese gardens, all of which are beautifully unique in their own right.
These gardens are open to the public daily, maintained, and looked after by excellent gardeners. They showcase Irish wildlife, plant life, and beautiful trees, amongst many other things. In this article we will list what we believe are the five most beautiful public gardens in Ireland to explore and enjoy.
5. Killruddery House & Gardens, Wicklow – a joy for any garden enthusiast
Killruddery House & Gardens is a joy to explore for any gardening enthusiast as it has long wandering lawns, set in a 17th-century style formal garden layout.
The lawns have a mix of mature planting and age-old trees nestled beside long ponds amongst beautiful woodlands. On the trail, you may even discover an 18th-century theatre hidden amongst the hedging.
There is also a walled garden to be found which contains fruit, vegetables, and homegrown blooms.
4. Iveagh Gardens, Dublin – a cultural centre
The Iveagh Gardens in Dublin have acted as a cultural centre for the city since the 19th century. There are regular concerts and outdoor performances that take place there.
The Iveagh Gardens are located in the heart of Dublin's commercial centre, and can offer a relaxing scenic escape from the hustle and bustle of city life.
The gardens contain a variety of colour, exotic tree ferns, and a miniature copy of the famous London's Hampton Court Maze.
Address: St Stephen's Green, Park, Dublin 2, D02 HX65, Ireland
3. Kylemore Abbey & Victorian Walled Garden, Galway – some of the most beautiful public gardens in Ireland
Set against the backdrop of the Connemara mountains, the Kylemore Abbey & Victorian Walled Gardens has a landscape that is wild and rugged and said to be one of the most beautiful gardens in Ireland.
There is much for explorers to enjoy and discover as the gardens have many treasures and delights to be found, such as bananas and grapes which grow in glasshouses, beautiful and rugged wild gardens, and long-winding woodland trails to walk on.
Address: Kylemore Abbey, Pollacappul, Connemara, Co. Galway, Ireland
2. Wells House & Gardens, Wexford – where magic and wonder collide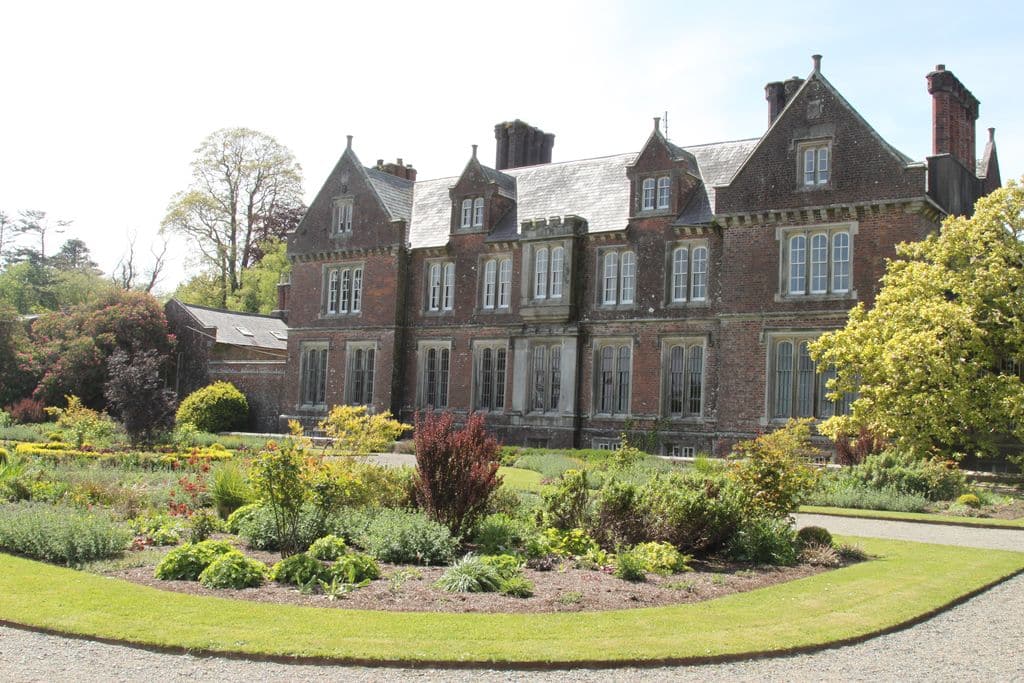 Wells House & Gardens located in the scenic green Wexford countryside are perfect for taking a long walk through as it contains beautiful and mystical woodlands and a stunningly beautiful Victorian terrace garden.
There is a magical atmosphere and aura at Wells House & Gardens along the Wells Fairy Trail where you might just encounter some of the wee fairy folk.
The old stables on the grounds have been converted into a Craft Courtyard which is a great place to pick up handmade trinkets. There is also the Mrs. Stone's Restaurant where you can try the best of locally sourced artisan produce.
Address: Ballyedmond, Gorey, Co. Wexford, Ireland
1. Garnish Island, Cork – Ireland's Garden of Eden
Number one on our list of the five most beautiful public gardens in Ireland, is Garnish Island, which is one of the highlights of the Ring of Beara. Garnish Island has been hailed as a rare beauty by many horticulturists throughout the world. 
The Italian style gardens at Garnish Island are a must-see as they have been called one of the most important gardens in Europe. The Italian gardens have a subtropical growth which has beech trees on the shore where even bananas can grow easily.
Besides having subtropical woodland gardens to see, Garnish Island is also home to a colony of seals, as well as having the Martello Tower upon which climbing you will be rewarded with breathtaking views of Bantry Bay.
That concludes our article on the top five most beautiful public gardens in Ireland to explore and enjoy. Have you been to any of them and if so, how magical was your experience?