Driving this incredible route would not be complete without seeing some of these top spots along the way. Here are 12 Ring of Beara highlights.
Most people who come to Ireland are captivated by the fantastic scenery, which is quite diverse for such a small country. One of the best ways to see these beautiful nature spots is by taking a scenic drive.
The Ring of Beara is one of Ireland's lesser-known scenic drives, but you will not get the full experience if you don't stop at these pivotal points along the way to take in the natural beauty.
If you have this drive on your Irish bucket list, be sure not to miss out on these 12 unmissable stops on this scenic Irish drive.
12. Mares Tail Waterfall – a seriously impressive cascade
If you are on this drive, you are more likely to be a true nature lover and that is why you should not miss the highest waterfall in both Ireland and the UK, which is close to the town of Adrigole.
Address: Cappanaparka West, Co. Cork
11. Garnish Island – an island discovery
This island is a hidden gem in County Cork and is in Glengarriff Bay is definitely one of the best Ring of Beara highlights.
It consists of some very tranquil walled gardens and a Martello tower, which is a great place to discover on your adventure.
Address: Glengarriff, County Cork
10. Whiddy Island Discovery Point – a must-see scenic spot
This Wild Atlantic Way Discovery Point is worth a stop off considering this island is located in one of the world's best deep-water harbours, and provides stunning coastal views.
Address: Tracashel, Co. Cork
9. Uragh Stone Circle – a step back in time
This Bronze Age site, located in County Kerry, is a must see for those wanting to take a step back in time.
Discover this impressive ancient and sacred site from Megalithic Ireland.
Address: Derrynamucklagh, Co. Kerry
8. Kenmare Town – a haven of tranquility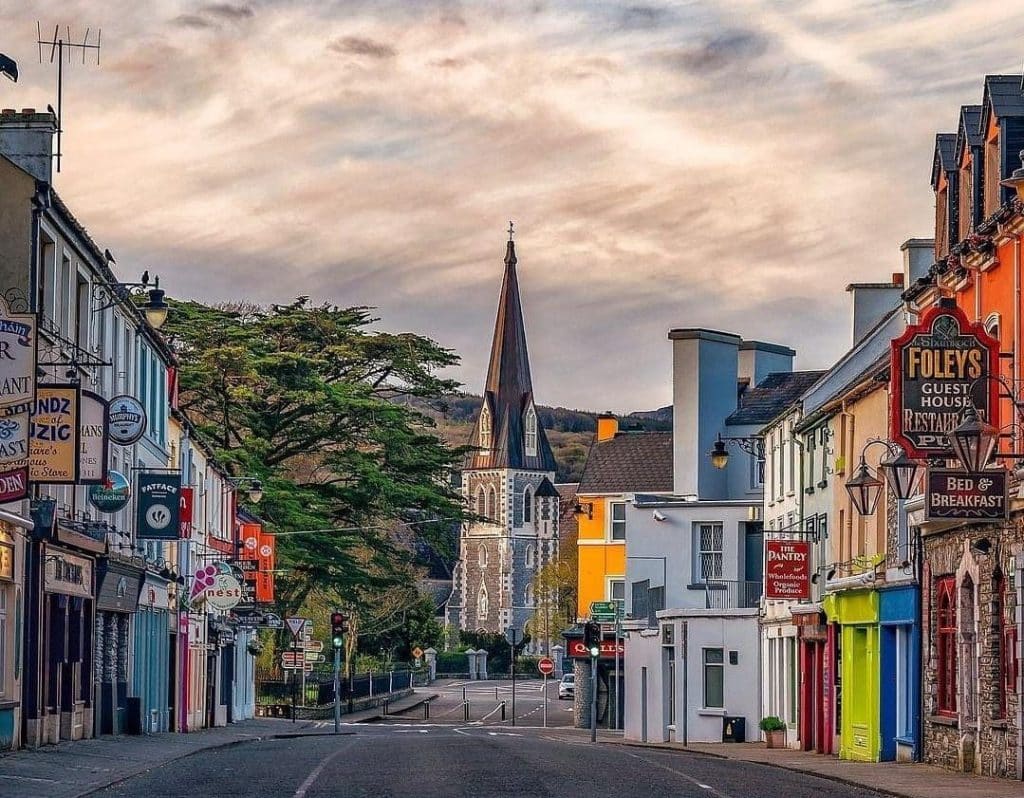 This is the town you will start your journey along the Beara Peninsula in.
Kenmare is a place to spend some time enjoying the local gourmet food, local culture, and stunning seaside views, before continuing on.
Address: Kenmare, Co. Kerry
7. Kilmackillogue Harbour – for unsurpassable views
Located on the north shore of the Beara peninsula, this is one of the best Ring of Beara highlights, due to its truly stunning views and peaceful vibes.
Address: R573, Loughaunacreen, Co. Kerry
6. Gleninchaquin Park – one of the best Ring of Beara highlights
Glenichaquin Park is the perfect place to stop off for a hike, picnic, or the ultimate photo stop.
With its stunning scenery, mountain paths, waterfalls, wooded areas, and log bridges, it is not to be missed.
Address: Gleninchaquin, Kenmare, Co. Kerry
5. Eyeries Village – the most colourful village en route
This very cute and ultra colourful village is one of the most scenic along the way.
It is also one of the most southwesterly points in Ireland. It overlooks both the coast and the mountains and is one of the best Ring of Beara highlights to see.
Address: Inches, Co. Cork
4. Allihies Beach – a tropical Irish stop off
Allihies is a pretty coastal village that is home to a stunning stretch of beach, which is definitely a spot not to overlook.
Complete with white sands and crystal blue water, you will be mesmerized by this beautiful find.
Address: Ballydonegan, Allihies, Co. Cork
3. Dursey Island – reached by Ireland's only cable car
On the southwestern tip of this fabulous scenic drive, you will find Ireland's only cable car, which takes you to Dursey Island – one of the few inhabited islands in this area.
This place is unique and is a haven for history, relaxation, and pure nature. When on your drive of the Ring of Beara, make sure to take the Dursey Island cable car.
Address: Co. Cork
2. Caha Pass – an awesome overview of Bantry Bay
This mountain road, which links Kenmare to Glengarriff, has birds-eye views of Bantry Bay and Glengarriff. Ireland's mountain passes are stunning and this is no exception.
Address: N71. Co. Cork
1. Healy Pass – the icing on the Ring of Beara cake
This is one of Ireland's greatest drives and is, of course, one of the best Ring of Beara highlights, which will blow you away.
Expect narrow, serpentine roads, otherworldly landscapes, and endless photo opportunities on this fantastic section of the peninsula.
Address: R574, Clashduff, Co. Cork
These ten best Ring of Beara highlights should not be overlooked when taking on this superb Irish coastal drive. However, in saying that, there will be many more to uncover along the way.
Other notable mentions
Castletownbere: This quaint town sits below the Caha Mountain in County Cork and is the Beara Peninusla's largest town. It offers beautiful views of Bantry Bay.
Allihies Copper Mine Museum: This is a museum dedicated to the history of copper mining in the Allihies area of Cork.
Bere Island: Found in Bantry Bay, this is a small island that lies only 2 km (1.2 miles) offshore from Castletownbere and can be reached by ferry.
FAQs about Ring of Beara highlights
How long does it take to drive the Ring of Beara?
The Ring of Beara driving route is around 130 km (80 miles). So, to drive non-stop would take you around three to four hours.
Where is Beara Peninsula?
The Beara Peninsula can be found on the border between counties Cork and Kerry in the Munster Province, southwest Ireland.
What else is there to do in Cork and Kerry?
You can head to Killarney National Park or Skellig Michael. Perhaps head to Cork City or take in Kerry and Ireland's largest mountain range, the MacGillicuddy's Reeks, the pinnacle of Irish landscape and a must add to your travel itinerary.