Ireland is known for its green landscape, but is also home to several beautiful flora. These Irish flowers punctuate the green with vivid colours.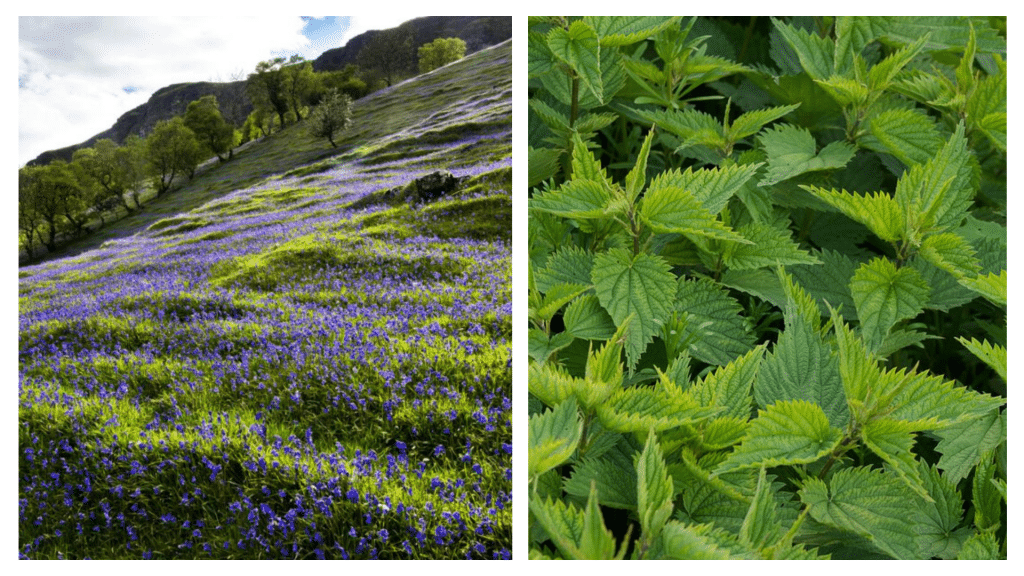 'The Emerald Isle', the island of Ireland, is famous for its green fields and rural countryside. When thinking of Irish plant life, most may think of the green three-leaf clover.
There are many Irish flowers which add colour to our scenery, from West Cork all the way to East Antrim. Welcome to our list of the top ten native Irish flowers.
Ireland Before You Die's top facts about native Irish flowers:
There are several beautiful public gardens in Ireland where you can find many of the species listed here.
Ireland's climate (including its frequently rainy weather!), varied landscapes, and rich biodiversity make for a diverse range of flowers in the country.
The flora in Ireland is influenced by the country's geographical location. As such, some Atlantic and Mediterranean species end up blooming here.
Boglands and wetlands are perfect habitats for unique flowers like marsh orchids and marsh saxifrage.
10. Buttercups – exposing those who like to eat butter
This yellow flower shines in Irish gardens, all over the island, during spring and summertime. Part of the Ranunculaceae family, buttercups have petals which curve upward, forming a cup-like structure, which gives the flower its name.
Everyone knows that the Irish love their food, but children use this native plant all over the country to prove who has a love for butter.
This practice is a folktale shared amongst schoolchildren for generations. One child will pick a buttercup and hold it under the chin of another; if a yellow reflection appears on the subject's chin, we have irrefutable evidence that this person loves a bit of butter.
9. Bluebells – a colourful carpet for the forest floor
Despite their name, this flower blooms into a colour closer to purple than blue. This unique-looking plant bends upon its stalk, with petals that imitate the shape of bells dangling from the stem.
These seasonal flowers show up in forests and woodlands during spring. They usually grow in large groups, carpeting the forest floor with beautiful patterns, appearing like purple blood vessels between tree roots.
Belonging to the hyacinth family, these flowers can be found all over the island, from Cork to Antrim.
RELATED READ: The Ireland Before You Die guide to Rowallane Gardens.
8. Hawthorn flowers – a tree in bloom
Hawthorn trees produce a white cluster of flowers during the early summer months. These trees often grow crooked, similar to the Whomping Willow in the Harry Potter series.
When the white flowers bloom upon the branches, these trees become stunning flecks of white in the countryside. In spite of its belying appearance, the fresh flowers aren't known for their scent.
Irish author Marita Conlon-McKenna uses the plant as a literary device in her most famous work, Under the Hawthorn Tree, highlighting the tree's importance to Irish literature and folklore.
7. Stinging nettle – the infamous plant
You know you're in the Irish countryside when you get stung by a nettle. This durable plant has hairs which produce a sting when disturbed.
During the summer months, these scary plants sprout tiny green flowers. Stinging nettles grow all over the country, so good luck escaping them.
Although, if you're a food lover, you may be able to whip up some nettle soup. Harvesting those feared leaves will surely put your blood pressure up; make sure to come prepared with some gloves.
6. Spear thistle – beautifully spiky
Perhaps more well-known as the national flower of Scotland, the thistle also grows natively in Ireland.
If you ever come across a thistle, then make sure not to get too close, for fear they might draw blood. This perennial plant can be spiky and prickly.
Atop these plants sit pink flowers. These flowers belong to the Asteraceae family and can be found in any wild grassland on the island during the summer and autumn seasons.
5. Foxglove – a childhood favourite
These unique flowers are plucked and worn over the fingertips of children in the Irish countryside during the school summer holidays. The brilliant, purple-tipped petals easily draw everyone's attention amongst the green brambles.
Some may think these are invasive plants because they stand out so vividly compared with other Irish flora. Still, the flower is native to Ireland, part of the Plantaginaceae family found by woodlands, mountains, and cliffs.
The colours of this plant are perfect for an art print or painting if you aim to capture the beautiful foliage of Ireland in an art piece.
4. Daisy – perhaps the most common of the Irish flowers
These flowers are common in gardens and are a perfect wildflower to add to your flower arrangements, or to be used in a child's friendship bracelet. The yellow centre, with white petals, is an angelic beauty that flowers from spring through autumn.
These flowers may not symbolise Ireland as the four-leaf clover does, but they are certainly more plentiful on the island.
3. Watercress – a yummy salad ingredient
This plant flowers with small, white-petaled flower heads between June and September. It can be found near water, such as streams, throughout the country.
Part of the Brassicaceae family, it's delicious in a salad. Just make sure you know the conditions it was grown in to be sure it's safe to eat.
2. Elder tree – a spring shrub
From the Adoxaceae family, these flowers bloom for only two months of the year, between May and June. This plant also has some edible parts, with berries you can enjoy.
If you're interested in food tourism and scavenging for fresh ingredients, you can find this plant nearly all over Ireland. A natural boost to your blood sugar, you can use the berries in jellies.
1. White clover – a small garden flower
This unique white and pink flower sprouts up on lawns during summer. From the Fabaceae family, this clover is found all over the island but appears more frequently in certain locations, such as East Cork.
These native flowers are a beauty to behold, with their thin petals in circular rows resembling spiked teeth protruding from an open mouth.
READ NEXT: Our guide to Antrim Castle Gardens.
Other notable mentions
The Easter Lily is a flower which represents Ireland and peace. The stalks are green, the petals white, with an orange interior representing the Irish flag's green, white, and orange tricolour.
This flower is very symbolic within Ireland. However, the plant is not native to the island; it originates from South Africa.
Your questions answered about native Irish flowers
In the following section, we answer some questions that appear in online searches, as well as those most frequently asked by our readers.
What is the national flower of Ireland?
The shamrock is often called the national flower of Ireland, even though this plant neither flowers nor is it native to the island.
What is the Rose of Tralee?
Rather than a plant, this is, in fact, a festival which takes place in Tralee, Kerry, to celebrate Irish people. It takes its name from the eponymous ballad, which names a woman the "Rose of Tralee" due to her beauty.
What are native Irish wildflowers?
These ten flowers are all native to the island and grow in the wild – i.e. without being planted by gardeners. Some grow in gardens, which some people may see as an eyesore.
Most wildflowers are resilient and can grow in various conditions, and since most of Ireland has a similar climate and landscape, many of these wildflowers grow all over the island.