The Northern Irish countryside is a paradise for hikers and walkers. Here is a list of the top hike or walk from every county.
Rolling hills, green fields, and thousands of pathways to explore, there is nowhere better to go hiking than in Northern Ireland. It has everything from mountains to coastal routes, so you're sure to find some hike or walk in Northern Ireland that tickles your fancy.
By exploring the six counties of Northern Ireland, you will be treated to some spectacular views, unlike anywhere else in the world, so on a clear day, it's no surprise that visitors can be found flocking to the country's hotspots to enjoy a leisurely walk or an invigorating hike.
Below we have listed the top six hikes in Northern Ireland, one for every county. So if you're looking for somewhere to head when the weather is good then keep on reading.
6. Cuilcagh Boardwalk Trail, Co. Fermanagh – climb the Stairway to Heaven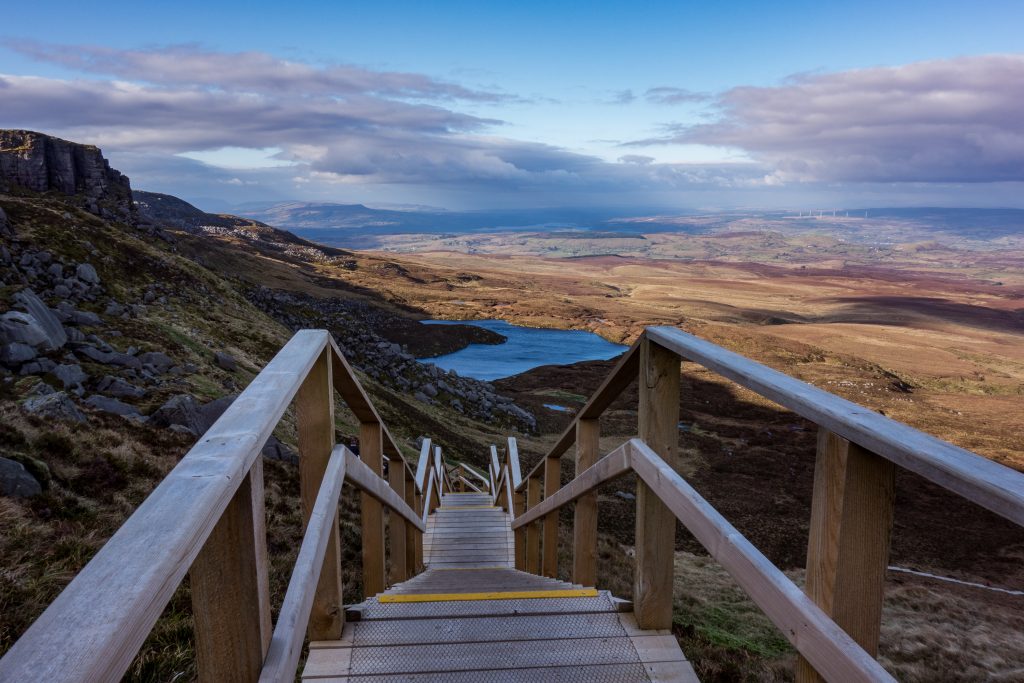 Nicknamed the Stairway to Heaven due to its 450 steps leading to the peak, the Cuilcagh Boardwalk Trail is one of the most picturesque in the whole of Northern Ireland.
Cuilcagh Mountain is located just ten miles outside of Enniskillen town in County Fermanagh. Doing the walk on a clear day means you will be treated to breathtaking views of the lowlands surrounding the mountain and further afield.
Difficulty rating: 8/10
Duration: 3+ hours
Address: Marlbank Rd, Florencecourt, Enniskillen BT92 1ER
5. Cave Hill, Co. Antrim – take in all of Belfast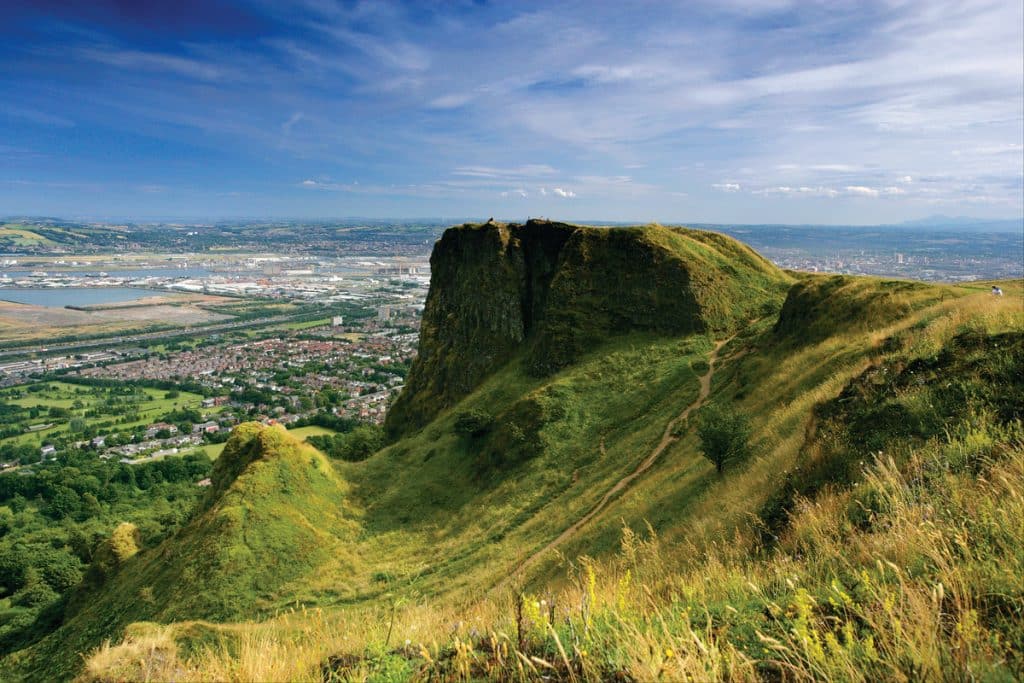 Right in the centre of Northern Ireland's capital city, Belfast, Cave Hill is a must-do if you're visiting the city. Known as Belfast's 'sleeping giant', the hill inspired Jonathan Swift's Gulliver's Travels.
Beginning at Belfast Castle, the 4.5-mile climb offers visitors unrivalled views over Belfast City, and you're sure to feel accomplished once you have completed the challenging walk.
Difficulty rating: 7/10
Duration: 2-3 hours
Address: Antrim Rd, Belfast BT15 5GR
4. Boorin Nature Reserve, Co. Tyrone – the perfect summertime walk
Boorin Nature Reserve is a great place to go for a walk in the summertime as you can enjoy the stunning views as well as get a glimpse of the wildlife who inhabit the reserve.
The small, pointed hills of the reserve were formed during the last Ice Age when the melting ice left behind large areas of sand and gravel. Today the hills are covered with heather and surrounded by peat bog which creates many pleasant views along this walk.
Difficulty rating: 4/10
Duration: 1 hour+
Address: Boorin, Gortin
3. Binevenagh Mountain Walk, Co. Derry – check out these spectacular sights
A short walk along the forest path will lead to a steep uphill climb which finishes at the summit of Binevenagh Mountain in County Derry.
The views from Binevenagh Mountain stretch for miles around, and you can even see as far as the west coast of Scotland on a clear day! To the south-west, you'll be treated to views of River Roe meandering its way towards the sea at Lough Foyle, and north-west you'll see the Magilligan peninsula.
Difficulty rating: 7/10
Duration: 5+ hours
Address: Binevenagh, Limavady BT49 0JG
2. Slieve Gullion, Co. Armagh – wander through an Area of Outstanding Natural Beauty
The Ring of Gullion in County Armagh is known as an Area of Outstanding Natural Beauty. Slieve Gullion sits at the heart of the Ring of Gullion and is the highest point in the whole county sitting at 573 metres.
The forest park offers stunning woodland trails as well as breathtaking views across the Ring of Gullion, Mourne Mountains, Cooley Peninsula, and Armagh Drumlins. It's a great place to bring the kids as well as being home to an Adventure Playpark, the Giant's Lair – a children's story trail- and a walled garden.
Difficulty: 6/10
Duration: 4+ hours
Address: 89 Drumintee Rd, Meigh, Newry BT35 8SW
1. Slieve Donard, Co. Down – Northern Ireland's highest peak
We couldn't make a list of the best hikes in Northern Ireland and leave out the country's highest peak, Slieve Donard. Sitting at 850 ms tall, the mountain sits majestically above the Mourne Mountains – another Area of Outstanding Natural Beauty.
The hike starts in Newcastle, then works its way up through Tollymore Forest Park before finally reaching the Mourne Wall where you make your final ascent. Once you reach the top, you will be treated to incredible panoramic views stretching as far as the Isle of Man, Wicklow, Donegal, Wales, and Scotland.
Difficulty: 9/10
Duration: 4+ hours
Location: County Down, Northern Ireland
There you have it, our top picks for the best hikes or walks in every county of Northern Ireland.