Slemish Mountain is noteworthy for being not only Saint Patrick's first home on the Emerald Isle, but also an amazing hike.
As the feast day of one of Ireland's patron saints, fast approaches, we reckon it is only appropriate to take a moment to appreciate one of the best-known landmarks associated with the celebrated Saint Patrick.
Slemish Mountain (historically called Slieve Mish) is a significant peak that dominates the charming County Antrim skyline and is a valued heritage site known to be Patrick's first known Irish home.
This iconic peak is shrouded in history and legend and is a popular place for hikers and pilgrims alike. Climb to the summit of the majestic Slemish Mountain and you will walk in the footsteps of the controversial figure who played an integral part in the shaping of Irish history and culture as we know it today.
Whether you are a fan of the patron saint or are simply seeking an epic hike, here is everything you need to know about our amazing hike of the week: Slemish Mountain.
Slemish Mountain – a peak fit for a patron saint
Rising 1,500 feet above the plains of County Antrim, the peak of Slemish is what remains of an ancient and long-extinct volcano. Its distinctive appearance, with its rugged and steep slopes, contrasts with the tidy rolling fields and flat bogland below, causes the mountain to dominate the surrounding landscape for miles and miles around.
You will never get lost looking for this beauty – it's a hard one to miss!
Located 10 km (6 miles) from the lovely town of Ballymena, Slemish is situated within an Environmentally Sensitive Area (ESA), forming an important part of the landscape, protecting the flora and fauna that inhabit its slopes. As such, the peak is a wonderful place for birdwatchers and nature enthusiasts, with an abundance of natural wildlife waiting to be found.
Not only is this iconic peak known for appearance and ecological importance, but it is also traditionally known to be the first known home of the renowned, legendary and oh so controversial figure that was Saint Patrick.
Saint Patrick – origins of a legendary saint
According to tradition and legend, Saint Patrick was captured from his home in Roman Britain and brought back to Ireland as a slave in the 5th-century, where he was put to work as a shepherd at Slemish. He remained there for about six years, herding livestock in all weathers, frequently turning to prayer and reflection as the only consolations for his situation.
During this period, Patrick had visions, urging him to escape from his master and return home. He indeed did this and travelled nearly 200 miles, probably to Wexford or Waterford, where he completed his escape back to Britain.
Once home, he received training and became a bishop. Prompted by another vision, Patrick returned to Ireland in 432 AD, allegedly to convert his old master and from then his controversial story of conversion continues.
Route – a short and strenuous climb with an epic and extensive view
The popular hiking route is well sign-posted from the main motorway and local roads and commences at the carpark at the foot of the mountain, about a 20-minute drive from Ballymena.
The Slemish Mountain Loop Walk is about 1.5km in length and takes approximately 1-2 hours, depending on pace and the weather. The trail begins along a grassy path, after which you can choose your own short but strenuous route to the summit at 437 meters.
Once you catch your breath at the summit, you are rewarded with great 360-degree views of your surroundings. On a clear day, you can see Ballymena, Lough Neagh and the Sperrin Mountains in Tyrone to the west, the Bann Valley and the Antrim Hills to the North.
On a good day, you can see the sleeping giant of Cave Hill lying above Belfast Lough in the south and to the north, the ancient sea of Moyle (the narrowest part of the North Channel).
After your challenging ascent to the summit, we promise that the descent is much easier. Just take your time, enjoy the mind-blowing views and watch out for the local flora and fauna!
The peak is open to visitors all year round, however, the St Patrick's Day climb of Slemish is one of the most popular days for climbing with upwards of 3,000 visitors. The mountain is part of the St Patrick's Trail, a 92-mile driving route linking 15 sites across Northern Ireland, all identified as having some connection to Patrick's life and legacy.
Expectations – what to bring, wear, and expect on your hike
As always, when planning your hike, it is important to know what to expect and to go prepared. The hike itself is relatively short at approximately 1.5km, however, the route is strenuous and steep and can take up to 2 hours depending on pace and weather. The path can become very slippery in wet weather so care should be taken.
Please ensure that you come equipped with good strong walking boots and walking poles to assist you on the steep descent. As the weather in Ireland can be unpredictable and changeable, make sure to bring something to drink, a waterproof jacket and if needed, trousers.
For users of the Ordnance Survey Maps, refer to the OS Northern Ireland, 1:50,000; Discoverer Series, Sheet 9 – Larne and Ballymena.
Parking is currently free and is available at the foot of the mountain, where a picnic area and toilets are also available.
Planning the ultimate Slemish experience? – check out some of our recommendations
To make the most out of your excursion to Slemish Mountain, we recommend arriving bright and early to ensure you get parking and better still, enjoy the hike in absolute peace. We recommend going in the mid-late spring/early summer to enjoy this trek and take in the phenomenal views.
Why not bring a picnic with you? Enjoy a couple of ham and cheese sambos after your hike at the picnic area, or better still, enjoy them when you reach the summit and are taking in those stunning views.
After your hike, you can explore the length and breadth of County Antrim and maybe venture further afield and explore the many sites and attractions available to visitors to Northern Ireland.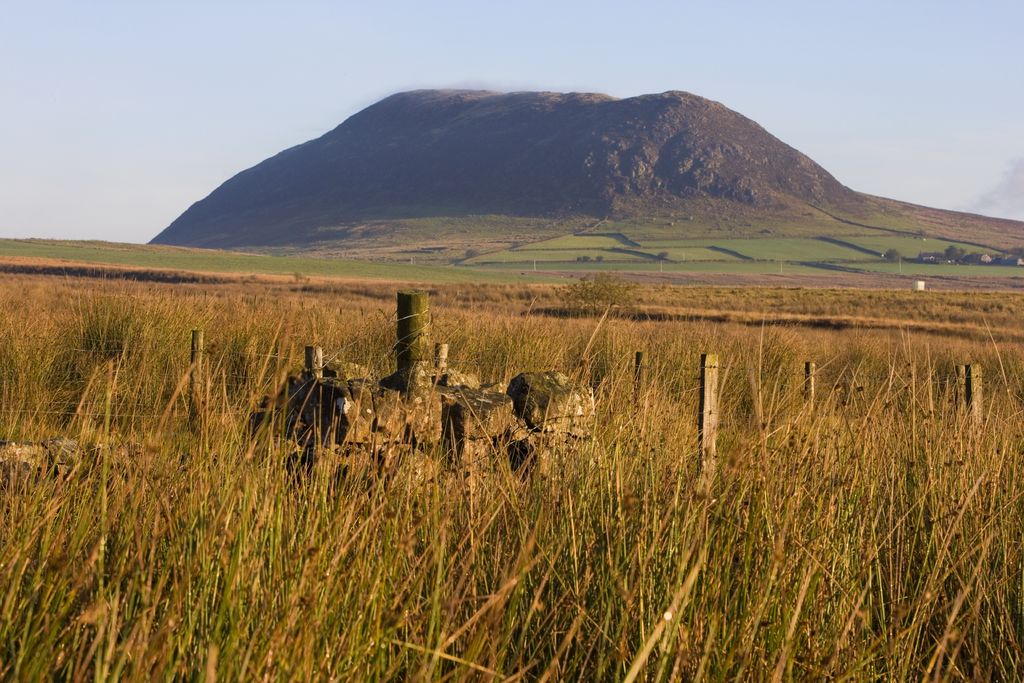 Make the most of your day and take advantage of a good photo opportunity at the Dark Hedges (a 40-minute drive away) or take a trip to the Old Bushmills Distillery (about 55-minute drive away). See our recommended route here.
There are plenty of places to stay near Slemish Mountain if you are traveling from further afield, from luxurious hotels, like the Galgorm Spa & Golf Resort (click here to learn more) to quirky Airbnb's like Gracehill Cottage (see here for more information).
Well, there you have it! If you are planning an excursion to Slemish Mountain anytime soon and are including this hike on your itinerary, let us know how you get on!
Location: Slemish Mountain, Carnstroan Lane, Broughshane, Ballymena, Co. Antrim BT42 4PE