Searching for some sun, sea, and sand in the southeast? Then check out our list of the five best beaches in Waterford.
Situated in the heart of Ireland's Ancient East, the city of Waterford is brimming with history, culture, and scenery.
Said to be Ireland's oldest city, having been established by the Vikings in the ninth century, it is widely known for its glassmaking industry, ruins, and modern-day treasures.
Alongside being home to the country's longest greenway, it boasts multiple sandy havens (around fifty!) along a 147 km (91 miles) coast. All of which have proven to be popular amongst locals and tourists alike.
Should you find yourself looking for seashores in the southeast along which to walk the dog, go for a swim, or simply spend some quality time with loved ones, then look no further, for we have got you covered.
Here are five of the best beaches in Waterford, ranked.
5. Bunmahon Beach – a picture-perfect paradise
Located in a historic mining village, this 5 km (3.1 miles) long stretch is situated at the heart of the Copper Coast UNESCO Global Geopark.
At the west of the beach is a cliff range from which you can peruse Waterford's beautiful coastline and soak up the stunning scenic views on offer.
Alongside boasting a wide range of flora and fauna, Bunmahon Beach is a prime spot for water sports. You'll often find people surfing, canoeing, and kayaking.
Suitable for all the family, including dogs (provided they are kept on a leash), this Blue Flag site is something of a hidden gem.
Address: Muir Cheilteach, Ireland
4. Woodstown Strand – for brunch on the beach
Said to be one of the best beaches in Waterford, Woodstown Strand is a sandy dog-friendly stretch encompassed by a large private forested area.
It is also situated on the banks of the estuary created by the Suir, Nore, and Barrow rivers.
Favoured for swimming when the tide is in and leisurely strolls when it is out, Woodstown Strand is the perfect place for picnics and spending days out with family and friends.
In addition to its incredible surrounding scenery, tourists can also visit the ancient Harristown passage tomb located nearby. Alternatively, you can grab a bite to eat at a local restaurant for some dining with a view.
Address: Unnamed Rd, Co., Woodstown Lower, Waterford, Ireland
3. Ardmore Bay – surrounded by several protected beaches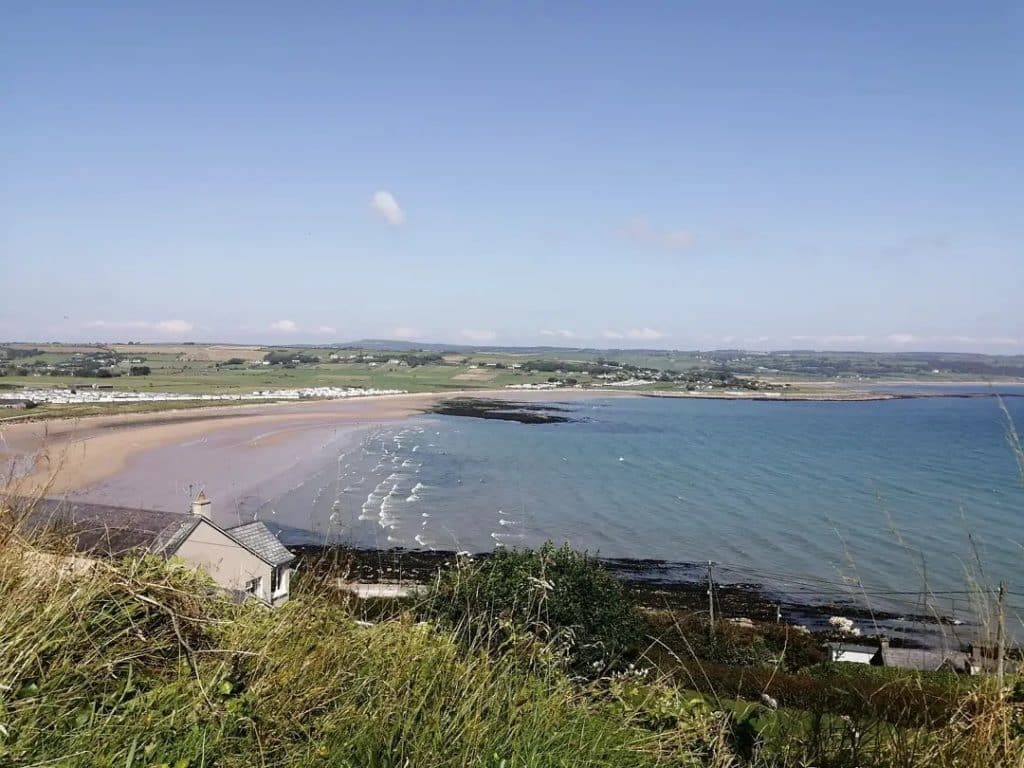 Situated in a small tourist town, this mile-long Blue Flag Award sandy beach – dubbed the 'main beach' – is a known favourite for swimming, canoeing, kayaking, sea paddling, and rock pooling.
There are several different beaches in and around the Ardmore area. These include, but are not limited to, Curragh, Ballyquin, and Goat Island. All three of these have received certified Green Coast Award status.
There is also a nearby 12th-century medieval cathedral ruin complete with a 100 ft (30 m) round tower that provides a perfect nod to local history.
Address: 2-6 Cois Trá, Duffcarrick, Ardmore, Co. Waterford, P36 WT25, Ireland
2. Clonea Beach – one of the southeast coast's best beaches
Undoubtedly one of the best beaches in Waterford, Clonea Beach is a long, wide stretch known to attract locals and holidaymakers alike. This Blue Flag Award beach is also situated along the Copper Coast trail.
Popular all year round, the beach boasts stunning panoramic views across the sea and Comeragh Mountains. It also offers several scenic routes.
In addition, its shallow waters enable safe swimming and various water sport opportunities. The beach is perfect for all ages, and dogs are allowed, provided they are on a leash.
Address: Clonea, Dungarvan, Co. Waterford, Ireland
1. Tramore Beach – one of the finest bays in Ireland
A 5 km (3.1 miles) sandy beach said to be home to some of the highest sand dunes in the entirety of Ireland, Tramore Beach is consistently a hit amongst locals and tourists.
Favoured for swimming, surfing, kayaking, fishing, and pony-trekking, this beach – whose name means 'Big Strand' – sits along Waterford's Atlantic coast.
Tramore is also home to a 500-hectare tidal lagoon named 'The Backstrand'. This lagoon, though filled by three small rivers (the Keiloge, the Glendudda, and the Gaurran), empties every 12 hours through the neighbouring Rinnashark Channel.
It is said to be one of the finest bays in all of Ireland. So, a visit to this Blue Flag Award site is a must when considering a beach day out in Waterford.
Address: Tramore West, Tramore, Co. Waterford, Ireland
And there you have them: the five best beaches in Waterford, ranked. Be sure to let us know which one is your favourite!