The Copper Coast Road in Waterford stretches from Tramore to Dungarvan and is one of the country's most-underrated scenic drives.
The Copper Coast Road is an ideal drive for those under time pressure. It is a beautiful road-trip that can be quickly completed in just one day! Pack your swimming-togs and load up your picnic baskets, because we're about to take you on a whistle-stop tour of the five most perfect pit stops along the Copper Coast Road.
5. Annestown Beach – a classic seaside village
Annestown is a charming little village on the Tramore side of the Copper Coast Road, with a Green Coast Award-winning beach as its central attraction. On a warm day, Annestown Strand is a popular spot for swimmers, surfers, and sun-worshippers alike.
Although close to buzzing seaside resort town Tramore, this beach is a hidden gem known only to locals. Park up and claim your spot on the sand for an idyllic dose of vitamin sea.
In high season, an old-school ice-cream stall is open just behind the main strand – worth indulging for one of the most picture-perfect and pocket-friendly dining experiences you'll ever have.
Address: Ireland
4. Kilfarrasy Strand – otherworldly rock formations
If geology is your thing, then you'll think Kilfarrasy rocks (sorry!). Kilfarrasy Beach is famous for its distinctive cliffs and rock formations, which both surround the beach and pop up out of the sea – these geological wonders are thought to be a whopping 460 million years old.
If you think the name sounds familiar, you may have seen locally-made Kilfarrasy vegan soaps being sold at your local maker's market.
Spend a few hours sheltering under the enclaves in the cliff walls and paddling out to inspect the majestic rock islands, and you'll leave feeling like Indiana Jones. On a sunny day, you could be on one of the world's most exotic beaches when strolling down Kilfarrasy's rocky strand – and this is why it's one of our favourite stops on the Copper Coast Road.
Address: Islandikane South, Co. Waterford, Ireland
3. Copper Coast Mini Farm – visit the animals
The Copper Coast Mini Farm in Fenor is the perfect pit stop for families driving the Copper Coast Road. If you are starting in Tramore, you will hit the farm very early in your journey – the ideal way to start an exciting day for the little ones. Once arrived, you will have the chance to get up close and personal with your favourite farm animals under the careful supervision of the Curran family, who own the facility.
Feed, pet, and get priceless photographs with the critters – and there are even wet-weather facilities in case the sun isn't on your side. For younger children, the sandpits and ride-on toy tractors are bound to be a hit. If you're feeling peckish, the onsite café is the perfect place to refuel on homemade goodies before heading to your next stop.
Address: Ballyadam, Co. Waterford, Ireland
2. Bunmahon Village – culture and views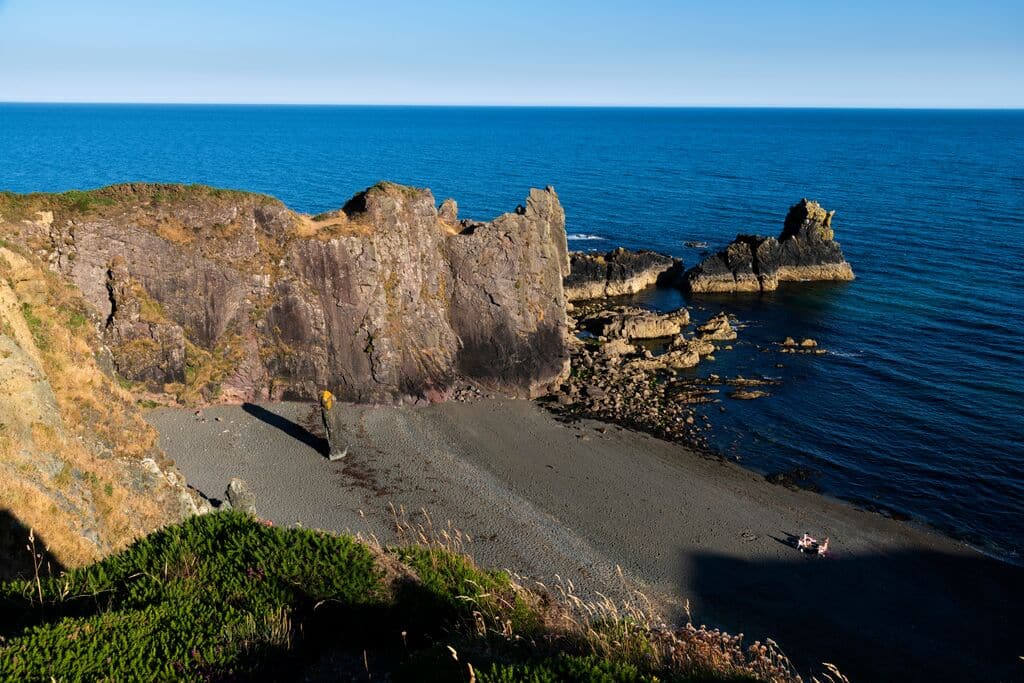 Bunmahon Beach is a famous 2.5 km trail of some of the most unspoiled coastline in the south-east of Ireland. Generally a quiet spot, a surf lesson or dip here is good for the soul. If you don't fancy braving the waters, stop at a viewpoint or choose one of the many scenic walks to appreciate the natural beauty around you.
For history buffs, there is plenty to see and do in Bunmahon. Visit the Copper Coast Geopark Visitor's Centre for an overview of the village's rich past, and then head towards the geological park to see a genuine Ogham Stone alignment. Nearby Tankardstown Mines offer the chance to explore the remains of an old Engine House typical of the mining industry that gave the Copper Coast its name.
Culture buffs will be charmed by The Art Hand, a local studio known for creating complex designs in the sand on local beaches. The Visitor's Centre occasionally hosts intimate gigs and cultural events – check their website to coordinate your visit with one of these.
Address: Muir Cheilteach, Ireland
1. Stradbally Cove – a beach within a forest
This list is very beach-heavy – but hey, they don't call it the Copper Coast Road for nothing! Stradbally Cove is an absolute gem of a beach. The infrastructure is mostly untouched by human hands, which can make it challenging to find suitable parking – but we promise, this one is worth the inconvenience.
Hidden from the road by forestry, be sure not to miss the turn-off for one of the best-kept secrets you'll ever come across. How many other places can you walk on white sands and swim in pure blue oceans while looking up at towering oak trees?
Stradbally is so unique in its beauty that it doesn't quite feel real – and this is why it nabbed the top spot on our list of perfect pit stops along the Copper Coast Road.
Address: Stradbally More, Co. Waterford, Ireland