In search of a great place to grab a pint and catch the game? Look no further, for we've rounded up the top five bars for live sports in Belfast that we believe will provide you with a great match day experience!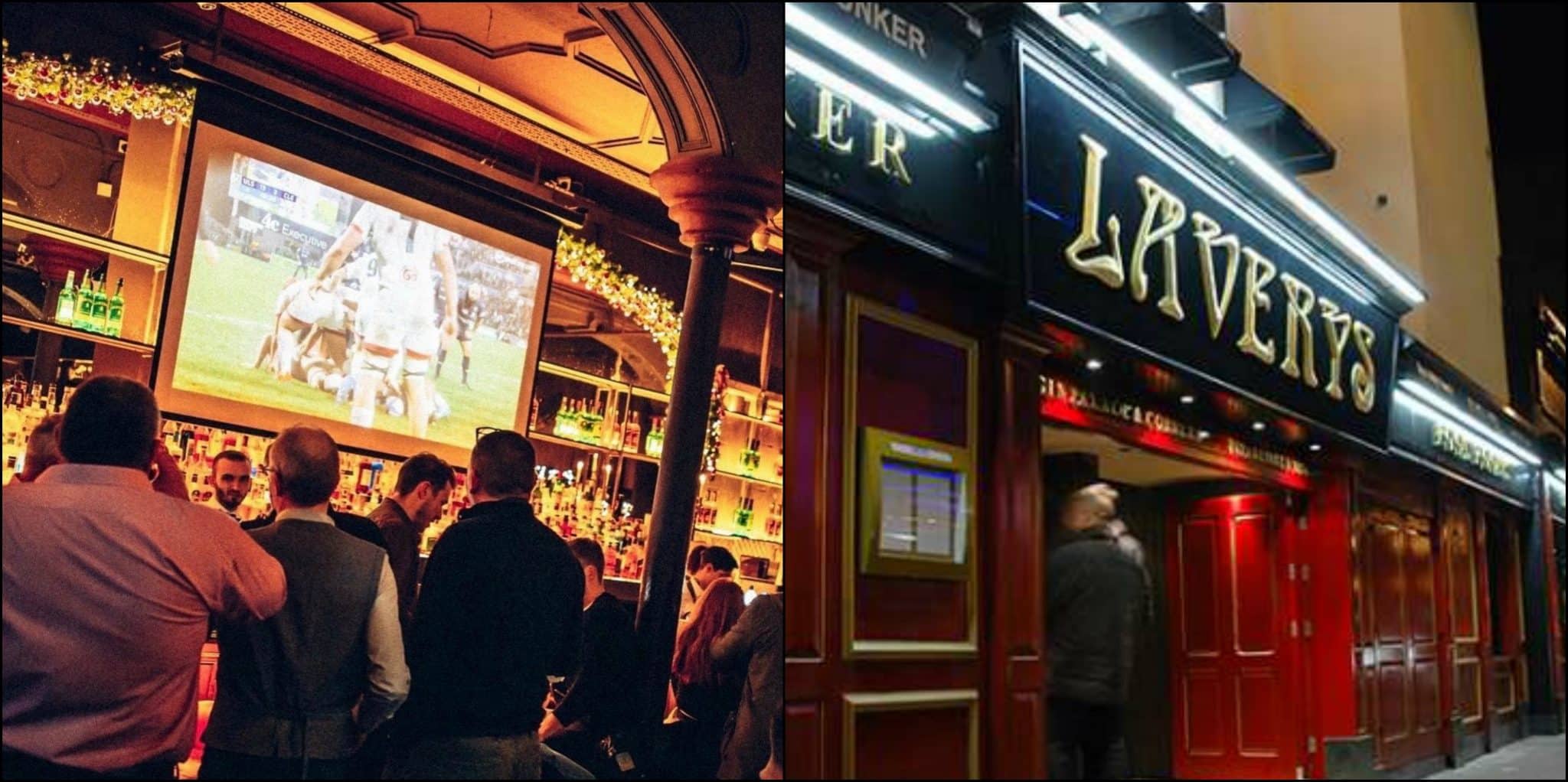 Belfast, the capital of Northern Ireland, is home to a variety of bars that offer not only food, drink, and live music, but also the ability to watch a variety of sporting events.
As knowing which venue to choose can prove a little daunting at times, we have made things easier for you by putting together a list of the city's most popular pubs in which to catch the hottest fixtures.
Below are the top five bars for live sports in Belfast.
5. The Garrick Bar – for a more old-school viewing
One of Belfast's oldest bars, The Garrick offers sports fans the chance to settle in with some excellent 'pub grub' and watch the match. Covering a wide range of sports including football, rugby, GAA, boxing and golf on its multiple television screens (and one large projector screen), it is undoubtedly a popular city venue.
Furthermore, with screens present in both the front and back bars, it is no wonder that this place is considered one of the top five bars for live sports in Belfast.
Address: 29 Chichester St, Belfast BT1 4JB
4. Henry's – for a more subdued setting
Another establishment popular for hosting regular viewings of sporting events, Henry's offers a wide selection to choose from including football, rugby, boxing, horse-racing and more.
The position of the large screen (which hangs directly behind the bar) enables spectators to keep tabs on the game at all times – no matter whether sitting down to eat or queueing up for a pint. Additionally, with its dog-friendly policy and cosy atmosphere, it is easy to see why Henry's is beloved by many.
Address: 4 Joys Entry, Belfast BT1 4DR
3. The Kitchen Bar – best venue for Victoria(n) vibes
This Victorian pub is well-known for its food and drink, as well as reportedly being home to the 'biggest screen in Belfast City Centre.' With multiple televisions situated throughout the restaurant and bar areas, it is no surprise that this popular venue – located in Victoria Square – tends to be packed out for major sporting events.
Covering mainly football and rugby, The Kitchen Bar is a great venue in which to get together with friends, enjoy some replenishment, and catch the game on one of their many widescreens.
Address: 1 Victoria Square, Belfast BT1 4QG
2. The Berliner – best place to watch a range of sports
With various showings of rugby, boxing, UFC and football matches on offer, this bar – though relatively new – has quickly become one of the best places to watch live sports in Belfast. Its numerous HD and projector screens offer diners the ability to watch the game whilst enjoying a nice meal and catch-up with friends.
Highly popular amongst students and families alike, The Berliner has been said to equal its predecessors (The Deer's Head pub and Aether & Echo) as a reputable venue offering fine dining and live entertainment – hereby making it one of the top five bars for live sports in Belfast.
Address: 1-3 Lower Garfield St, Belfast BT1 1FP
1. Lavery's – the best Belfast has to offer
Dubbed Belfast's best live sports venue due to its wide array of LCD screens on which to watch the latest football and rugby matches, Lavery's has become somewhat of a weekend staple. One of the best pubs in Belfast, and a great place to grab some food before the game, many make use of its numerous pool tables and roof terrace for socialising.
With three floors consisting of different rooms: Public Bar, Back Bar, The Ballroom, The Woodworkers and The Cobbles – among others – it isn't hard to see why this venue clinches the number one spot on our list of the top five bars for live sports in Belfast.
Address: 12-18, Bradbury Pl, Belfast BT7 1RS
And there you have them: the top five bars for live sports in Belfast.
So whether you are looking to have a quiet one with your mates in an intimate setting, or to catch the game in and amongst a large group of fellow supporters and/or spectators, there is a place for everyone. From dog-friendly venues to those with various floors and rooms, Belfast offers a wide range of bars in which to see live sports – no matter your desired match day experience.
Get featured on Ireland Before You Die
Do you want to get your Irish business more online exposure? Especially to those interested in travelling the best places in Ireland? Then why not get a dedicated feature on Ireland Before You Die. Find out more 
here.
Legal Disclaimer
We cover articles relating to many activities. Some of our articles showcase gaming and gambling as activities. While we do not take money for bets or own any gambling venues, we feel it is important that our readers know the risks of such venues or sites that we may mention in our articles. Gambling involves risk. Please only gamble with funds that you can comfortably afford to lose. See our legal disclaimer for more info.