The Northern Irish capital is an underrated destination to explore. Here are 5 reasons why we think you should visit Belfast in 2020.
Belfast may be on the smaller side when it comes to capital cities, but you shouldn't let its size fool you. Bustling with top-class restaurants, incredible nightlife, and a packed history down every street—Belfast is a deeply cultured city with a great deal to offer its visitors.
In 2018, Lonely Planet listed Belfast as its best place to visit, beating out the likes of Japan's Kii Peninsula and USA's Alaska. With that in mind, no matter whether you're spending two days in Belfast or an entire month, listed below are five reasons why we think you should visit this wonderfully vibrant city in the New Year.
5. The Peace Walls – for an understanding of Belfast's complex history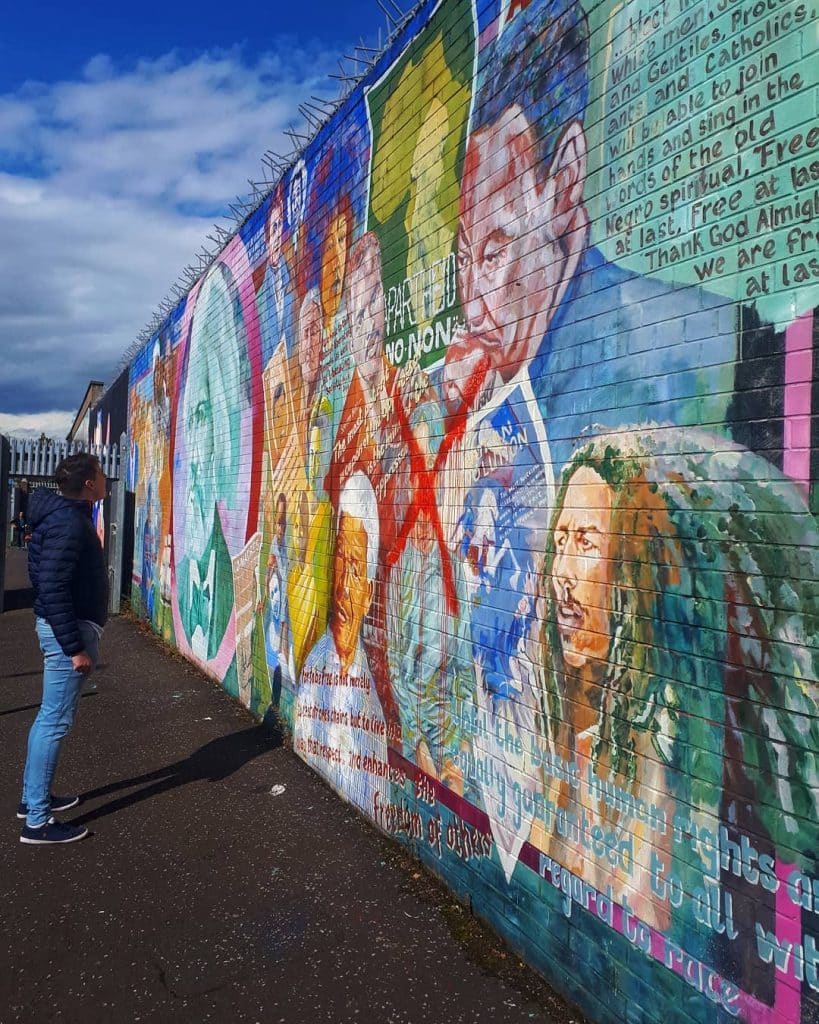 The city's history is the first reason why we believe you should visit Belfast in 2020. The now well-known "Peace Walls"—the first of which was built in 1969—were created to separate warring Catholic and Protestant areas from one another during an era known as the "Troubles".
Found throughout the city, these walls are adorned with both political and religious symbolism. The walls are also coated in a bright array of artwork which has become something of a tourist attraction in recent years.
You can visit these walls free of charge, but if you want to get a rounded view of the Troubles and learn more about Ireland's history, we recommend taking a black cab tour and asking for a "mural tour" of Belfast.
4. The restaurants – so you can enjoy Belfast's delectable food and drink
In 2018, Belfast was named the world's best food destination at the International Travel and Tourism awards, pipping other global food destinations such as San Sebastian/Donostia in Spain. We're pretty proud of this achievement and want people to come and see for themselves how amazing Belfast's burgeoning food scene is!
In the last six or seven years, the city has exploded with top-class restaurants offering many different styles of cuisine. Mexican? Sorted. Indian? You betcha. Asian? Oh my God, don't even get us started.
If you prefer your food spicy and sizzling with flavour, we recommend Acapulco on the Upper Newtownards Road. If Italian is more your thing, then be sure to visit Villa Italia on University Street. You can thank us later.
3. The nightlife – because Belfast is a fun place to let your hair down
We believe that Belfast has some of the best nightlife to be found in all of Ireland. If you visit here, we can safely assure you you'll not be left without something to do when night falls.
For nightclubs in Belfast, you have the amazing Limelight on the Ormeau Avenue, established as the most famous venue for live music in the city having hosted acts such as Oasis, Jeff Buckley, and the Arctic Monkeys. If a gay bar is more your style, then don't worry, Belfast has you sorted there too—the Kremlin nightclub is a two-floored Soviet-themed cocktail and disco bar that can be found on Donegall Street. 
If all you're after is quiet pint in a traditional Irish pub, you can't go wrong with McHugh's in Queen's Square.
2. The museums – to take in a bit of culture
If you're on a family trip the W5 science museum located in the Odyssey Pavilion cannot be overlooked—especially if you have science-interested children. With interactive exhibits and climbing and robot attractions, a day here will be a cherished memory for all. It also hosts daily demos, so you'll be sure to catch something fun.
The Ulster Museum is another wonderful place for all to come and explore; we promise that you'll find something that interests you at this wonderful location. Visitors can expect to get up close and personal with an ancient Egyptian mummy, dinosaurs big and small, and see some of the most beautiful collections of art, history, and natural sciences in all of Ireland.
1. The people – because you won't find better craic anywhere in the world
We didn't have to think long about what should make number one on this list. Like all of the world's greatest cities, Belfast is only as amazing as the people who make it up.
You're likely to find a friendly stranger who will be more than happy to point you in the right direction if you're lost. Don't be surprised either if you find someone striking up a conversation with you at a bar; us Irish really do love hearing—and more importantly, telling—a story!
Simply put, its people are the number one reason why we think you should visit Belfast in 2020.
So there you have them: five reasons why we think you should visit Belfast in the New Year. We look forward to hopefully welcoming you!
If you are interested in Belfast, you should consider a 'More than the Troubles' walking tour.