From Michelin Star restaurants to laid-back eateries offering a relaxed atmosphere and affordable prices, here are the best restaurants in Belfast for all tastes and budgets.
Belfast rivals many major capital cities when it comes to unforgettable dining options. Offering something for everyone, from laid-back diners to upscale gastronomic experiences, Belfast city has it all.
So, whether you're celebrating special occasions, are looking for romantic restaurants to treat your date, or just fancy a delicious bite to eat, Belfast is sure to offer up something special.
Salivating yet? If not, you will be once you've made it through our list of best restaurants in Belfast for all tastes and budgets.
Ireland Before You Die's top tips for the best restaurants in Belfast:
Belfast has an incredible variety of restaurants. Research your preferred cuisine to find the best one for you.
Check ahead of time if your chosen restaurant requires bookings. If so, book a table well in advance.
If you have dietary requirements, be sure to check with the restaurant before you visit to make sure they can accommodate you.
Be sure to sample the wonderful foods specific to Belfast on your trip.
20. Blu Restaurant ‒ for delicious European classics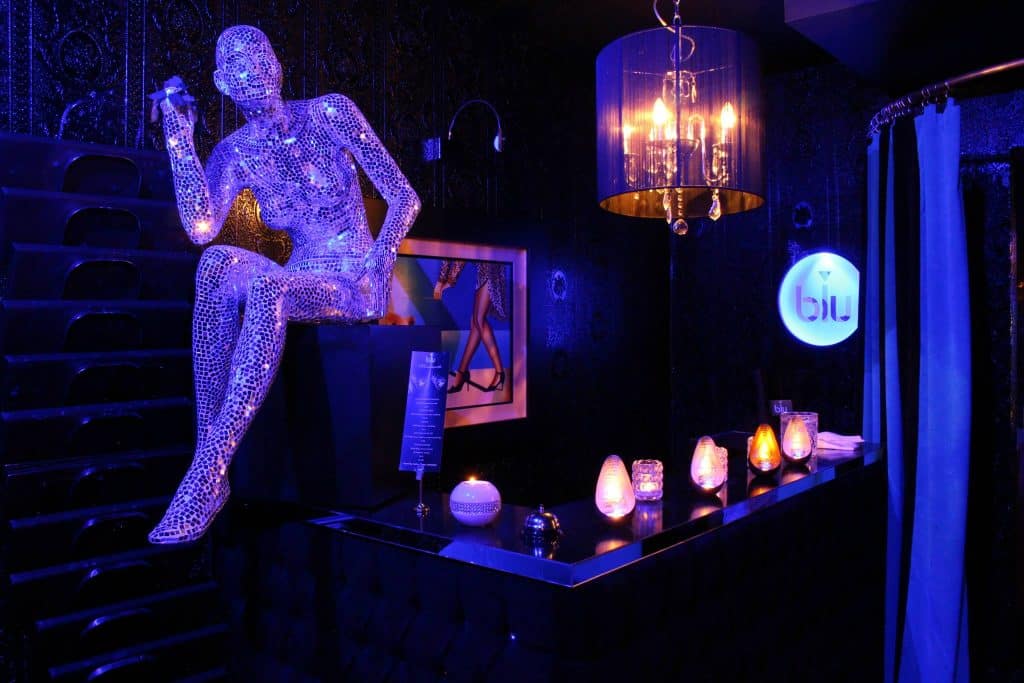 Located in the city centre, this understated upscale restaurant is a firm favourite with restaurant lovers in Belfast.
Serving up European cuisine, decadent desserts, and classic cocktails, this is a dining experience you won't forget. They even offer a delicious brunch menu for those who want to start the weekend right.
Address: 13 Rosemary St, Belfast BT1 1QA
19. Zen ‒ for an unforgettable Asian taste experience
There are several fantastic Asian cuisine restaurants in Belfast City Centre. However, for us, Zen is among the very best.
Offering fabulous cocktails, an all-day menu, and a prime location just behind City Hall, this trendy restaurant is undoubtedly one of the best restaurants in Belfast.
Address: Enterprise House, Adelaide St, Belfast BT2 8FE
MORE: our article on the best Asian restaurants in Belfast
18. Bo Tree Kitchen – for an authentic Thai dining experience
Bo Tree Kitchen is one of the most authentic Thai restaurants in the whole of Northern Ireland. The experienced staff serve up a range of delicious Thai curries, including Massaman, red, yellow and green.
It's a BYO restaurant, so perfect for those who don't want to splash out too much. It books out weeks in advance, so don't miss out!
Address: 65 -67 University Ave, Belfast BT7 1GX
17. Fish City ‒ a must for seafood fans
If it's fresh fish dishes you're after, then Fish City in the city centre is the one to visit. From traditional fish and chips to more creative seafood dishes, Fish City has it all.
This well-established, award-winning restaurant prides itself on sourcing only the highest quality, ethically caught seafood, so you can rest assured your environmental impact will be minimum here.
Address: 33 Ann St, Belfast BT1 4EB
RELATED: IB4UD's guide to the best places for fish and chips in Belfast
16. Deanes Meat Locker ‒ a Michelin-recommended dining experience
Serving prime cuts of meat cooked to perfection, Deanes Meat Locker enjoys a prime location close to all the city centre's major attractions.
Serving a fantastic lunch and dinner menu, excellent wines, and even a vegetarian menu, this award-winning restaurant cannot be overlooked.
Address: 28-40 Howard St, Belfast BT1 6PF
15. The Barking Dog ‒ one of the best restaurants in Belfast
Set in a leafy suburb of south Belfast, close to Queen's University, The Barking Dog is a much-loved restaurant that sees diners return time and time again.
First opened in 2008, this exciting restaurant serves up gastro-pub style food made using the very best of locally sourced ingredients.
Address: 33-35 Malone Rd, Belfast BT9 6RU
14. The Muddlers Club ‒ for perfectly curated tasting menus
Hidden away between Waring Street and Exchange Place, The Muddlers Club is a Michelin star restaurant worth going out of your way to find.
Offering seasonal tasting menus, the food here is nothing short of exquisite. And, if you want to go that extra mile, you can even book the perfect wine pairing.
Address: 1 Warehouse Ln, Belfast BT1 2DX
13. OX Belfast ‒ for a Michelin star experience
Recognised by the Michelin Guide for its outstanding menu and captivating range of modern British dishes, this elegant restaurant is a must for any food lovers visiting the city.
Enthusiastic about seasonality, dining at this airy restaurant is sure to be a mind-blowing experience.
Address: 1 Oxford St, Belfast BT1 3LA
12. Flame ‒ a much-loved city-centre restaurant
Located at the heart of the city on Howard Street, Flame is a unique venue with a theatrical twist.
Serving food inspired by the idea of 'east meets west', you can enjoy freshly prepared meat dishes cooked on their Asador grill or try their delicious Tandoori-style cuisine.
Their pre-theatre menu is a great option for those going to see a show at the Grand Opera House nearby.
Address: 46 Howard St, Belfast BT1 6PG
11. Holohan's Pantry ‒ for fantastic Irish food
Serving up classic Irish cuisine, this casual dining restaurant is one of the most popular in Belfast. Making use of fresh local ingredients, they prepare traditional dishes made to the classic recipe.
The menus change seasonally. However, you can always rely on their speciality boxty making an appearance.
Address: 43 University Rd, Belfast BT7 1ND
READ MORE: Check out some of Belfast's spots on our list of the top 10 restaurants with a view in Northern Ireland
10. The Cloth Ear ‒ an unforgettable gastro-pub experience
Part of the prestigious Merchant Hotel, one of the snazziest 5-star hotels in Ireland, this upscale gastro-pub style eatery serves classic dishes prepared to the highest standard.
Popular dishes include their iconic seafood chowder, delicious burgers, and top-quality fish and chips.
They even have a varied vegan menu and a so-called 'drinks compendium', with classic and dessert cocktails and a wide range of wines, beers, and spirits to complement your food.
Address: The Merchant Hotel, 16 Skipper St, Belfast BT1 2DZ
9. Ginger Bistro ‒ a multi-award-winning eatery
Established in 2000, Ginger Bistro is a multi-award-winning restaurant that was previously voted the 'Best Restaurant in Northern Ireland'.
Offering great quality food, a friendly local feel, and a relaxed atmosphere, you can't miss dining at this incredible restaurant.
Address: 68-72 Great Victoria St, Belfast BT2 7AF
8. 2Taps Wine Bar ‒ for fantastic Spanish-inspired tapas
This relaxed dining experience with tapas-style dishes is an absolute must-try in Belfast City Centre.
Serving a wide range of tapas dishes at reasonable prices, huge jugs of sangria, and offering a lively atmosphere, you'd be forgiven for thinking you'd been transported to the streets of Barcelona.
Address: Cotton Court, 30-42 Waring St, Belfast BT1 2ED
7. Shu Restaurant ‒ for great food and even better cocktails
Shu Restaurant and Juls Cocktail Bar is the sort of place you go for a special occasion. Serving a modern French-inspired menu, this upscale restaurant on the Lisburn Road is popular among those who enjoy a luxury dining experience.
Split into three separate locations ‒ the Main Room, Jul's, and the Upper Room ‒ there is something for all tastes here. Plus, the cocktails here are not to be missed!
Address: 253 Lisburn Rd, Belfast BT9 7EN
6. Home Restaurant ‒ one of our favourite Belfast restaurants
A Michelin Bib Gourmand restaurant, Home serves delicious food inspired by locally-produced, ethically sourced ingredients.
Ensuring the ultimate sustainability in their supply chain while not compromising on quality and flavour in every dish, you won't regret booking in for lunch or dinner here.
They also cater for various dietary requirements, making this a friendly and welcoming spot for all.
Address: 22 Wellington Pl, Belfast BT1 6GE
MORE: our review of Home Restaurant
5. A Peculiar Tea ‒ a truly unique experience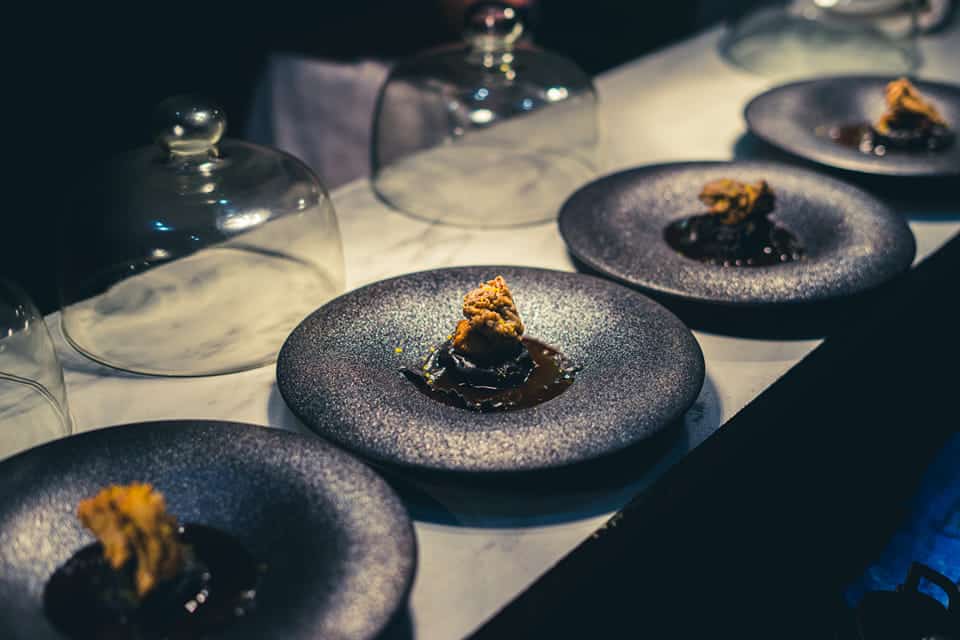 What was previously a pop-up restaurant is now a permanent fixture on Belfast's food scene. Known as the 'Emporium of Imagination', this is a truly unique dining experience in the city.
At A Peculiar Tea, you can expect limited six-course tasting menus, all curated around a specific theme. Previous themes have included Harry Potter, Roald Dahl, and The Night Before Christmas.
Each dish is lovingly prepared around the central theme, and the restaurant is even fittingly decorated to match.
Address: 44 University Rd, Belfast BT7 1NJ
4. James St and Co. ‒ one of the best restaurants in Belfast
James St combines two of Belfast's best-loved restaurants, James Street South Restaurant and The Bar and Grill at James St.
Perhaps one of the most highly-regarded restaurants in the city, James St offers a casual and contemporary dining experience. The menu features a range of classic dishes to suit all tastes, with a fantastic cocktail range to go alongside.
Address: 19 James Street South, Belfast BT2 7GA
3. Cyprus Avenue ‒ offering something for everyone
This all-day restaurant in east Belfast is a firm favourite among people of all ages and tastes.
Serving up creative dishes made using fresh, local ingredients, dining here is a true delight for your senses.
Casual and bright, Cyprus Avenue is a great spot for families, friends, work dos, special occasions, and more. They even have a pizza van serving fresh pizza and a delightful breakfast menu.
Address: 228-230, Upper Newtownards Rd, Belfast BT4 3ET
2. Coppi ‒ for unforgettable Mediterranean dishes
Coppi is located at the heart of Belfast's Cathedral Quarter in the bustling and lively Saint Anne's Square and is one of Belfast's best Italian restaurants.
If you're a fan of Italian-inspired cuisine, homemade pasta, and delicious dessert cocktails, this is the one for you.
Offering a fresh and varied menu, there is something for everyone here. With a modern and friendly approach to dining, you'll want to keep coming back here for more.
Address: Saint Anne's Square, 11 Edward St, Belfast BT1 2LR
READ: IB4UD's review of Coppi
1. Howard Street ‒ for an unrivalled dining experience
Topping our list of best restaurants in Belfast is the exquisite Howard Street Restaurant in the city centre. Serving delicious menus for all tastes, made using the best fresh food, you won't regret dining here.
With flavour at the forefront and highly-trained staff ensuring you have a seamless experience, Howard Street is sure to become one of your favourite places to eat.
Address: 56 Howard St, Belfast BT1 6PG
Notable mentions
Actons: Located in the city centre, this modern and vibrant restaurant offers menus to suit all tastes and dietary requirements.
Mourne Seafood Bar: Seafood lovers need to visit Mourne Seafood Bar on Bank Street. Serving lovingly prepared shellfish, carefully hand-selected from independent shellfish beds, diners can enjoy the highest quality here.
Stix and Stones: A unique dining experience, Stix and Stones works on a 'cook your own' premise. If you order meat, it will come uncooked with a hot stone that you can use to cook it to your own ideal.
Villa Italia: Villa Italia is a must-visit for family-friendly dining and delicious Italian fare.
Stock Kitchen and Bar: Having won multiple awards since its first opening in 2019, Stock Kitchen and Bar is a Michelin-recommended restaurant you won't want to miss.
Blank Restaurant: Offering a 'blank' five-course tasting menu, with dishes only revealed once served, Blank Restaurant is a relatively new addition to Belfast's dining scene that has already taken the city by storm.
Your questions answered about restaurants in Belfast
If you still have questions, we have you covered! In this section, we've compiled some of our readers' most frequently asked questions and popular questions that have been asked online about this topic.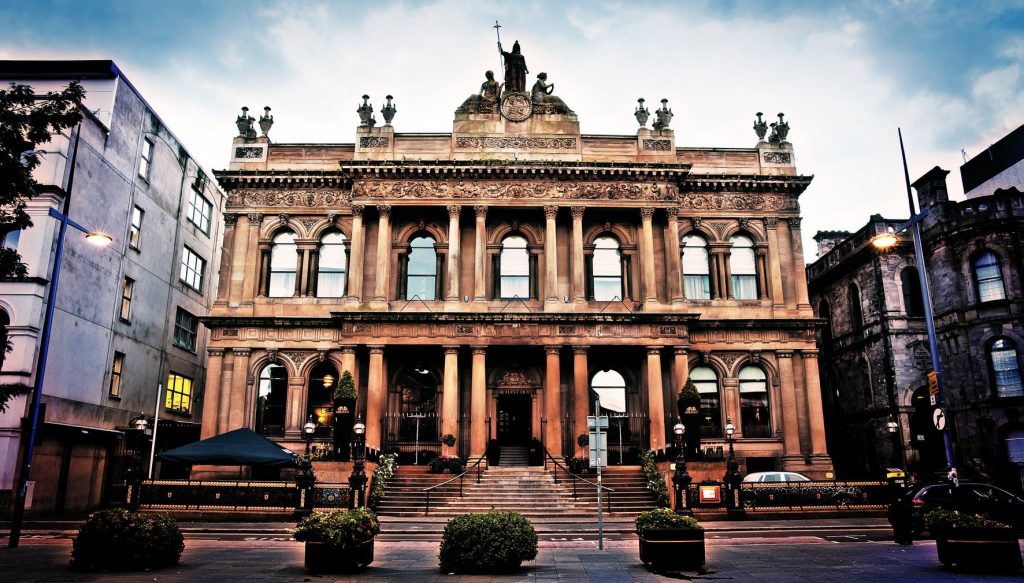 What are the best places to eat in Belfast City?
There are almost too many great restaurants in Belfast to mention. However, for plenty of options, we recommend heading to the city's Cathedral Quarter, where you can find a vast array of eateries to suit all tastes, dietary requirements, and budgets.
What Belfast restaurants are the fanciest?
Some of the fanciest restaurants in Belfast include The Great Room restaurant at The Merchant Hotel, OX on Oxford Street, and Shu Restaurant on the Lisburn Road.
Where to stay in Belfast?
Belfast is home to some beautiful luxury hotels. Some of the top places to stay include the Fitzwilliam Hotel, the Stormont Hotel, the Grand Central, and The Merchant Hotel.