From its rolling countryside to its rugged coastline, Ireland has a romantic feel that spreads from north to south and east to west.
If you ask us, there is something about Ireland and its people that is highly romantic. Thus, making the whole idea of being there all the more attractive.
We can't quite put our finger on it. Perhaps it's because Ireland withholds some of the most beautiful scenery, remarkable history, charming traditions, and great company.
"What the heart knows today, the head will understand tomorrow." – written by the Irish writer James Stephens (1882 – 1950)
If you consider yourself a romantic and are always looking for ways to indulge in the excitement, magic, and adventures of love, continue reading.
Today, we share what we feel to be the top ten most romantic places in Ireland to fall in love, accompanied by amorous quotes from Irish writers.
10. Adare Manor, Co. Limerick – a luxury hotel in the Irish countryside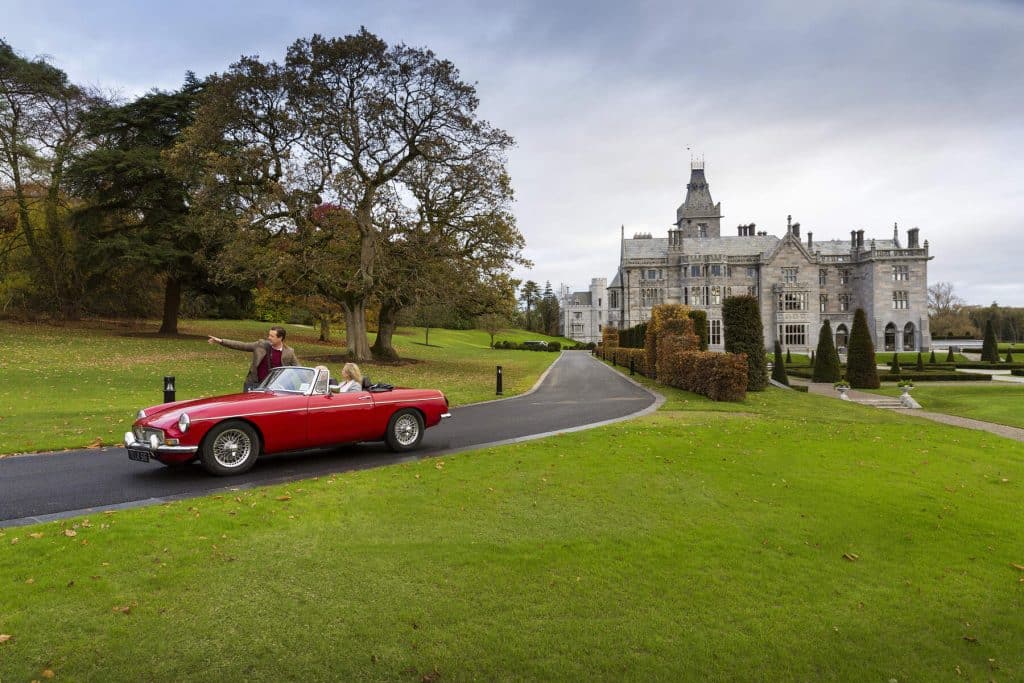 "All that a husband or wife really wants is to be pitied a little, praised a little, and appreciated a little." – Oliver Goldsmith
If you to show your significant other how much you appreciate them, treat them to a stay at Adare Manor, one of the most romantic places in Ireland.
Address: Adare, Co. Limerick, V94 W8WR, Ireland
9. Dún na Rí Forest Park, Co. Cavan – a mythical forest park
"How far away the stars seem, and how far is our first kiss, and ah, how old my heart." – William Butler Yeats
Located on the Cavan-Monaghan border, Dún na Rí Forest Park is cloaked myth and legend. A walk around here is sure to make you feel the romance.
Address: R179, Mullantra, Kingscourt, Co. Cavan, Ireland
8. Giant's Causeway, Co. Antrim – the rugged Causeway Coast
"I see when men love women. They give them but a little of their lives. But women, when they love, give everything." – Oscar Wilde
One of the most romantic things about the Emerald Isle is its wild and rugged coastal stretches. Nowhere is this more relevant than the Giant's Causeway in County Antrim.
Address: Bushmills BT57 8SZ
7. Glenoe Waterfall, Co. Antrim – a popular location for wedding photos
"To love oneself is the beginning of a lifelong romance." – Oscar Wilde
This hidden gem is a true wonder to discover. Hidden away down a tree-lined lane off the road, Glenoe Waterfall is popular with couples getting wedding or engagement photos.
Address: Waterfall Rd, Gleno, Larne BT40 3LE
6. Powerscourt Gardens, Co. Wicklow – a stunning location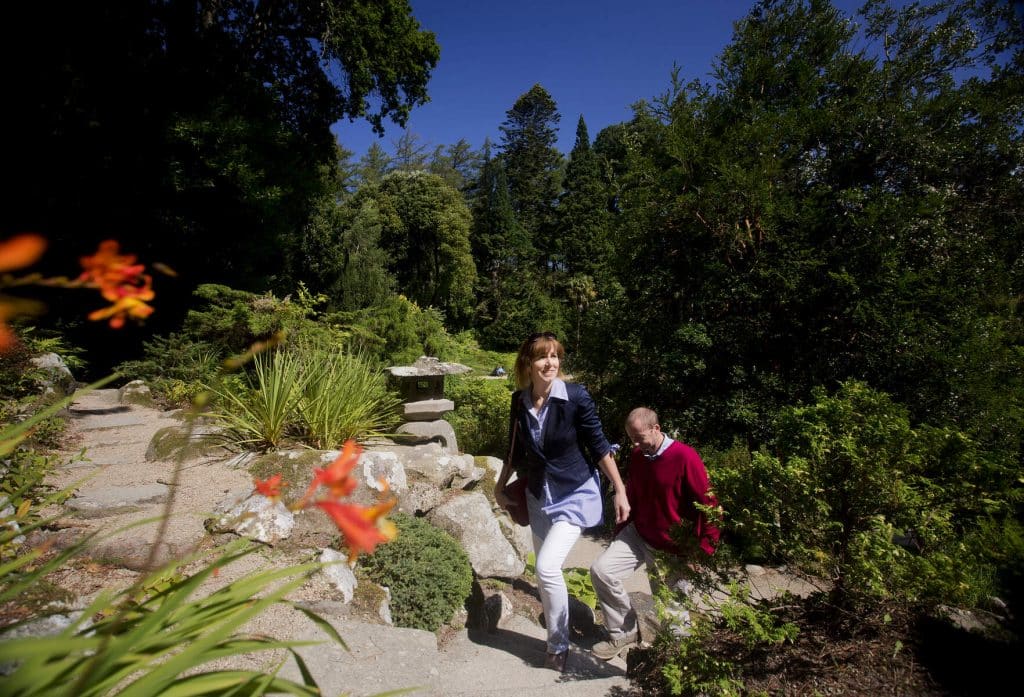 "Keep love in your heart. A life without it is like a sunless garden when the flowers are dead." – Oscar Wilde
Not far from Dublin, you can find the magnificent Powerscourt Estate. Home to a waterfall, Japanese gardens, and a stately home, this is the perfect spot for a romantic picnic.
Address: Powerscourt Demesne, Enniskerry, Co. Wicklow, Ireland
5. Portsalon Beach, Co. Donegal – oh, I do like to be beside the sea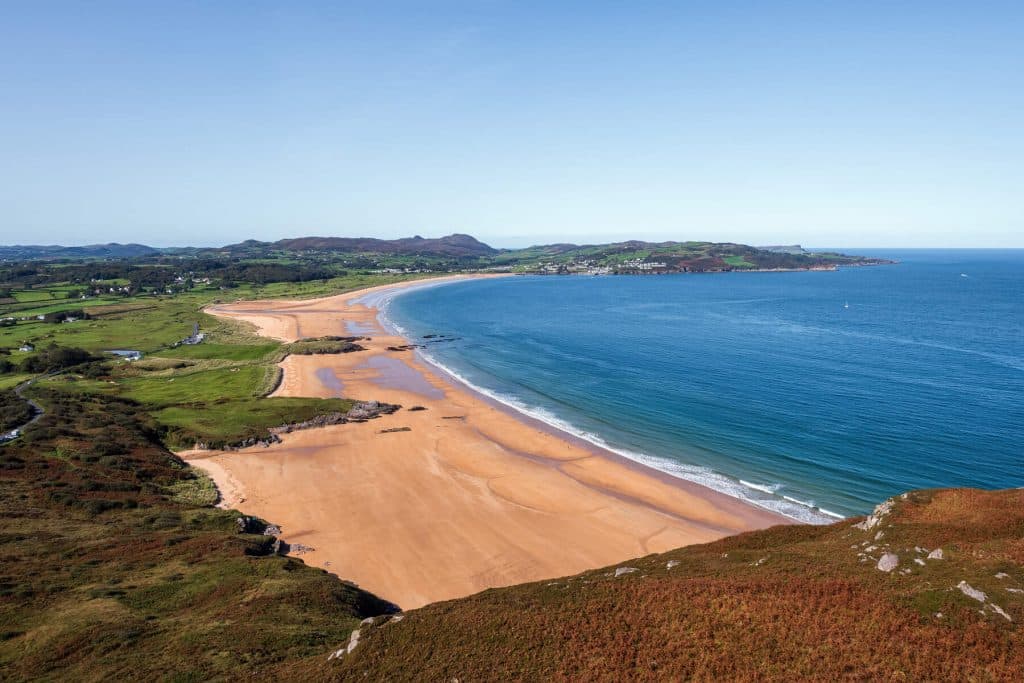 "There is only one admirable form of the imagination: the imagination that is so intense that it creates a new reality, that it makes things happen." – Sean O'Faolain
County Donegal is world-renowned for its beaches, and chief amongst them is Portsalon Beach. This stunning strand is certainly one of the most romantic places in Ireland.
Address: R268, Killavee, Co. Donegal, Ireland
4. The Quays Bar, Co. Galway – live the life of a Galway Girl
"She danced a jig, she sung a song that took my heart away." – William Allingham
Considering the Irish built the Titanic, 'the ship of dreams', we think this scene and song is fitting for number four with its lively atmosphere and flowing drinks.
"So you wanna go to a real party" – Titanic, 1997
Address: Quay Ln, Galway, Ireland
3. Dingle, Co. Kerry – a stunning coastal town
"Tears may be dried up, but the heart – never." – Marguerite Gardiner
Think stunning coastal views, quaint harbours, and friendly locals. It's no wonder Dingle is recognised as one of the most romantic places in Ireland.
Address: Dingle, Co. Kerry, Ireland
2. Glendalough, Co. Wicklow – a chosen location for many romantic movies
"Love will heal what language fails to know." – Evan Boland
Featuring in wedding scenes in movies such as Leap Year, we couldn't fail to mention the Garden of Ireland in our list. Glendalough is sure to take your breath away.
Address: Unnamed Road, Derrybawn, Co. Wicklow, Ireland
1. Cliff of Moher, Co. Clare – one of the most romantic places in Ireland
"If you do not love me, I shall not be loved; if I do not love you I shall not love." – Samuel Beckett
Topping our list of the most romantic places in Ireland is, without a doubt, the incredible Cliffs of Moher. The site of many a picture-perfect proposal, this spot is sure to make you feel the love.
Address: Lislorkan North, Co. Clare, Ireland
Written by G.G