Escape the mundane and take a trip on the wild side. Here are the ten best wildlife and national parks in Ireland.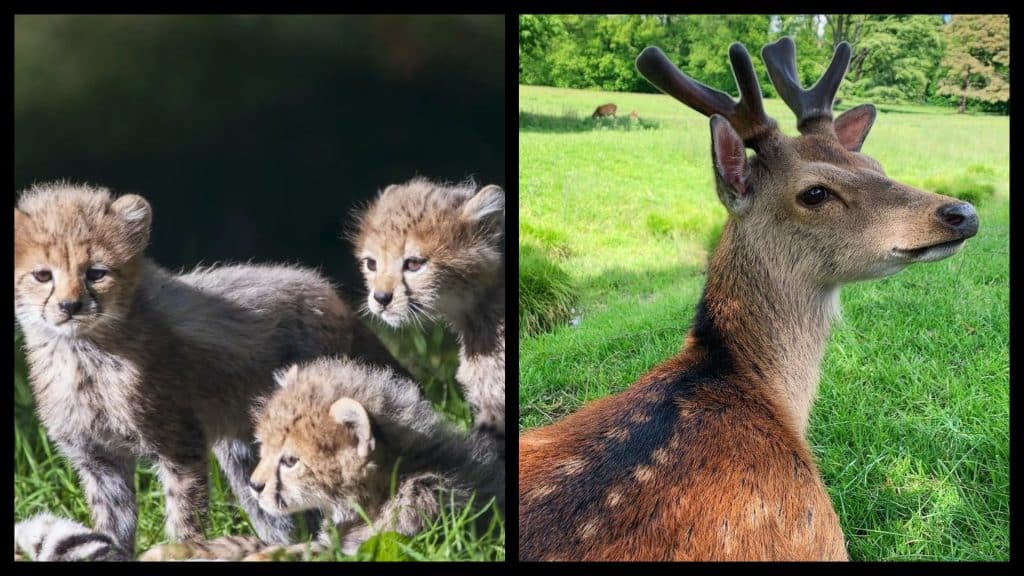 From north to south, Ireland has an abundance of beauty and wildlife. If you find yourself in Ireland, you won't run out of beauty spots that are bursting with wildlife and breath taking sights.
From County Clare across to County Kilkenny, and from County Cork right up to County Donegal, you are in for a treat when it comes to the open green the Emerald Isle has to offer.
Read on for the ten best wildlife and national parks in Ireland.
10. Aillwee Birds of Prey Centre, Co. Clare – in the heart of the Burren landscape
The Aillwee Birds of Prey centre is a hidden gem in the heart of the beautiful Burren landscape. Inside, you can view birds of prey up close such as barn owls and beady-eyed vultures, including during interactive flying displays.
One of their most popular attractions is their hawk walk. Featuring an hour-long trek accompanied by a guided falconer and a real live bird of prey, it promises excitement from start to finish.
Address: Aillwee Cave, Ballycahill, Ballyvaughan, Co. Clare, H91 AX26, Ireland
9. Secret Valley Wildlife Park and Zoo, Co. Wexford – where anyone can be a zookeeper for the day
This bustling park and zoo is a haven for all things animals. Home to include racoons, llamas and pythons, this family-run zoo is perfect for all the family.
For those who want to go the extra mile, try the Junior and Senior Keeper experiences. There, you get the opportunity to clean out cages and feed some of the animals too.
Address: Coolnacon, Clonroche, Co. Wexford, Ireland
8. The Burren National Park, Co. Clare – experience the magic
There is a sort of magic in the Burren that can only be experienced by visiting it, making it one of the best wildlife and national parks in Ireland. The barren, stony landscape seems otherworldly, holding ancient burial sites and unique plant life.
Check out the local sights of Fanore Beach, the famous Cliffs of Moher, Lisdoonvarna (home of the matchmaker's dances), to name just a few.
Address: 2 Church Street, Knockaunroe, Corofin, Co. Clare, V95 T9V6, Ireland
7. National Reptile Zoo, Co. Kilkenny – home to Ireland's largest snake
Are you brave enough to come face to face with a sharp-toothed alligator? If the answer is yes, then step right up to the National Reptile Zoo.
This is a haven for reptile lovers. Animal Encounter Zone offers an amazing experience where you can get the chance to view Ireland's largest snake: a 17 ft (5.2 m) python!
Address: Hebron Business Park, Hebron Rd, Leggetsrath West, Kilkenny, Ireland
6. Killarney National Park, Co. Kerry – one of the best wildlife and national parks in Ireland
If you're a fan of the outdoors, then the mountainous lands of Co Kerry are for you. Killarney National Park, which is one of the stunning national parks in Ireland, offers a unique trail down the Gap of Dunloe, taken by boat from Ross Castle.
Bustling with herds of beautiful Red deer and other wildlife, Co. Kerry is home to some of the most spectacular views in the country.
Address: Co. Kerry, Ireland
5. Fota Wildlife Park, Co. Cork – an immersive experience in a conservation paradise
Located on Fota Island, this 100-acre wildlife park is home to animals big and small, and is one of the best wildlife and national parks in Ireland for spotting a variety of creatures.
Take a peek at the beautiful and diverse wildlife, from the Chilean Flamingo, to the Red Panda, to the beautiful Sumatran Tiger.
That's not to mention some other animals that freely walk among visitors, such as their mesmerising peacocks.
The park also has conservation programmes for the cheetah and the European bison, so by visiting you are supporting the protection of so many animal species.
Address: Fota Wildlife Park, Fota, Carrigtwohill, Co. Cork, Ireland
4. Glenveagh National Park, Co. Donegal – a walker's dream
Glenveagh is the second largest national park in the country, and has lots to offer for eager visitors. The park features a rugged mountain landscape dotted with waterfalls and serene woodland.
The park is also home to Glenveagh Castle, a popular spot for avid walkers. Check out their scenic lakeside walk which guides you along Lough Veagh.
Address: Letterkenny, Co. Donegal, Ireland
3. Stonehall Visitor Farm and Wildlife Park, Co. Limerick – the perfect day out with the kids
Stonehall visitor farm and wildlife park has something for everyone. This gorgeous spot runs along the Curraghchase Forest Park, meaning you can waste away the hours here exploring the area.
Take a break from the kids in the adorable tea rooms they have here, whilst they can go off on the indoor play area.
The farm also holds a conservation project which aims to protect the Lesser Horseshoe, an endangered species of bat. This is one of the best wildlife and national parks in Ireland for a magical family day out.
Address: Stonehall, Curraghchase, Co. Limerick, Ireland
2. Doneraile Wildlife Park, Co. Cork – step back in time
Doneraile Wildlife Park is a gem for those who love everything outdoors. The park is home to a number of gorgeous deer herds, which can be spotted if you know where to look.
The park is also free, meaning you can take in the sights even on a budget! Visitors often flock to the Doneraile Court, a beautiful 17th century country house that will take you back to a simpler time.
Address: Turnpike Road, Doneraile, Ireland
1. Kiltonga Nature Reserve, Co. Down – the perfect escape
Kiltonga Nature Reserve is home to a variety of wild birds, such as moorhens, swans and mallard ducks.
It even offers an observation area that allows visitors to get amongst the action. This nature reserve is the perfect location for escaping the bustle of Belfast.
Address: Belfast Rd, Newtownards BT23 4TT